Editing PDF files is no less than a pain. Thus, here we've got the best free PDF editors for android to help you edit them easily.
Portable Document Format or PDF is considered as the safest way to store text and official documents such as circulars, forms, user manuals, etc. due to the belief that changes cannot be made to the PDF files. But, sometimes situations make it necessary for you to edit or add content in a file. Doing so on a computer is not that tough, but when it comes to editing a PDF on an android phone, the task becomes daunting. Therefore, we've handpicked the best free PDF editor apps for android to help you make the required modifications in the file with ease.
We've downloaded numerous apps and tested each of them on various parameters such as user-interface, ease of access, usability, and the final output quality. Based on our tests, we curated the top 12 PDF editors for android. We share the same in the next segment of this blog-post.
What are the Best Free PDF Editor Apps for Android ?
Now, deleting or adding pictures and text to a PDF file will not be tough as here are the PDF editor apps for android to help you make the changes quickly.
1. OfficeSuite: Free Office + PDF Editor
What makes this app one of the best PDF editor apps for Android is the functionality to view and edit office documents without any hassles. In addition to this, it includes several other handy tools such as chat client, in-built file manager, document exchange, and many other functionalities. Thus, whenever you find yourself in the need of a quick tool to edit PDF on Android, simply open tried and tested this app to get the task done in a blink of an eye.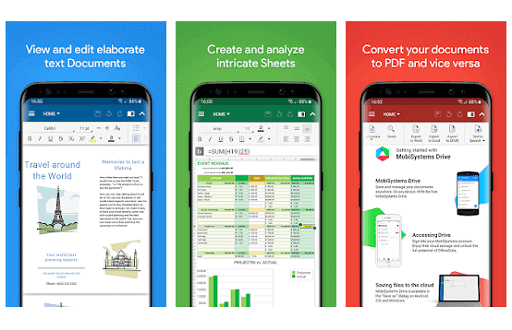 2. PDFelement
This one of the best free PDF editor apps for Android is immensely popular among the users for editing and annotating the PDF files. It lets you manage your PDF documents on the go with ease. There's a minor downside that the Android app only lets you sign and comment on the PDFs. Despite this limitation, numerous users trust this app for their PDF editing needs as it helps them in managing all their files without any hassle and also makes it easy for them to write on PDFs. After testing the app rigorously, we are sure you won't be disappointed if you give it a try. Click on the link below to edit and annotate the PDF files snappily.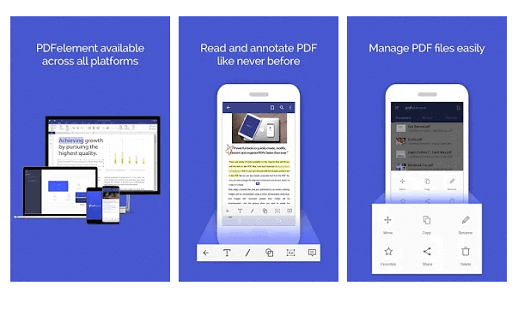 3. Xodo PDF Reader and Editor
If you are one of those people who feel that converting a file into an editable format and then after editing, reconverting the same into PDF is a lot of work to do, then install Xodo. This app allows you to edit the text in PDF itself and saves you from the conversions. It gives you the freedom to underline, highlight, strikethrough the text, and even doodle on PDF. Not only this, but the app also functions as a converter for other file formats to PDF and reader with features such as dark themes. Apart from this, unlike the other PDF editors for android, it also can open multiple tabs at once. Once you've edited the PDFs on this app, you can even sync them with your cloud storage such as Google Drive or Dropbox.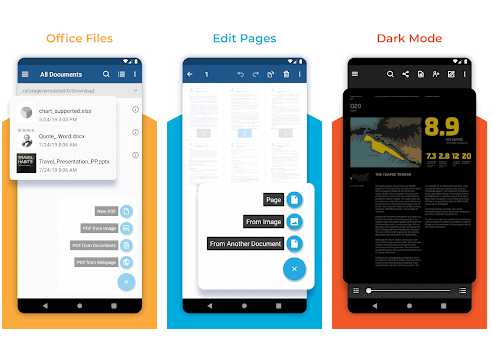 Also Know : Best Photo Compressor Apps for Android to Optimize your Photos
This is not only the best free PDF editor apps for android but also a scanner that lets you scan the documents and convert them into PDF, much like CamScanner, one of the most popular scanning apps. Apart from this, it allows you to underline, highlight, strikethrough, and doodle on PDF like the other apps on this list. Go for this app if you want a PDF scanner and editor in a single package.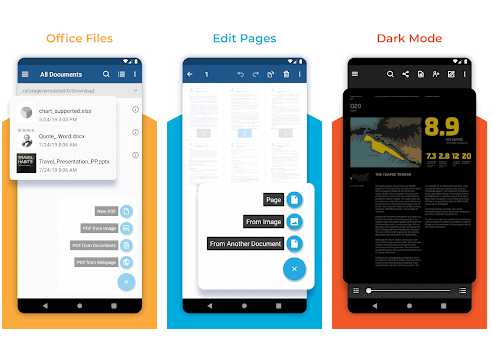 5. Foxit MobilePDF
The possibilities with this one of the top PDF editor apps for android are extensive. Here you can not only change the text but also modify its style, i.e., the font, indents, and spacing. Along with seamlessly adding the text, the app also makes it in line with the main text of the document. In addition to this, support for orientation modes, scrolling, brightness, and color adjustments are some of the key features that make this app one of the best PDF editor apps for android.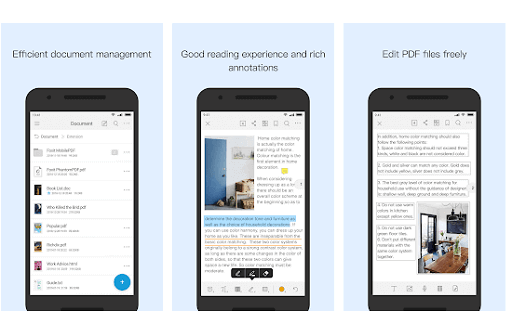 6. SmartOffice- View & Edit MS Office Files & PDF's
This free PDF editor android is an easy to use version of the most popular office for android. It lets you work effortlessly with the documents. The SmartOffice app enables you to view, modify, create, and share documents directly from the phones with even a small display. This is not where the functionalities of the app end; it allows you to view, highlight, annotate, divide, and insert images in a PDF file without any hassles.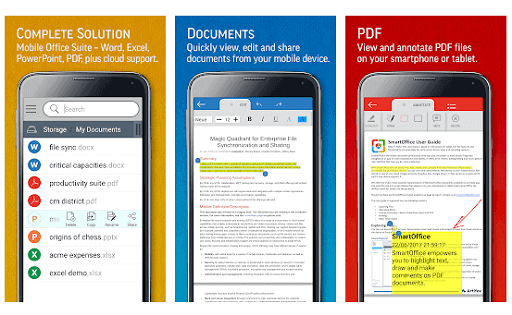 7. PDF Extra
This one of the best free PDF editor apps for android is named as "extra" for a reason. It provides some of the unique features that other apps in the lot do not offer. Text to speech and optimized reading mode are examples of such additional offerings of the app. In addition to this, it lets you effortlessly add text, design, certificates, signatures, and images to the PDF file, and even delete contents from it. Above all, unlike many other competing apps, it also enables you to print the file with ease.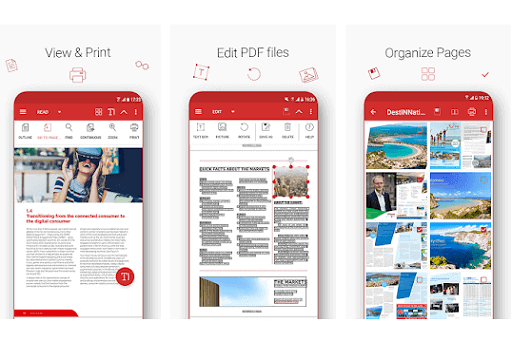 8. PDF Editor by Desygner
As the makers of this one of the top PDF editors for android claim, you can edit every aspect of your PDF file with this app. It even lets you change it completely from head to toe. Apart from the functions that almost all the other apps offer, this app enables you to delete or replace sections of the file, change or add logos, and abstracts. In addition to this, the app also lets you combine or split the PDF pages without hassles of any sort. If you want to edit PDF files snappily and do not mind spending a few bucks, then this app is your go-to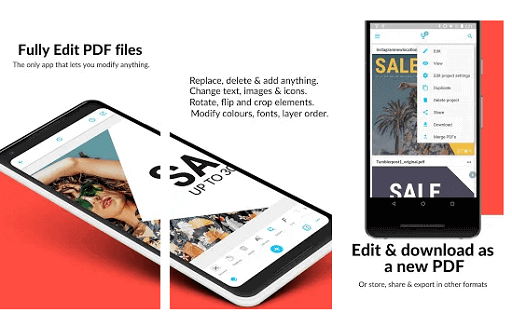 place.
9. PDF Reader- PDF Manager, Editor, and Converter
Similar to our first pick, this app also lets you quickly convert the PDF files into various editable formats such as word documents, PowerPoint presentations, etc. And, after doing the modifications, you can reconvert the file into PDF in a snap of fingers. Fast performance, clean UI, and a unique feature to compress the PDFs are what make this app one of the best free PDF editor apps for android in the marketplace.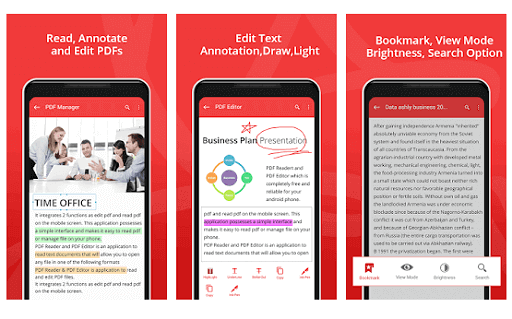 10. Adobe Fill & Sign
Are you searching for PDF editor apps for android to fill forms and sign documents? If yes, then look no far. Through Adobe Fill & Sign, you can effortlessly scan the forms, fill, and sign on them with just a few clicks. Here's the link to get that PDF form filled and signed.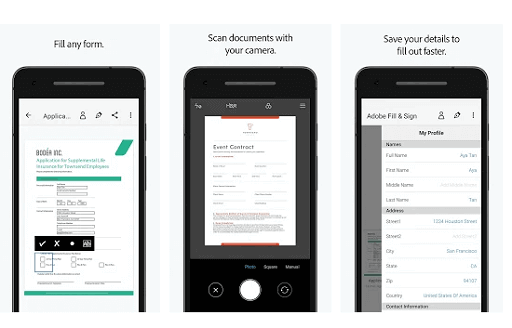 Also Know : Best Data Usage Apps for Android 
11. PDF filler: Edit, Sign and Fill PDF
Last but not least, we have PDF filler for you. This incredibly fantastic PDF text editor for android lets you fill tax forms, submit job applications, and contracts faster than ever. The app takes PDF editing to the next level with its amazing features, such as restore where you can undo the changes and get the original document back. This is not all; the app also allows you to highlight text, change the color, font size, alignments, and add fillable fields, and draw on the PDF file. Please give this fantastic app a chance.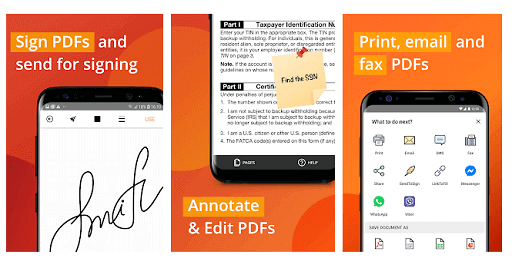 12. Fast PDF Converter and PDF Reader
This app is rated high by the users and tops our list of the best PDF editor apps for android available for free. It has a clean and uncluttered UI. All the crucial icons on this app are bolded and accompanied by clear text to help you use them correctly. In addition to this, the app also lets you convert the PDF file into a document, excel spreadsheet, PowerPoint presentation, and even a jpg image to edit the contents. Once the editing is done, you can reconvert the file in PDF and secure it with an encrypted key. This is not the end, and this fantastic app also lets you split and merge the files if you want to do so.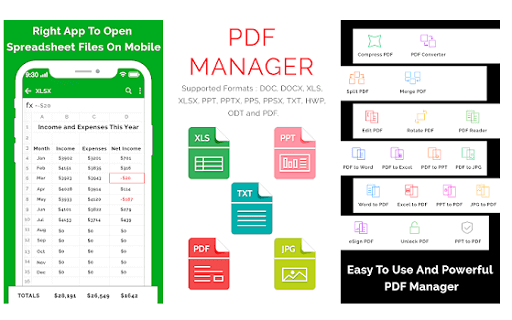 These were the best free PDF editor apps for android we've tried and tested. Choose the app that fulfills your requirements the most. If you need recommendations, then we would recommend PDF Editor by Desygner and Adobe Fill & Sign for the features and reliability they offer. We've covered all the apps known to us, but if you think that any app is missing from the list, then tell us about the same in the comment box below. We would love to know about it, and your experiences with the apps shared here. Now, before you hit that back button, do not forget to subscribe to our newsletter to stay updated with the latest happenings in the tech world.
Subscribe to Our Newsletter
Keep yourself updated with the latest technology and trends with Innovana Thinklabs Limited.