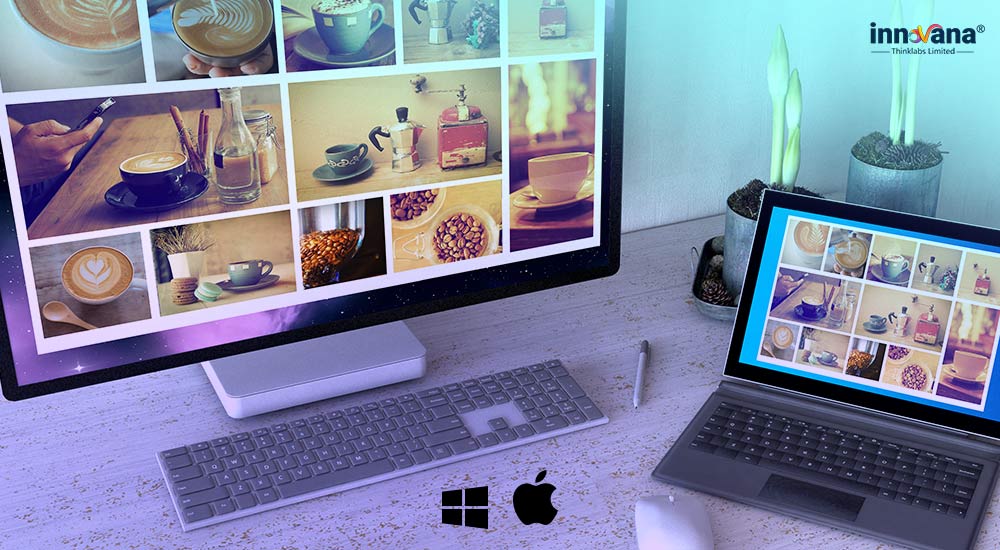 People like to edit and create their photographs. The most common thing that people like to do with their pictures is making collages. If you are new with this term, let us explain to you. Collage is simply a picture that is made by placing multiple pictures together. However, everyone doesn't possess the photo editing skills. Hence they require a collage maker software to create some creative and beautiful collages. Here in this writeup, we'll talk about some of the best free photo collage maker software.
Making collages has become quite trending these days. People make collages of their birthday photos, vacation photos, and photos of any other happy moment of their life. They also share them with their friends and loved ones via social media platforms. It has become a way to present your happy memories to others. Hence, it becomes quite necessary to have the best free photo collage maker utility installed on your PC. So, without any further delay, let's have a look at the list of some best photo collage software.
6 Best Photo Collage Maker for Windows and macOS
Below we have listed some of the best free photo collage makers for Windows system and Mac. All these photo collage maker apps can help you to create beautiful and unique collages.
1. Fotor
The first name on our list of some best collage software is Fotor. The tool offers quite more than just making collages. It allows you to select aspect ratios as per your choice while making a collage. Fotor also provides some cool templates for free. You just have to upload your photos to this one of the best photo collage software for PC. After that, it automatically sets them in the collage template that you have selected. You can also use stickers and text in your collage. Fotor even allows you to edit your pictures. It can be considered as one of the best free photo collage app without any doubt as the app provides almost every necessary feature for free. If you want some premium features, then you can opt for its paid version.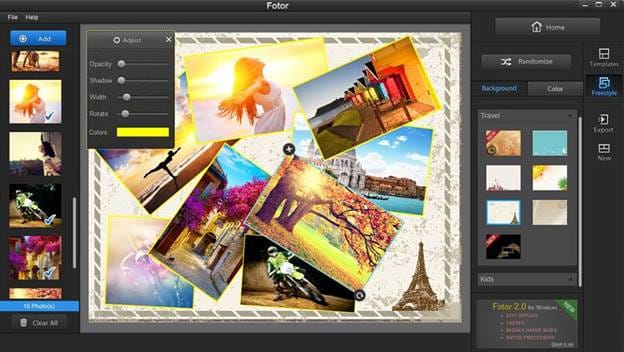 2. Canva
Canva is one of the most simple collage maker software available in 2020. Despite being a simple and intuitive software, it offers some amazing features for free. Canva allows you to use your Facebook uploaded pictures while making a collage. This free collage making software also offers many unique collage templates. Along with images, it allows you to add many other things as well to your collage, including borders and many other things. This one of the best free photo collage maker software also allows you to add pictures to your collage from its library of free images. The only thing that we didn't like about this app is that it doesn't allow you to select the aspect ratios and picture resolution of the collage. Apart from that, it is a good choice if you are looking for a browser-based free collage maker.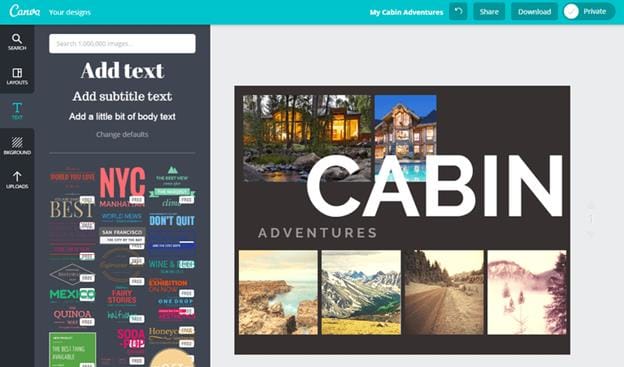 Also Read: 5 Best EXIF Viewers, Editors and Removers on Windows and Mac
3. PiZap
PiZap is the best picture collage maker for social media. It is a browser-based collage maker app that doesn't ask you to signup with your email address to create some beautiful collages. PiZap has lots of unique designs such as rectangles, stars, circles, hearts, etc. It also provides you various theme-based options. Along with all these things, PiZap provides many other features as well. This one of the best collage maker for pc offers some attractive stickers and filters. It also provides various editing features such as adjusting space, selecting a background color, etc. PiZap allows you to add pictures to your collage from social media platforms such as Facebook, Instagram, etc. The only disadvantage of PiZap is that it particularly focuses on creating collages for social media platforms. If you are looking to create a big collage to frame on your wall, then this software can disappoint you.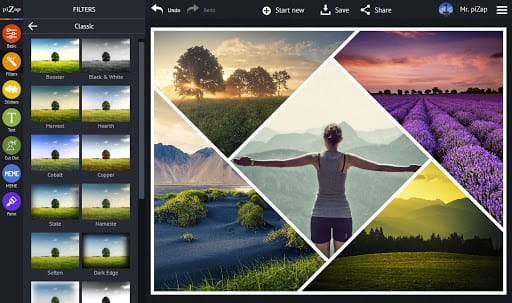 4. Fotojet
Here comes one of the most flexible and feature-rich collage maker software. Fotojet offers features just like Fotor and Canva that we have mentioned above, and along with it, offers flexibility as well. The user interface fo Fotojet is also quite intuitive. It offers so many amazing collage templates. You just have to drag and drop the images to those templates. You can even apply filters to your photos. Fotojet provides Instagram styled customizable filter options. There are also various advanced options that Fotojet provides the users for free. You can adjust brightness, exposure, saturation, etc. with this one of the best free photo collage maker. Unlike many other alternatives, Fotojet allows its users to share the created collage on social media and also allows them to print it.
Also Read: 14 Best Audio Recording Software to Record mp3 Music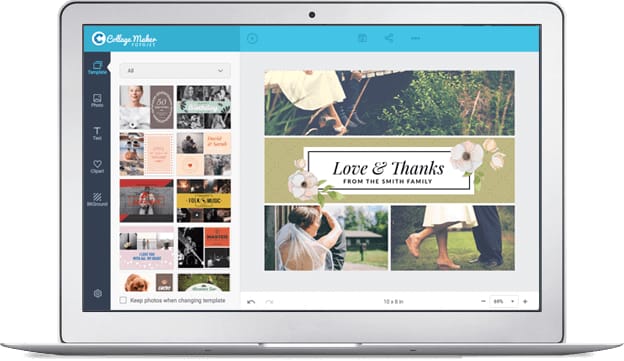 5. PhotoScape X
PhotoScape X is considered one of the latest collage maker software for windows and macOS. This software is quite famous as well. It has been used by people to edit images and create collages since they had one of the oldest versions of Windows, i.e., Windows NT. The developers have launched the latest version of the software (PhotoScape X) for Windows 10 and macOS 10.12 specifically. This one of the best free photo collage app provides many advanced features. It allows you to edit images as well, with effects such as bubbles, inflatables, etc. Along with creating collages, you can even create GIF using PhotoScape X. The app offers many other premium features as well in its paid version.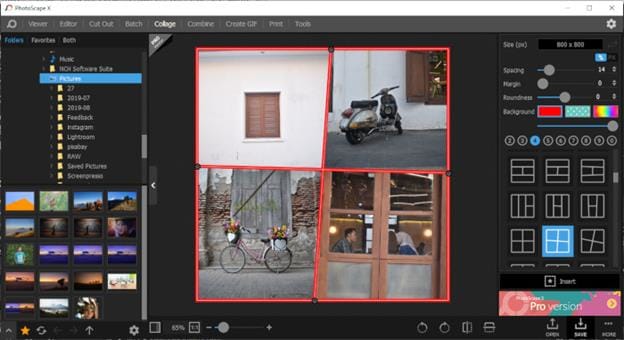 6. PhotoPad
The last name on our list is PhotoPad. This one of the best free photo collage maker has been developed by quite famous developers, i.e., NCH software. Like most of the other products of NCH software, PhotoPad is also an offline utility. When we compare it with other online software, PhotoPad seems quite faster. The software allows you to select from various available layouts and grids. You can also select the size of the final print. It provides you with features to adjust spacing among various images of a collage. You can even adjust the roundness of the image and collage corners. However, the app doesn't seem to be an updated one. It doesn't possess many advanced features. Hence, many people doesn't consider it. Although, you can give it a try if you are looking for a fast and flexible collage maker. PhotoPad is compatible with all the latest versions of the Windows operating system.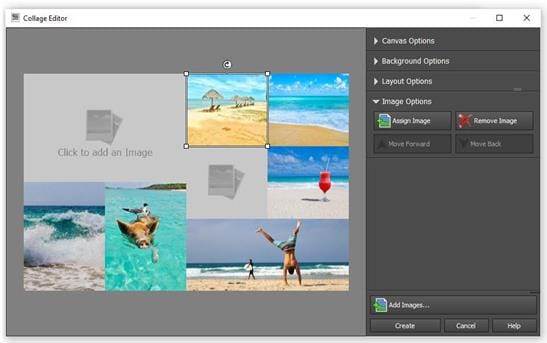 Conclusion
Well, these are some of the best free photo collage maker software for Windows and macOS. We cannot decide which one is best as each one of them has their unique features and specifications. You can evaluate them on the basis of the description that we have provided. After evaluating, select any one of them which fulfills your requirements. For more such information about different applications and software, subscribe to Innovana Blogs.
Subscribe to Our Newsletter
Keep yourself updated with the latest technology and trends with Innovana Thinklabs Limited.