Try the best free Photoshop alternative to edit your photos like professionals. Read on to know about some of the great free software like Photoshop available in 2021.
Adobe Photoshop is one of the most popular software for editing photos and creating exclusive graphics. The software is quite comprehensive. Hence no doubt why a majority of photo editors consider it as one of the best photo editing and graphic-making tool. However, the only problem with Adobe's photo editing monster is that it is not free at all. You have to purchase an expensive subscription to use the program. But do not worry. Today we are going to help you cut your expenses on photo editing. Here we have a detailed list of some best free Photoshop alternatives.
You can avoid paying a whopping amount for an Adobe Photoshop subscription and still edit your pictures like a professional. All credit goes to some of the great free Photoshop-like software that we are going to discuss below. Now, let's proceed to them.
7 Best Photoshop Alternatives For Mac & Windows PC In 2021
Here is the list of programs that almost every photo editor & graphic designer wants to install. Below are some best free/paid alternatives to Adobe Photoshop.
1. Canva
The first name that we would like to mention as one of the best free photo editing software like Photoshop is Canva. It is an online program with quite an easy interface and some robust picture editing & graphics creation tools. Below we have discussed the prominent features that Canva offers to its users.

Prominent Features Of Canva:
Being a comprehensive and free online photo editor like Photoshop, Canva offers a bunch of effects to make the photos look cool.
The editing features also let you crop and adjust the images.
It even lets the users add texts to the images and create great infographics.
There are plenty of badges, frames, stickers, and icons available for free.
If you are selecting Canva as one of the aptest alternatives to Photoshop for Windows and Mac, then hold on. Have a look at the below-listed pros and cons of the program.
Pros
Free online cloud storage
Unique and cool templates
An online tool, hence compatible with all OS
One-click photo enhancer
Cons
Lacks manual editing tools
No AI-based features
Doesn't allow creating custom graphics from scratch
The free version offers pretty basic features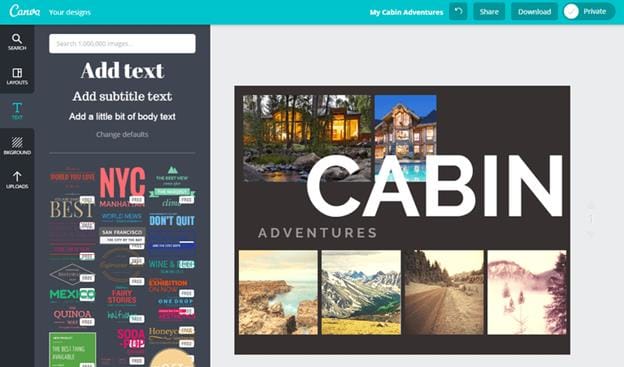 Also Read: Best Photo Compressor Apps for Android to Optimize your Photos
2. GIMP
Let's know about another popular and free Photoshop alternative. It is none other than GIMP (GNU Image Manipulation Program). The software is well-known for offering a set of advanced photo editing features. And just like Adobe Photoshop, you can use GIMP on Windows PC and Mac. Here are some other key features of this free photo editing software.

Key Features Of GIMP:
GIMP offers tools for color adjustments along with easy-to-use features to make masks and layers.
Being a great free program like Photoshop, GIMP boasts a Resynthesizer plugin. It works just like Photoshop's Content-Aware Fill feature.
You even get the cloning, enhancement, color correction, and several other advanced image editing tools.
The photoshop alternative even works as an online batch processing system.
You can also use GIMP to change the image format.
Along with the key features of this similar software like Photoshop, its pros and cons also require your attention. Hence, we have listed them below.
Pros
Customizable & open-source
Image slicing feature
History toolbar
Zero ads
Cons
Complicated for beginners
Outdated interface
Lacks Camera Raw filters
No options to draw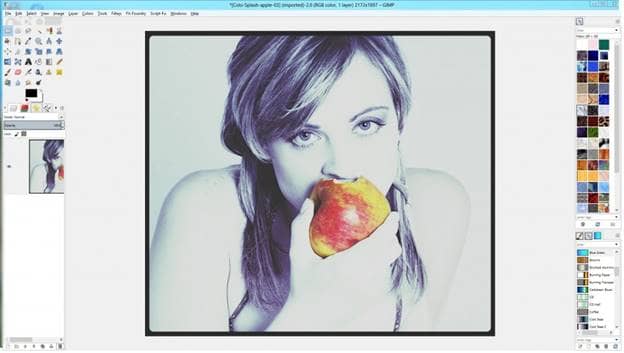 Also Read: Photo Management Software For Mac to Organize Your Images
3. Corel Photo-Paint
Corel Photo-Paint is also one of the competent alternatives to Photoshop for Windows. It has got some professional tools to edit pictures and create stunning graphics. And hence, this free software like Photoshop is popular among expert designers and editors. Here are some of the noteworthy features of Corel Photo-Paint. Check them out to know why people rely on it for editing photos.

Noteworthy Features Of Corel Photo-Paint:
Just like Adobe Photoshop, Corel Photo-Paint has also got professional vector illustration tools.
The program also offers quite advanced typography features and even allows to add effects to the text.
You also get the mask feature to make selections in a picture.
Corel Photo-Paint even helps to make complex compositions with non-destructive layers.
Now, after discussing the noteworthy features, let's point out some of the pros and cons of Corel Photo-Paint. It will help us to decide whether it is one of the best free apps for Photoshop or not. Here are the pros and cons of the software.
Pros
Intuitive interface
Customizable
Free advanced tools
Auto-correction feature
Cons
Slow as compared to Photoshop
Not compatible with Mac
Complex navigation
The free-hand brush is not so intuitive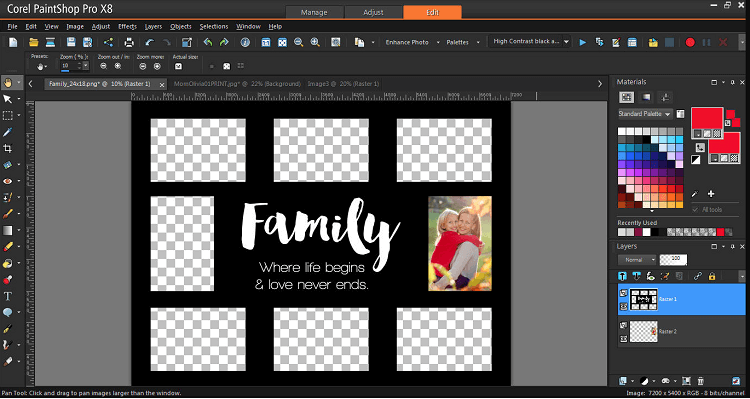 Also Read: Photoshop Shows Scratch Disk Are Full On Mac? Here Is How To Fix
4. Paint.NET
Now, let's talk about a famous Windows freeware that serves as a great free Photoshop alternative. Paint.NET is a feature-packed program that can easily satisfy all the basic photo editing needs of a user. Below are the prominent benefits offered by this free photo editor like Photoshop.

Praiseworthy Features Of Paint.NET:
Paint.NET is free software like Photoshop and offers pretty cool filters. One of them even helps to make a photo like a pencil sketch.
It has also got support for layers.
You can configure different elements of a picture such as contrast, brightness, curves, etc. using this best Adobe Photoshop alternative for free.
Paint.NET has even got the 3D rotate zoom tool. You can use it for the recomposition of photos.
Below, we have also highlighted some pros and cons of Paint.NET. We suggest you have a look at them before selecting the software as the aptest free alternative to Photoshop on Windows.
Pros
Simple to use
Consumes pretty few system resources
A lot of plugins
Supports almost all major image formats
Cons
Quite limited features as compared to Photoshop
Not compatible with Mac
Lacks Camera Raw filters
No auto-snapping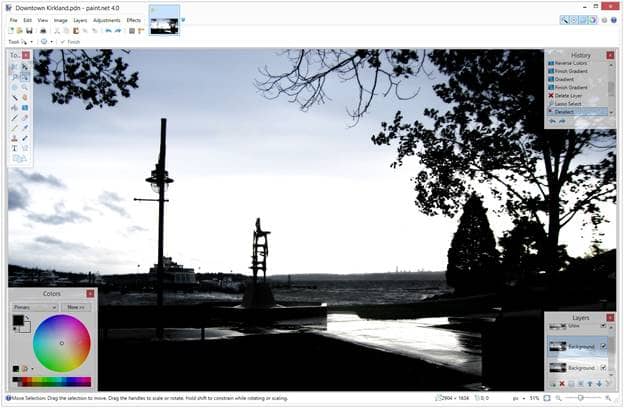 5. Photopea
Here comes another web-based free photo editing software. Photopea is also one of the prominent free apps like Photoshop. The most lovable thing about it is that it doesn't require any signup. You can use it to edit your photos easily from any of your devices. Here we have discussed some of the other luring features of this free Photoshop alternative.

Luring Features Of Photopea:
The feature icons of Photopea are pretty similar to the ones in Photoshop. Hence, if you are familiar with using the Adobe photo editor, then you can easily use it as well.
It allows you to apply a lot of exciting filters to your photos.
You can even add text or resize your image using the program.
There are also a lot of Camera RAW/Lightroom features available in Photopea.
Now, let's discuss why it is one of the best free similar software to Photoshop for Mac and Windows PC. And for doing so, here we have evaluated the pros and cons of Photopea.
Pros
Supports PSD files
No special browser plugin required
Compatible with all OS
Photoshop-like interface
Cons
Lots of ads in the free version
Pretty less advanced tools
No free trial of the paid version
Gets sluggish while processing large files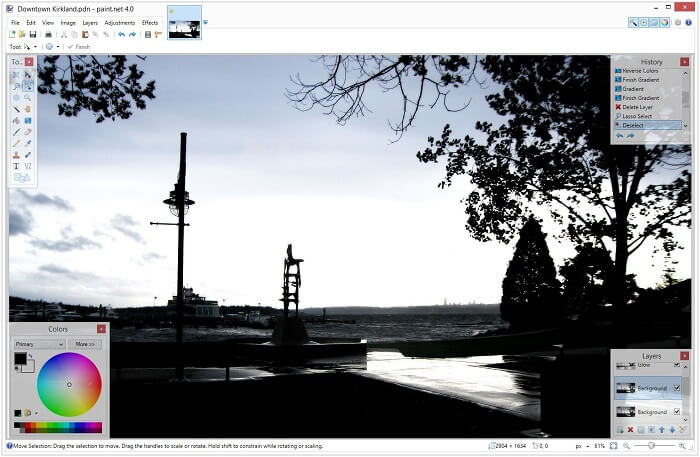 Also Read: Best Free Image Resizer Software for Windows 10, 8, 7
6. Krita
If you are looking for a handy, free, and open-source alternative for Adobe Photoshop, then Krita is one of the best choices for you. The software is quite comprehensive and hence offers a huge variety of photo editing tools. Let's discuss the prominent ones below. Here are the features of Krita that we loved.

Lovable Features Of Krita:
Artists can use Krita to create the art they always wanted to make. The tool offers more than 100 brushes with stabilizers. It also has brush engines and a resource manager.
You even get the vector and text tools.
It also allows uses to create shortcuts for the often-used features.
The program helps to edit the color setting of your photos with a few clicks only.
However, we must not ignore the pros and cons of Krita. Hence, below we have evaluated and listed them.
Pros
Bunch of project specified templates
Offers the feel of Photoshop
Open source hence customizable
Compatible with Mac, Windows, & Linux as well
Cons
Lacks history toolbar
Irregular updates
Lags while processing larger files
Lacks Camera Raw filters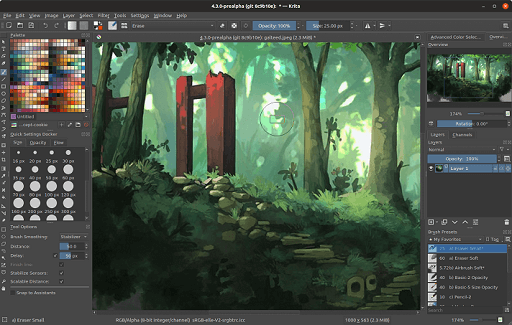 Also Read: Best Photo Management Software for Windows
7. PhotoScape X
PhotoScape X is also a photo editor with immense tools and capabilities to edit your photos. It has got tons of filters, effects, and frames to apply to your pictures. Not just this, but the free photo editing software for Mac & Windows also offers an option to beautify your photos in just a few clicks, like Photoshop. Here are some other interesting features of PhotoScape X.

Interesting Features Of PhotoScape X:
It has got various advanced features such as photo splitting and merging, along with raw conversion.
You can even create an animated GIF using PhotoScape X.
The filters offered by this free Photoshop alternative are quite cool and unique.
The program even supports batch processing.
Not just the features, but we have also figured some interesting and important pros & cons of PhotoScape X. Here they are.
Pros
Supports raw file conversion
Boasts options to create photo collage
Advanced tools to create animated GIFs
An immense number of filters & effects available
Cons
Faulty UI
Fewer features in the free version
Pretty slow as compared to other photo editors
Complicated download & installation process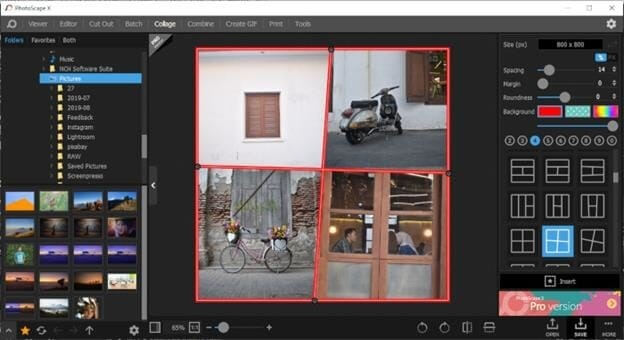 Best Free Alternative To Photoshop For Windows & Mac: Bottom Line
So, our list of some great free (and paid as well) programs like Photoshop ends here. You can use any of them to edit your photos or create and recreate graphics. However, as highlighted and discussed above, all of them possess different interfaces and a unique set of features. Hence, you must evaluate them before choosing any one of them as the best free/paid Photoshop alternative.
We hope that our post has helped you to select an apt free software like Photoshop for your Windows PC or Mac. If you have interest in knowing more about such useful freeware and software, then subscribe & bookmark the Innovana blog.
Subscribe to Our Newsletter
Keep yourself updated with the latest technology and trends with Innovana Thinklabs Limited.