The Best free Pipl alternatives give you all the required information about people for free. Read on to know about them. 
With Pipl, you can access more than 3 billion people for multiple purposes, such as verification, investigation, etc. It is among the top software to get the demographic, social, and contact information of individuals. However, it also has certain limitations that instigate the user to look for the best free Pipl alternatives.
If you are also interested in knowing about the best alternative to Pipl, then you are at the right place. Through this article, we are going to walk you through the same.
However, before moving further, a question arises that why do you need the top Pipl alternative. Let's first answer that.
Why is the Best Pipl Alternative Needed
Pipl is outstanding software, but it is quite far from being perfect for all users. Below are its shortcomings that forced us to find its alternatives.
Frustratingly frequent captcha checks
Quite expensive
Duplicacy in search results
Above were the cons of Pipl for which you need to use a similar software instead of it. Now, let's move on to the well-researched list of the best free apps like Pipl.
Top 10 Best Free Pipl Alternative Apps of 2021
Below are some of the free apps that can be called the best Pipl alternatives available currently.
1. Spokeo
Here we have a truly deserving name on the list of the best Pipl alternatives. With this app, you can search people by name, phone number, address, or email to confidentially look up information about them. It comes with some highly useful features to make it easier for you to search for individuals. Below are the top ones.
Features of Spokeo
It boasts a mobile application to detect unknown callers/block bothersome callers/and perform such other tasks.
You can report and share unknown telemarketing calls on the Spokeo community.
The interface of this application is quite simple enough to search and organize over 12 billion accounts.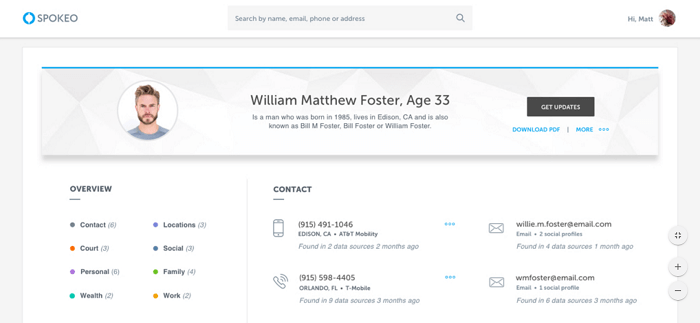 2. Intelius
Another wonderful Pipl alternative that you can use to look up anyone is Intelius. With this simple software, you can fetch valuable information, such as details of the unknown caller, criminal records of a person, etc. Below are the top features of this software.
Features of Intelius 
It keeps your search completely anonymous.
You can safely find details about any person using his/her name, city, and state.
Intelius is well-known to give the most accurate information.
It boasts the availability of over 20 billion public records.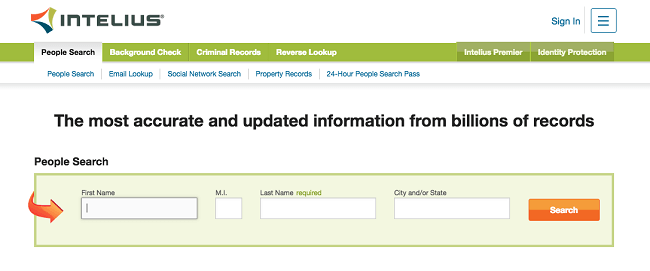 3. PeopleFinders
The next entrant on our list of the best apps similar to Pipl is PeopleFinders. It is also among the best software you can use to find details about people for a variety of purposes, such as background checks, police records, etc. Here are the top highlights of this software.
Features of PeopleFinders 
The platform is completely free with worldwide availability.
It does not require any login formalities.
The user interface of PeopleFinders is quite simple.
PeopleFinders lets you search anonymously without letting the other person know.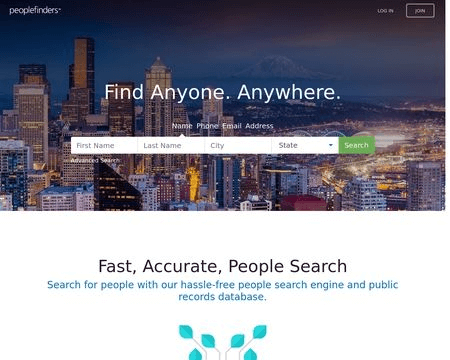 4. FindOutTheTruth
Another best Pipl alternative you can use to discover information about people in your life is FindOutTheTruth. With this software, you can conduct background checks to ensure you do not end up hiring or associating with a criminal. Here is what makes this software feature on our list.
Features of FindOutTheTruth 
Fast, powerful, and accurate, all at the same time.
Pay per search model.
Provides you with step-by-step directions to get the background checks done.
Its database is quite extensive and gets updated regularly.

5. PeopleSmart
Our next selection for the best apps to use instead of Pipl is PeopleSmart. With this software, you can smartly find all the needed information about people to choose the right prospects for your business. Here are the highlighting features of this software.
Features of PeopleSmart 
You can search by name, phone number, company, or even LinkedIn profile to find the required information about prospects.
Ranks results by the confidence level to help you get targeted leads effortlessly.
It shows you the detailed professional profiles of your prospective customers.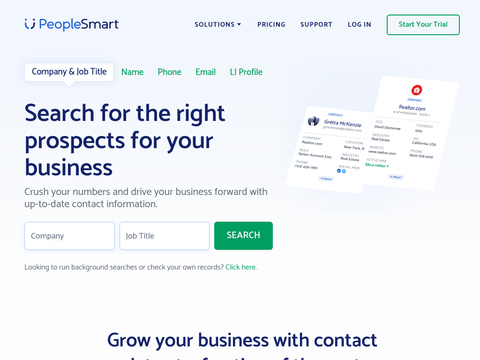 6. US Search
Next, we have US Search as the replacement of Pipl. With this background check service, you can find quite a lot of information about people, such as contact numbers, email addresses, etc. Below are its top features for which we have included it on our list.
Features of US Search
It shows you the entire background history of the people you search including their criminal records.
US Search gives you highly accurate check reports for a really low price.
As evident from the name itself, US Search helps you find details about people residing in the US effortlessly.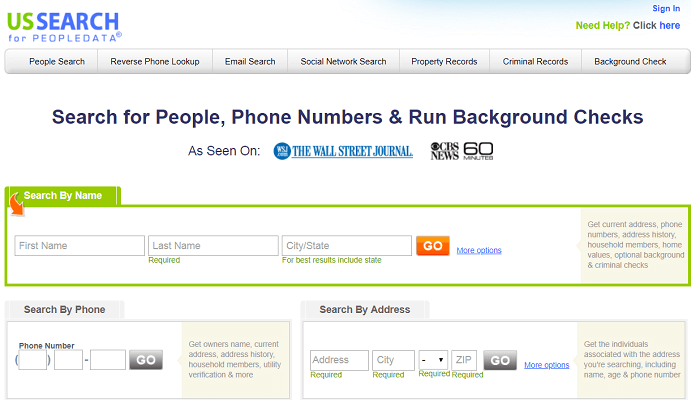 7. Instant Checkmate
Here comes another wonderful Pipl alternative to view social media, police records, photos, civil judgments, contact information, and more details. With this service, you can effortlessly carry out background checks of an individual to make sure you hire only innocent people. Below are some of its outstanding features.
Features of Instant Checkmate 
It has a database of over 3 billion people and keeps updating it frequently.
The platform allows you to copy the search results and share them directly.
It does not limit the background reports that you can access.
You can search people by their name, location, email address, and age.
With its reverse phone lookup, you can find all the information about who is calling you.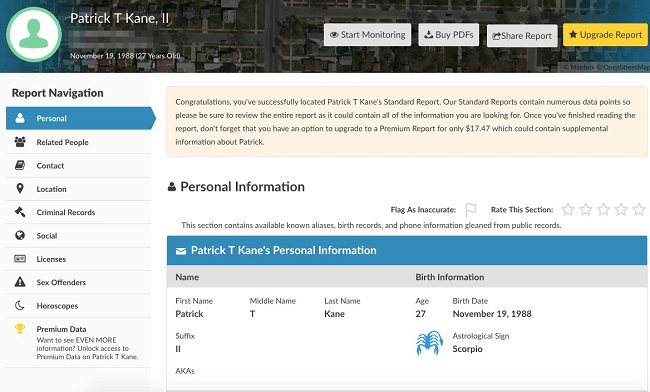 8. AnyWho
Next comes Anywho on the list of the best alternatives to Pipl. If you have a business motive behind your investigation, this platform can fit your needs perfectly. You can use it to find prospects, businesses, and a lot more. Here are some of its distinctive features.
Features of AnyWho 
You can enter the name and location of any person to find his/her contact details.
It also allows you to find the required information about a particular person using the area code or ZIP code.
Anywho boasts a simple and easy-to-use interface.
You can copy and import the search results.
It also serves as the software to find the details of the person who called you.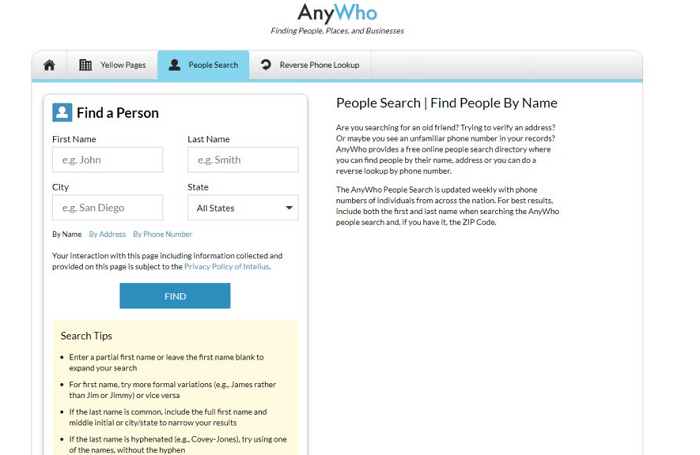 9. Infotracer
When the talk is about replacements of Pipl, Infotracer cannot be missed. Along with the complete contact and personal details, it also gives you the information about the assets of the person you are searching for. Below is what made us include this platform on our list.
Features of Infotracer 
The software is quite easy to use even for beginners.
You can also use Infotracer to find all the criminal records of a person.
It also works as a reverse phone lookup to find who called you.
With its reverse address lookup, you can also know about the sex offenders that may be present in your neighborhood.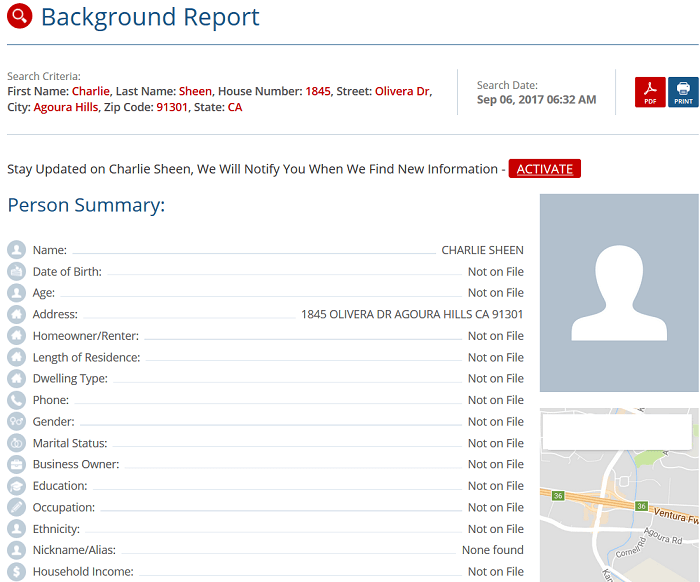 10. WhoEasy
Next, we have WhoEasy as one of the top apps like Pipl. This service shows the entire information about the individual you are searching for, such as phone number, address, etc. Below is what we have liked the most about this platform to search for people.
Features of WhoEasy 
With its reverse phone lookup, you can find who is calling you quite effortlessly.
Its user interface is just what its name says, i.e., easy.
WhoEasy is a safe and secure platform to look for information about people.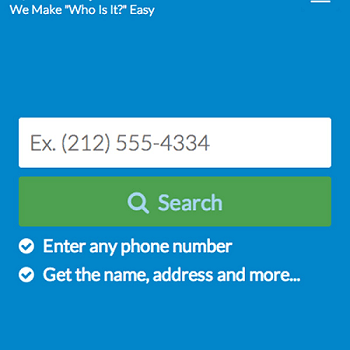 Concluding the Best Free Pipl Alternatives
Above were some of the best Pipl alternatives that we like to use personally. You can pick from any of them depending on your personal preference and requirements. However, we recommend Spokeo for its wide spectrum of features.
If you think we left out any deserving people investigation platform, you can share it through the comments section. And, for more software suggestions, stay tuned to this blog.
Subscribe to Our Newsletter
Keep yourself updated with the latest technology and trends with Innovana Thinklabs Limited.