Podcasts are one of the most fastly developing methods of entertainment. In the podcast, a person streams his/her audio narrating a book, or hosting an audio show. You thought that you have never listened to a podcast, well think again you are doing it from your childhood. Remember listening to radio jockey's blabbering or listening to interviews on radio or hearing news. The podcast is not recently invented but it has been with us for a long time. But we have revolutionized the whole method by opening new platforms and taking it to the next level. Here we have mentioned some best free podcast app for android that can help you out in finding a podcast that is suitable for you. You can listen to various podcasts whether it is for your entertainment or to gain more knowledge, to take therapy, or to just relax. Podcasts can really help you.
12 Best Free Podcast App for Android in 2020
You may have heard about podcasts by your friends but you really don't know about it and this unknowingness can bring you a lot of embarrassment and shame. So as a savior we are mentioning some of the best free podcast apps for android that can help you to save yourself from embarrassment in your circle.
1. Google Podcasts
Google Podcast is the all-in-one application that lets you play the latest shows, episodes, of your winsome web-series. Basically, Google Podcast is a manager that manages all your listening actions. With this, you can subscribe and listen to all your podcasts absolutely free. As per your taste, it also recommends several shows that fit with your taste. It has all the possible categories including lifestyle, technology, arts, science, business, inspiring, and many more.
Features-
Quicker playback speed and lets you skip the parts if you want.
Creates a queue of episodes.
Tracks all your browsing, listening history.
Supports offline listening and auto-download option.
Explorers podcast via Google Search and Google Assistant.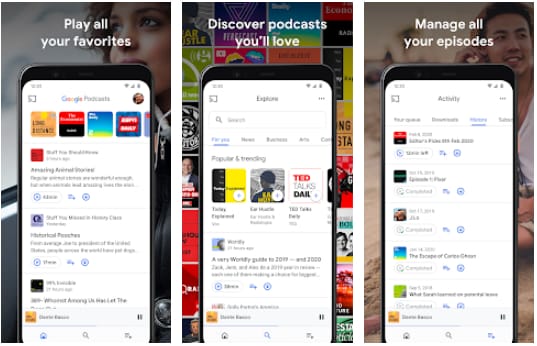 2. Podcast Player
In Podcast Player has everything that you ever wished off. Podcast Player covers all the categories like education, crime, entertainment, and so forth. Get all the big news coverage from all the popular media around the world on Podcast Player. With Podcast Player, you can create your own Podcast playlist. For getting an ad-free version of Podcast Player, users have to spend $4.99 only. It is the best free podcast app for android.
Features:-
Infinite Bandwidth.
Access in 66+ countries and supports all languages.
Without any charges, you can download the shows and episodes of your favorite series.
Offers two themes – Dark and Light, switch as per your preference.
One-click sharing URL.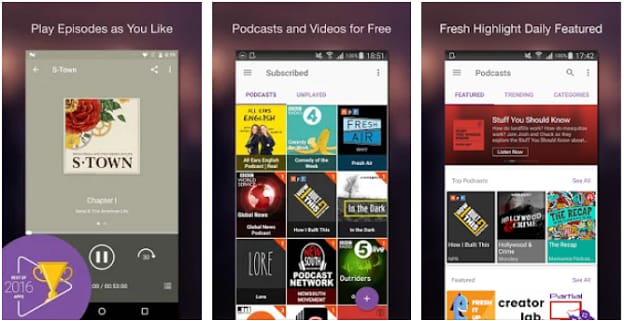 3. Podcast Addict
Podcast Addict is the leading Podcast app for Android users. More than 9 Million users have shown their faith in Podcast Addict. Podcast Addict not only manages and deals with the podcasts. Even it manages with audiobooks, live streams, radio, YouTube, News Feeds of RSS, and more. That's why it has named Podcast Addict because once you use this app you've addicted to this app.
Features:-
In-built audio effects work on live streaming and while playing already downloaded files.
Supports Multi Playlists.
Automatic updates make your work easier and quicker.
Supports automated cloud backup.
Networks are available in Chinese, German, English, Italian, and French.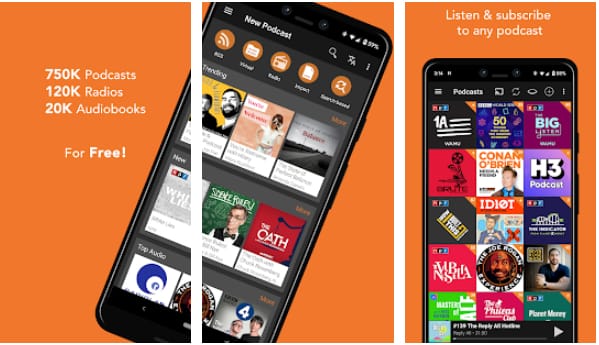 Also Read: Best Music Streaming Apps for Android
4. Podcast Go
Listen to your all favorite podcasts in one spot on your smartphone via Podcast Go. Podcast Go is the best free podcast app for Android. It allows listeners to listen to podcasts offline at any time and anywhere. It has a ton of categories like music, entertainment, comedy, crime, and much more. For regular updates, listeners need to subscribe to the preferable artists.
Features:-
Explore podcasts by their categories.
Supports offline listening.
Save files to SD cards.
Lets you to generate your own playlists.
It offers numerous themes to make your podcasting experience far better.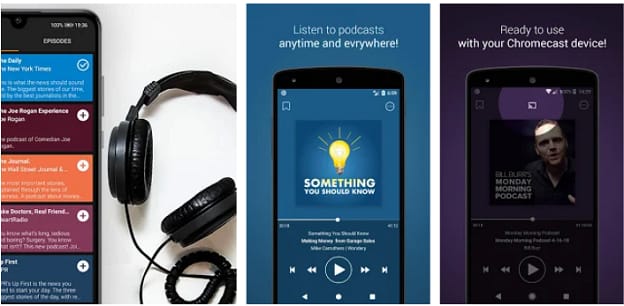 5. Anchor-Make your Own Podcasts
If you want to create your own podcasts then Anchor app is only for you. Anchor app helps you to create your own podcasts in a very unique way. It is the only app that helps you in recording your own podcasts at a very high-quality. With this app, you can also share it anywhere you want. And this is a 100% free app to record your own podcasts. It is the ideal podcast apps for android.
Features:-
Visual Episode Editor lets you edit the episode and rearrange it after editing.
Easily share your podcasts to anywhere.
Tracks the reach of your podcasts.
Built-in-mic records high-quality podcasts.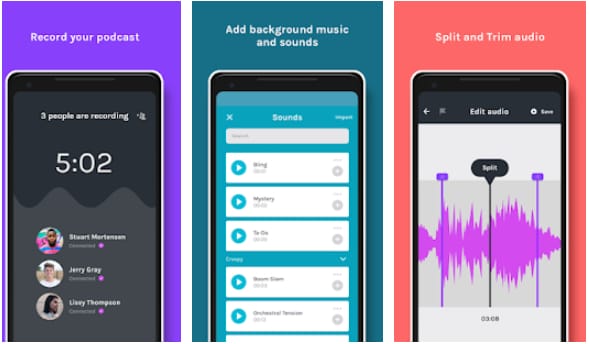 6. Stitcher
Stitcher is the best podcast player for android on our list. It is completely a free app. It is the only place where you will get all your favorite Podcasts around the world. Stitcher is the best organizer and steamer for your podcasts. Sticher offers more than 250,000 podcasts from every category like news, comedy, music, inspiring, and so on.
Features:-
Stream Podcasts instantly.
Download for offline listening.
Smart Speakers integrates with an Amazon Alexa.
Supports more than 50 in-car play models.
Organize your Podcasts.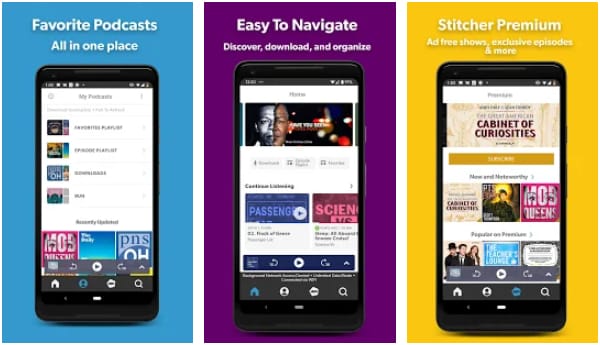 7. PodBean – Podcast Player
Podbean is the top-notch podcast app on Google Play Store with the highest ratings and reviews. Podbean is the best podcast app to manage all the podcast episodes in one place. Podbean contains popular millions of podcasts and allows you to opt for your most favorable one. This unique design podcast app will surely enrich your listening experience. Podbean is a great podcast apps for android.
Features:-
Numerous audio effects.
Lets you customize your podcast library.
Allows you to pick your best audiobooks absolutely free.
Offers built-in recording studio to record audios.
Easy Interface.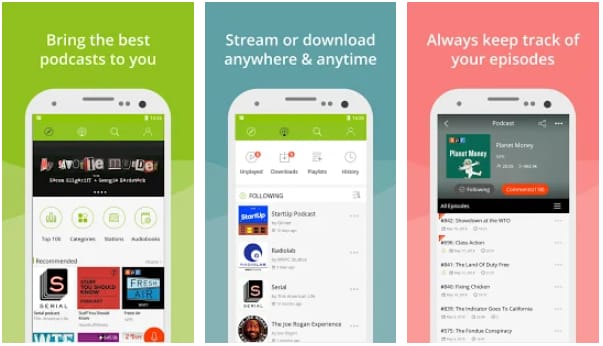 8. DoublePod Podcasts
More than 240,000 podcasts you can get on the DoublePod Podcasts app. It is the best android podcast apps. DoublePod Podcast is also capable to give you the iTunes podcasts information. DoublePod Podcasts also allows you to edit the playlists. That means you can get the iPhone podcasting experience on your android device.
Features:-
Lets you edit the downloaded podcasts.
Gives all the iTunes podcasts information.
Compatible with Android TV.
Playback Support.
Audio filter effects.
Automatic update.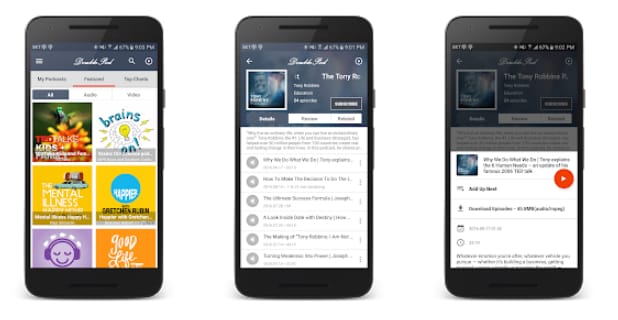 Also Read: 5 Best Android Lock Screen Removal Apps in 2020
9. Acast – Podcast Player
Acast is the podcast, audiobooks, music, new coverage hub for android. You can get the most delightful stories on Acast. Acast supports numerous categories like sports, education, business, and many more. It also allows you to download the episodes for offline listening. Acast podcast allows you to embed the images, links, and videos in the audio.
Features:-
Shows new and popular podcasts.
Keeps you updated with the latest episodes.
Browse podcast by category.
Lets you to use audio effects from the lock screen.
Continues the episode right from where you left.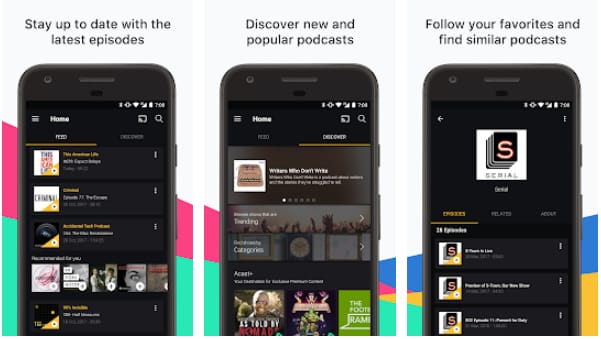 10. Podcasts Tracker
Podcasts Tracker is an ideal approach to manage your podcast library on your android phone. Podcasts Tracker gives you a quick and accurate approach to your podcasts. And the best thing about this app is that – you can enjoy all the amazing features of this app absolutely free. Automatically recommend the podcasts as per your taste and your browsing list. Podcasts Tracker is the best podcast apps for android users.
Features:-
Instant access to all your podcasts.
Keeps track of all your searches and history.
Standard designed.
Lets you to listen to podcasts in more than 70 languages.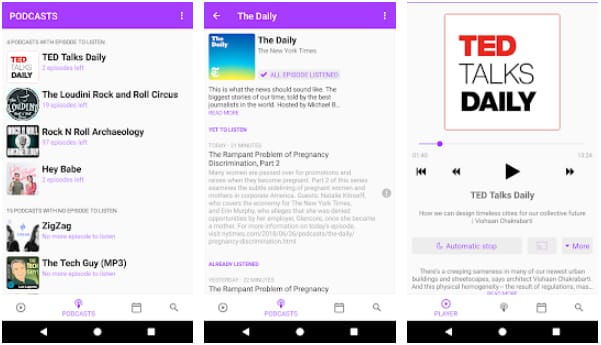 11. The Podcast App
The Podcast App is the best free podcast player for android. It is the easiest way to explore and listen to the latest podcasts with ease. With The Podcast App, you can be able to listen to podcasts in every stream like sports, entertainment, politics, news coverage, live radio, and many more. The Podcast App lets you to manage all your podcasts in a very effective way.
Features:-
Offers more than 450,000 podcasts.
Recommends popular shows for you automatically as per your genres.
Lets you to customize your Podcast library.
Supports offline downloads.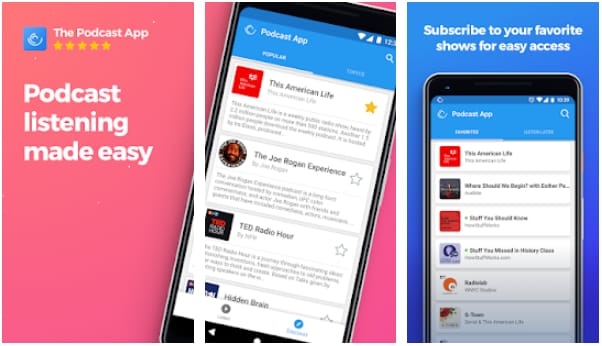 12. Free Podcasts Download Player
Free Podcast Download Player is the place where you will be able to explore and listen to all your favorite podcasts from your star-artists. With this, you will be able to reach live radio channels. It is completely a free platform to listen to podcasts. For regular updates, you have to subscribe to it for receiving the latest notifications of episodes. This app supports free downloading and streaming podcasting. That's the reason why it is the best podcast player for android.
Features:-
Offers many audio effects that take us to another level.
Lets you to customize the podcasts.
Recommends relatable podcasts.
Lets you to download the episode for offline listening.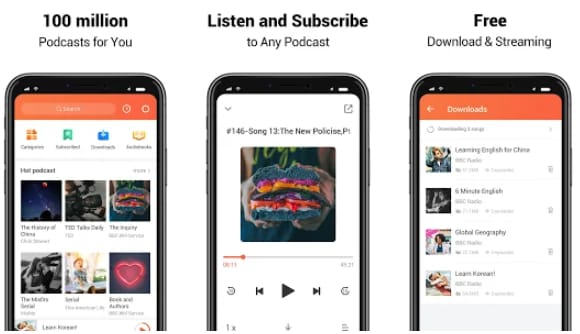 Podcast helps you to Read a Book through your ears!
There is no person on this planet who does not like to put on his earphones and listens to podcasts. Podcasts contain many articles, books, audio shows, which may be entertaining or informative. Podcasts can be very relaxing and knowledgeable. Above mentioned are the best free podcasts app for android and help you to find a podcast according to your taste. These apps contain various podcasts that can be funny, informative, entertaining, and emotional. But, in the end it is up to you what you want to listen.
Subscribe to Our Newsletter
Keep yourself updated with the latest technology and trends with Innovana Thinklabs Limited.