This post shares the best screen sharing and free remote desktop software to connect and collaborate with the team with ease. 
The past few months have proved to be quite challenging for everyone, particularly enterprises and the employees. The Covid 19 induced circumstances demanded a solution that perfectly balances the health safety needs of the workforce and productivity requirements of the organizations. That's when users begin to notice the best free remote desktop software. These programs are not something new, and they have been around for quite a long time. But, it is the pandemic times that made users realize the importance of these utilities even more.
Nowadays, users are searching the web quite a lot for the best screen sharing software to collaborate and connect with the teammates effortless even when they are working remotely. Since you are reading this article, we assume that you are also doing the same. Therefore, to help you and all the others, this typewritten note shares the best and fastest software to share the screen and access any computer remotely.
Best Free Remote Desktop Software in 2020
Here are the best free remote desktop and screen sharing software for both Windows and Mac.
1. RemotePC
Simplest free remote desktop software
This software is as simple and straightforward as its name. The best thing about this program that has impressed us a lot is the cloud storage solution that it provides. Apart from this, it encompasses several other features such as live video sharing with AR and more. Below we share its prominent offerings.
Highlights
It employs TLS V 1.2 and AES 256 bit encryption to keep your remote connection secure.
You can effortlessly transfer files and folders even from the drives that are mapped.
RemotePC lets you conduct virtual meetings with ease.
It allows you to print files from the remote computer using a local printer.
You can drag and drop files/folders to transfer them.
It lets you record the remote sessions.
With this program, you can chat during your remote sessions.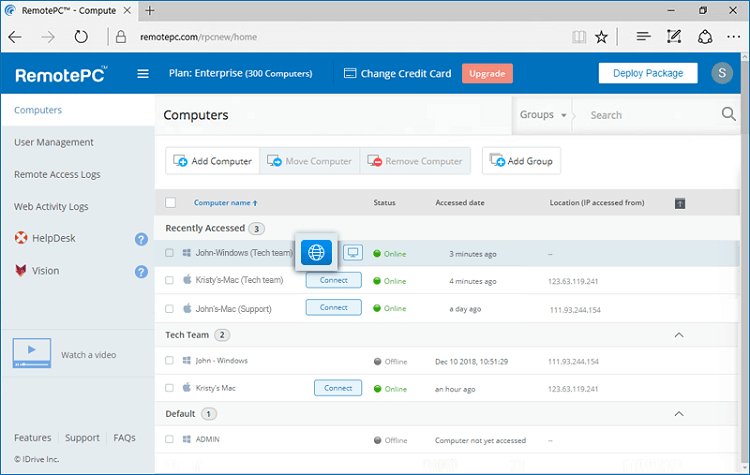 2. Zoho Assist
Cloud-based free remote control software
With this cloud-based software, you can remotely access almost every device with ease. Moreover, it provides some of the most incredible on-demand remort support, unattended remote access both inside and outside LAN, and more. Let's have a look at its highlighting features below.
Highlights
It allows file transfer during live remote sessions.
Zoho Assist secures all your file transfers with SSL 256 bit AES encryption.
You can voice or video chat in the middle of the remote sessions.
It lets you reboot and reconnect any computer in one click.
Boasts multiple monitor support and you can effortlessly navigate between monitors during the remote session.
You can schedule remote support sessions as per your convenience.
It allows you to record the remote sessions.
With Zoho Assist, you can schedule screen sharing, swap, and annotate the screen.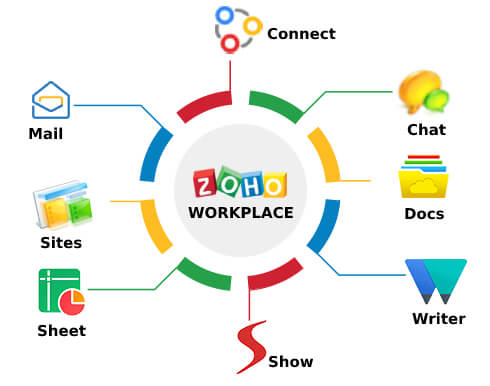 3. LogMeIn
Best free remote access software for large business houses 
LogMeIn is of the best screen sharing and remote desktop software for business enterprises, specifically, the large ones. Its feature set is quite impressive. It comprises several useful options such as a password manager and cloud storage. In addition to this, below is what else it offers.
Highlights
Boasts both remote access as well as on-demand remort support.
It supports a multi-monitor display that shows all the monitors in 1:1 size.
You get 1TB storage space that is enough to store even the large files with ease.
LogMeIn employs TLS 1.2 and AES 26 bit encryption.
It secures your computer with BitDefender, i.e., one of the top antivirus software.
With LogMeIn, you can easily share files, screens, and collaborate with peers.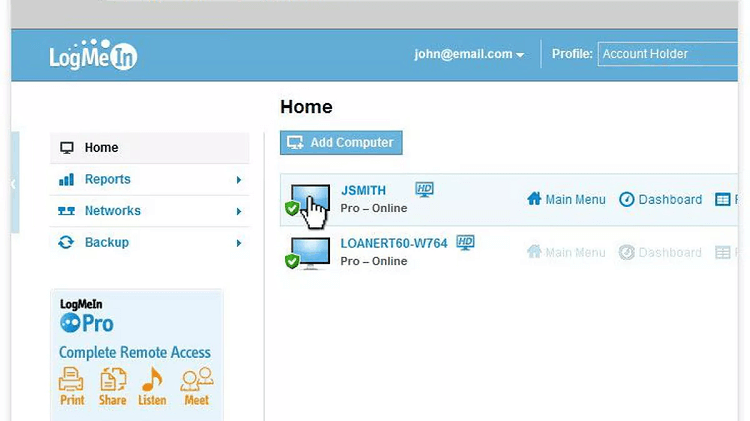 4. TeamViewer
Best free cross-platform screen and desktop sharing software
TeamViewer is a name that cannot be skipped while talking about the best free screen sharing and remote desktop software. It offers a wide spectrum of impressive features such as remote connection and support without VPN, AR guided workflows to enhance the productivity and efficiency of frontline employees, effortless IT infrastructure monitoring and management, and more. Let's discuss some of its key features below.
Highlights
You can effortlessly collaborate with your colleagues with TeamViewer's single click VoIP calls, screen sharing, file transfer, one-click meetings, and indexed messaging.
It boasts robust security features such as an end to end AES encryption and brute force protection.
There is no need for any router configurations to setup TeamViewer.
You can effortlessly record and view the remote sessions.
It hosts a whiteboard to draw and highlight important information on a remote screen.
TeamViewer can also work as portable software.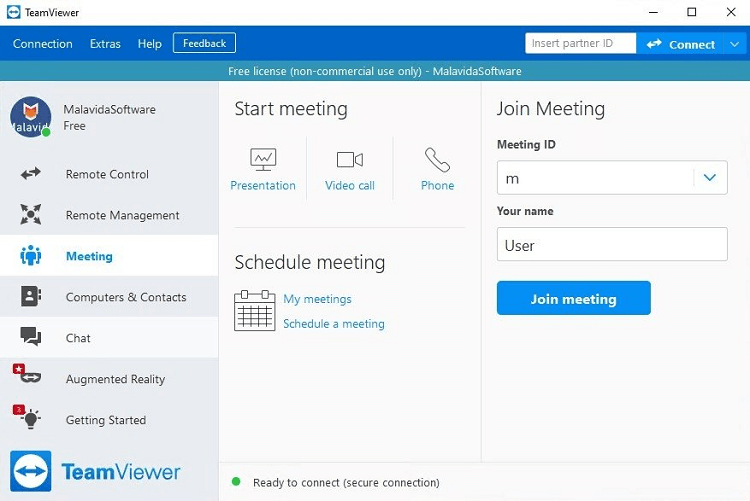 5. Chrome Remote Desktop
Best and fastest free remote desktop software for personal use 
In case you want an easy to use remote desktop software for personal use, then you should give Chrome Remote Desktop a spin. This software makes it easy as pie for you to connect to a computer remotely. The only thing you are required to do is install it on the computer that you want to connect to. In addition to this, below is what else we find attractive about this software.
Highlights 
Here you get both remote support and remote access.
It supports both attended and unattended access.
The full-screen mode is available.
It works even if you are logged out.
Chrome Remote Desktop is a cross-platform program.
It is one of the most secure remote desktop software.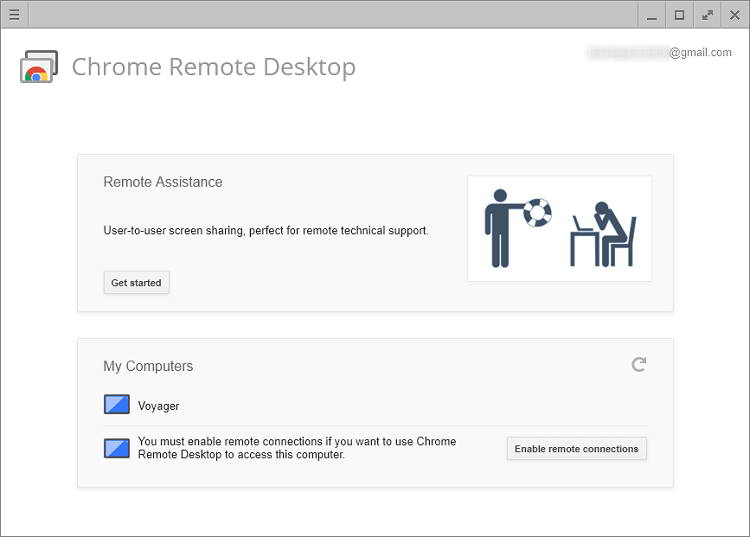 6. AnyDesk
Best remote access software to connect even faraway computers 
AnyDesk is one of the best free remote control software that you can use if you want to connect to a computer that is some far-away place, it can even connect a computer present in another country. In addition to offering effortless access to faraway computers, here is what else AnyDesk has to offer to its users.
Highlights 
Its in-built file transfer mechanism lets you copy and paste the files for transferring them. You can also use a new tab for transferring files without any hassles.
The software is light in weight. It has a size of 3 GBs only.
AnyDesk boasts a customizable interface.
It has a full-screen mode.
This software keeps your data secure with TLS 1.2 technology and RSA 2048 asymmetric key exchange encryption.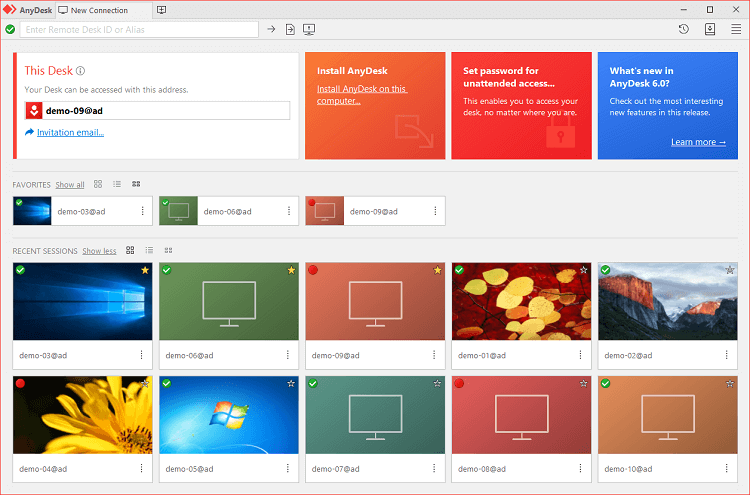 7. WebEx Remote Access
Best free remote desktop & screen sharing software from Cisco 
Cisco is among the top network technology companies around the world. It offers many incredible products and services to users. One of these offerings includes WebEx Remote Access. It is an excellent software to connect to a computer remotely. What brings it to our list are features like phone authentication, access control, and device grouping. Moreover, below are its other useful features.
Highlights 
It hosts a plethora of options to conduct video conferences and collaborate with the workforce or teammates.
Boasts a Remote Access Agent for effortless management of remote connections.
The user gets an email notification when someone connects to the PC remotely.
You can record the remote sessions.
It offers seamless integration with Google Drive, Slack, and other such tools.
WebEx boasts compatibility with almost every firewall.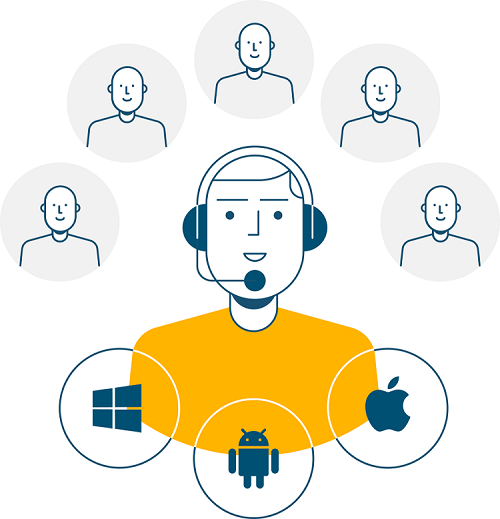 Best Free Remote Desktop and Screen Sharing Software: Final Thoughts
Through this article, we shared the best free screen sharing and remote desktop software with our readers. You can use them to work from home with ease or make your enterprise flourish even during pandemic times. If you want to add anything to the above list, then you can share the same in the comments section. We will see you soon with more such useful posts and tech updates. Till then, stay tuned.
Subscribe to Our Newsletter
Keep yourself updated with the latest technology and trends with Innovana Thinklabs Limited.