Do you know about voice changer tools? You can use these tools to alter the pitch intensity of someone's voice. Voice changer tools are quite famous among gamers. Gamers use such apps for discords to troll other players and entertain their fans. On the other hand, some people use such applications to make funny videos and audios. If you have the best voice changer software for Mac, then you can use it for multiple purposes, such as making prank calls with your friends over various platforms such as Skype, Viber, etc. It is always fun to use such applications. Hence, we have brought some of the best free voice changers for Mac.
Although, we advise you to use such software for sensible fun because it can cause you a severe punishment if you are using it for online harassment activities. If you are a sensible user and just want to use a voice changer for a little fun on discord or some other platform, then here are some best free voice changer for Mac.
5 Best Free Voice Changer Apps for Mac in 2020
Below mentioned is the list of some best free voice changer for Mac. You can use these applications to have some fun with your friends and on gaming discord as well.
1. MorphVOX Junior
While talking about voice changer applications, the first name that comes to our mind is MorphVOX Junior. This one of the best voice changer application for Mac offers multiple voices. You can change your voice into a manly voice, a female voice, or you're can also sound like a kid. Along with voice changing feature, this discord voice changer for Mac also allows you to add some sound effects to your voice. Here are some more highlights of MorphVOX Junior.
Salient Features of MorphVOX Junior
The app also allows you to adjust and eliminate the background noises. This ultimately helps you to record high-quality voice.

It can even help in adding background sounds with your voice to create some specific feel or atmosphere.

Its superior voice-learning technology makes it one of the best free voice changer for Mac.

You can also change your voice during a call using this tool. All you have to do is to connect the app with a VoIP and instant messaging program such as Yahoo Messenger, GoogleTalk, or Skype.

It works extremely well even on low bandwidth and CPU resources.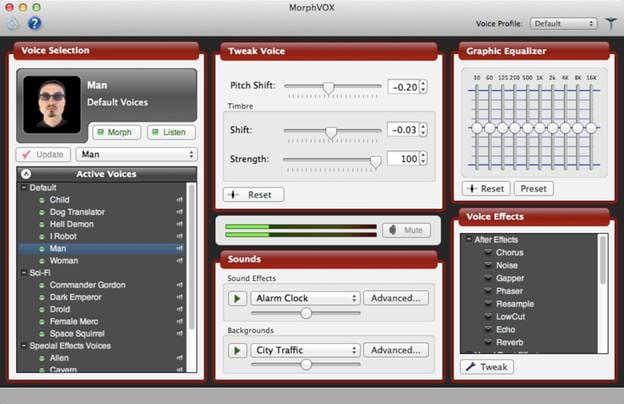 2. Voxal Voice Changer
If you are looking for a real-time discord voice changer, then Voxal Voice Changer is a highly-recommended utility for you. It is one of the best voice changers for discord on macOS. You can change your voice in real-time while playing any game or using any other application with Voxal Voice Changer. Along with male and female effects, the application also allows you to change your voice into an Alien's voice. Here are some more luring features of this proficient voice changing tool.
Luring Features of Voxal Voice Changer
This voice changer for mac discord allows you to hear your changed voice live.
You can also create unlimited custom voice effects using this voice changing tool for Mac.

It doesn't use your CPU much and hence do not affect the functioning of any other running apps.

The app even alaows you to listen the changed voice at real-time.

Despite offering so many features, Voxal Voice Changer still offers quite an intuitive user-interface.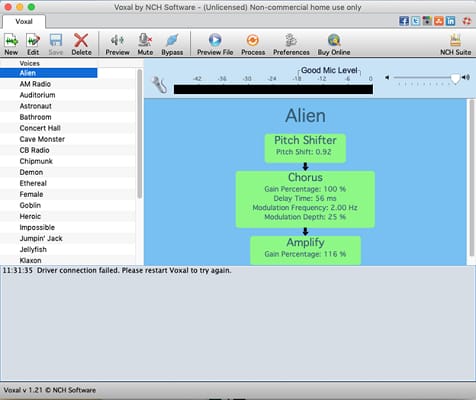 Also Read: Is Your MacBook Pro Overheating? Here're the Fixes & Tips to Cool it Down
3. Voice Spice Recorder
Here comes another best voice changer software for Mac. With Voice Changer Plus, you can record and change your voice into another one by using 55 different voice effects and dozens of background sounds. However, it does not allow you to change your voice in real-time. But, it offers quite helpful features and an intuitive user interface, which makes it one of the best free voice changer for Mac. Here we have also discussed some of its highlights.
Noteworthy Features of Voice Spice Recorder
The software offers a complete VoiceOver support.

You can even use it for singing purposes as well. It offers several background sound and voice modification effects.

The tool also allows you to play the recorded audio backward.

Along with all these features, the software also offers some editing features such as trim control.

The paid version of the tool also comes with a few more advanced features, such as selecting a photo for sharing, and is also ad-free.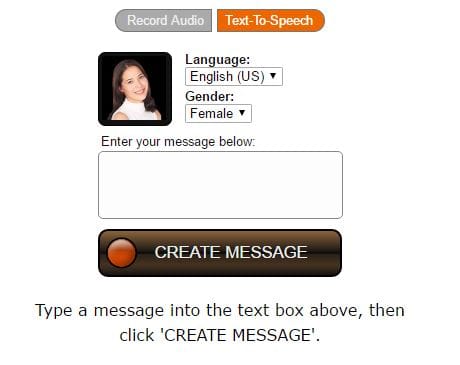 4. Voice Candy
Voice Candy is another good free voice changer for mac. It can modify your voice quite proficiently. Along with the common male and female voice effects, it also allows you to convert your voice into a chipmunk voice. Although, you can not use this mac voice changer for discord as it doesn't support real-time voice conversion. But you can share your converted voice files with other people via email. Below are some of the prominent features of Voice Candy. 
Prominent Features of Voice Candy
One of the most prominent features of Voice Candy is its easy interface. The application is pretty easy to use and offers several basic shortcut keys that can help you to operate the app more efficiently.

It offers around 8 Different effects to modify your voice.

You can even set a reminder for recording something using this best voice changer software for Mac.

The app also allows you to share the audio recording to email or iTunes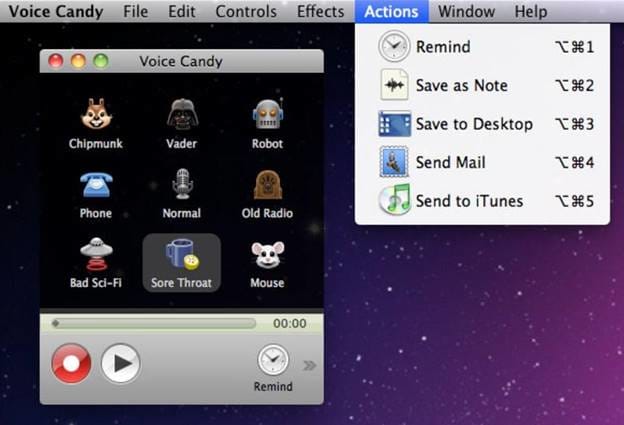 Also Read: Best Free Photo Collage Maker Software for Windows and Mac
5. Audio Voice Changer
At last, we have another worthy voice changer application that you can use to protect your privacy or to have fun with your friends. Audio Voice Changer offers many funny voice modifications, including the male, female, kid, robot, and several other voice effects. However, the application does not allow you to change your voice directly on discord or over a call. Hence, if you are looking for a real-time voice changer app, then you may feel a little disappointed with Audio Voice Changer. But it offers various other features that makes it one of the best free voice changer for Mac. Below we have listed them for you. 
Praiseworthy Features of Audio Voice Changer
The app helps the users to protect their privacy if they want to post their audios over the internet by changing their voices.

It offers several unique effects like Frankenstein and Mouse voice effects to record more funky audios.

If customization is your priority, then Audio Voice Changer is the best voice changer that you can get for your Mac. It allows you to change the pitch, frequency, and tempo of your voice.

You can also add the pre-recorded audios to the app and apply the sound effects on them as well.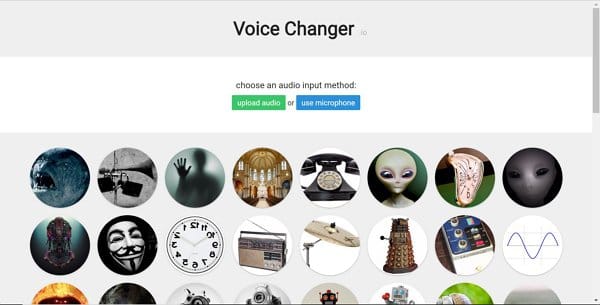 Top 5 Voice Changing Software for MAC
So, here we like to conclude our list. All the names that are mentioned above deserve to be considered as the best free voice changer for Mac. It depends upon your personal preference which one you consider as best. It is good to have fun and play pranks with your friends, but do not use these applications for some malicious purposes. It can be dangerous for you as well.
Furthermore, if you want more information about various other applications for Mac, then subscribe to Innovana blogs.
Subscribe to Our Newsletter
Keep yourself updated with the latest technology and trends with Innovana Thinklabs Limited.