This article shares the best WinZip alternatives to compress and decompress all kinds of files easily. 
Before WinZip came into the picture, sharing large-size files were no less than a pain for users. But after this software became available, all that people needed was to compress or zip the files to reduce their size. In addition to making the files easily shareable, the program also makes it easy for users to open an email attachment by simply unzipping it. Now, if you are thinking about getting this file compressor, then wait and read this article that shares the best free alternatives to WinZip. 
These programs like WinZip are not only free ways to zip and unzip files on both Windows and Mac computers but also offer advanced options that this software does not provide. Without further ado, let's take you to the list of the alternatives to this file compression software. 
Top 6 Entirely Free and Best WinZip Alternatives
Below are the software packages that are not only free but also the best WinZip alternatives that are way better than it. 
1. 7-Zip
The open-source WinZip alternative 
7-Zip is among the most popular software to pack and unpack large size files on Windows computers. We have placed it on the list of the best WinZip alternatives as it supports a wide spectrum of file formats and its powerful file management. It supports over 31 types of files. 
With 7-Zip, you can pack/unpack 7z, XZ, BZIP2, GZIP, TAR, ZIP, and WIM file formats. Whereas, for  AR, ARJ, CAB, CHM, CPIO, CramFS, DMG, EXT, FAT, GPT, HFS, IHEX, ISO, LZH, LZMA, MBR, MSI, NSIS, NTFS, QCOW2, RAR, RPM, SquashFS, UDF, UEFI, VDI, VHD, VMDK, WIM, XAR and Z formats only unpacking is allowed. 
What makes 7-Zip worth mentioning WinZip alternative for Windows 10 is the compression ratio that it provides. 7-Zip's file compression ratio is 2-10% better than that of WinZip. 
The software even allows you to create multi-part files by dividing the archives into individual parts and then letting you decide the amount and size. It makes file sharing via emails and creating file backups easy. 
Other noticeable advantages of 7-Zip over WinZip are that it supports AES-256 encryption in 7z and ZIP formats, Self-extracting capability for 7z format, integration with Windows Shell, Plugin for FAR Manager, and 87 languages. Moreover, with the drag and drop option, you can effortlessly add files to begin the packing process. In a nutshell, 7-Zip is among the most feature-packed free open-source WinZip alternatives. 
The only disadvantage is that you cannot use this software to scan or repair archives.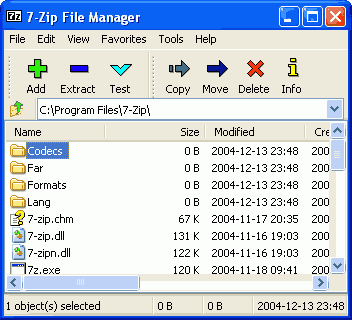 Read More: Best RAR File Extractor Software to Open RAR Files
2. PeaZip
Free WinZip alternatives that even supports rare file formats 
The first thing that caught our attention was PeaZip's support for even the rarely used file formats, such as PAQ, DAB, DMG, and more. Apart from these less commonly used file types, it also supports over 200+ archive formats, including 001, 7Z, ACE(*), ARC, ARJ, BR, BZ2, GZ, ISO, LHA, RAR(**), TAR, UDF, WIM, XZ, ZIP, ZIPX, ZST, and more. 
With PeaZip, you can pack and unpack 7Z, Freearcs ARC/WRC, SFX (7Z AND ARC), BZ2, GZ, PAQ/LPAQ/ZPAQ, PEA, QUAD/BALZ/BCM, SPLIT, TAR, UPX, WIM, ZIP files. 
Talking about security, this software works on the two-factor authentication mechanism where the files are protected with a password and key file. You can create AES 256 encrypted passwords to secure your files. Moreover, it also boasts an option to remove files securely with its in-built file shredder. 
PeaZip not only allows you to zip and unzip files but also serves as one of the best free WinZip alternatives to merge files and split them. Not only this, but it also doubles up as a duplicate file finder, hash calculator, and self-extracting archives creator. 
The interface of this software is also among its noticeable characteristics. It boasts a simple, beginner-friendly interface that lets you compress and decompress files with an easy drag and drop option. In addition to this, it can also be integrated with the context menu of Windows.
However, it suffers from a few shortcomings that its archive-creating speed is slower than the other tools on this list, and minor interface issues often come up while using it.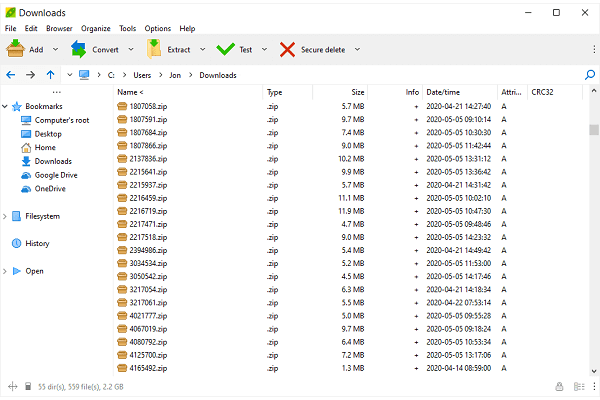 3. Bandizip
Fast WinZip alternative for Mac and Windows with Unicode support 
Here comes yet another WinZip alternative that you can download for free. With this program for both Windows and Mac platforms, you can compress ZIP, 7Z(lzma2), ZIPX(xz), EXE(sfx), TAR, TGZ, LZH(lh7), ISO(joliet), GZ, and XZ file formats. Whereas, for decompression, it supports 7Z, ACE, AES, ALZ, ARJ, BH, BIN, BZ, BZ2, CAB, Compound(MSI), EGG, GZ, IMG, ISO, ISZ, LHA, LZ, LZH, LZMA, PMA, RAR, RAR5, SFX(EXE), TAR, TBZ, TBZ2, TGZ, TLZ, TXZ, UDF, WIM, XPI, XZ, Z, ZIP, ZIPX, ZPAQ, ZSTD, BR, and NSIS files.
The most noticeable feature of Bandizip is its speed. It works at a lightning-fast speed to pack and unpack files. Moreover, it also allows you to choose the archive type as well as archive size. You can even select the archive size from the predefined options. 
Like almost every free WinZip alternatives that we have discussed here, it also lets you password protect your files and repairs corrupted zip archives. Moreover, with this program, you can recover the lost archive passwords and view thumbnails of images present in the archive. 
This software is also pretty strong on the security front as it also comes with a malware detector for archives. 
It also has the drag and drop option for ease of use. And you can select the files from the context menu that you want to integrate with this software.
There is also Unicode support to let you pack or unpack files with Japanese, Chinese, or Korean characters. 
The only downside is that this software might seem a bit complicated to amateur users.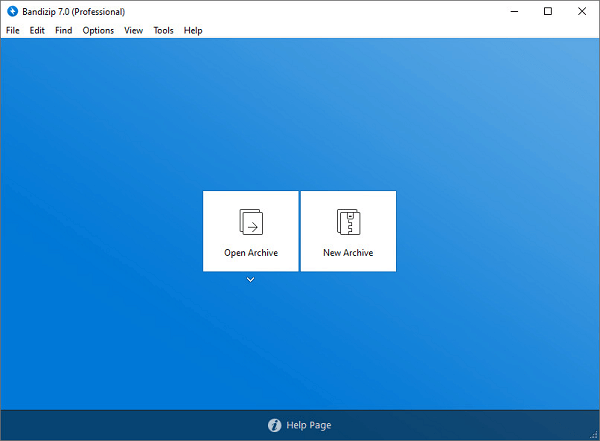 4. Ashampoo ZIP Free
A decent software similar to WinZip 
Next, we are going to talk about Ashampoo ZIP Free. It is one of the programs like WinZip but freely available. There are no highly advanced features in this freeware. But, it performs the task of packing and unpacking files quite well. 
It allows you to pack and unpack file formats, such as ZIP, 7-ZIP, CAB, TAR (TAR, TAR.GZ, TAR.BZ2, TAR.XZ), and LHA.
Whereas, for unpacking, it supports over 30 file formats, such as RAR, ZIPX, ARJ, ARC, ACE, MSI, NSIS, CHM, DMG, RPM, CPIO, VHD, XAR, LZMA, LZH, SQUASHFS, CRAMFS, Z, ZOO, WIM PLUS ISO (ISO9660 and UDF), and more. 
You can perform all the necessary functions with this software, such as reading encrypted archives, creating self-extracting and multi-volume ZIP archives, and repairing the damaged archives. It also supports all versions of RAR.
As far as security is concerned, it allows you to encrypt the archives with 256 bit AES encryption. 
There is also an integrated preview to view the images, text, and other details without even extracting them.
It also comes with Windows Explorer Shell integration. As for the interface, it is modern, intuitive, and simple enough for beginners. 
Talking about the shortcomings, to get the advanced features, you need to upgrade to the Pro version.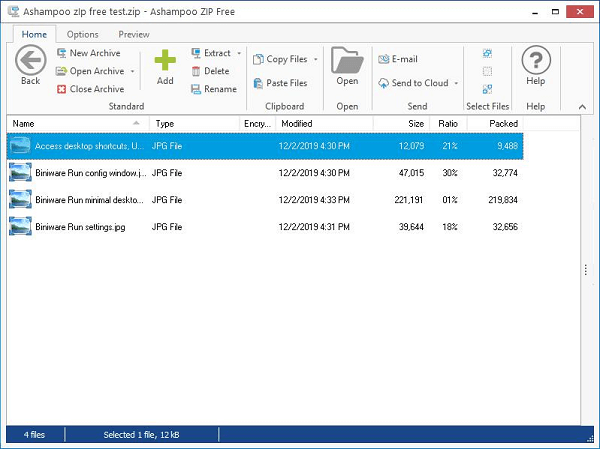 Read More: Storage Full! How To Free Up Disk Space On Windows 10
A simple, fast, and free alternative of WinZip 
Next, we have Zipware on this list of the best WinZip alternatives. This software scores full points for its simplicity and ease of use. However, it does not only offer a simple interface but also many other features that help you extract and create zip files with ease. 
With this software, you can create ZIP, 7-ZIP, and EXE files. Whereas, it allows you to extract file formats, such as ZIP, ZIPX, 7Z, RAR, RAR5, ISO, VHD, GZIP, BZIP2, TAR, CPIO, XZ, DEB,DMG,RPM,XPI, and more.
Moreover, it also allows you to convert any kind of file format to zip, 7z or exe. As far as file security is concerned, it lets you encrypt the files with AES-256 encryption.
There is also an integrated virus scanning tool to keep your archives virus-free. Moreover, in case you have lost the archive password, this software allows you to recover it. 
It also has an integrated password management system and checksums calculator. Like all the other free WinZip alternatives for Windows 10 listed here, it also comes with the drag and drop function, context menu integration, and the option to create self-extracting and split/multi-volume archives.
The only not-so-good thing about this software is that it does not have an archive repair feature.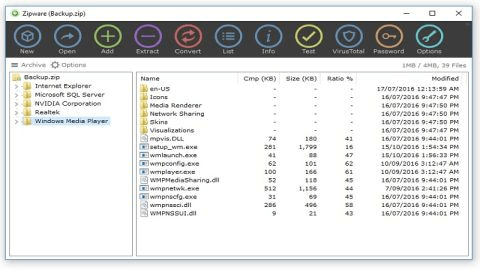 6. ZipGenius
Best free alternative to WinZip with a customizable interface 
The next entrant on our list of WinZip alternatives is ZipGenius, i.e., one of the most customizable utilities for compressed archives. It offers quite a lot of options to customize its look and feel. Moreover, it also comes with a bunch of features that make it easy for you to zip and unzip files. This software supports over 20 types of archives. 
Some of its praiseworthy features include the option to convert ZIP files into Self Extracting Files, create encrypted ZIP archives in CZIP format, and extract the files where they are required. Along with this, it hosts a lot of options to create file backups, a disk space calculator, an integration with your antivirus software to detect viruses.
You can also export the file list into multiple formats, sign ZIP archives with ZGSign, and install ZGTools to expand the software's capabilities. 
Talking about the interface, it is easy to use and tabbed so that you can open multiple archives simultaneously. 
There is only one problem with this software that it is not updated regularly.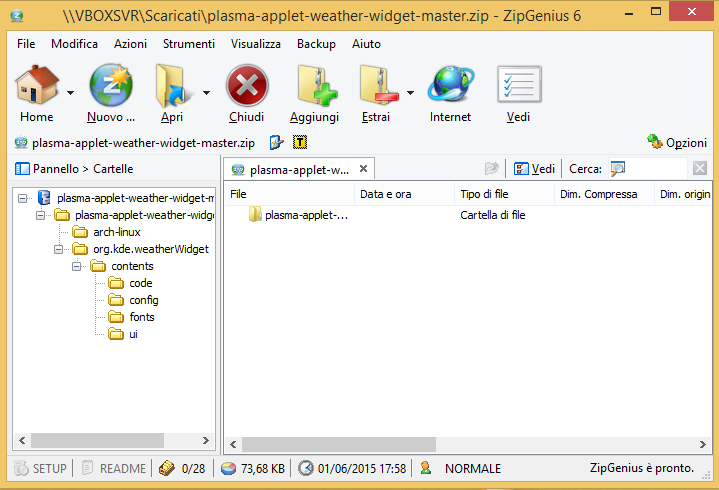 Closing words on the Best Free WinZip Alternatives
Above were the best WinZip alternatives that are available for free. You can use them to create, extract, read, and share files without any hassles. In case you think we have missed out on any outstanding software, then you can share it via comments. We will try reviewing and adding it to our list. 
Subscribe to Our Newsletter
Keep yourself updated with the latest technology and trends with Innovana Thinklabs Limited.