Pick one of the best workout apps that fit in your fitness criteria to tone your body and be fit.
The pandemic has actually changed the meaning of everything whether it is about working from home or studying online etc. Apart from this, the one utmost crucial thing that changed our lives vigorously and which is doing the workout at home rather than going to the gym. However, the gyms are now ready to welcome individuals but most of the individuals are approaching the way to build-up their own gym at home just as a preventive measure. so, if you haven't started doing a workout either at home or gym, then, do it soon to get the most healthier lifestyle and to strengthen your immune system as well to fight against COVID-19.
Technology is the way to get everything with much ease. Isn't so? Now, if you are worried about your fitness trainer then let us explain to you, that your smartphone can be your personal fitness trainer that guides you about everything right away from diet to exercise to workout duration and many more. So, here's the list of 2021's best workout apps for Android & iOS. Travel with this article, and in the end, you get to know clearly that which is the most perfect workout app for you.
List of 10 Best Free Workout Apps for Android & iOS in 2021
No matter what your workout routine cycle includes – we've looked at the best workout apps that never ever strike you down. Even help you immensely in getting the slim down, and toned body. So, check it out the below-mentioned best apps to get the perfect shape body even at home.
1. Personal Fitness Coach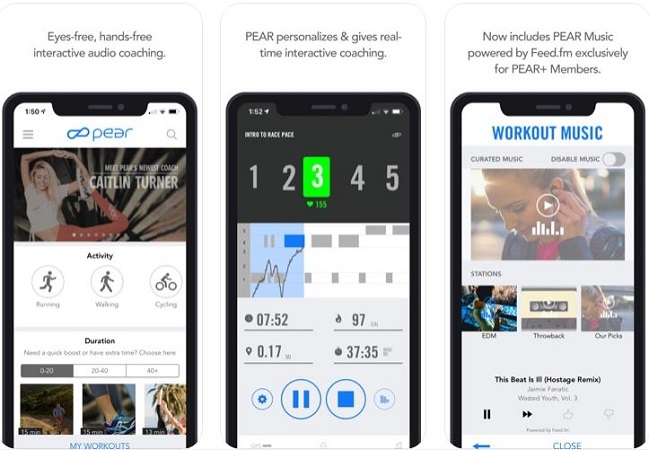 Whether you want to lose extra pounds or just rig yourself a little bit, Personal Fitness Coach is the one you need. With this app, you'll get to know that being fit has been never so easy. Because Personal Fitness Coach helps you endlessly and refresh you well. It is the best gym app for android & iOS as well.
Highlights
It gives you real-time personal training and helps you in accomplishing the fitness goal faster than ever.
Trains you on how to be smarter and stay in shape.
Top world-class athletes give interactive sessions on fitness and motivate you towards your fitness goal as well.
It provides hundreds of unique workout routines including the treadmill, spin, strength, yoga, cardio, and many more.
Real human voices – no robot or chatbot trained you.
Highly compatible with all types of body types and fitness levels.
Interesting video content makes your fitness regime, even more, better yet easy to grab.
2. Cure.Fit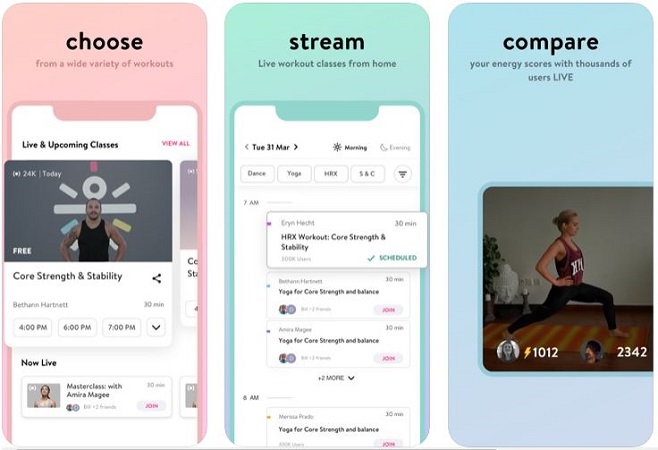 Presenting the best way to live a fit and healthy life – Cure.Fit! Doesn't matter if you are doing exercise at home you can still live the fittest and healthier lifestyle with the help of Cure.Fit, one of the best free workout apps for iPhone and Android as well. It is just like your own modified fitness studio that helps you to stay in shape.
Highlights
It turns your living room, bedroom into the fitness studio, and suggests the type of exercise according to your body type and weight.
Offers LIVE workout sessions, and lets you book in advance, moreover, it notifies you whenever the classes get started.
It lets you choose from the vast variety of workouts including cardio, Yoga, Core, HIIT, Strength, dance workouts like Zumba, aerobics, and more.
Now, you don't need other wearable fitness trackers to monitor your overall health status because Cure.Fit comes with the in-built AI-based energy tracker to calculate your LIVE energy or health score.
All the workout sessions led by the world's top athletes and fitness professionals.
Offers a vast variety of recipes to maintain your diet and helps you to keep your fitness level on an accurate bar.
3. Fitbit Coach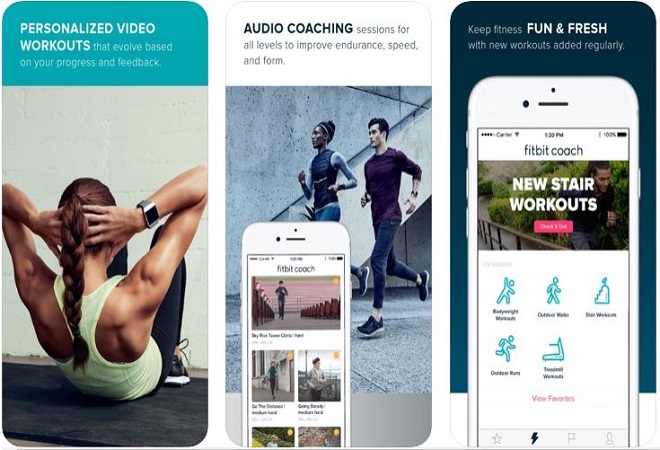 No doubt Fitbit rules the realm of gadgets, and you might be using some Fitbit trackers as well. Have you heard about the Fitbit Coach, a mobile application for both Android and iOS platforms? Yes, you get it right, it is the most ideal way to get and stay in form. Fitbit Coach synced with your Fitbit trackers and gives your daily activity report.
Highlights
Adaptive workout sessions just make your daily workout even more amusing. Stick to your fitness goal and motivates you to accomplish the feat.
It provides a 7 to 60 minutes workout duration, now it is all up to you which suits your fitness level.
Fitbit recommends you exercise based on your daily activity which is tracked by the Fitbit devices.
Offers step-by-step coaching, motivation, and health tips.
Provides hundreds of exercises and never sticks to the same workout routine.
Available in more than 6 languages including English, Spanish, French, German, and many more.
4. SHRED – Home & Gym Workouts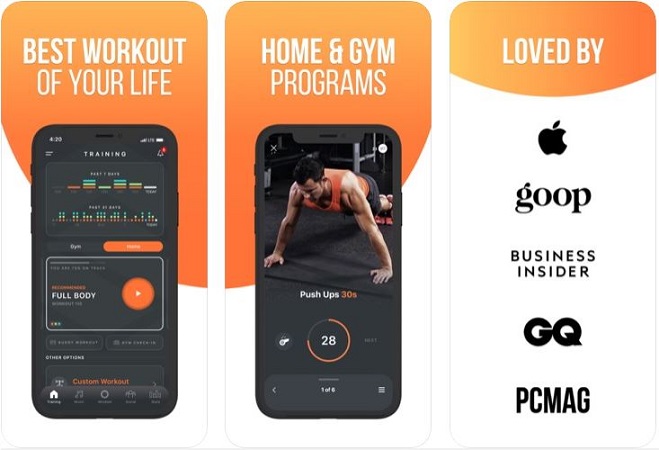 Can't be able to go to the gym? Then, create your own gym studio at your home. Even if you can't do this too, then SHRED is only for you to help you out. What you have to do is – just download SHRED on your smartphone and follow whatever it suggests to you. SHRED is the best workout apps that is available on both networks i.e., Android and iOS. Get it now to have a slim and toned body!
Highlights
Provides perfect digital training to keep you on the exact fitness track.
Offers numerous workout styles and suits all sort of fitness levels.
Regularly monitors your progress and show your logs.
Provides more interactive yet amusing visuals, but you need to complete more workouts to unlock the visuals.
SHRED makes the gym more competitive and funnier as well, so you can compete with your friends.
You can easily connect with the Spotify and Apple Music just to make your workout sessions more fascinating.
You can be able to sync your workouts and heart rate with the Apple Health.
5. Nike Training Club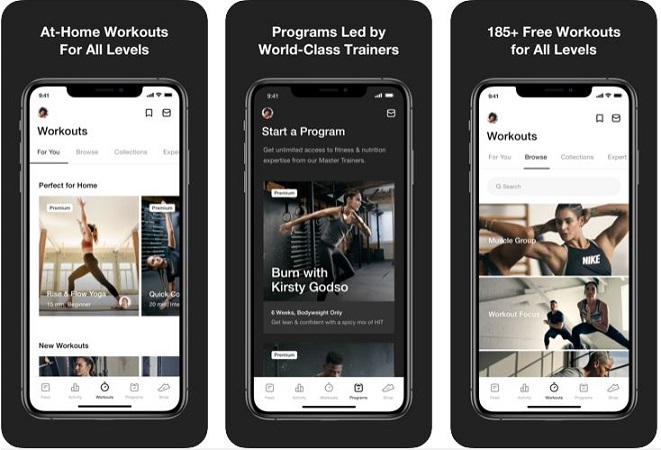 Let open your doors, an expert is coming to guide you about how you can be fit. Nike Training Club is the fitness expert that keeps you fit always. It is the go-to-guide that travels through all your home workout rounds. Nike Training Club is the leading free workout apps, provides free and highly designed workouts.
Highlights
Offers different workout collections which you can try at your home according to your requirements.
Provides more than 185 free workouts for all sorts of levels which is designed by highly-professional Nike trainers.
As a compliment, it also provides nutrition and wellness direction from Nike Professionals.
Shows recommendation workouts, interactive visuals that match up with your fitness goal.
Highly compatible with the Apple Watch, so you can connect your workouts with Apple Watch.
Daily count your fitness journey and shows your daily-basis fitness progress report.
Also Read: The Best Calorie Counter Apps for Android and iPhone 
6. Your Own Gym – Bodyweight Training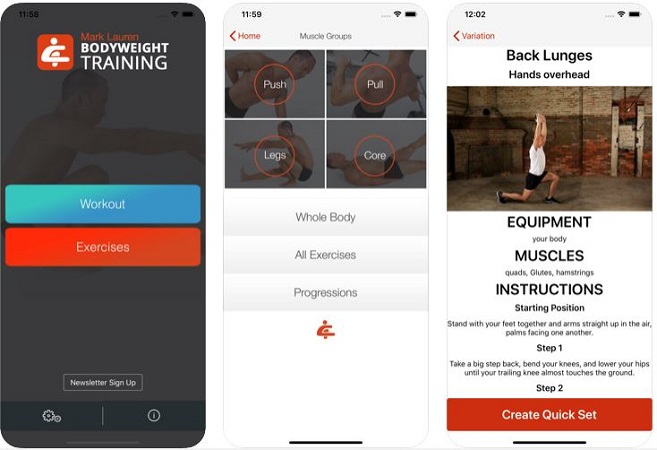 Want to get the best shape without stepping into the gym? Then, create your own gym for yourself. Have you got the point? You need to build-up your own gym and motivate yourself to get into the best shape. Join the bodyweight fitness club now to get trained & stay in shape by the professional across the world.
Highlights
With Bodyweight Fitness – you don't need a gym.
It offers more than 200 exercises which suit all types of fitness levels.
Provides quick workouts and goes further by producing quick outcomes.
Comes with an in-built Healthkit integration tool that tracks your heart-rate and can be synced with the Apple Health application.
The workout duration can be of 2 minutes or 40 minutes.
Bodyweight Fitness is the best free workout apps for iPhone that lets you schedule the workout sessions and notifies you whenever it gets started.
7. Lose Weight App For Women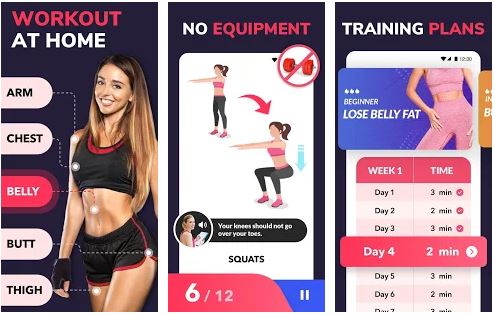 One of the most effective and simple app to burn fat and lose weight for women is – Lose Weight App for Women. However, it also available for men, and offers a wide variety of styles to lose weight. Whether you want to lose belly fat or arm fat, this application is the one that perfectly fits into your fitness bill. With the help of this app, within a few days, you can get the best shape body that you ever wished of.
Highlights
Designed with the pro fitness coach and includes 4 different levels that make you from a newbie to an ace.
Comes with the calories counter calculator that records how many calories you burn in a day.
Separate apps in every stream to help you out in losing weight journey.
Lets you customize your own workout rounds.
An impressive visual guide helps you and clear everything.
Shows daily progress reports and tracks your heart-rate as well.
8. SEVEN – 7 Minute Workout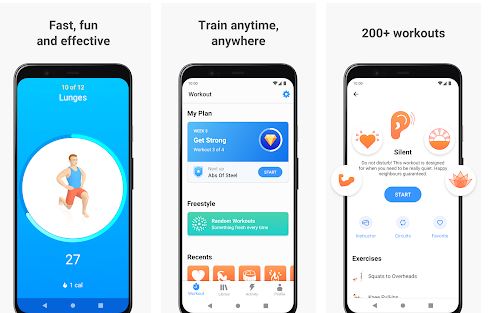 Be fit has never been so easy, but now it has been a cup of tea for everyone. Through the best workout apps, you can get the perfect shape toned body within a couple of days. On this rundown of the best fitness apps, we've mentioned the world-class apps, but among all SEVEN – 7 Minute Workout is the app that satisfies you entirely. So, step into the best shape without stepping into the gym. In this pandemic, make your gym at your home.
Highlights
With this app, you don't require any equipment to workout, you can do a workout anywhere, and at any time.
Developing a regular workout habit is not a cup of tea for everyone, but with the help of SEVEN, you can easily develop a 7-minute workout habit.
For getting extra support and motivation, compete with your friends.
Offers more than 200 workouts and impressive real-time live sessions from the professionals.
9. 8fit – Workout and Meal Planner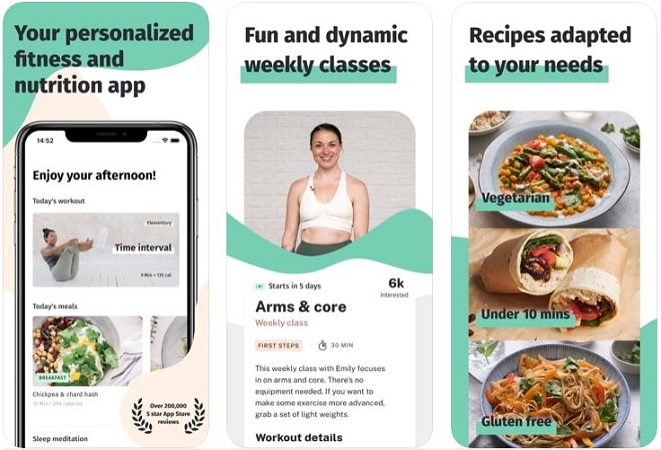 Last but not least, one more best free workout apps for both platforms i.e., Android and iOS is – 8fit – Workouts and Meal Planner. It is the best app that helps in putting the nutrition and fitness tips in your pockets. Thousands of users have rated 8fit by 5 stars. Moreover, it lets you set the fitness goal and helps you in achieving the goals quickly along with the perfect meal chart.
Highlights
Along with providing the workouts, it provides nutrition and wellness tips as well.
Plans a weekly meal chart with the healthier recipes just to maintain your diet.
Interactive videos guide you on how you can do the step-by-step workout.
Offers real-time live workout and fitness sessions from the world's top-rated fitness professionals.
Equipped with the in-built carb calculator that perfectly controls the carbs.
10. Google Fit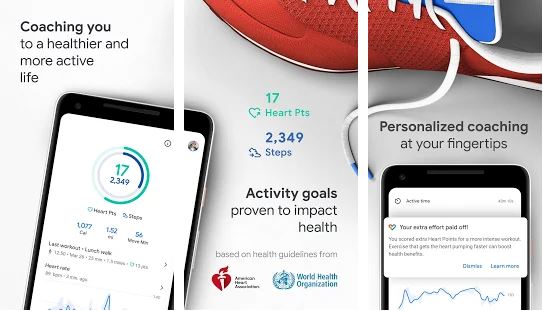 Do you want to live a healthier life? Then, get Google Fit now as it tracks your overall health status and recommends you how you can be fit and live a healthier lifestyle. Moreover, Google Fit is the most trusted and reliable free workout apps for Android because it is teamed up with WHO (World Health Organization).
Highlights
It gives you a deep insight into your health when you run, walk, or even riding a bike.
Sets your fitness goals and shows your daily progress.
Counts your every activity or step.
You can easily & quickly use it from anywhere at any time.
Create your weekly diet chart as per your body or fitness level.
Turn with the Best Workout Apps to Get Fit
In sum, we would like to wrap it up by stating that the list we've brought up for you is completely reliable and includes the top-rated editor choice workout apps. The above-listed apps help you in turning your chubby body into a high-toned and slim down figure. If you are looking for our opinion, then we highly suggest you download the Personal Fitness Coach and Nike Training Club app to get the perfect figure. Lastly, we would feel glad to know your opinions so drop your feedback in the below comment box. If you haven't subscribed Innovana Blogs yet then fire it up now! Till then stay connected with us, will back soon with yet another informative post.
Subscribe to Our Newsletter
Keep yourself updated with the latest technology and trends with Innovana Thinklabs Limited.