When it comes to the best PC cleaners, the name of Glary Utilities by Glarysoft is unskippable. This utility is enormously popular as the best PC cleaning tool, and as the developers claim, it is an all-in-one computer care utility. Are these claims veracious? Is Glary Utilities the only worth considering option? These are the questions that this write-up answers. Along with this, here we also explore the best Glary Utilities alternatives that you may consider using.
Let's begin with the first question, i.e., is Glary Utilties the best PC cleaning tool, or should you look for a better Glary Utilities alternative. In our humble opinion, shortcomings or cons are part and parcel of every software. The decision to switch to other options or not depends upon whether the downsides can be ignored or not. Glary Utilities has some unignorable cons that we share below.
UI is not user friendly.
It does not enhance the PC's speed.
There are no tools to keep the computer safe and secure.
It offers less value for the price that you pay.
Hosts no option to clear residuals of deleted applications and software.
In our view, the above cons cannot be ignored. If you are on the same page as us, then check out the best alternative to Glary Utilities in the below segment.
Best Glary Utilities Alternatives that You Can Use in 2020
Here are the best Glary Utilities alternatives that are even better than the original utility. Let's have a look at them.
1. Avast Cleanup
Another similar software like Glary Utilities is Avast Cleanup. This tool declutters your PC for amazing performance and offers several features such as browser cleaning and bloatware removal to name a few. Below are more of its highlighting offerings.
Highlights
Hosts a disk cleaner to delete app residuals and files that hog up space.
Boasts a registry cleaner to delete invalid and unneeded registry entries that make the system slow.
Clears useless browser data such as cookies, old plugins, etc.
It has a sleep mode for apps that the system does not require.
Deletes bloatware and unrequired shortcuts.
Encompasses a dashboard and action center to keep PC's health in check.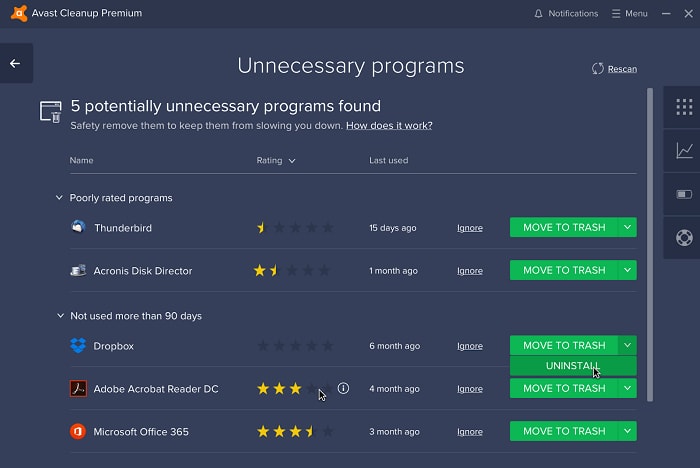 ---
2. CleanMyPC
MacPaw is a developer company famous for coming up with outstanding software for Windows users. CleanMyPC is an offering from MacPaw that cleans hard drive, junk files, and resolves registry problems. Moreover, this is among the best Glary Utilities alternatives to take the performance of your PC a level up. Below is what makes this tool stand out from its counterparts.
Highlights
Lets you turn off the unnecessary add-ons with ease.
Deletes the browsing history so that your privacy remains intact.
CleanMyPC not only deletes files but also shreds them so that they become irrecoverable.
Removes the useless hibernation file snapshots to free up disk space.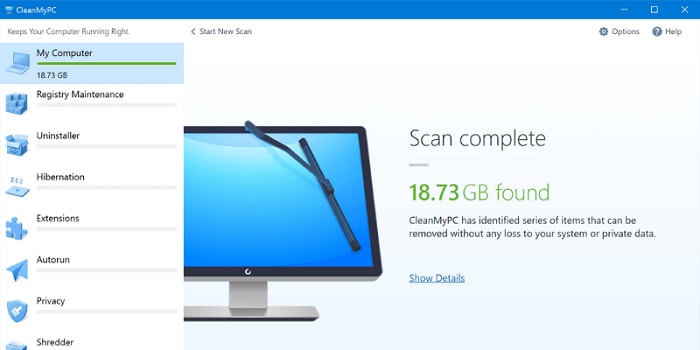 ---
3. AVG PCTuneUp
This is not a single utility. It is like multiple utilities are bundled in one package. With this similar software like Glary Utilities, you can not only get rid of the junk but also update outdated programs and automatically speed up your PC. In addition to this, below are the other striking features that brought this tool to our list.
Highlights
Automatically removes invalid registry entries.
Puts the unneeded and space-hogging applications to sleep till you need them.
Hosts a software uninstaller to remove unwanted software and bloatware.
Clears your browsing traces.
It comes with a software updater to keep all applications up to date.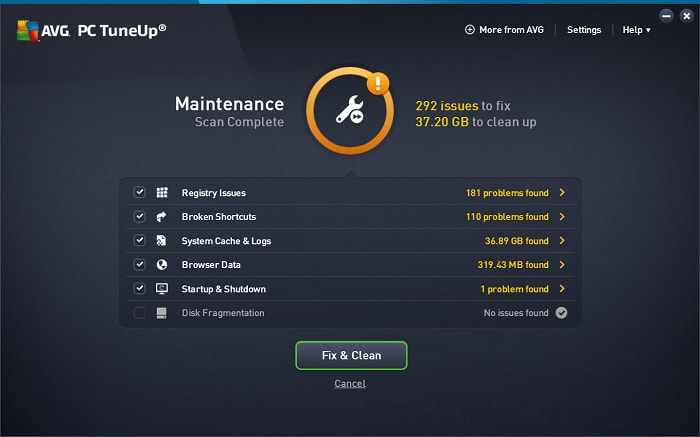 ---
4. Norton Utilities
Norton is quite a famous name in the world of antiviruses. But, only a few people know that the developer also offers an equally amazing Glary Utilities alternative. Features such as cleaning up junk when your computer is idle prompted us to include it in this post. Moreover, below are the other highlighting features of this tool.
Highlights
Improves the performance of and optimizes the PC's processing power, memory, and hard drive.
Fixes common problems that cause unexpected crashes and slowdowns.
Detects and removes the unrequired startup programs.
Hosts an in-built file shredder to securely dispose of the unneeded files and documents.
Lets you delete browser file downloads so that your digital privacy remains unscathed.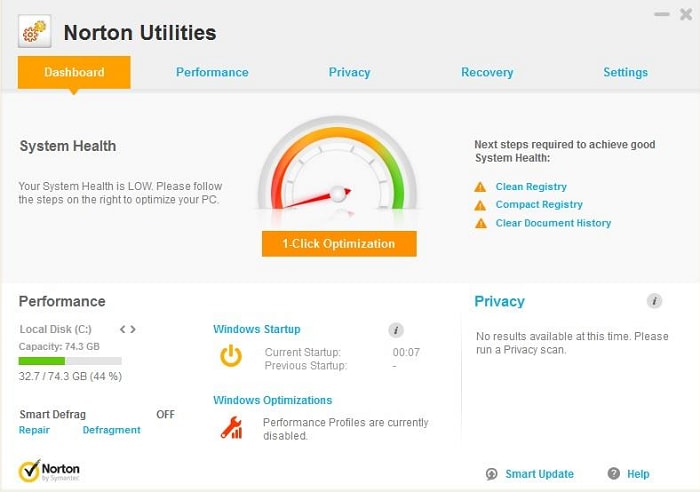 ---
5. Ashampoo WinOptimizer
This PC cleaner and one of the best Glary Utilities alternatives is aptly named. It scrapes away junk in the same way shampoo removes dirt, i.e., thoroughly from every nook and cranny. Moreover, it comes with a few mesmerizing features such as a maintenance task scheduler. In addition to this, below are the highlighting features that make this tool an option worth considering.
Highlights
Deletes the browsing history and everything else that can reveal your browsing habits.
Hosts a defrag tool that defrags disk and also optimizes the PC space.
Encompasses a benchmark center for testing the performance of your device.
It comes with a highly useful browser extension manager.
Boasts an ADS scanner to detect and remove dubious alternate data streams.
Removes invalid registry entries for better space management.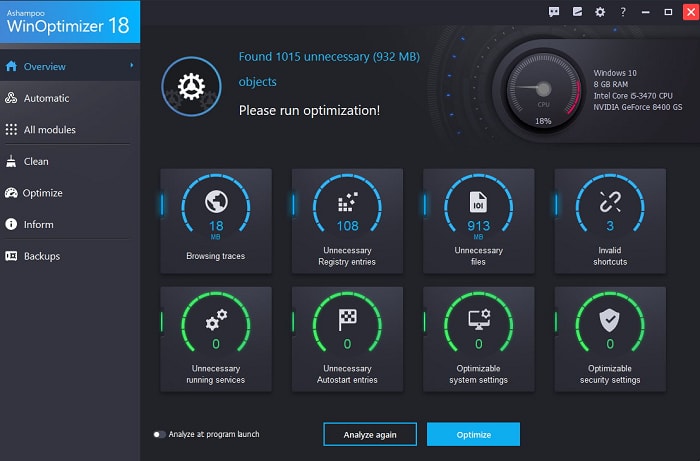 ---
6. Wise Care 365
Do you want a tool to take care of your PC 365 days of the year? If yes, then a similar software like Glary Utilities that you may consider is wise Care 365. It is a box of PC maintenance tools such as an invalid registry cleaner and more. Below let's have a deeper look at its highlighting features.
Highlights
Hosts a disk defrag tool to free up space on the hard disk.
Erases all the tracking data to protect your privacy.
With this software, you can even retrieve the lost data.
Lets you hide files and folders so that no one except you can access them.
Shuts down the PC after completing the cleaning and optimization procedure.
Cleans up, defrags, and optimizes the registry.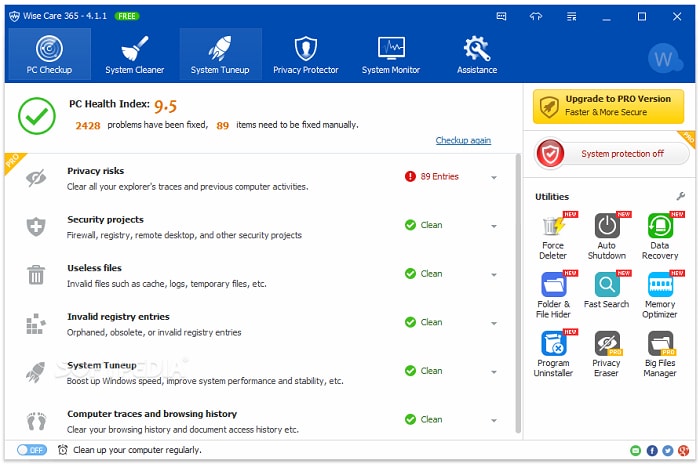 ---
Best Glary Utilities Alternatives: Closing Thoughts
Glary Utilities is undoubtedly an excellent software. But, after looking at its cons we realize that the best Glary Utilities alternatives such as ccleaner are a better choice. You can go through the feature highlights of each tool and then decide which is the perfect fit for your needs. If you want a recommendation, then we suggest ccleaner as this tool performs real magic on your PC's performance and takes it to an unimaginably high level. Do give it a shot and let us know your thoughts in the comment box below. Also, keep reading Innovana Blog for more such useful Windows utilities.
Subscribe to Our Newsletter
Keep yourself updated with the latest technology and trends with Innovana Thinklabs Limited.