Are you a traveler? If yes, then you might know the pain of not understanding the native language of the place that you are exploring. In such a scenario, when you come across an unfamiliar foreign word, the first thing that strikes the mind is taking out the phone and Googling the meaning. We agree that checking what the word means on Google or any other search engine is a good idea. But, what if there is a whole paragraph written in some alien language? Well, that's when the best image translator apps come into play.
These applications to translate text from image make it easy for you to decode the meaning of the strange word(s). Let's dig a little deeper and understand how these applications work.
How do the Image Translator Apps Work
Well, to convert the text into your desired language, all that these applications need is your phone's camera. Once you point the camera at the unfamiliar words, it translates the image's text. Thus from signals at the road to restaurant signboards, with the best image language translator apps, you can understand them all.
Now, one question that erupts is, are the apps to translate an image only useful for travelers? Well, we've got a simple answer. No one knows when you may need to step on foreign land or come across an alien language. Thus, the image language translator apps are useful for one and all.
Further, since learning each and every language on the Earth is next to impossible, these image translator apps are your go-to place whenever you come across something that makes you think, "Oh! Which alien language is this?"
Talking about which app you should use, there are many apps to translate captured text. But, the best ones are listed here in this post.
The Best Image Translator Apps to Translate Captured Text
1. Google Translate
Price: Free
You might have heard about Word Lens. This live camera translator was acquired by Google for this one of the best apps to translate text from an image. Google combined the incredible functionalities of Word Lens with its power-packed coding to form this wonderful application. Let's get a bit more familiar with this app and look at its highlights.
Highlights of Google Translate
This app can translate a picture to English and over 100 other languages.
With this app, you can translate the text even without an active internet connection.
It lets you save the translated text so that you can access it offline whenever you want.
Google Translate lets you draw text characters instead of typing.
It lets you sync the phrasebook between app and desktop
The application also shows you a definition of single words and phrases.
It also works as an online image translator.
Pros
Easy to use
Trusted and safe
Cons
Does not work with context
May pose grammatical errors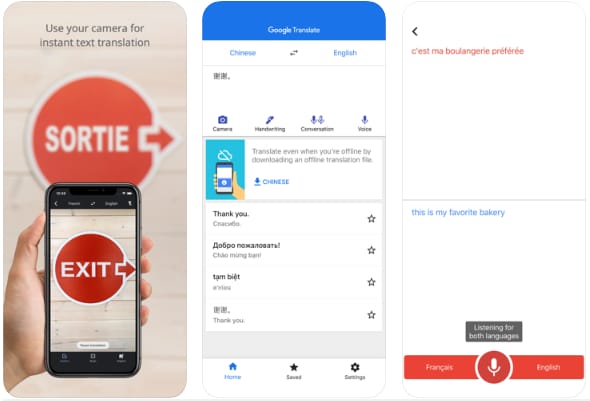 Also Read: Best Duplicate Contact Remover Apps for Android/iPhone
2. Microsoft Translator
Price: $10 
The tech giant Microsoft also delights the users with one of the best image translator apps. With this application, you can easily engage in translated conversations and download the language for offline use. Although it does not specify the number of applications that can be translated via the camera, still it is a decent app to use. Below are the features of this app that make it unique.
Features of Microsoft Translator:
It makes it possible to connect the device and have translated conversations in real-time.
It lets you hear the translation and learn how to pronounce an unfamiliar word.
Microsoft Translator is among the best apps to translate text from an image and search for alternative translations.
It allows you to pin or share the translation with other applications.
Boasts support for Android Wear smart watch.
This app also shows you the meaning of unknown words.
There is a split-screen mode for two persons having a bilingual conversation.
You can download languages for use at times when the internet is not available
Pros
Interactive user interface
Multiple language support
Cons
Limited interpretations
Inaccurate at times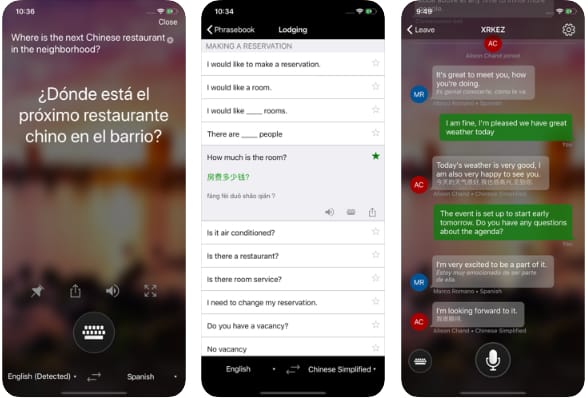 3. Baidu Translate
Price: Free
With this one of the best image translator apps, you can do both camera translation as well as real-time speech translation. It offers up to 16 languages, 186 directions, and 5 million dictionaries. Apart from this, it also recommends translations based on your GPS. Moreover, below are its distinctive features.
Highlights of Baidu Translate
This application lets you download translation packs for offline use.
Hosts "Text to speech functionality" and phrasebooks that you can use while traveling abroad.
There is support for real-time conversation translation.
Encompasses dictionaries to easily lookup for word meanings, synonyms, antonyms, and more.
It recommends translating functions based on your GPS.
Pros
Convenient
Advanced style
Cons
Hard to set up
Complicated design
4. Waygo
Price: Free
Here comes another wonderful app to translate text from an image. This Android application lets you effortlessly translate Korean, Japanese, and Chinese to English. Though it limits the number of translations to 10 per day, still it a decent app to use. Moreover, you can make an in-app purchase and upgrade to unlimited translations whenever you want. Here's a snapshot of the features of this application that make it one of the best apps to translate an image to English.
Highlights of Waygo
With this app, you can use the camera both as a translator and a dictionary.
In case you are translating the name of any food item, it shows you its picture (Chinese only).
There is no need for an active internet connection.
This application also helps you learn the pronunciation of words.
It lets you share the translations via SMS, Facebook, Twitter, and Email.
Pros
Allows saving
Easy camera
Cons
No search button
Only supports 3 languages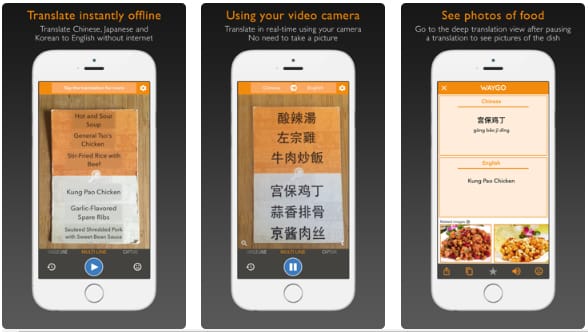 Also Read: 17 Best Free Zumba Apps to Shape up Your Body  (Android / iPhone)
5. iTranslate
Price: Free
To use the image translation feature on this application, you need to shell out a few bucks. It comes with a unique iTranslate Lens that lets you adjust and move the translation box without any hassles. Moreover, this app gives you two ways of viewing the translation results; you can view them either in the full screen or regular mode. Below are the highlighting features of this application because of which it got a place on our list.
Highlights of iTranslate
It lets you understand synonyms, antonyms, and the definitions of a word.
There is a voice translation that supports up to 4 languages.
It even lets you translate when you don't have an internet connection.
Hosts a phrasebook that you can use offline to know the meaning of common phrases.
With this app, you can also view the alternative translations of words and phrases.
With this app, you can also get a clear insight into verb conjunctions.
You can switch between dialects when you translate with this app.
Pros
Free to use
Multiple offline modes
Cons
The free version has limited features
Slow working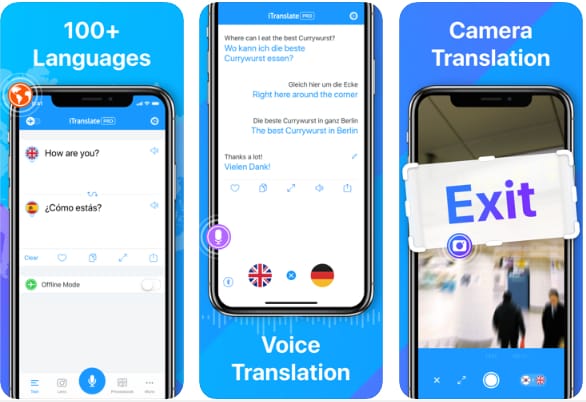 6. Papago
Price: Free
Next, we have Papago on our list of the best image translator apps. In case you are wondering about its unique name, it means a parrot having language abilities. Like the Papago bird, it understands and translates over 13 languages. Moreover, it also boasts other qualities, such as handwriting translation and more. Let's discuss some of its most attractive features below.
Highlights of Papago
It translates phrases and words in real-time.
There is support for image and voice translation.
Papago translates even without an internet connection.
It also translates live one-on-one conversations.
The app finds the correct word and translation while you are writing.
It automatically translates whenever you copy any content.
The content is translated automatically when you include any foreign website's URL.
There is a dictionary to check the word meanings.
You can see the basic expressions needed for global conversation without the internet.
Pros
Has offline and handwriting translation
Multiple language support
Cons
No romanization
Limited languages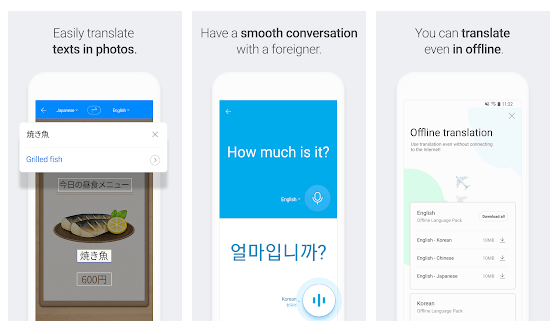 7. Dict Box
Price: Free
In a foreign place, you may or may not have access to the internet. Dict Box comes in handy when there is no internet connection available. It is one of the best apps to translate text from images offline for features such as cloud backup, word correction, availability of flashcards, and more. Let's take a look at its prominent features.
Highlights of Dict Box
No internet connection is needed to translate with this app.
It also shows how a word is pronounced.
There is support for direct translation in web browsers and other apps.
It corrects the mistyped words.
With this app, you can find similar phrases or sentences.
Boasts a picture dictionary for easy understanding.
You can memorize words with the help of flashcards.
It comes with tools for word list management.
Supports cloud backup.
Synchronizes word lists across multiple devices.
Pros
Supports offline translation
Integrated cloud backup
Cons
Complicated
Can be ineffective at times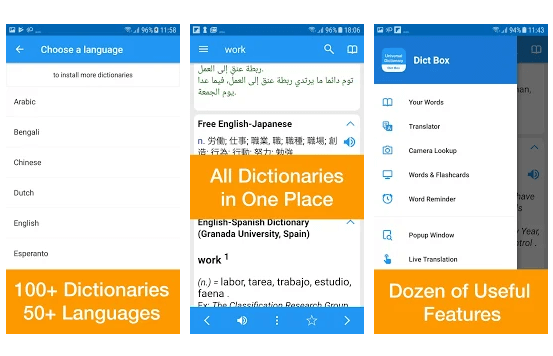 8. Yandex Translate
The last app on our list of the best image translator app is Yandex Translate. Although the translator supports multiple languages, Yandex Translate is most commonly used to translate Russian and Italian. The app allows you to translate the text from images to 90 different languages. You can speak sentences, words, and phrases to translate them into different languages. With the help of the app, you can translate the whole website to the desired language.
Price: Free
Features of Yandex Translate:
The app supports image translation of over 12 different languages.
You can translate the text of over 90 different languages through this best translator app.
The app can be installed on devices with Android 6.0 and above and used to translate text from images.
You can save the languages offline to translate the text later as required.
The interface of the app is quite easy to use and definitive.
An integrated dictionary in the app helps you in searching the word.
Pros
Easy to use
Comprehensive interface
Cons
Ineffective for some languages
No cloud support
Download for Android and iPhone
Conclusion
Above were the best image translator apps to translate text from an image. You can use any of them when you travel or simply want to learn a new language. However, if you want recommendations, then our absolute favorites include Google Translate and iTranslate. Lastly, before bidding adieu, don't forget to subscribe and bookmark Innovana Blog for more interesting information and other tech updates.
Subscribe to Our Newsletter
Keep yourself updated with the latest technology and trends with Innovana Thinklabs Limited.