This writeup talks about some of the best internet speed booster for Android devices. You might be thinking, why do we require internet booster apps when we have high-speed 4G internet. Okay, so first of all, let's discuss the necessity of internet speed boosters.
The usage of the internet has increased a lot since people have self-quarantined themselves. Due to an increase in internet traffic, people are facing issues with their internet speed. It is not a situation that occurred recently. It happens on normal days as well, during the peak hours when there is huge internet traffic. It can be an annoying situation waiting for sites to get load. That's the reason you require some best internet speed booster for Android devices. However, you require such apps if you are using an iOS device also. But as Android is the most commonly used mobile operating system, hence the writeup solely focuses on the apps that can boost internet speed on Android devices. So without any further ado, let's have a look at the list of some best internet speed boosters.
6 Best Internet Speed Boosting Apps for Android Devices
Below we have listed some of the best internet speed boosters for Android devices. These apps can help you to enhance your mobile internet speed.
1. Net Optimizer
The first place on our list is occupied by Net Optimizer. The internet speed-boosting app is quite popular on the play store with around 1 Million+ downloads. It can detect the fastest DNS server as per your network and location. After detecting, it also allows you to connect to that server with just one tap. The app supports various DNS servers including, Cloudflare, Level3, Google, OpenNIC, etc. It doesn't matter if you are connected to a WiFi or your own mobile data (2G, 3G, or 4G). Net Optimizer can enhance the internet speed of all kinds of mobile internet connections. If you are a gamer or a person who likes to play online mobile games, then you don't have to bother about the internet speed after installing Net Optimizer. It takes care of the high ping issue in the games such as PUBG, Fortnite, Call of Duty, etc.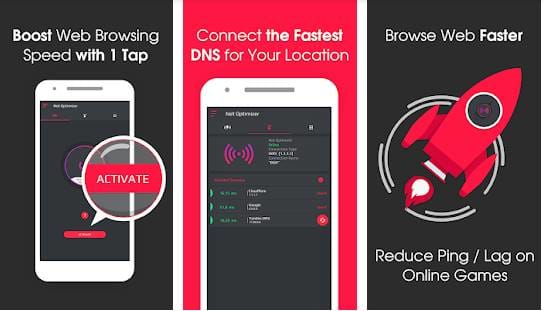 2. Network Signal Booster
Network Signal Booster is an app that focuses on enhancing cellular signal strength and internet connection as well. It focuses on the improvement of your mobile network signal receptors. Along with improving signal strength Network Signal Booster also enhances the speed of your mobile internet. That's the reason why we have included this in our list of some best internet boosters. The app offers a 24/7 support, hence you can seek for help or report any issue in real-time Along with that, the app is completely free, so you can give it a try.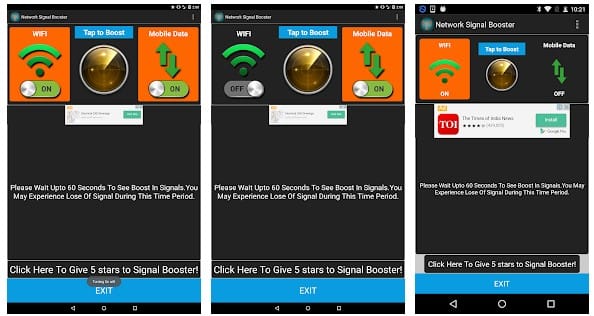 Also Know: 16 Best Free Android Cleaner Apps to Speed up your Phone
3. Internet Optimizer & Faster
The app is not that popular among the folks, but it is quite efficient when it comes to enhancing the internet speed of your Android devices. This one of the best internet speed booster for Android devices can be an all-in-one solution for all your problems related to internet speed. Internet Optimizer & Faster takes care of your web surfing speed. It reduces the loading time of web pages. Along with that, it also reduces the ping and helps you to play online games efficiently. This internet booster app can optimize almost all mobile internet networks including 3G, 4G, WiFi, etc. It also checks different DNS servers and provides you with the fastest one.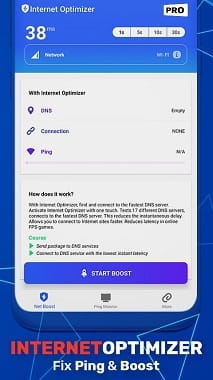 4. Net Master & Optimizer
Here comes a compact yet effective internet speed-boosting app. It checks all the available DNS servers based on your locality and network. After that, it selects the best one from the available options. The app works on a simple mechanism. First of all, the app sends a ping to various DNS servers, then it compares those servers on their response time. After that, it gets connected to the fastest DNS server. Net Master & Optimizer helps you to get faster responses from the web pages. It also prevents online games from getting lagged. You can optimize your mobile data as well as WiFi connection with this one of the best Android app to boost internet speed.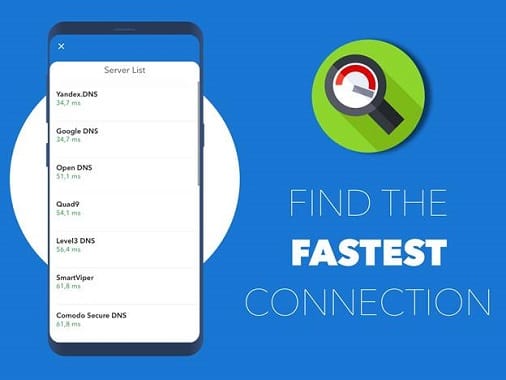 5. Internet Speed Up & Optmizer
Internet Speed Up & Optimizer provides a promising enhancement in the internet speed. When you look at its description on Google Play Store, you'll find a statement – "really optimizes your internet connection". The statement is 100% true. This one of the best internet speed booster for Android works on different factors that affect your internet speed. Internet Speed Up & Optimizer also stops the secondary processes to provide you exceptional internet speed. The app is completely free. With this internet speed booster, you can optimize your mobile internet connection and its stability by just a few taps.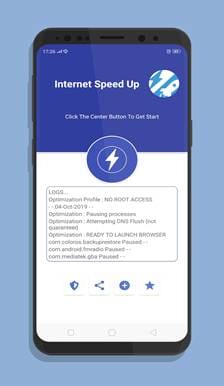 Also Read: 10 Best Remote Desktop Apps for Android in 2020
6. Net Optimizer & Booster
At last, we have Net Optimizer & Booster. People don't know much about it, but it is one of the powerful internet speed booster available for Android devices. You can select the DNS server of your choice with this app. It shows you the complete details of various DNS servers so that you can evaluate on their basis. Along with this, it also helps you to keep a check on your internet usage. It provides a list of installed apps along with their internet usage. Net Optimizer & Booster can repair your WiFi connection and can detect the best WiFi connection available as well.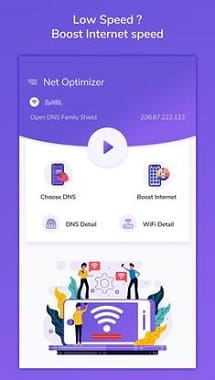 Conclusion
Now, as you know some of the best internet speed booster for Android, enjoy the high-speed internet without any hassle. You can make the most of this self-quarantine period with the high-speed internet. Just install any of the above-mentioned apps and do video calls with your friends, binge watch online shows, learn skills, or do any other productive thing.
For more information related to Android smartphones and their applications, subscribe to Innovana Blogs.
Subscribe to Our Newsletter
Keep yourself updated with the latest technology and trends with Innovana Thinklabs Limited.