Read on to know about the best Iolo System Mechanic alternatives to tune up your computer and make its performance better than ever.
Everything in life needs a little care and maintenance to work smoothly always. And computers are not an exception to this general rule. They also require maintenance, i.e., junk cleaning and optimization now and then. As a PC or laptop gets older, several factors such as the accumulation of junk begin hampering its performance. And, if not maintained regularly, then your computer turns into an annoying machine. Talking about the maintenance, since manually cleaning junk and optimizing the device is not easy, you need a tool to do it automatically. A software that many users suggest is Iolo System Mechanic. But, in our view, the best Iolo System Mechanic alternatives are a better option.
The reason is simple, Iolo System Mechanic has some shortcomings that we fail to ignore. We enlist these cons below.
It is not beginner-friendly.
In-built software uninstaller is not as efficient as you expect.
The firewall is not included.
Its free version misses out many crucial features.
The reports that it shows are not informative enough.
No contact options in customer support.
These were the prominent cons that forced us to find out the alternative to Iolo System Mechanic.
In our search for the best programs like Iolo System Mechanic, we stumbled upon numerous utilities. But, many of them were nowhere near the System Mechanic from Iolo. Therefore, after carefully testing all the tools, we complied a list of the truly best alternatives to Iolo System Mechanic. And, we share the same through this typewritten note.
Best Iolo System Mechanic Alternatives In 2020
Here are the best Iolo System Mechanic alternatives that you can use to clean, optimize, speed up, and give your computer a new life.
1. Glary Utilities
Glarysoft's Glary Utilities comes with a bunch of tools to keep the privacy protected, clean registry, and perform various other PC optimization tasks. Here are a few of the highlighting features that make it a fierce competitor of other similar software like Iolo System Mechanic.
Highlights
Fixes irksome PC errors, crashes, and freezes.
Hosts 20+ tools to elevate the performance of your PC.
Boasts a spyware monitor ad on to protect your privacy.
It comes with a highly efficient tool to detect and eliminate PC problems.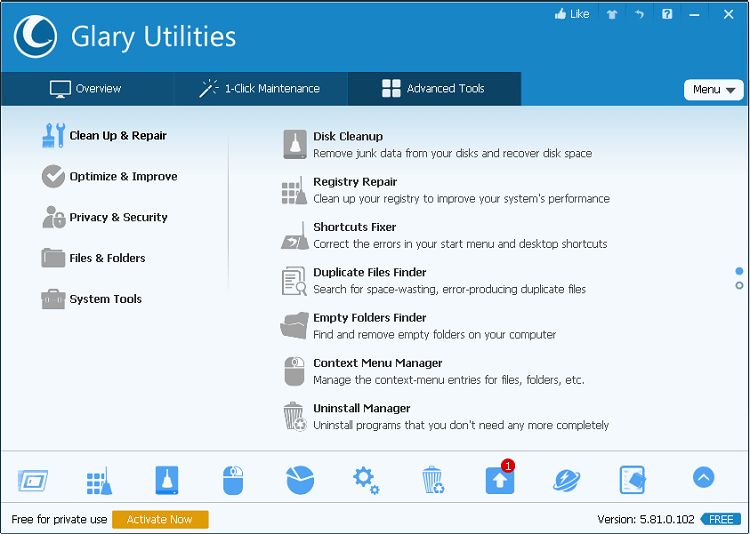 Also Read: 10 Best PC Optimizer Software for Windows 10, 8, 7 in 2020
2. AVG PC TuneUp
When it comes to the best Iolo System Mechanic alternatives, it is impossible to skip AVG PC TuneUp. It comes with a whole host of options such as a software uninstaller to remove the unnecessary programs that hog up the device space. Apart from this, below are other noteworthy features of this amazingly incredible software.
Highlights
Hosts an in-built utility to update the outdated software.
Its junk cleaning tool effectively removes space-hogging elements such as useless applications and their leftovers.
Boasts a battery life conservator for your laptop.
Puts the unnecessarily running startup applications to sleep.
Encompasses tools for remotely managing the device.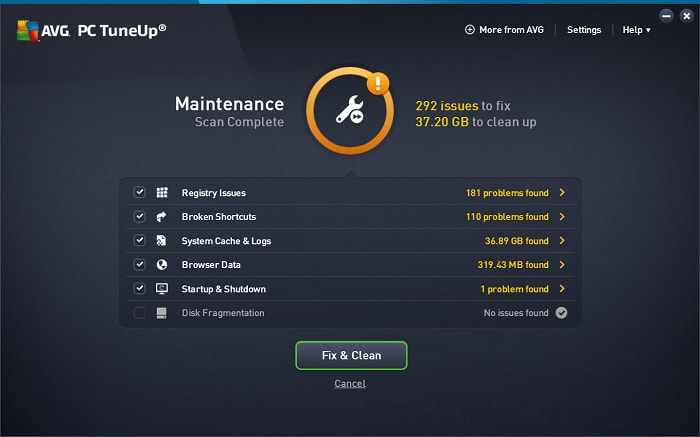 3. Auslogics BoostSpeed
Here is computer cleaning, optimization, and speedup tool from one of the highly acclaimed software developers. Auslogics is a well-known name in the software industry for developing smart tools that can cater to almost every need of a computer user. Auslogics BoostSpeed is one of the popular offerings of the company. Here are some of the features that make it one of the most preferred programs like Iolo System Mechanic.
Highlights
Removes junk after a thorough PC scan.
Deletes useless elements such as temporary files, browsing cache, remnants of Windows update files, and more.
Scrapes away the unrequired and corrupt registry entries to make the PC performance smooth.
Deletes sensitive information such as passwords from your hard drive so that no one can misuse it.
Makes sure that your PC allocates maximum tools to the applications that are active.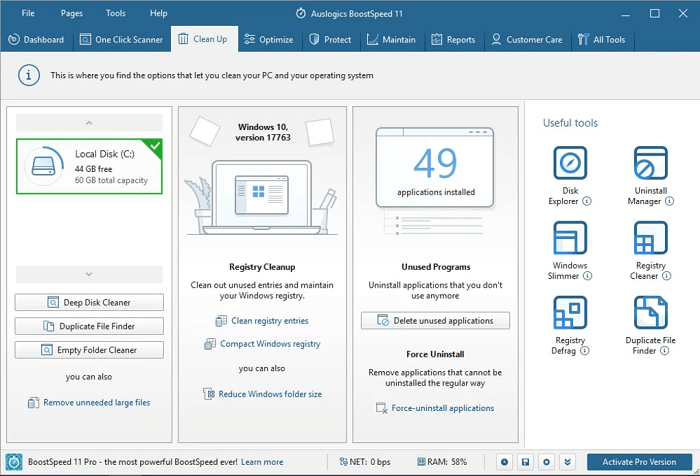 Also Read: Top 14 Best Duplicate Photo Finders and Removers in 2020
4. Ashampoo WinOptimizer
This entrant on our list of the best Iolo System Mechanic alternatives is among the favorite optimization and cleaning software of millennials. It thoroughly scrapes away junk from even the tough to reach hard drive sectors. In addition to this, below is what else makes this software stand out from the rest of the tools.
Highlights
Hosts an internet connection tuneup tool.
Boasts an in-built startup manager to elevate the PC speed.
Lets you customize the computer settings to safeguard your privacy.
Before making any changes, it lets you create a registry backup and restore it whenever required.
It doubles up as a benchmarking tool.
Allows you to encrypt important files and create hard disk backups.
Encompasses an ADS scanner to detect and scan the hidden data streams.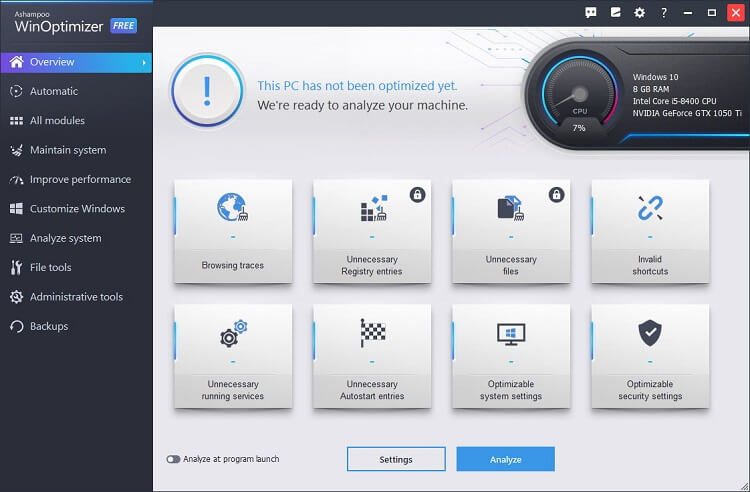 5. Norton Utilities
Norton is among the well-known names in the antivirus industry. But, the developer also offers equally amazing cleaning and optimization solutions. Norton Utilities is one such offering of the developer that takes care of almost everything including data privacy, duplicate file removal, and more such tasks. Below we talk about the highlighting features of this software that brought it to this post enlisting the best alternatives to Iolo System Mechanic.
Highlights
Boasts a junk cleaning tool to scrape away stubborn files.
Hosts a utility to recover the mistakenly deleted files and applications.
It comes with a removal tool for duplicate files and pictures.
Encompasses preset profiles with all the required settings to boost the performance of your PC.
It works even when your computer is idle so that the PC always remains tuned up.
Has a file shredder to securely delete files.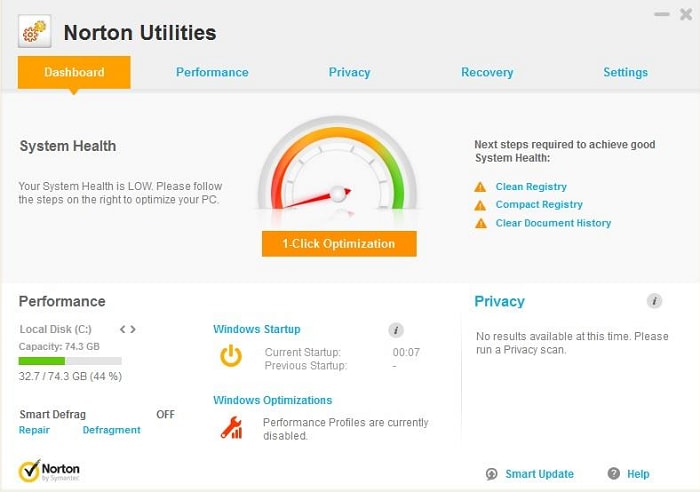 Also Read: 7 Best File Shredder Software's for Windows 10, 8 & 7
6. Wise Care 365
This is another alternative to the Iolo System Mechanic that we have included in our list after thorough testing of all the available tools. It monitors your PC in real-time to keep it protected, clean and optimized at all times. Below are a few of the features that we liked the most.
Highlights
It does not let any program to change your browser homepage.
Prevents unrequired applications from becoming a startup application.
If this software is installed on your computer, then no app can make unnecessary changes to your browser.
Hosts cleaner for the registry, temporary files, browsing history, cache, cookies, files having some particular extensions, and other useless data.
It doubles up as a disk defragmenter.
Encompasses disk shredder so that the deleted files cannot be recovered.
Lets you delete the entire disk so that no third party can access your data.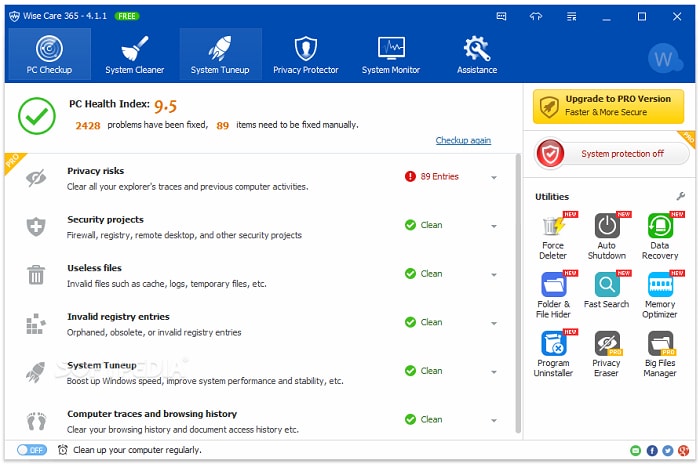 Which Best Iolo System Mechanic Alternative Did You Choose?
This was our list of the best Iolo System Mechanic alternatives in 2020. If you ask us our favorite software, then it is ccleaner as it magically boosts the performance of our computer and makes it a whole lot faster. We would love to know which utility did you choose and if you have a favorite tool other than the ones listed in this write-up, then we would be happy to know about it and make it a part of our list. Lastly, before leaving, be sure to subscribe to this blog so that you get notified whenever we come with a new post.
Subscribe to Our Newsletter
Keep yourself updated with the latest technology and trends with Innovana Thinklabs Limited.