Today, we have come up with some of the best iPhone apps available in 2020. These are best because almost everyone requires them. We all have similar basic needs like food, shelter, sleep, etc. Just like that, there are some app apps that everyone must have on their iPhones. If you are still not convinced that you must have these apps installed on your iPhone, then let's discuss it a bit more. We'll proceed with the list of apps afterward.
There is nothing your smartphone can not do nowadays. From playing games to clicking pictures, you can do a lot of things with your smartphones. You can even turn your smartphone into a teacher or fitness trainer. No, you cannot convert them literally, like the cars in the Transformers movie, they feature specific apps for almost every task. Because of these apps, smartphones like iPhones have become one of the most multitasking gadgets.
There are n number of apps available on the web. But you can not download every other app on your iPhone as you have limited storage. Hence, you should prioritize some apps that you must have on your iPhone before adding the additional apps. To make the app prioritization easier for you, we have brought a list of some mush have iOS apps for every iPhone user.
Best iPhone Apps That You Must Have in 2020
Below we have mentioned some of the best iPhone apps in 2020. These apps are quite essential for almost every iPhone user in the world.
1. Google (Best Search Engine App)
The list starts with one of the best search engine apps in the world. Google is a must-have app on every smartphone, whether it is an iPhone or Android phone. Although you can use Google search engine through web browsers, but the app offers its specific features that you'll not get while using the search engine via a browser. It helps you to stay updated with the latest news of your interest. Google also provides you with the weather reports of your locality. You can follow any event with the help of this app.
Along with all these features, you can even control the app with a voice command. It is one of the most vast and popular app available for any smartphone. If you do not have Google on your iPhone, then we recommend you to install it right now. This one of the best iPhone apps is easily available on the Apple App Store.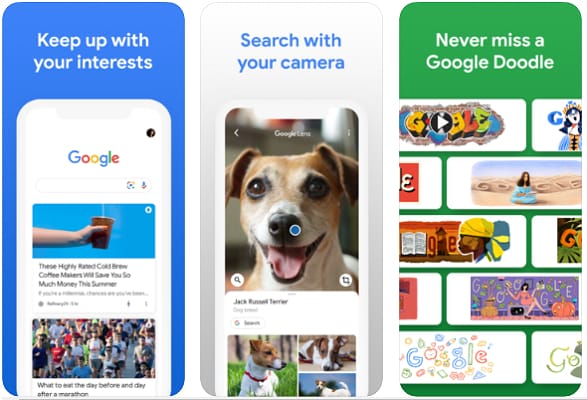 2. WhatsApp (Best Messaging/Messenger App)
The first app that a person looks upon whenever he/she thinks to text someone is WhatsApp. It is one of the most popular and best messaging/messenger apps available for iOS and Android as well. Not just text messages, the app also allows you to send and receive voice messages. You can even make video and audio calls for free via WhatsApp. Along with all these features, the app helps you to share multimedia files and documents as well with other people. It also lets you enjoy chatting in groups as you can create or join various chat groups on WhatsApp.
The tech giant Facebook has acquired this app. Since then, Facebook provides regular upgrades for its most popular messaging apps. One of the recent updates is its much-awaited dark mode. All these features and its popularity together makes WhatsApp one of the must-have iOS apps.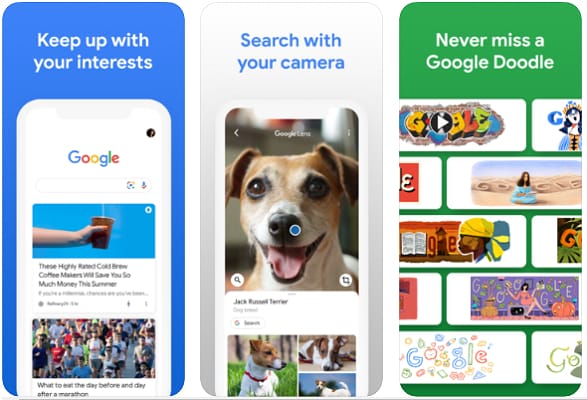 3. Facebook (Best Social Media App)
Here comes the app that doesn't need much introduction. Almost everyone is familiar with Facebook. From a school going teen to a senior citizen, every other person has an account on this social media platform. It's not just its popularity that makes it one of the best social media apps in 2020. The app also offers various other features.
E-commerce and social media are pretty different kinds of platforms. But Facebook has brought them together and offers a perfect combination of both things. Along with using it as a social media platform, you can even sell and buy products on this social media app. Not just E-commerce, you can even stream videos of your gameplay and many other things on this one of the best iPhone apps. Facebook also allows you to play various games with your friends.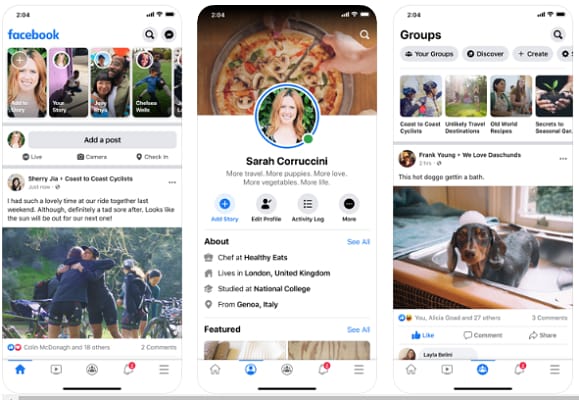 There is no need to discuss why you should replace the default navigation app on iOS with some other reliable option. iPhone users have experienced a lot of glitches and issues with Apple Maps. But do not worry, Google Maps is the perfect solution for all your problems. The application is one of the best navigation apps in the world. It is also a cross-platform utility that can be used on iOS, Android, and other devices as well.
The database of Google Maps is quite vast as compared to other navigation apps. Hence they are more accurate and updated as well. This makes them one of the must-have iOS apps. Not just on iOS, you must have this app on other devices as well.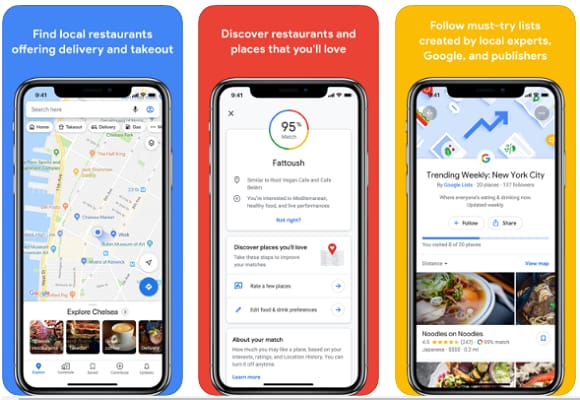 5. YouTube (Best Video Streaming App)
YouTube is another famous app of the tech giant Google. It is one of the biggest video streaming platforms in the world. From movie trailers to music videos, everything gets released on YouTube. Hence, it is the best source for short content. Not just short content, you can even watch movies on this must-have iOS app and that too for free.
Almost every content creator in the world is on YouTube. So, if you are a content creator, then YouTube is the biggest platform for you. Unlike other video streaming platforms, YouTube offers various parental control features as well. These features allow you to control the content access of your kid. You can get gameplays, songs, tutorials, educational videos, and many more on YouTube.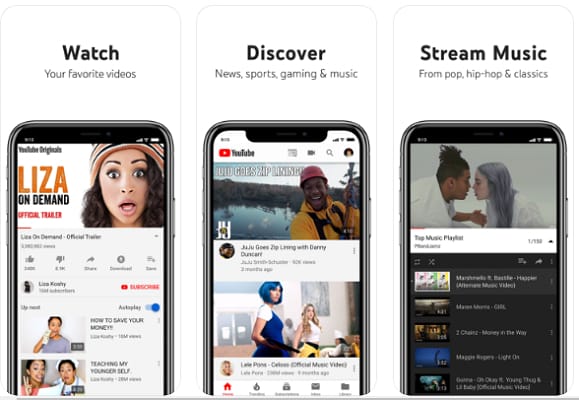 6. Runkeeper (Best Fitness App)
Here we have one of the best iPhone apps for all the fitness freaks. Runkeeper is an app that can replace your personal fitness trainer. You might be considering this app as a step calculator or distance tracker app. But it is much more than that. It provides you with a complete fitness routine following which you can keep track of your health and physical wellness. Runkeeper doesn't offer the same plans to everyone, unlike many other such apps. It offers quite individualized fitness plans as per the personal information that you provide to this app.
Along with the personalized routine, Runkeeper allows you to do uninterrupted training sessions. You do not have to pause your training and check your progress on the phone. The app provides audio notifications. Another major feature of this fitness app is that it also provides a free version. Hence, you can enjoy some premium fitness tracking without paying a single penny and that too at your home.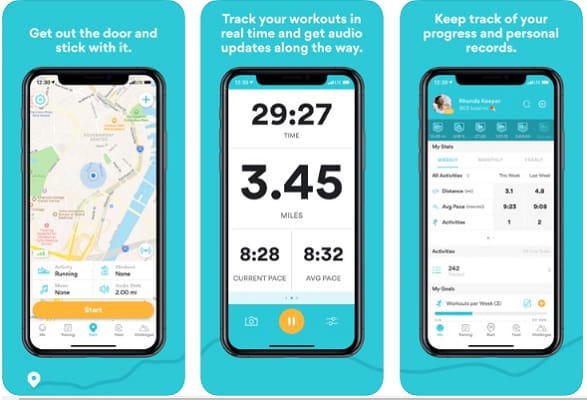 So, these are some best iPhone apps that we recommend you must have on your iOS device. These apps can help you a lot to perform your daily tasks quite efficiently. Along with that, most of these apps are available for free. Hence, without thinking much about the cost, you can give them a try. There are various other apps as well that are quite useful. But we find the above-mentioned names as must-have iOS apps. Let us know if you have any other suggestions about the list.
Apart from this, if you want to know more about other useful applications for iOS devices, then subscribe to Innoavana blogs. We'll be back with some more helpful blogs, till then stay tuned.
Subscribe to Our Newsletter
Keep yourself updated with the latest technology and trends with Innovana Thinklabs Limited.