Why do you need the best ISO burner software? The perfect representation of the entire disc is referred to as the ISO file. An ISO file is a solitary file that incorporates the entire data of CDs and DVDs. In other words, the ISO file is also called an ISO image. Primarily, these kinds of files are mostly used for backing up optical discs. Moreover, to distribute the large file assortments that are meant to burn to an optical disc. So, it is commonly used for burning the images into a disc just to use them.
Notably, burning those files into a disc is not very easy for every user. They detect it as complicated but some ISO programs made this task much easier. These kinds of programs are uniquely designed just to burn ISO files, in an extremely easy manner. Hence, here we've rounded up the 10 best ISO burner windows 10. Keep reading on to know more about the same in detail!
Top 10 Best ISO Burner Software for Windows 10
ISO burners are very beneficial for both personal users and businessmen. You may need an ISO burner to move data onto the digital disk, this is where disk burners come in. We have listed the top 10 best ISO burner software for Windows 10 and other versions for your ease. Download and use the one that deems fit to your requirements.
1. Power ISO
One more effective best free ISO burner software that provides you the ease of work is – Power ISO. It is a robust program that permits you to extract, open, burn, create, edit, mount, split, and convert ISO files. Along with this, Power ISO is also very powerful in mounting the ISO files with internal virtual drives and lets you modify the virtual files. It is an all-in-one solution. With the help of the Power ISO file, you can be able to do everything with the ISO files or ISO disc images.
Features of Power ISO
Compatible with all the image file formats.
Let's you design Audio CD, Data CD, Data DVD, Video DVD and so on.
Allows you to edit ISO files instantly.
Sustains shell integration.
Pros
RIP media files
24/7 corrupt
Cons
Unavailable for some platforms
The free version has fewer features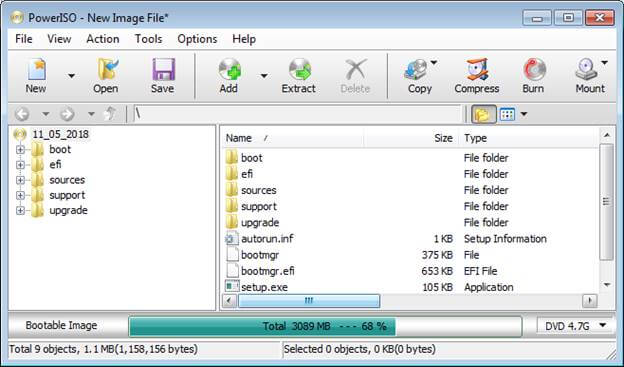 2. ImgBurn
Looking for the ultimate solution to create ISO and burn them? Then here comes a supreme solution – ImgBurn is one of the greatest ISO burning software that lets you create ISO files and burn them. It is a smooth and advanced tool that every user should keep in their toolkit. For performing every task, ImgBurn uses different kinds of modes including reading, build, verify, write, and discovery. ImgBurn is suitable for every kind of image file format like BIN, CDI, CCD, DI, DVD, GI, and so forth.
Features of ImgBurn
Burn Audio CDs from any sort of file support.
You can use it for creating Blue-ray video discs, and HD DVD video discs.
Supports all the versions of Windows OS.
Easily share files between multiple drives.
Pros
Supports double-layer DVD options
Cross-platform
Cons
Not built for Mac
Complicated configuration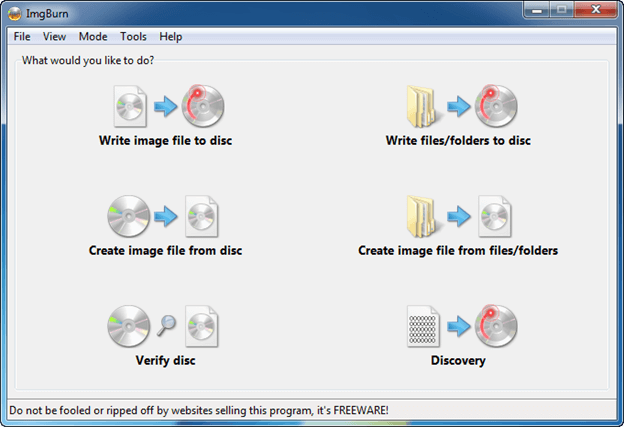 3. Active@ ISO Burner
Want the best ISO burner software Windows 10? Then, you can use the Active@ ISO Burner application to create the ISO files and burn them. Active@ ISO Burner is the easy disc writing program that helps you by burning the ISO files quickly. The latest and unique algorithms support the automatic burning process.
Features of Active@ ISO Burner
Equipped with burning transports like SPTI, ASPI, SPTD.
Displays the full log of tasks performed.
Auto-mate burning process.
Test mode for testing the burning process.
Pros
Supports automatic burning
Variety of burning options
Cons
Scattered options
May face data loss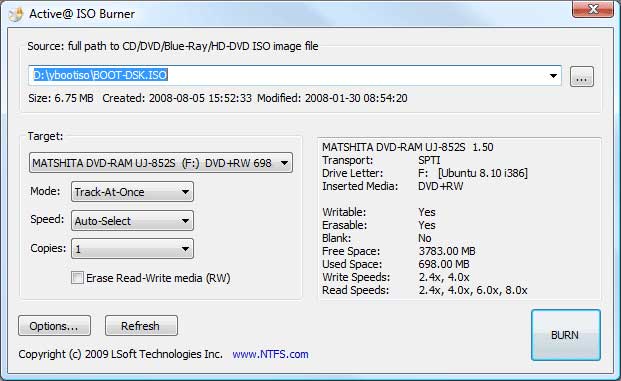 4. Free Disc Burner
Try this simple burning tool to CD, DVD, and Blu-ray discs. Free Disc burner comes up with the support of various formats like dual-layer discs, rewritable discs, and so forth. Moreover, Free Disc Burner is highly compatible with multi-session discs. For erasing rewritable discs it contains the tool. You've ever wished off-the-burner software, Free Disc Burner is exactly like this.
Features of Free Disc Burner
Compatible with rewritable discs as well.
Ease of working.
Highly suitable for multi sessions discs.
Automatic burning.
Test Mode.
Pros
Easily format DVDs and CDs
Multiple languages on the interface
Cons
Basic design
Lack of advanced features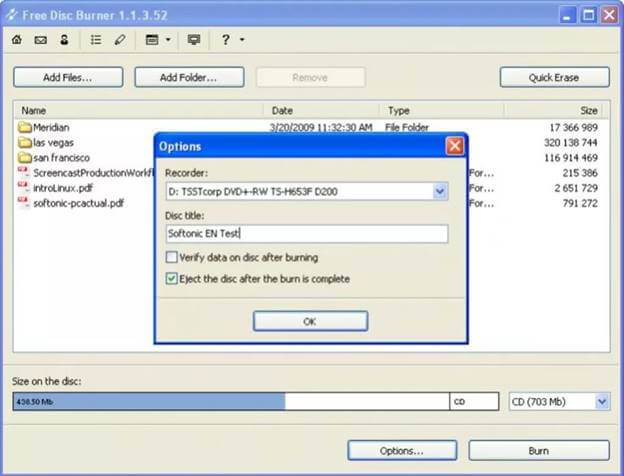 5. PassFab 4 WinKey
PassFab 4 WinKey is the top-notch ISO burner software on our list. This is an ideal solution to burn ISO files into a disk or on a USB flash drive. The most convenient thing about this application is that it is very easy to use. And, the user interface of PassFab 4 WinKey is extremely easy and effective.
Features of PassFab 4 WinKey
Creates bootable discs.
Available for Windows and Mac platforms as well.
Highly focuses on disk password recovery.
Automatic burning process.
Testing mode.
Pros
Safe to use
25/7 tech support
Cons
Complicated design
Lack of advanced features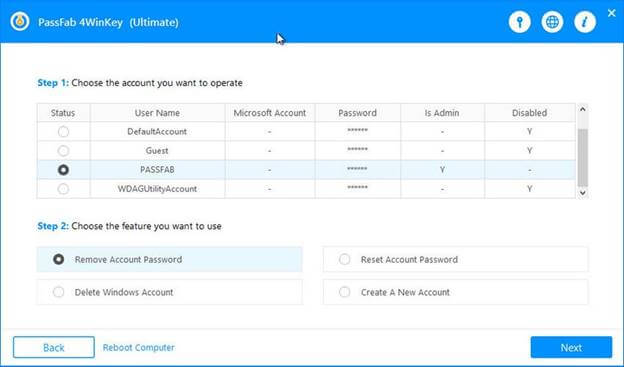 6. ISO Workshop
Make high-standards bootable ISO with the help of ISO Workshop. With ISO Workshop you can create, edit, burn, mount, and copy the ISO files. Moreover, ISO Workshop is highly capable of converting numerous disc images to ISO. Compatible with all the versions of Windows platforms. This program can create the exact copies of CD, DVD, and Blu-ray.
Features of ISO Workshop
Keeps the standards of bootable ISO files always high.
Impressive user interface.
Let's form ISO images.
Automatic backup option.
Easy-to-use.
Pros
You can backup and restore easily
Easy to use
Cons
Lack of extras
Very basic interface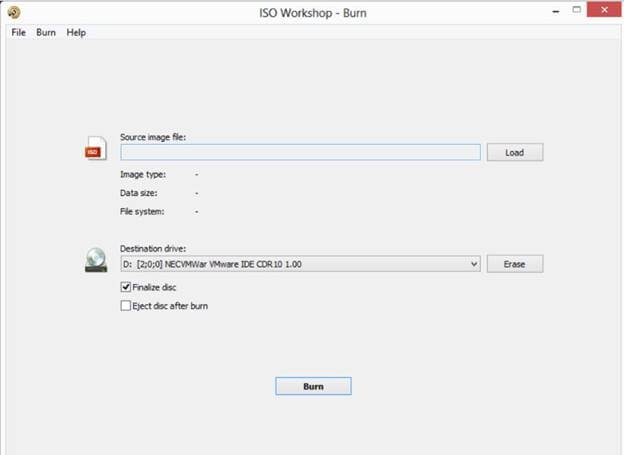 7. True Burner
Another simple, and effective burning tool for Windows 10 – True Burner. It is the perfect burning software for CD and DVD. A true Burner is an ideal software especially for those users who've been tired of using the operating systems burning tool and looking for the other best free ISO burner software. True Burner stands over the user's needs and fulfills every requirement of users.
Features of True Burner
Simple and impressive interface design.
Quick burning process.
Let's you make numerous copies.
Creates numerous images.
100% safe and free to use.
Pros
User interface
Works on different types of disks
Cons
Too simple features
Lack of advanced features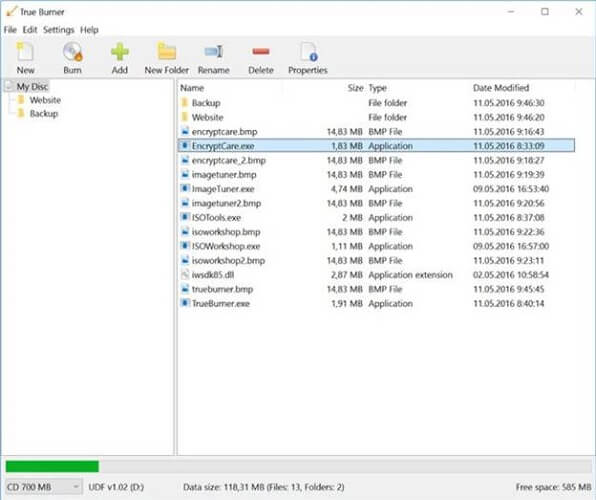 8. CD Burner XP
Another best ISO burning software is – CDBurnerXP. Now, as its name suggests you must be thinking that it is compatible only for the Windows XP or lower versions. But, no luckily it is supported for every version of Windows OS from Windows XP to Windows 10. It is completely a free application to burn CDs, DVDs, HD DVDs, and Blue-ray. Everyone can access it from beginner to pro computer user.
Features of CDBurnerXP
Highly capable of burning all sorts of discs.
Creates ISO files.
Verifies the data after the burning process.
Multi-language interface design.
100% safe and absolutely free.
Pros
Wide range of formats
Easy disk scanning
Cons
Not built for video files
The interface may be confusing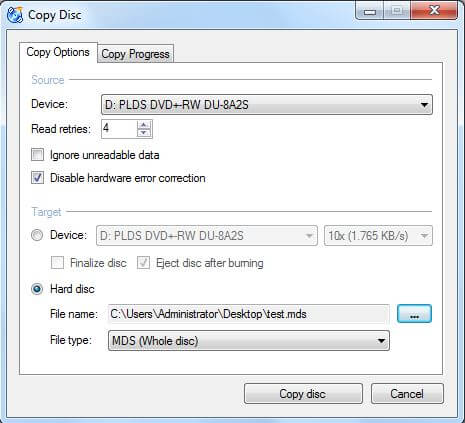 9. ISO Disk
ISO files are the most effective way of working with backup files. ISO Disk allows you to mount, burn, more than 19 files at a time. Primarily, automatically back-ups the most crucial files. The program is equipped with a unique tool – a separate tab that lets you create the ISO files from CDs and DVDs.
Features of ISO Disk
Extremely easy to use.
Instantly creates ISO files from CDs and DVDs.
Incorporated with the tool for creating the ISO files.
Absolutely free program.
Pros
Works on different operating systems
Can be used for large files
Cons
No option to share
Basic design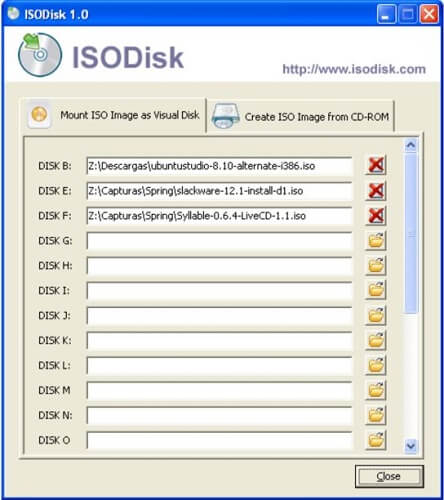 10. Free ISO Burner
Free ISO Burner is the most unique software to burn an ISO file into any viewable format like CDs, and DVDs. This is an ideal approach for converting the digital files into a portable format that can be viewed easily. For more complicated data, and HD files this is a beneficial way to convert them into an easy format. The Auto-notification feature informs the user after the burn is finished.
Features of Free ISO Burner
Compact file size.
Available for all the versions of Windows.
Completely a freeware application.
User friendly.
Quick burning speed.
Pros
Easy to use
Burns different kinds of files
Cons
Lack of advanced features
Basic user interface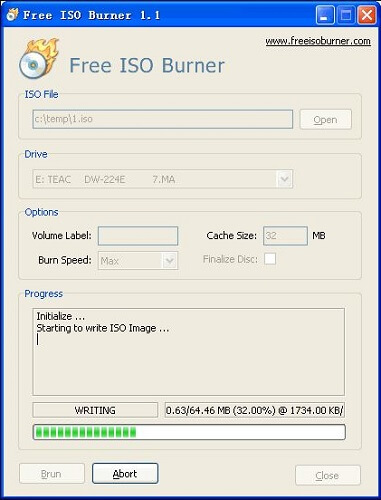 Frequently Asked Questions (FAQs) about ISO Burner Software for Windows 10
Q.1 Is ISO Burner free?
Generally, yes. Most of the ISO burner software provides their services for free. All the ISO burners allow the users to burn data to optical disks for free. But, some software like PowerISO, requires a subscription to work uninterruptedly. The paid versions of ISO burners provide extra control to the user by offering more features and better customization options.
Q.2 Does burning an ISO make it bootable?
No, it is not true. Once any optical disk is burned with an ISO file it does not automatically become bootable. Whether the disk is a CD, A DVD, A Blu-ray, or any other optical disk, if the user wants a bootable ISO, he has to select the option to create such a disk. The user should always keep in mind that no eerie ISO file is bootable.
Q.3 How to use ISO burner software?
Using any kind of ISO burner software is quite easy. You just have to follow some easy steps to make it work. Just launch the software, select the file you want to be burned, then select the disk on which you want it to be burned and confirm. The software will start burning data on the disk and the task will be completed within minutes.
Q.4 Which is the best ISO burner software?
All the ISO burner software listed above consists of the best software for burning all kinds of optical disks. All the listed software offer different features. The user should select the one which deems fit according to his needs. Some software offers a premium subscription to access all the features offered.
Q.5 What happens when you burn an ISO file?
When any user burns an ISO file with the help of any ISO burning tool, the files are shown in the optical disk as they were stored originally on the computer's storage. If the user is looking for a specific ISO file to be burned, he can download it from the internet.
Supreme ISO Burner Programs for Windows 10
When we thought CD and DVD drives are the supreme solutions, ISO burner is the only way that takes us closer to it. However, those were the days of CDs and DVDs which are gone. And this is the era of ISO burners that make this work much easier and smooth. Now it's been so simple to convert the disc into virtual images.
Moreover, you can also make modifications to the images, for instance, changing the storage location. Commonly, users are not much liked by the ISO burners that are provided by the operating systems. So, they are looking for the 3 third-party programs and this write-up compiled the best ISO burner windows 10 programs. These listed programs never lack the standards down like others and could be helpful for you. Download the best ISO burner software as per your needs.
Subscribe to Our Newsletter
Keep yourself updated with the latest technology and trends with Innovana Thinklabs Limited.