A clean device means snappier performance. Read on to know the best temp file cleaners to get rid of all the junk.
The operating system (OS) is the core of every device whether it is a laptop or PC. If the OS is not in the pink of condition, then it degrades the device's performance as a whole. You often wonder what makes your device sluggish, right? Well, a poorly maintained OS does this.
Talking about the OS, Windows is the one that needs to be maintained the most. Maintaining Windows means that you need to remove junk from it. Junk comprises of temporary, unneeded, and every other file that hogs up space unnecessarily and makes Windows inefficient. Removing junk manually can be tough. Thus, you need the best junk file cleaners for Windows to do the needful.
These best temporary file cleaners scrape away every trace of junk from Windows and this, in turn, results in a faster device. But, one thing you need to be sure of is that the tool you are using to clean Windows is compatible, safe, and secure.
If you use any random junk cleaner for PC, then it may expose it to the virus and other attacks. Apart from this, it may also result in fatal system crashes. Thus, to save our readers from such a situation, we dived through the gamut of utilities and curated the best Windows junk cleaners.
The Best Junk File Cleaners for Maintaining Windows Well
Below are the best temp file cleaners you need for that well-maintained and efficient Windows.
1. CCleaner
Piriform CCleaner is a household name in the domain of digital cleaning utilities. It would not be incorrect to call it one of the best junk file cleaners for Windows. What made it this list's part is the amazing features it offers. We talk about the prominent ones out of them below.
Features
Efficiently scans and removes temporary files, cache, and unneeded log files.
Scans the registry and helps you fix the missing DLL error with ease.
Finds and removes the files eating up space available on Windows.
Pros
Its user interface is simple and easy to use.
Reduces the boot time significantly.
Cons
Annoys the user with ads.
It consumes a lot of device's resources.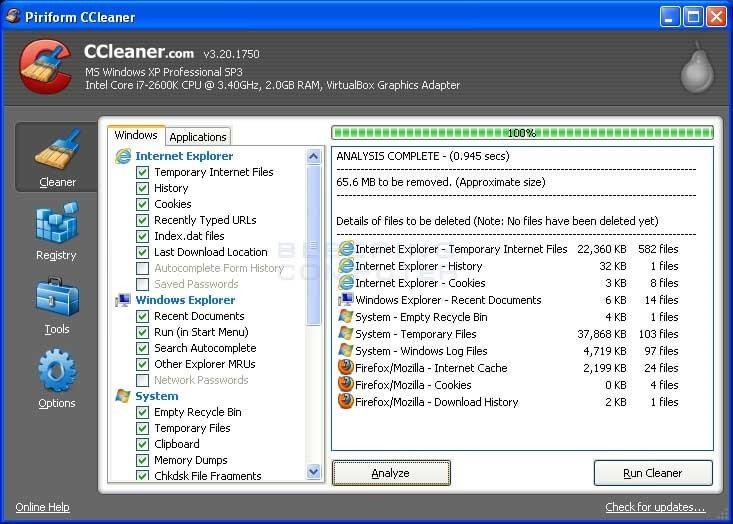 ---
2. AVG Tuneup
AVG is a household name as it has given a lot of PC care utilities to users all across the globe. AVG Tuneup is one of these offerings and the best software to clean junk files in Windows 10. What makes it a widely used utility is the features it provides to delight users. Below we share a few of them.
Features
It comes with an in-built software uninstaller.
Eliminates temporary files and bloatware from Windows.
Detects and resolves issues related to the Windows registry.
Deeply and effectively cleans the hard drive of your device.
Pros
Updates all the outdated software in a single click.
This free junk file cleaner has multilingual support.
Cons
It is less suitable for commercial or business purposes.
This app is a bit costly than other best junk cleaners.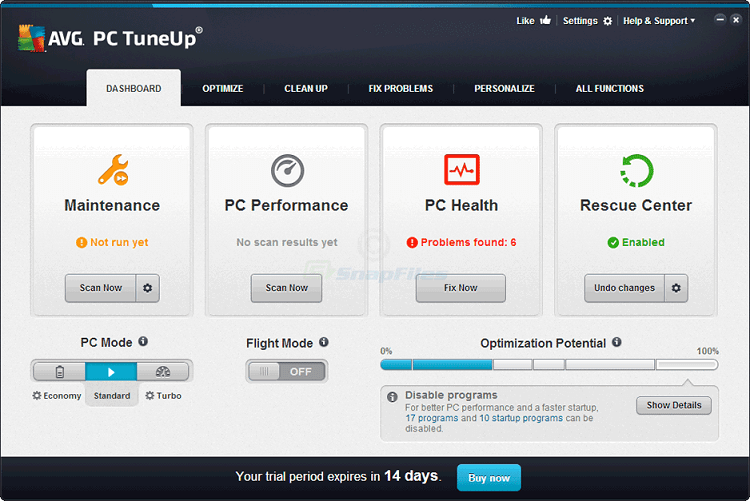 ---
3. IObit System Care
IObit is another well-known name in the PC care domain. Time and again it has delighted users worldwide with incredible products. This offering from the developer is also one of such utilities and the best temp file cleaner. Let's have a look at its features.
Features
Doubles up as a Windows registry cleaner.
Boasts a startup optimization functionality to quickly scan the startup applications and deactivate the unneeded ones.
Optimizes the device in a single click.
Hosts many other tools to speed up and elevate the device's performance.
Pros
It is a completely free junk cleaner for PC.
The user interface is pretty simple and easy-to-use.
Cons
It does not allow you to scan the external files.
The rescue center is a bit complicated.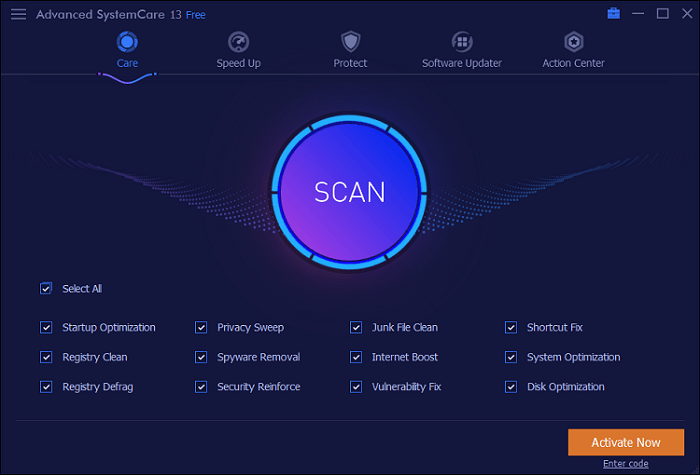 ---
4. Win Magician
This best junk file cleaner for PC like a true magician scrapes away every trace of redundant files. It is an effective utility to clean junk and speed up Windows PC. Below are the features that brought it to this post.
Features
Hosts an in-built tool to scan and protect the PC from malware.
Scans and deletes invalid registry entries.
Encompasses an ad-blocker for enhanced web protection.
Pros
Even novice users can use this software easily.
The developers update it frequently.
Cons
It does not support older Windows versions.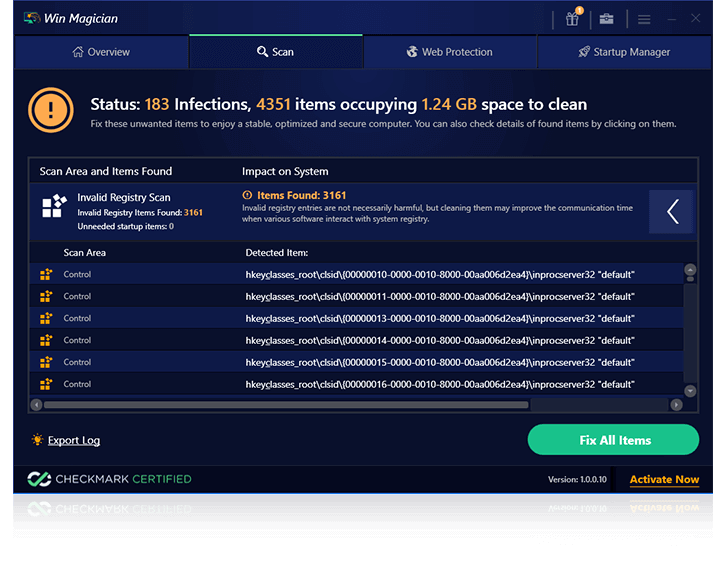 ---
5. KwikSolve
Here's underrated but the best temp cleaner for PC. It quickly scans Windows and removes even the slightest trace of junk from it. Apart from this, it also among the top PC optimization utilities. Below we discuss more of its attractive features.
Features
It comes with a built-in malware detector.
Speeds up the device by disabling the unneeded startup programs.
Hosts tools to keep your privacy intact.
Detects and eliminates the files that adversely impact your device's performance.
Pros
It has one of the most straightforward interfaces that we have come across.
The software is easy-to-use for amateur users.
Cons
Sometimes, it takes a bit longer to detect junk files.
It lacks a few advanced tools such as software uninstaller.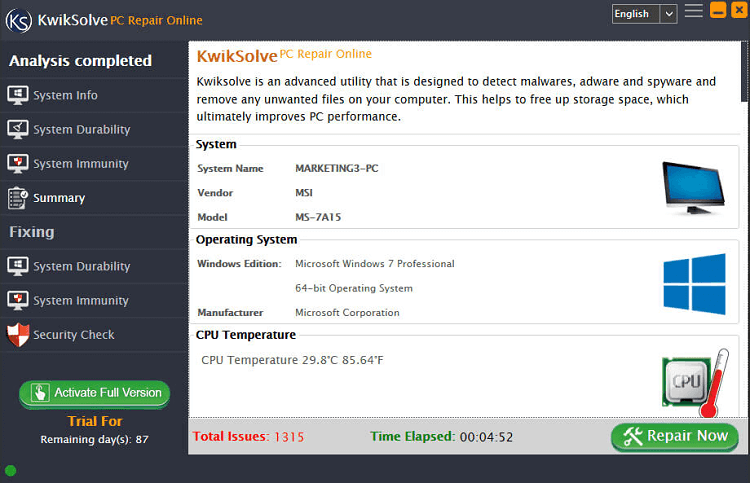 ---
6. Wise Care 365
This entrant on our list is also among the best Windows 10 junk cleaners that use state-of-the-art technology to remove the junk files. It offers several features that make it a favorite of millions of users all over the World. Let's talk about the central ones out of them.
Features
Boasts tools for real-time protection of your device from threats.
Clears the disk space in seconds and frees up your computer of the accumulated junk.
Hosts some advanced functionalities such as a disk defragger.
Pros
Takes the computer's speed a notch up.
It comes with an easy-to-use UI.
Cons
To unlock some high-end tools, you need to get the pro version.
It does not enhance the experience relating to heavy processes such as gaming.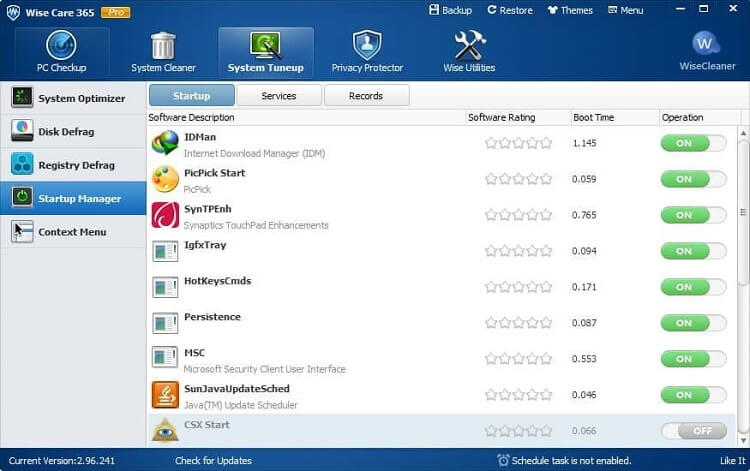 ---
7. Easy PC Optimizer
As it is evident from the name, this software to clean system junk in Windows 10, makes it easy for you to clean and speed up the PC. Below we talk about some of the features that attracted and instigated us to include it in our list.
Features
Hosts tools to optimize RAM and enhance the PC's speed.
Detects and help you fix the system crashes effortlessly.
Boasts the functionality to tweak and enhance the Window's performance.
Pros
The design of this Windows junk cleaner is intuitive and easy-to-use.
Effectively cleans junk from every nook and corner of Windows.
Cons
Sometimes, scans the device a bit slowly.
There are no frequent software updates.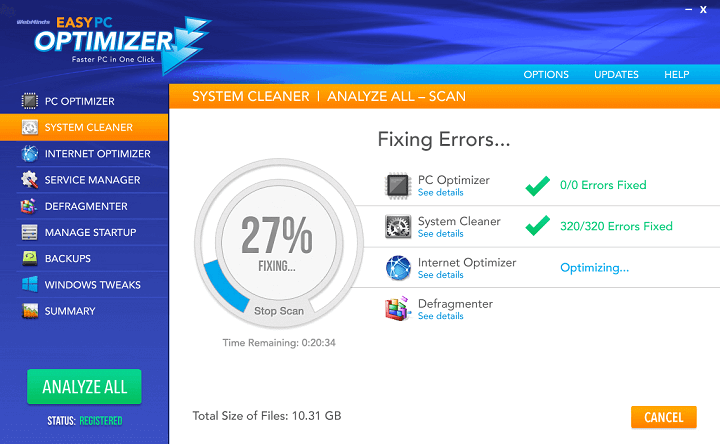 ---
8. PC Decrapifier
Here comes another best temporary file cleaner for Windows 10. This portable software comes with many advanced features to remove junk and give the PC's speed much-needed boost. Here we talk about some of its exciting features.
Features
Segregates the unneeded programs in separate categories.
Lets you manually pick and delete unwanted applications.
It also hosts a restore functionality so that you can undo the changes whenever you want.
Displays the percentage of users who have uninstalled particular programs.
Pros
It does not use much of the device's resources.
Lets you remove undesired programs easily without any cumbersome efforts.
Cons
There is no option to search for programs.
The right-context menu is not there to remove applications.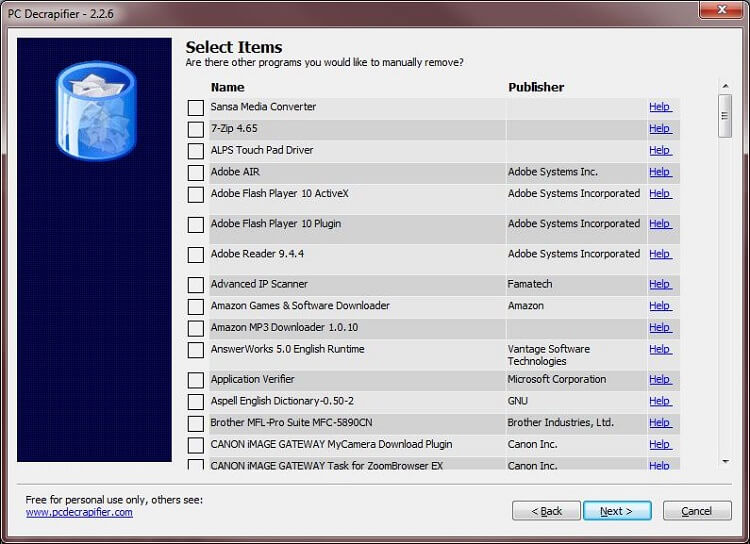 ---
9. File Cleaner
This is another best junk and temp file cleaner that we recommend. It effectively removes junk and makes the Windows function snappier than ever. Let's discuss some of the features that we found attractive about this utility.
Features
Along with junk removal functionality, it also boosts tools to mend the PC settings.

Finds out the redundant applications and helps you remove them effortlessly.
Hosts a file shredder to keep the sensitive data and files secure.
Pros
Cons
If you migrate to Windows 10 from an older version, then you need to reactivate this software.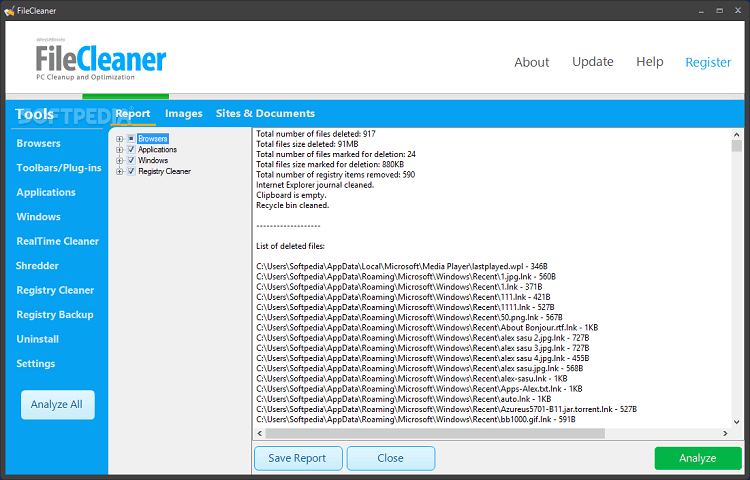 ---
10. SlimCleaner
As the name suggests, this is a lightweight and best free junk file cleaner for Windows 10. It an ideal tool to use for the features it offers. Let's have a look at the prominent ones out of them.
Features
Extends the battery life of the device significantly.
It has support for manual Windows optimization and cleaning.
Hosts tools to optimize the startup applications.
Pros
Its power mode helps enhance battery life.
The user interface is simple to use.
Cons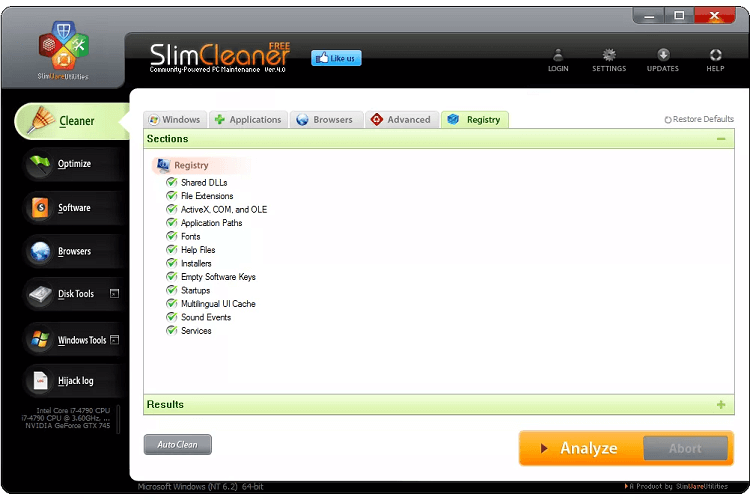 ---
The Takeaway
Above were the best junk file cleaners for Windows. Use them to clean junk, temporary files, and speed up your device. We would suggest you keep the device free from junk for enhanced performance. Lastly, before you leave, subscribe and bookmark Innovana Blog for more such knowledgable posts.
Subscribe to Our Newsletter
Keep yourself updated with the latest technology and trends with Innovana Thinklabs Limited.