Have you also got bored and pissed off with the same unpleasant design of the Keyboard? Then, you must thoroughly read this penned note to know the most amusing keyboard apps for android.
We spend hours and hours while chatting with our dearest and closest ones on our smartphones. But, at the same time, we've also got bored with the same boring appearance of our keyboard. That means, our old custom keyboard needs a complete makeover. But sometimes after making changes and regularly updating the app doesn't show any positive effect at all. In that case, you need to switch off the old custom keyboard and install the new advances keyboard which is based on the latest technologies. New keyboard can overtake the limitations of a custom keyboard and gives you the most pleasant chatting experience. Nowadays, GIFs are an integral way of expressing the feelings and inner state of mind. And, everyone uses it the most. New innovative technology-based keyboard can give the best GIFs and millions of emoticons support. Hence, install a new limitless keyboard app right now. Wait! but do you know exactly the best android keyboard apps? If no, then stay tuned to know the most effective keyboard apps for your android smartphone.
10 Top-Notch Fascinating Keyboard Apps for Android in 2020
The keyboard is essentially very vital to making our conversation more engaging. It adds more top-ups like emoticons, GIFs, themes, colors, and so on in our conversation to make conversation the most amusing one. Here, we're presenting a rundown of the best android keyboard apps in 2020. Therefore, don't go anywhere, keep reading on to know more in detail!
1. Microsoft SwiftKey Keyboard
Microsoft Swiftkey is a smart keyboard that recognizes the taste of your type and provides you the keyboard in the way you like. Swiftkey always explores the unique way of typing for you. The in-built keyboard can customize the old and boring design of the custom keyboard. Swiftkey predicts the right words for auto-correction. Supports built-in infinite emoticons, trending GIFs, funny images, and more. So, Swiftkey keyboard is the single spot to get all the awesome features that make your writing, chatting experience way better than ever. Supports more than 350+ languages across the world. Swiftkey lets you bend the design, themes, of the keyboard according to your preferences. Microsoft Swiftkey is the best android keyboard application for android.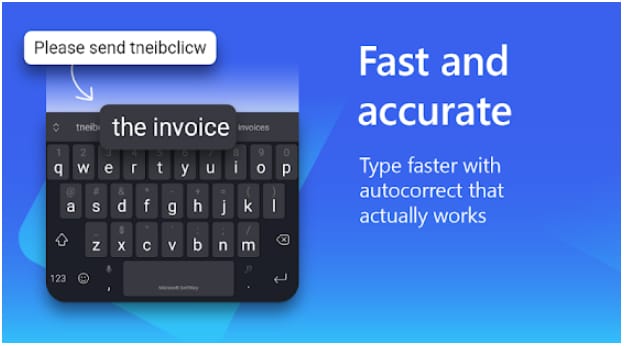 2. Mint Keyboard
Ultimately, we've had a great keyboard option that can make our typing far better than ever. Mint keyboard can empower the custom keyboard and makes it more stylish than it ever can be. Especially, the Mint keyboard is uniquely designed for MI admirers. Mint keyboard comes out with an AI engine that is used to make the conversation even more amusing than anyone has ever experienced. With the Mint keyboard, users can create their own photo as a theme. Mint keyboard offers the bulk of fonts type for chatting at a time. For typing, you can also swipe the letters rather than tapping. Its auto-correction mode suggests the correct words. Express the feelings with the millions of emojis. And the best thing about this app is that – your data with mint is highly secured. Supports every possible language across the world.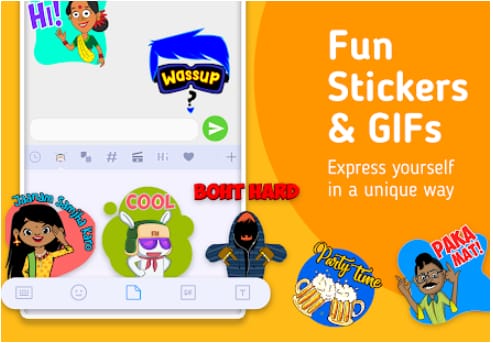 Also Read: Best App Lockers for Android Phone | Advanced Fingerprint Lock Apps
3. Gboard
Google Keyboard is the best keyboard app for android. There is nothing that can't be on the Google keyboard. Everything that you ever dreamt of, which must-have in your keyboard, that all features are actually in the Google Keyboard. Google Keyboard basically is the fantasy keyboard that fulfills every wish of yours. Typing speed in Google Keyboard is faster than others as it lets you slide the Letters-to-Letters to type the word. The most convenient feature of Google Keyboard is – that it supports voice assistant or typing. That means, for typing you need not type all the time, rather than typing you can also dictate the text and Google Keyboard can make it accessible. Supports multiple languages at a time so you need not switch on multiple languages. Compatible with many varieties of languages around the globe.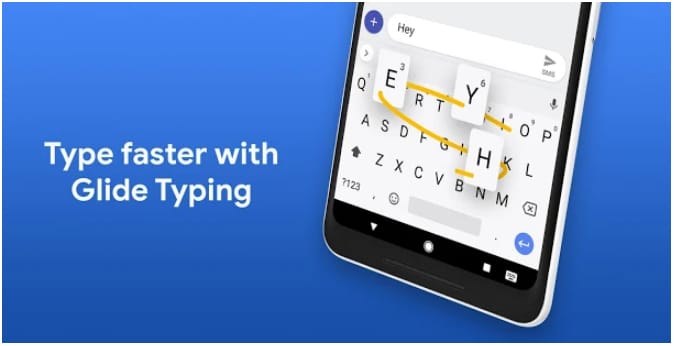 4. Go Keyboard
Go Keyboard is the choice of more than 200 million of users across the world. Go Keyboard is the best choice because it gives the totally new AVTAAR to your keyboard. It offers the infinite emojis and even suggests the emojis according to the sound of your text. The Go Keyboard works on two methodologies i.e., 2Ps and 3Ss. 2Ps refers to Privacy and Performance. Whereas, 3Ss refer to Speed, Smooth, and Smart. That means your data with Go Keyboard is in tight security. And Go Keyboard delivers a very fast speed performance. Go Keyboard, offers the beautiful, colorful themes by so you can smartly change the appearance as per your preference. It supports hundreds of languages worldwide.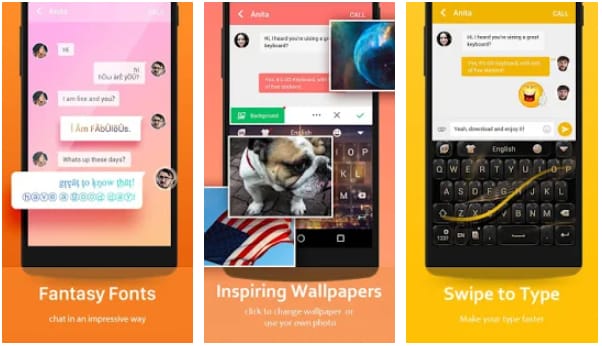 5. Music Keyboard – Water Drop
One more best android keyboard app is – Music Keyboard. This app is completely a free keyboard application for android users. This keyboard gives the live water drop sound theme to make your typing experience way better than ever. And, I am bet on that, this live water drop theme will surely give you the best typing or chatting experience ever. To suggest the next word predictions it uses the cloud suggestion technology. Music Keyboard supports more than 100 languages across the world. It offers smart GIFs to express every mood swing of yours. Infinite emoticons can make the conversation more interesting.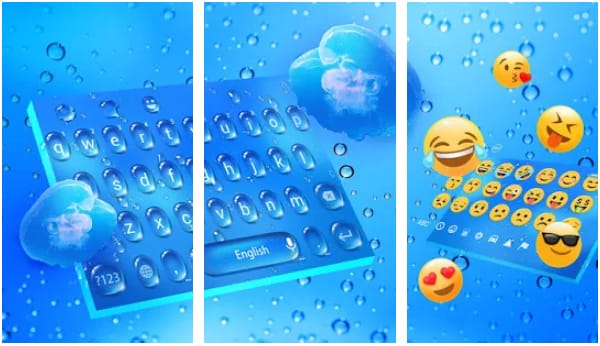 6. Simple Black Keyboard
A simple Black Keyboard can surely give a classy look to your keyboard. Simple Black Keyboard gives extraordinary typing experience and maintains a level of your standard. This keyboard will surely give a pleasant look to your device. With this keyboard you don't need to explore the emoji, just type a word and this keyboard automatically detects the emoji as per your word sound. It gives the 3D dynamic effects to make your device more stylish than ever. Its stylish and most attractive features turn it to be the best keyboard app.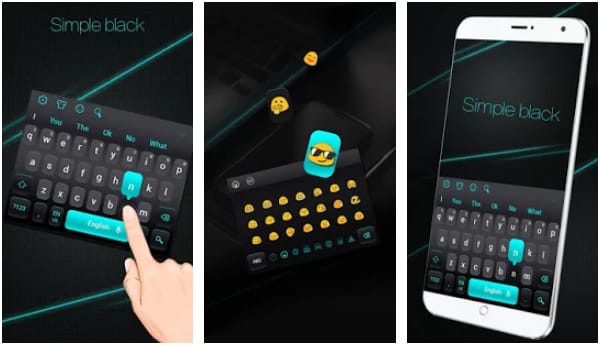 7. Jet Black Keyboard
If you want to experience the iPhone typing features in your Android device, then you must try this Jet Keyboard at once. Jet Keyboard won't let you feel down because it gives the perfect iPhone typing experience in your android smartphone. With Jet Keyboard, you may have the chance to make your android device more stylish and elegant. For Jet Keyboard, your privacy matters a lot, hence it never ruins your privacy. That means, it never collects your personal information. It offers a more personalized option to offer the keyboard as your taste in the exact way that you want.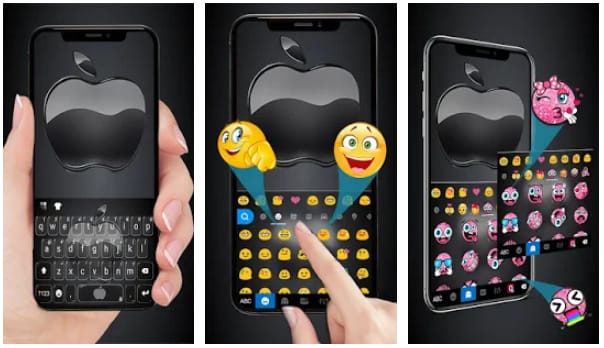 Also Read: 10 Best Remote Desktop Apps for Android in 2020
8. Facemoji Keyboard Pro
Facemoji Keyboard Pro can make your chats funnier than ever and completely changes the appearance of your custom boring keyboard. Facemoji offers various sorts of emoticons and can allow you to create your own photo as a sticker. It has various types of beautiful and cool themes, animated live themes, or wallpapers that can give a new coolest AVTAAR to your keyboard. Auto-correction and word prediction can make your typing more fast and accurate. It also allows you to create your own image as a theme. Supports various GIFs and languages across the world. Facemoji is the best keyboard app for android.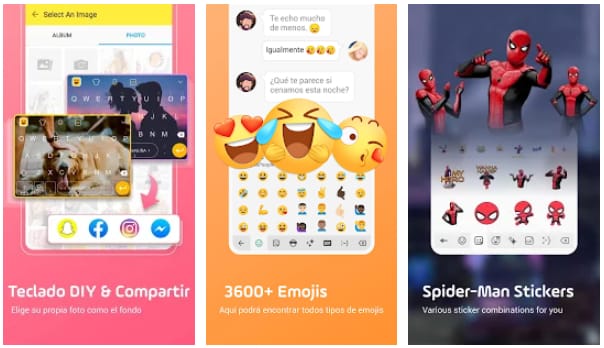 Also Know: 5 Best Photo Recovery Apps for Android and iPhone
Some people just like to do conversation in their own preferred language. They just don't feel comfortable with other languages like English, German and more. So for those individuals, we have the best keyboard app and that is – Google Indic Keyboard. Google Indic Keyboard allows you to make a conversation in your own native languages. Presently, it supports 11 Indic languages including Assamese, Bengali, Hindi, Marathi, Kannada, Malayalam, Odia, Punjabi, Tamil, Telugu, and Gujarati. For turning on the specific languages, you need to switch to the native language mode. It is the right way to clear the hurdles from your conversation and make it more promising.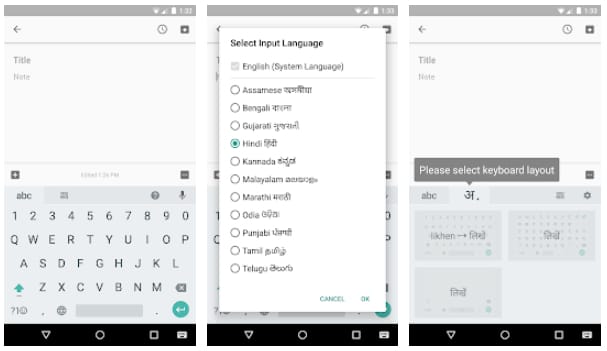 10. Xploree AI Keyboard
If you want to get an even faster typing experience than ever, then, Xploree AI Keyboard is just for you. This keyboard is based on the latest AI technologies so it delivers faster experience than ever. With this, you can be able to search for new and trending things as per your need as well. Without moving the finger you can type a word or even an entire sentence via Glide typing. It supports 150 global languages and 40+ indic languages. It always keeps your data and personal information safe. It has a collection of infinite emoticons and GIFs.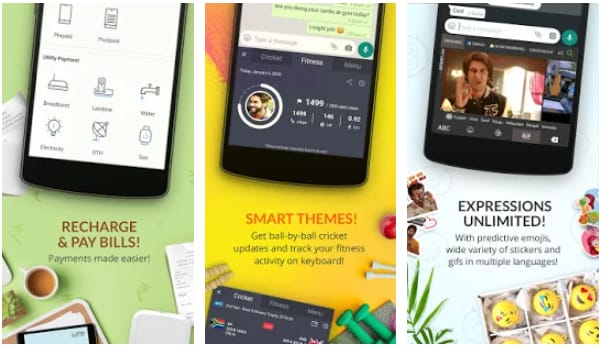 Make Conversation more fascinating
During this quarantine phase, when we've been stuck in our own homes. At this time, chatting, video conferencing, and calling are the paths to stay connected with our loved ones. Being apart with our dear and near ones is not an easy thing. But, we are currently going through it. Apparently, we have the only option left where we can adapt the ways that enhance the quality of the conversation. So, that's why we've above-suggested the top-notch best android keyboard apps that can make conversation funnier and amusing.
Subscribe to Our Newsletter
Keep yourself updated with the latest technology and trends with Innovana Thinklabs Limited.