This write-up solely focuses on some best LaTex Editors. Most of the people are not aware of the term LaTex Editor. First of all, let us explain to you about LaTex Editors and their requirement.
Just like Microsoft Word, LaTex Editor is also a document editing tool. However, it is not entirely the same as Microsoft Word. LaTex Editor works on a WYSIWYM (what you see is what you mean) approach, unlike Microsoft Word that works on a WYSIWYG (what you see is what you get) approach. This text editing tool doesn't allow you to format your text while you enter it. It is somehow similar to HTML, you can give commands, and the formatting will show up in the final result. Mostly the publishers use LaTex Editors, as it is difficult to format a large amount of content at once. If you are the one who also require LaTex Editor, then this writeup is for you. Here we have brought a list of some of the best LaTex Editors. So, let's have a glimpse of the list without wasting any further time.
5 Best LaTex Editors available for Windows, macOS, and Linux in 2020
Below, we have mentioned some of the best LaTex Editors for multiple platforms including, Windows, macOS, and Linux. These tools can help you in publishing your documents with ease.
1. TeXstudio
When we talk about some best LaTex Editors for Windows, macOS, and Linux, the first name that comes to mind is TeXstudio. It is an open-source utility that is completely free. Despite being a free tool, it offers many advanced features. Syntax checking, citation checking, auto-completion, table-formating are some of the features that make TeXstudio different from other alternatives. The tool even allows you to check references. It also guides the new users in its assistant mode. Hence, it doesn't matter if you are familiar with the tool or not – you can easily use TeXstudio. Just like other document editing tools, it also allows you to drag and drop the images and other items directly into the document. The only major drawback of TeXstudio is its completion speed.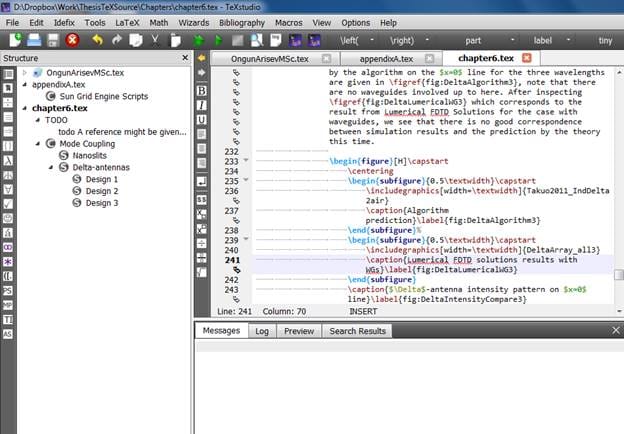 2. TeXmaker
TeXmaker is also a reliable alternative to edit documents. This one of the best latex editor for Mac, Windows, and Linux provides quite similar features like TeXstudio. It offers various things, including tables, font attributes, etc. The tool also enables you to select mathematical symbols from a vast library. Along with all these things, the user interface is also impressive. You can even track errors while assembling the document. The tool also provides keyboard shortcuts to make your task easy. TeXmaker also comes with an inbuilt PDF viewer. Hence it becomes easy for you to check the required PDF files while editing a document. At last, the most important thing is that all the features of this tool are entirely free.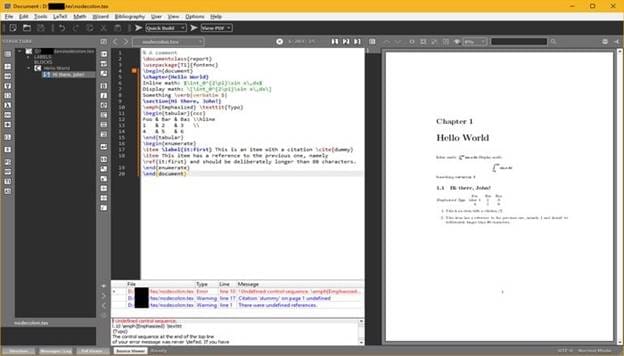 Also Read: 5 Best Free File Encryption Software for Windows and Mac
3. LyX
The third name on our list is LyX. If you are looking for an easy to use LaTex editor, then LyX is the best LaTex Editor for you. The tool can fulfill your every document editing requirement. It even provides features for the support of mathematical equations as well. Along with this, LyX is highly customizable and provides you with complete control over the formatting of your document. We highly recommend this tool to edit documents related to academics and education, as the tool comes with a formula editor feature. The tool also provides tutorials. Hence, it is not an issue if you are not familiar with LyX. It even comes with a spell-checker so that you can ensure error-free documents.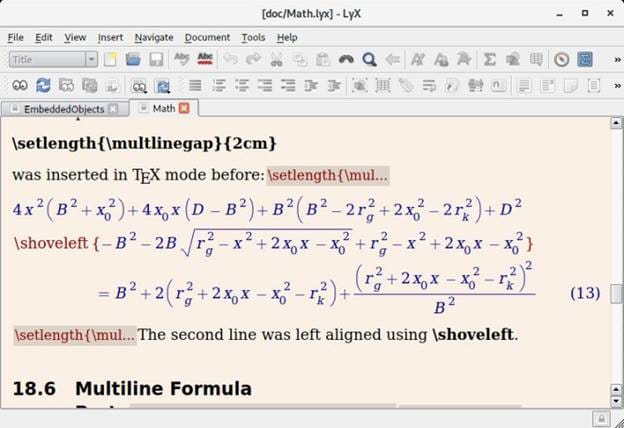 4. TexWorks
Here comes another multi-feature LaTex Editor tool. TexWorks is also an open-source LaTex Editor that provides various advanced features for free. This best latex editor for Linux and various other platforms comes with a PDF viewer as well. TexWorks even allows you to preview your documents while you edit them. This is the feature that makes it unique from all other LaTex Editors. This one of the best latex editor for ubuntu can process the documents much faster than any other LaTex Editor. You'll also get features such as auto-completion and compact processing. However, there is one major drawback of TexWorks. It doesn't offer many advanced features as compared to other alternatives mentioned on this list.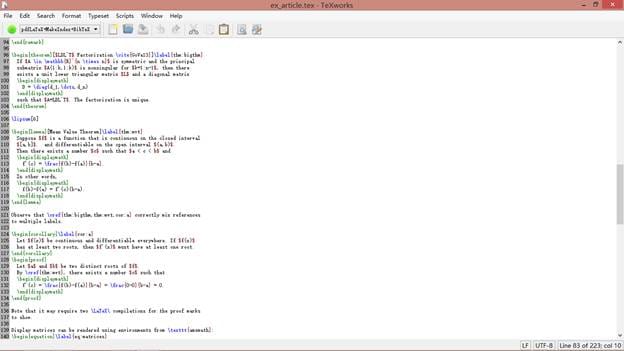 Also Read: Best iTunes Alternatives for Windows/Mac
5. Overleaf
At last, we have Overleaf on our list. This is for those who do not want to install any particular tool on their system. It is one of the best online latex editor. You don't have to worry about the compatibility of your system with this tool. You can access it through the web from any of your devices and edit the documents. This best LaTex Editor has lots of users across the globe. It is best for those who just want to edit or format small documents such as Resume, letters, etc. Just like any advanced LaTex Editor, it also allows the users to preview the real-time changes. You can access it through any of the major web browsers. However, if you want more advanced features, then you can opt for its paid plan as well.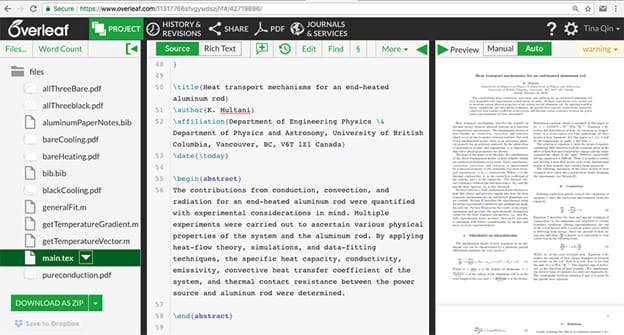 So here we like to end our list of some best LaTex Editor. These tools can help you format your publishing papers, letters, resume, etc. However, we advise you to use these tools only for some specific purposes. For some small edits, you can use some simple options, such as MS Word. First of all, understand your requirements, then evaluate the LaTex Editor tools that are mentioned above. We hope that the above write-up has helped you to take the correct decision.
For more information related to such useful tools for Windows and various other platforms, subscribe to Innovana blogs.
Subscribe to Our Newsletter
Keep yourself updated with the latest technology and trends with Innovana Thinklabs Limited.