Is your Mac slow, crashes frequently, unexpectedly shuts down, or throwing other irritating tantrums? Then, use the best Mac optimizer to fix it. You can pick one from the ones shared in this article.
Do you remember how your Mac performed when it was a brand spanking new model? If you want that buttery smooth performance back, then you need the best Mac optimizer. Yes, your precious Mac also requires a bit of cleaning and optimization to continue living up to your expectations. Accumulation of junk files slows down the Mac drastically, making it no less than a buggy and irritating machine.
Therefore, to ensure that your device performs superbly and stays in shipshape, we have deeply analyzed various free Mac optimizers available in the market. After a thorough analysis, we have put together a list of the best optimization software exclusively for our readers. The following section shares it with you.
7 Best Mac optimizers  in 2021
Below are the top free Mac optimizers and their paid counterparts to repair your device and boost its performance.
1. CleanMyMac X
Compatibility: macOS 10.10 and above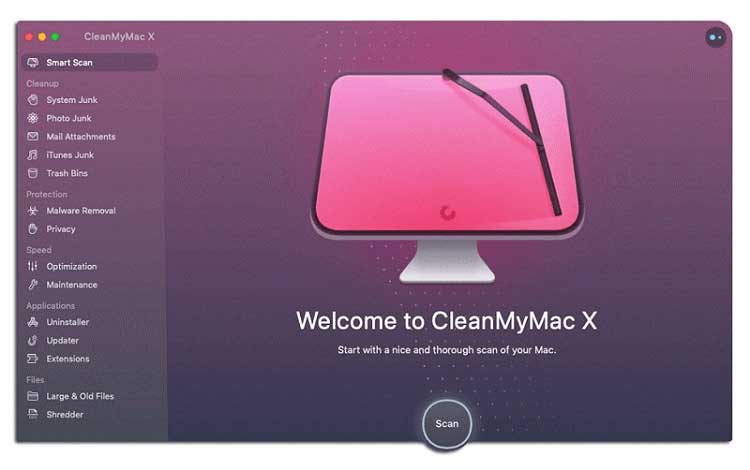 When it comes to selecting the best Mac optimizers, we cannot miss CleanMyMac X. It liberates your digital space to help you make the most of your Mac. Some of its great specialties include 49 highly useful optimization tools, a maintenance module to fix common performance issues, and more. Let's discuss its complete features.
Features of CleanMyMac X
It scans your device smartly with just a click.
CleanMyMac X wipes away caches, broken app data, outdated DMG installers, and extra localizations.
It locates and helps you get rid of large hidden files.
This software finds and empties all the trash bins existing on your Mac.
There is a file shredder to erase files securely.
It helps you remove iTunes junk, Photo junk, Sketch/Photoshop caches, and useless mail attachments.
With its faster boot feature, you can enable or disable the startup items.
It performs under-the-hood optimizations by running maintenance scripts.
There are many high-end security features, such as powerful anti-malware.
CleanMyMac X boasts some additional tools like app uninstaller and updater.
User-friendly interface
Quick scan speed
Fast cleaning
Many clean up options
Light on the CPU
Free trial offers very limited features
Expensive than competitors
Some tools are a bit unnecessary
Price: CleanMyMac X comes in both paid and free versions. You can get its complete version for $90. Existing CleanMyMac users can upgrade it for $40/year.
2. AVG Cleaner
Compatibility: macOS 10.8 and above
Downloads: 50K+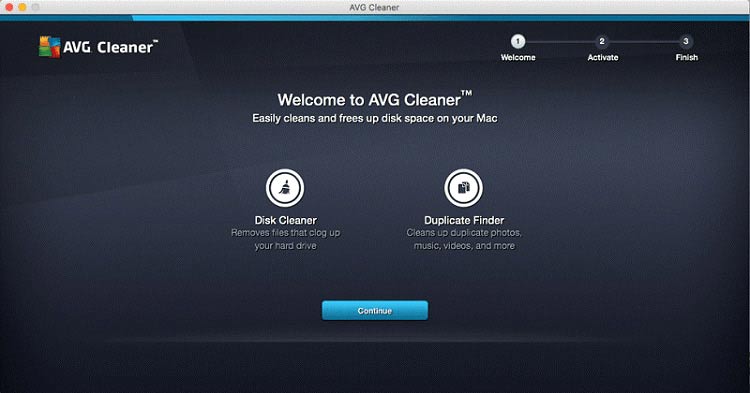 AVG is a popular name in the Windows world. However, the tech giant boasts an equally excellent optimization tool for Mac. With AVG's free Mac optimizer, you can clean up all the hidden clutter with just a few clicks. Below are some of the most fascinating features of this software.
Features of AVG Cleaner
It removes the browser, app, iPhoto, and video cache.
With this software, you can wipe out unnecessary log files, downloaded file history, uninstall leftovers, and trash content.
AVG Cleaner finds and deletes duplicates, such as pictures, music, videos, documents, etc.
With the software's  AVG Zen™ network, you can oversee your Mac's performance remotely.
Quiet background mode
Intuitive interface
Fast scans
One-click junk removal
Many selection options
No exclusion of specific files
A bit heavy on resources
Undo option is absent
Price: AVG Cleaner is one of the best free Mac optimizers.
3. CCleaner
Compatibility: OS X 10.6 to 10.10 Yosemite
Downloads: 8M+

Next, we have CCleaner as one of the best Mac optimization software. It is among the most well-known cleaning utilities when it comes to Windows computers. However, it has left its mark in the Mac world too because of the outstanding features, such as effortless management of startup items, the uninstallation of unwanted apps, and more. Let's walk through its core features.
Features of CCleaner
This software allows you to scrape away all temporary files and other junk with one click.
It deletes your browsing history and cookies to protect your online privacy.
You can choose which files, folders, cookies to keep or delete.
The professional version comes with real-time monitoring to protect your computer from harmful downloads.
With CCleaner Pro, you can schedule the cleaning sessions.
Automatic updates
Large and duplicate file finder
User friendly
High customization
No support on chat or phone
Some functions aren't well defined
Price: CCleaner is among the best Mac optimizers with both free and paid versions. You can get its paid version with complete functionality for $29.95.
4. IObit MacBooster
Compatibility: OS X 10.9 or later
Downloads: 12K+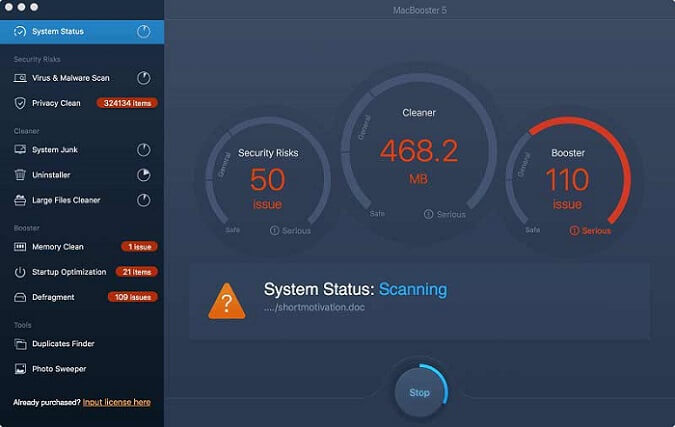 IObit's MacBooster is another name you can trust when it comes to optimizing your Mac. It has a bunch of features that give your device the much-needed performance boost. For instance, its turbo boost deletes the cache produced by third-party apps to drive your Mac to peak performance. In addition to this, below are the other features that it provides.
Features of IObit's MacBooster
It scans and protects your Mac from viruses and other malware.
MacBooster offers robust privacy protection from malicious cookies and unsafe applications.
It detects all the system security settings to help prevent risks.
This software helps you optimize or stop the apps requiring high memory.
The program analyzes and optimizes the startup items.
There is a mini standing-by to view the status of memory, network, and firewall.
Its lightning booster mode provides you with an incredibly faster browsing experience.
There is a large and old files finder, app uninstaller, and duplicate finder.
Cleans over 20 types of junk files
Easy to understand interface
Many cleaning, security, and optimization options
Fast scanning speed
Browser cleaning supports only popular browsers
A bit high priced
The trial version only lets you scan the device
Price: You can purchase the MacBooster plan that ranges between $3.33/month to $179.95/month. The software is also available as a free Mac optimizer.
5. Avira Optimizer
Compatibility: macOS 10.12 or later
Downloads: 1K+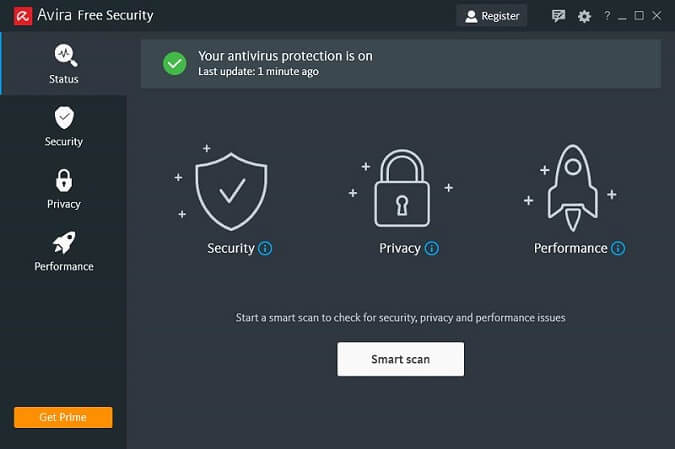 Mac optimizer from Avira is also among the best optimization solutions for problems, such as a slow Mac speed. A single click is all that it takes to fire up the scan and speed up the device considerably. Moreover, the software has many options, like a duplicate finder to give your Mac a new lease of life. Below are all its incredible features.
Features of Avira Optimizer
There is a junk file cleaner to wipe out space-hogging files and browser junk.
You can use it to find and remove large/old files.
It allows you to set reminders for the cleaning session.
The CPU usage monitor ensures the CPU is not overburdened.
High-end malware protection
Cleanup scheduling
Effective system optimization
Slow scan
No batch file cleaning
Price: Avira Optimizer is a completely free optimization software.
Read More: Best Free Mac Data Recovery Software
6. OnyX
Compatibility: macOS Big Sur 11.1 or later
Downloads: 50K+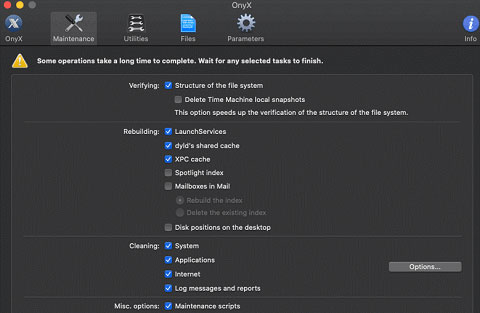 If you want something more than mere optimization, then OnyX can be the perfect choice for you. Along with being one of the best Mac optimization software, it is also a great cleaning and customization program. With this software, you can perform various tasks, such as rebuilding different databases and indexes. Let's learn more about its features.
Features of OnyX
It lets you verify the system file structure.
You can perform miscellaneous cleaning and maintenance activities.
OnyX allows you to configure Finder, Dock, Safari, and other app parameters.
This software deletes cache, along with problematic folders and files.
Stable and mostly free from bugs
Additional tools like screen sharing
Warns when performing advanced tasks
Needs no registration
Keeps operation logs
A bit confusing interface
No report about released storage space
Different versions for each macOS
Price: OnyX is a freely available best Mac optimizer.
Read More: Photo Management Software For Mac
7. MacKeeper
Compatibility: Mac OS X El Capitan 10.11 or later
Downloads: 892K+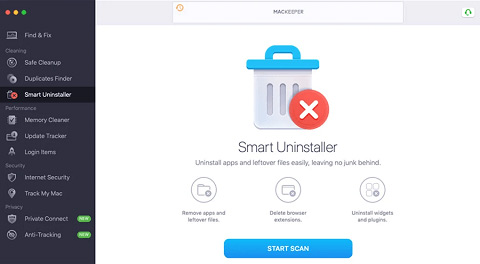 MacKeeper is another software we would like to include in the list of the best Mac optimizers. It provides an excellent blend of security, cleaning, and optimization tools to keep your Mac in the perfect shape. Some of its useful features are duplicate cleaner, memory cleaner that shows you when is the right time to clear the RAM, etc. Let's discuss its other important highlights.
Features of MacKeeper
It helps you find and quit memory-eating processes/applications.
You can use it to clean all system junk such as redundant files.
It also works as a Mac app uninstaller.
MacKeeper analyzes and helps you reduce the startup time.
There is a one-click updater for all applications.
It monitors and protects your Mac from malware in real-time.
You can browse privately without ads using its VPN.
Availability of data encryption
Fast scan and cleaning
Shredder to make files unrecoverable
High lab test scores
Expensive
No protection from suspicious URLs
Other programs offer many of its features for free
Price: MacKeeper's pro version is available for $71.40 per year for a single Mac.
Closing Thoughts on the Best Mac Optimization Software
Above were some of the best Mac optimizers that you can use to transform the way your device performs. With the help of any of these programs, you can get rid of the issues like "Your disk is almost full." And, make your Mac as good as new. For more Mac software and app recommendations, be a regular reader of the Innovana blog.
Subscribe to Our Newsletter
Keep yourself updated with the latest technology and trends with Innovana Thinklabs Limited.