Apps just don't develop to wasting time or money. Even though apps can also be your savings bank. As we all believe that how much saving money is crucial for us. But, saving money is not an easy task. We always think off to save money but it actually does not happen. Presently, when we all are facing financial crises some best money-saving apps can be a light for us in this harsh situation. Hence, to know more about the same keep reading on!
Top-Notch Best Money Saving Apps for Android/iPhone
Save money without moving to a bank or any other financial service offices just by downloading the best money saving apps on your smartphone. Apps can be your piggy bank and save money so you can use them in your difficult time.
1. Money Box – Savings Goal
As its name suggests you can achieve goals via saving money. Money Box is the automatic saving app that helps you via saving money. Install it and save money for your future plannings. Available for both devices – Android and iPhone. The best feature of this app is – it lets you add the model, photo of your dream or goal by so you save money and pay extra effort to achieve the goal. The easy interface of the app helps kids to realize the value of money and to save money.
Features-
Lets you make the visual pattern of your goal.
Guides you from aim to accomplishment.
Boosts the confidence to save more money.
Sets frequency – daily, weekly, monthly, etc.
Doesn't show ads.
Lets you share the feat with other social media apps like – Twitter, Instagram, etc.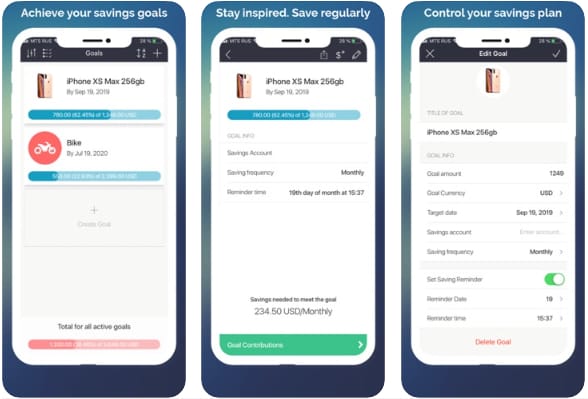 2. Mint – Personal Finance & Money
Ultimately, there is one great app that manages all your financial transactions with ease and security. Mint application is the free financial tracker app that keeps every bit of information on your transactions. With Mint money manager application it is extremely easy to manage your transactions like credit card bills, investments, account balance, and so on. It is the best money saving apps on our rundown as it gives you the automatic reminder to your bill payments so you don't have to pay penalty or late fees anymore.
Features-
Allows you to set the goal before achieving the feat.
Lets you sync with your bank account.
Gives free credit score whenever you register.
Reminds you about the deadline for bill payments.
Keeps you secure from the frauds and scams.
Creates budget plans.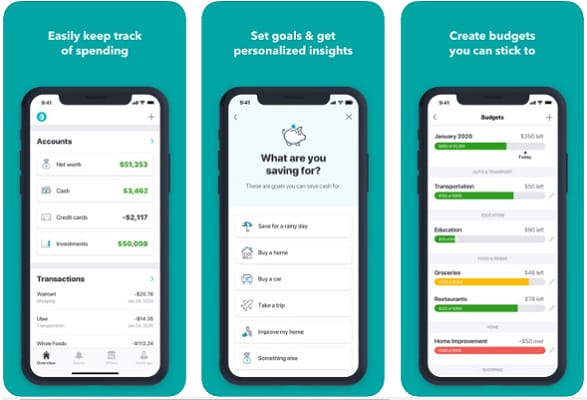 3. Digit – Savings & Debt Manager
For better financial health must try this amazing automatic savings app – Digit Savings & Debt Manager. Digit can be your personal financial analyst who helps to save money, pay bills on time, and many more. Apparently, it can help you to save money by just following three major approaches –
Analyze your common expenses to make a better budgeting plan.
Automatically adds moves to make digit account more secure.
Creates a daily chart to accomplish the financial goal.
So, these three major approaches Digit follows to help you to achieve future goals.
Features-
Saves an amount daily for the future.
Pays off debts as per your budgeting plan.
Gives 0.5% per annum on your Digit account.
Withdraws don't take-off any extra fee.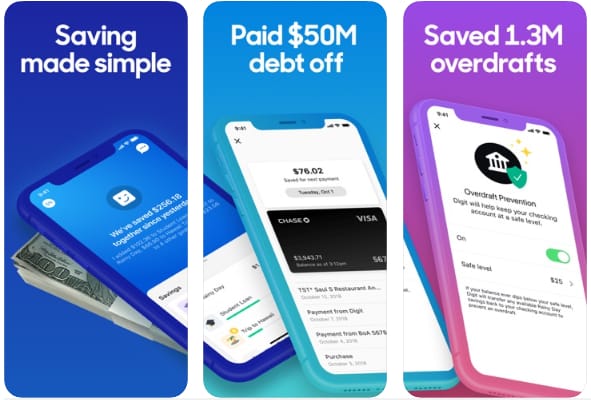 Download – iOS
4. Money Manager
Be a smart financial manager for your own with the help of the My Money Manager app. Engaging graphs will surely help you to manage your money for achieving the financial goal. Saving money for accomplishing the financial goal isn't an easy task. But, the Money Manager can do it with ease of perfection. Money Manager tracks your spending habits and builds a monthly or weekly budgeting plan in terms of saving money.
Features-
Impressive and simple user-interface.
Creates a monthly or weekly expense plan.
Sorts transactions for every entry via date.
Backups entire data for safety.
Appealing charts track the history of expenses.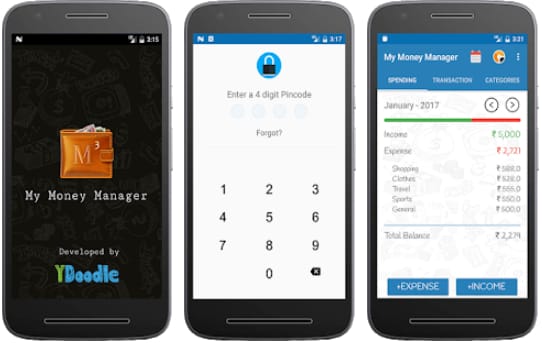 5. Daily Budget Original
Daily Budget Original is one of the leading apps that helps you save money, and thousands of users have shown faith in this app. The best thing about this app is that it doesn't ask to enter the banking logs. So, the user doesn't require sync with the bank account for use it. Daily Budget Original keeps the user's data private and secure.
However, the Daily Budget Original money management app comes in two variations – free or paid. The free version offers limited features to save money. Contrarily, the paid version offers some advanced features to save money.
Features-
Estimates Daily expenses.
Builds a plan for big expenses.
Creates separate categories for big spendings.
Encrypts data before uploading it to the cloud.
PIN security.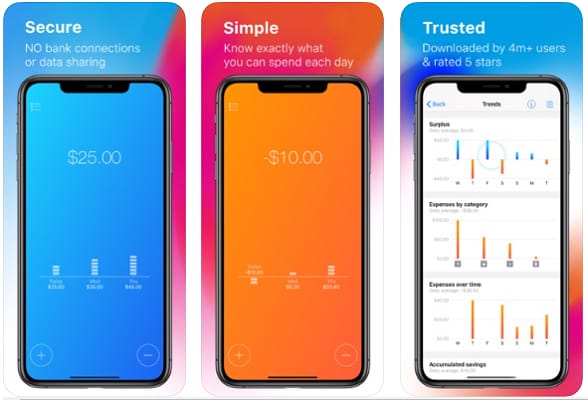 6. 52 Weeks Money Challenge
Another best money saving apps on our list is – 52 Week Challenge. As its name prompts, it gives you the challenge to save a little amount of money each week. By challenging you, it actually helps you to save money for achieving future financial goals. It challenges you to save a little value from your monthly income like $1 for one week, $2 for a second, $3 for third, and so forth. Because we have 52 weeks in a year so by implementing this saving plan we can save around $1378. Sounds excellent, perform weekly challenge now for achieving big in future!
Features-
Automatically adds challenge and a perfect value for every week.
Controls big spending.
Gives weekly notifications for deposits.
Helps you to say a big NO to useless expenses.
7. Savings Tracker
Hire a financial planner or money manager for yourself in terms of saving money for future accomplishments. And for this job – Savings Tracker is the ideal app. Savings Tracker guides you on how to manage finance even better. Its chic features help you infinitely in saving money for future goals. Doesn't matter where you live or which currency you use. You can easily convert the currency. Automatically creates a financial planner calendar for you to save money as much as possible.
Features-
Simple User Interface.
Calculates income for savings.
Allows you to set the pattern lock for safety.
Lets you sync data with other devices.
Doesn't require an active network connection for all time.
Personalized customization is available.
8. Cleo – Money-Saving App
Cleo has been awarded as the best budgeting app of the year in 2019. Cleo has the ability to make us a money master. It is the perfect financial assistant that replaces your banking apps. Keeps a deep eye on your spending habits and makes a budgeting plan so that you can save a little amount every day or every week. And it also gives you the cashback rewards on every purchase up to 7%. Around 2.5 million users across the world have shown their faith in Cleo.
Features-
Saves money automatically as per the budgeting plan.
Helps you to achieve the desired goals.
Invites you to play quizzes and games to win the cash prizes.
Protects data with bank-level encryption.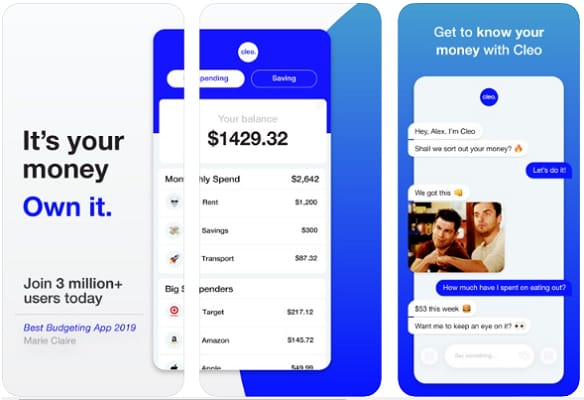 9. EasyPlan
EasyPlan is the simplest automatic savings app to save money. It starts working by identifying the goal to achieve the desired goal. After identifying, sets the value for saving on a weekly or monthly basis. Sends daily reminders of bill payments and others so that you don't need to pay any late fees. Available for both devices – Android and iPhone. Automatically saves money for the fulfillment of future goals with ease.
Features-
Free to use application.
Identifies the goal to set the saving value.
Prompts a reminder of every bill payment on time.
Highest security algorithms save you from frauds and scams.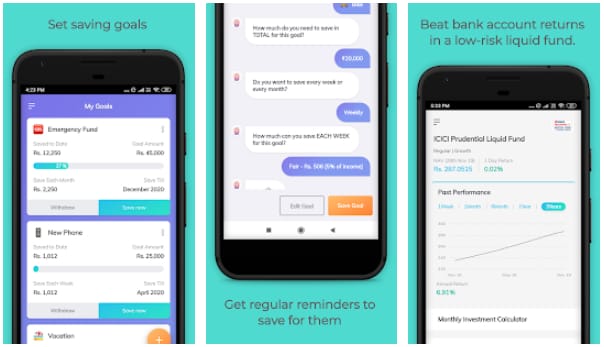 10. Ibotta
Win real cash every time when you purchase anything online or from in-stores. Ibotta helps you to make money every time and saves it for further. The latest feature of Ibotta helps you to earn more on every purchase and even helps you to pay directly from the app. Gives $20 for every first visit. Ibotta users have gained around $550 by purchasing at their favorite store up till now. Amongst the apps that help you save money, Ibotta is the one who easily lets you do so.
Features-
Gives real cashback rewards on every purchase.
Withdrawals money instantly and easily.
Lets you directly pay from the app.
Offers coupons, and promo codes.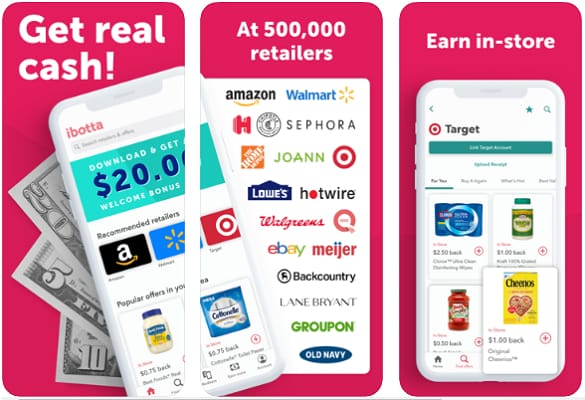 11. Piggy Goals – Money Saving
Use the Piggy Goals – Money Saving app to save an amount of money for having a relaxed future. Piggy goal is the app which is uniquely designed to inspire you to save money as much as you can. Designs the goal chart as per the income basis and sets the budgeting plan to save an effective amount every month. This app is completely free to use. This app offers two modes – Piggy Bank and Piggy Goal. Piggy Bank helps you withdraw or deposit the amount. Piggy Goal allows you to set the goal chart to achieve the desired goal.
Features-
Lets you observe the visual progress of savings.
Notifies you on the time for upcoming bill payments.
Supports multiple languages.
No active internet connection is required to access it.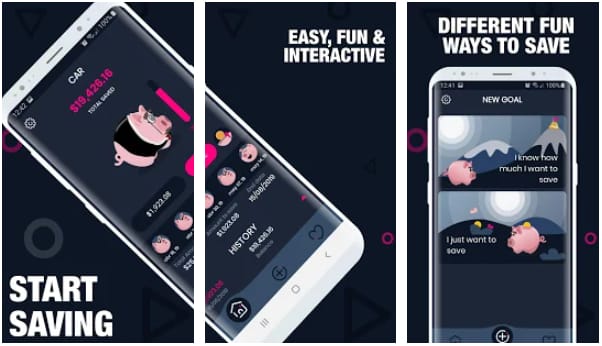 12. Clarity Money
Clarity Money is the other best money saving apps on our rundown. Powered by AI technologies that help you to be a financial champion. To analyze the financial position Clarity Money Manager uses machine learning technologies. Develops the mind strategies that help you to make smart financial decisions. Offers you many new approaches to save money in every possible stream.
Features-
Keeps regular track of budget, spending, debts, etc.
Automatically organizes bill payments.
Guides you on to take more control over financial life.
Creates weekly or monthly budgeting plans.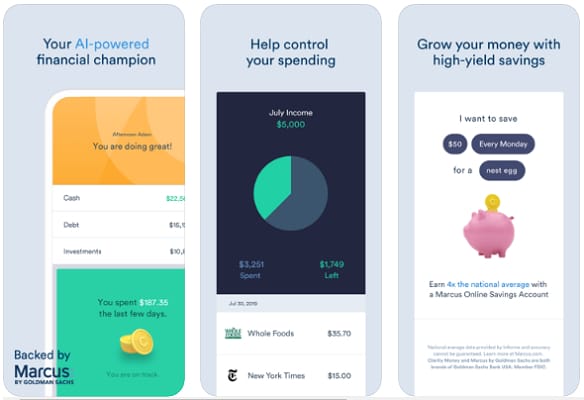 Apps that help you save money
Earning money is not an easy task, and saving your hard work for the future is even a tougher task at all. But, by using the above-discussed best money saving apps you can save a big amount for your future. Everyone has seen numerous dreams for the future but to the fulfillment of dreams, you have to save money. Hence, start saving from now via using above listed top-rated apps for android and iPhone. Keep dreaming and start saving a little amount to afford the best in the future. Do subscribe to the Innovana Blogs for getting more latest tech releases!
Subscribe to Our Newsletter
Keep yourself updated with the latest technology and trends with Innovana Thinklabs Limited.