Music is the pure form of soothing your soul. By means of music, you can express feelings easily. Music is a way to get exit from the boredom of everyday life and hectic schedule. Music inspires us, fills so much enthusiasm in us, and reduce the tensions. Music is not only the composite form of words or rhymes but music is a lot more than this which is can't describe in words. So far, my imagination goes, I don't think so there is anybody who hates music or doesn't like to listen music. The music library and music app have also mattered a lot for the users. And you have a music library on your smartphones. As there is nothing in the entire universe which could be stated that it is perfect. Your music app also has certain limitations. Then, apparently, you have also looking for the best alternative to music apps. Don't go anywhere, you've arrived at the right path. In this musically composed notes, we've revealed the best music apps for android. Hence, keep reading on to know more about the same.
Most Preferred 5 Music Apps for Android
Music lovers get ready to enhance the limits of your music libraries as here we're mentioning some top-notch best music apps for android. Use the below-mentioned music apps to get the best listening, streaming, and organizing experience before than ever.
1. Google Play Music
The first-ever choice of music app for every Android user is – Google Play Music. In many Android smartphones, the Google Play Music app has come up by default. But, for those smartphones, who don't have Google Play Music app by default they can simply download it fro the Google Play Store. To get access to the millions of songs users need to subscribe it or can log-in to the family plan. Users can upload almost 50000+ songs in it and can freely access it over any platform like android, iOS, web. Its smart recommendation feature can give suggestions and updates to the user as per their taste. If you choose to have a subscription plan then you will get the ad-free experience. Google Play Music is the great music streaming app.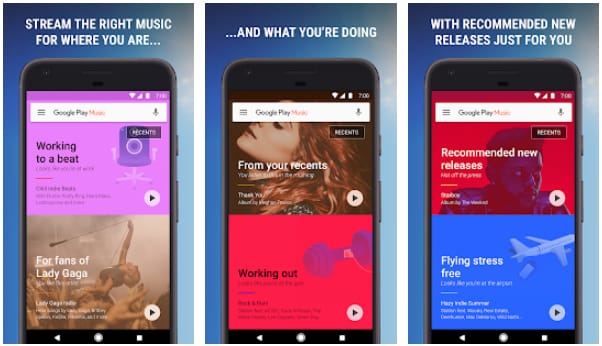 2. YouTube Music
YouTube is a new music streaming platform that lets users play music easily and explore new music frequently. YouTube Music app has originated from YouTube. Whenever your lovable music artists release their albums it notifies you instantly. In this music streaming service, you can get all the latest music songs, live concerts, remixes, reprise versions, and many more beyond your imagination. Just in case, if you don't know the name and artist name of the song, you can still find that music by the lyrics of the song. Its "The Hotlists" section helps you to keep you updated about the trending songs. One of the best features of this app is that – it offers songs ad-free. You can listen songs, offline ad-free in the one-month free trial, and after one month users need to pay $9.99 per month.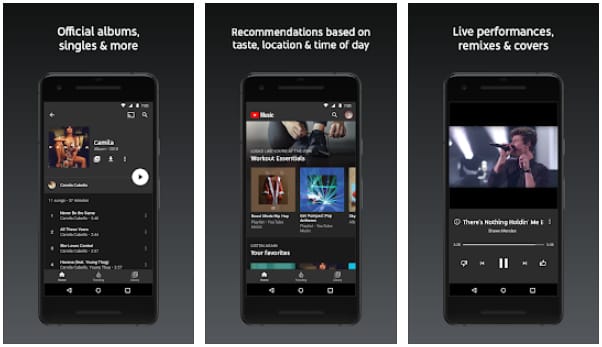 Also Read: 14 Best Voice Changer Apps for Android
3. Spotify
Spotify is just an amazing way to listen songs, podcasts, and new music. Explore the new music, albums, and podcasts with Spotify. Spotify automatically creates the music list for you according to your taste. Access Spotify on any platform like TV, speakers, PlayStation, Tablets, Desktop, and so forth. Spotify gives an amazing sound quality experience. Spotify is one of the top-notch music streaming apps for android.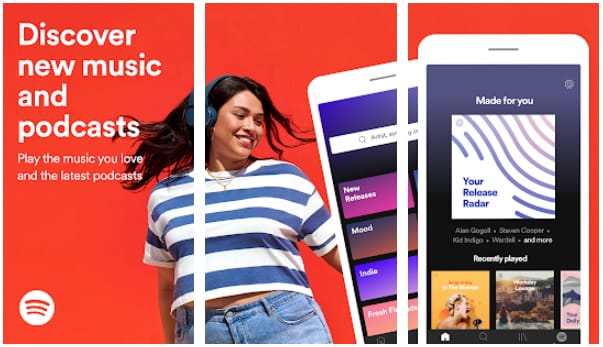 4. Audible
Another top-rated music app for android is – Audible. Audible is well-known for the audiobooks, stories, sci-fics, and many more. Audible allows you to read e-books across the world and hear the stories from your favorite storytellers. Audible not only lets you listen to songs but also allows you to create a personalized album. You can also customize your music library with Audible. Audible is the best way to organize or deal with your messy music library. You can access every possible audio content with audible all over the world. Audible gives 30 days of free trial to access the world's top-notch audiobooks.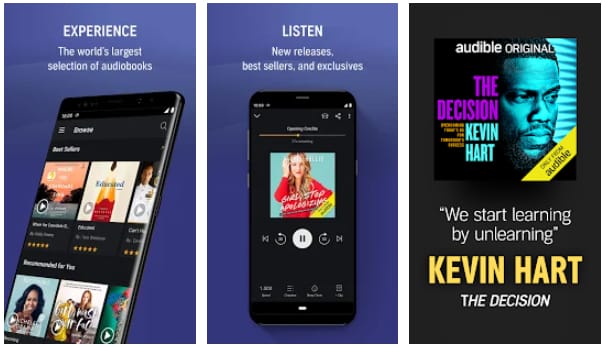 Also Read: 13 Best Equalizer Apps for Android in 2020 (Improve Sound Quality)
5. Amazon Music
Amazon music is another streaming platform that gives a phenomenal music experience. Amazon Music has the ability to change your view regarding music, songs, podcasts. Users with prime membership can get access to ad-free, offline, endless skips, and unlimited songs. With Amazon Music Unlimited, users can have the notion to enjoy the 60+ million songs across the world. Amazon Music also offers a 30-day free trial.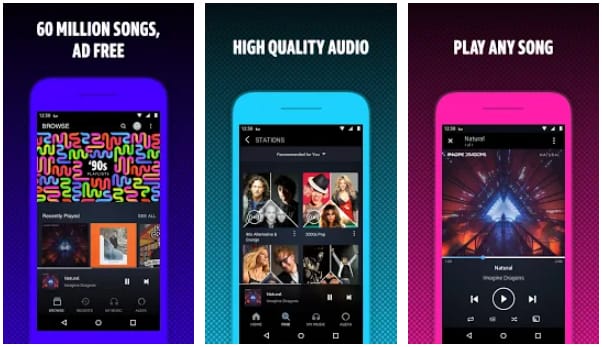 Now, listen to songs, music as per your mood, aroma all the time. Say goodbye to your limited by default music app and try the above-suggested apps to get the infinite music service. The above-mentioned are the best music apps for android and have the ability to break every limit. We've above also mentioned a great audiobook app as there are so many peoples who are fond of reading. So, it is time to make your eyes shine and heart inspiring by listening to unlimited songs from unlimited genres.
Subscribe to Our Newsletter
Keep yourself updated with the latest technology and trends with Innovana Thinklabs Limited.