Music is something that everyone likes. No matter if you are sad or depressed, music can heal your soul quite efficiently. It is not just a companion of bad times. People also celebrate their good times with music. There are a lot of genres to select from. Along with it, you can even categorize music as per the artists as well. To enjoy such a variety of music on your Android smartphone, you require a music player. Hence, here we are going to describe some best music player apps for Android smartphones.
However, you can get a music player on the web quite easily. There are a lot of options available. But, not all these audio players are good enough to provide exceptional music listening experience. Therefore, we have handpicked some best music player apps in 2020.
Best Music Player Apps For Android Smartphones In 2020
Below we are going to mention the best music player apps for Android smartphones that you can get in 2020. So, let's have a look at them.
1. Spotify
The first name that features on our list of some best Android audio players is Spotify. We do not have to describe much why we have mentioned this application on the top. It offers one of the best music listening experience by providing multi-dimensional features and exceptional music quality.
Spotify is not just a music player. It also streams millions of songs. You can enjoy tracks of different genres, artists, and languages on this app. It is free as well. However, if you get bothered with the ads, then we recommend you to use the premium version of this audio player or streaming app.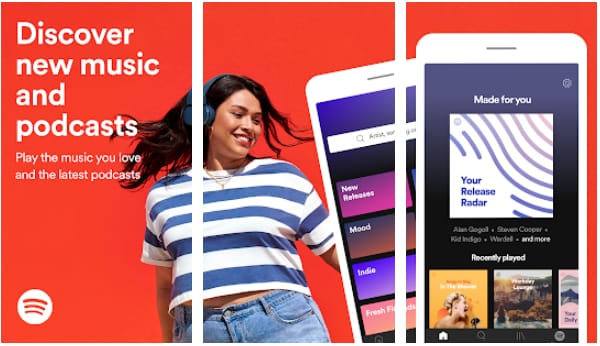 Also Know: 12 Best Podcast Apps for Android Phone
2. SoundCloud – Play Music, Audio & New Songs
SoundCloud is a popular app to play and stream songs on Android smartphones. The app allows you to create playlists of your favorite songs quite easily. There is a lot more thing that you can do with this best mp3 player for Android. SoundCloud also has a collection of quite rare songs that you cannot find anywhere else.
Along with listening to the songs on this app, you can even upload your own recorded songs and showcase your musical talent to the world. The app offers all these features for free. However, if you want to download the songs offline on SoundCloud, then you have to subscribe to the Go+ version of the app. It is one of the editors' choice app on Google Play Store. Hence, the music player is quite reliable to give a try.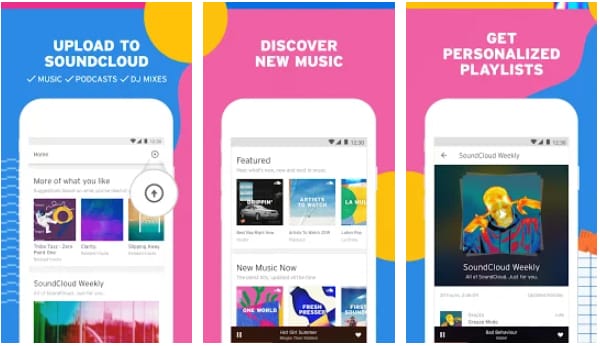 3. Google Play Music
Google Play Music is another famous name on this list. It is one of the Google's utility that comes for free on the Android smartphones. If you do not have this application by default on your smartphone, then you can directly download it from the Play Store. The user-interface of Google Play Music seems quite intuitive when we compare it to other Android music players.
Around 5 billion music lovers trust this best free music player app for Android. Along with working as a traditional music player, it also works as an FM radio and online music streaming app. You can even download your favorite songs using Google Play Music. However, you require a subscription to do so. Don't worry, if you do not want to subscribe, you can still enjoy the music player and various other features of this one of the best music player apps for Android smartphones for free.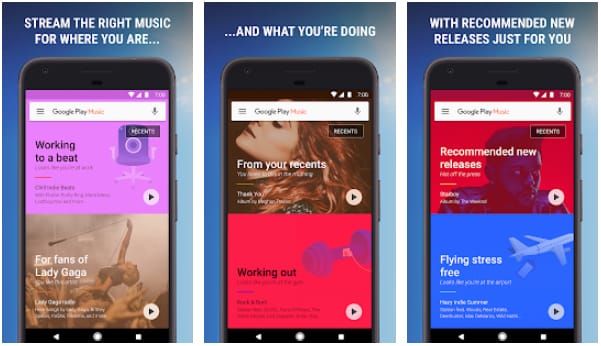 4. Amazon Music
There is nothing that Amazon doesn't offer to the users. Along with Amazon Prime, which is one of the biggest OTT platforms, Amazon also provides Amazon Music. It is one of the biggest online music streaming platform. Not just a music streaming, Amazon Music also features a decent music player to the users. Hence, you can enjoy your offline tracks quite easily with Amazon Music.
However, there are some disadvantages to this popular music streaming and player app. You require to have an Amazon account or have to create an Amazon music account to use this app and enjoy your favorite music. Along with that, Amazon Music does not offer many features for free. Although, it is worth paying for the membership as the app has one of the biggest music libraries.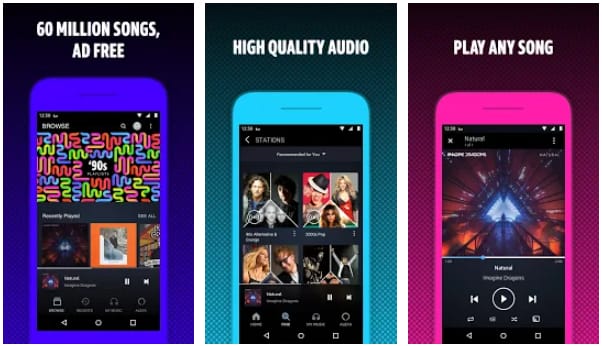 5. YouTube Music
Here is another treat for the music lovers from Google. You all are familiar with YouTube. It has everything you need. From the latest songs to some of the classic songs, you can get anything on YouTube. However, it usually has music videos, and you may find it difficult to search for the audio version of your favorite track. Along with that, it also lacks in various other basic features of the music players such as playlist. Hence, Google has launched YouTube Music as a solution to all these problems.
You can listen to your favorite audio tracks on one of this best music player apps for Android. Unlike Amazon Prime, YouTube Music doesn't require you to subscribe to its premium version to use its major features. You can enjoy most of the specifications of this app for free.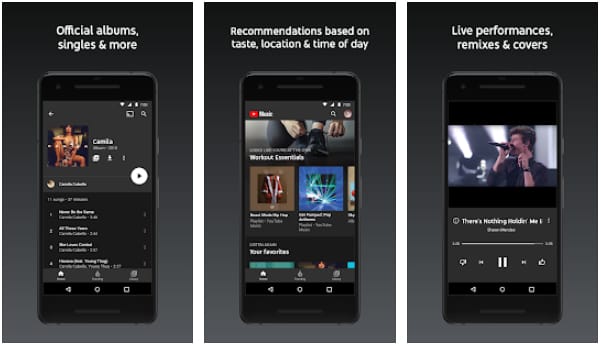 6. Music Player
Music Player is a robust music player for Android smartphones. It is one of the best music player for people who doesn't want advanced features like online music streaming. As the name suggests, the app is one of the traditional music players for Android. It helps you to play your offline tracks. Along with mp3, Music Player supports various other audio formats as well.
This best free music player for Android also has an audio equalizer, so that you can enjoy music as per your customization. Not just equalizer, Music Player offers various other features as well. The app provides you with a file manager for all your audio tracks. It categorizes the songs on various basis, including the artist name, title, date, etc. You can also edit your mp3 tracks or any other audio tracks with this music player. It even allows you to change the tags of your music tracks.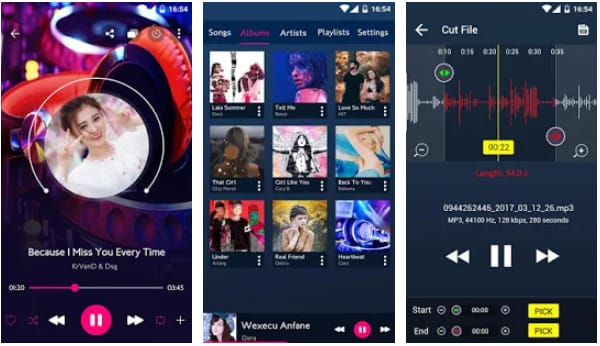 Read also: 13 Best Equalizer Apps for Android in (Improve Sound Quality)
7. MP3 Player
Here comes the best mp3 player for Android smartphones. Just like the name, the app can efficiently play mp3 tracks stored on your Android device. However, the player is also capable enough to play tracks of other audio formats. Another major highlight of MP3 Player is it's easy to use interface. You can easily create playlists on this app. Some other features of this best music player app for Android are the sound equalizer, music editor, song library, etc.
You can enjoy tracks of formats such as AAC, MP3, MP2, MOD, MTM, etc. using MP3 Player. It also provides a lock screen player so that you do not have to unlock your phone every time you want to pause, play, or skip a song.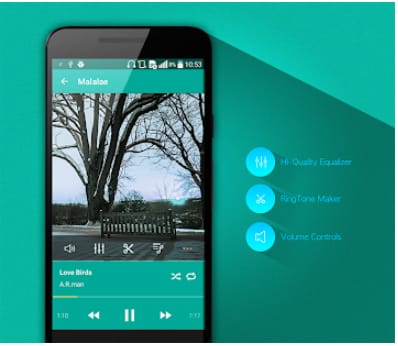 8. Shuttle Music Player
Shuttle Music Player features quite a basic interface. Therefore, some people may misinterpret it as a boring music player. But, they do not know that it is one of the highly customizable Android audio player. Hence, one can easily customize its theme as well. Along with the customization, the music player offers various features such as FM radio, playlist creation feature, etc. This one of the best music player app even supports the lyrics of the songs.
However, if you want to use the advanced features of the Shuttle Music Player, then you have to upgrade to its pro version. In the pro version, you get features to edit the meta tags of songs, more theme options, etc.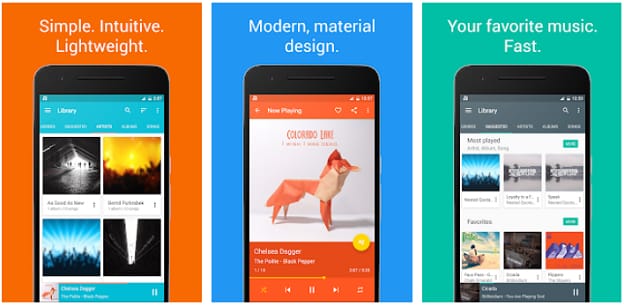 9. Apple Music
Another famous name on this list is Apple Music. People who have used an iPhone may be familiar with this app. It is the default music player on iOS smartphones. However, Apple develops this app for Android smartphones as well. The user interface of this music player provides a feel of iOS.
With Apple Music, you can access millions of online streaming songs. Along with the online music, you can even access the local music library of your smartphone. You do not even have to watch annoying ads. Apple Music is an ad-free music player for iOS and Android smartphones. But, to use this app, you have to create an account. New users can use this music player for free for the next three months after they have created the account. It provides daily recommendations as per your preferred artist or genre. Considering all the above features of Apple Music, we can easily mention it as one of the best music player for Android in 2020.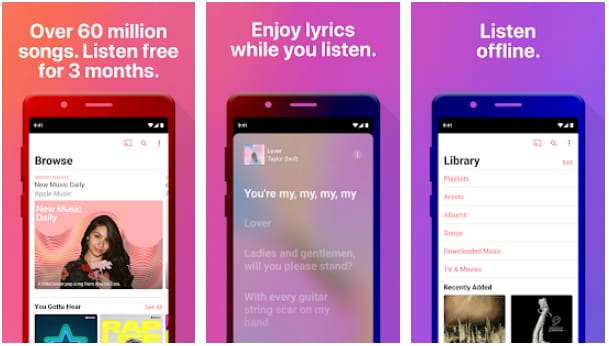 Read also: 11 Best Ad Blocker Apps for Android Phone
10. Audio & Music Player
The last music player that we like to mention on our list is Audio & Music Player. The app for playing music has around 10 Million+ downloads on the Google Play Store and has an impressive rating of 4.5 Stars. If you are looking for a music player that is easy to operate, then Audio & Music Player is one of the music players that we highly recommend you to use.
You can make multiple playlists of your favorite songs using this dynamic audio player. It even helps you to play songs in a party as it offers a party shuffle feature. Notifying about the upcoming song in the queue is one of the features that make Audio & Music Player one of the best music player apps for Android in 2020.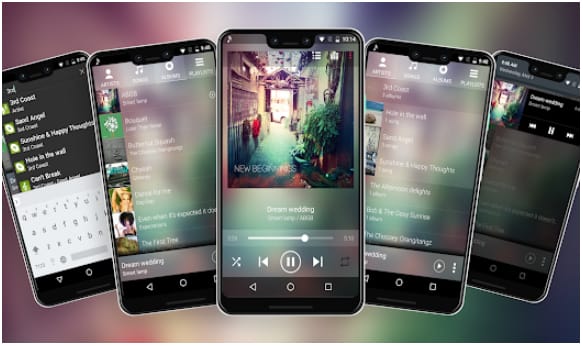 Conclusion
These are some of the music players you can rely on to have amazing music listening experience on your Android smartphone in 2020. Some of the above-mentioned apps offer features that one can not even expect from an audio player. So, select any of the above best music player apps for Android that you think appropriate as per your preferences.
Furthermore, if you find this write-up helpful in selecting the best music playing app for your Android device, then subscribe to the Innovana blog. Also, if you want us to add some other Android music player to our list, then please let us know in the comments section.
Subscribe to Our Newsletter
Keep yourself updated with the latest technology and trends with Innovana Thinklabs Limited.