Faded are the days of grooving the leisure away with iPods and today, we have a number of fantastic music apps to have on iPhone. While the iPod fancy of music pulled users into a carefree music-listening habits, Apple has made sure the legacy goes on by giving users the privilege of using some amazingly powerful music apps that give them some room for operations like personalization and sharing. In this section, you can find 10 best music players for iPhone. So, if you can't pick one, here are the best options that you won't regret trying.
Best Music Players for iPhone in 2021
In this article, we have mentioned the best offline music players for iPhone that you can give a shot. You can expect a party of high-resolution audio, cloud-support along with every mandatory feature you are looking for in any music player. Let's get started.
1. Vox Music Player
Install: Free
Probably the best music player for iPhone to get started with, the Vox Music Player enters with a flowy interface and is ever-ready to soothe you with swipe gestures to lead a comfy interaction. It features a built-in equalizer with presets and allows you to link your Spotify, LastFM and SoundCloud accounts to gather your music. Besides, it offers a graphical approach to compliment the sound you are tuning into. Vox is one of the most popular options among offline music experience on your iOS devices.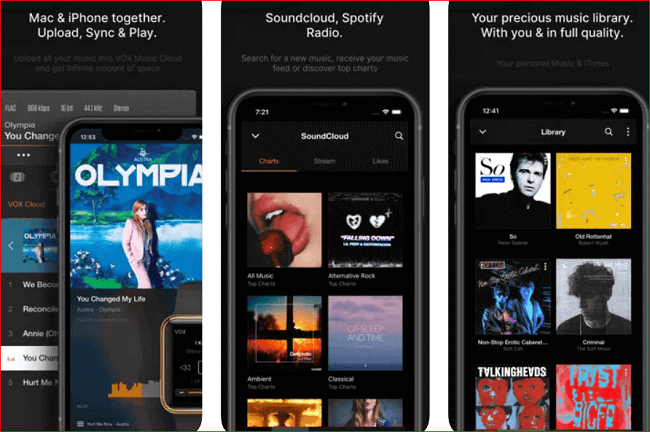 2. Spotify
Install: Free; In-app purchases
Spotify is an insanely popular music player among music lovers which makes it so obvious for us to include it on the list of the best ones. This super-cool music player lets you dive into offline music and keep it hassle-free with the presence of the whole world of albums, podcasts and audiobooks at one place. Besides, it enables you to share your favorites with others. On the top, navigation comes effortlessly easy at Spotify, thanks to well-tailored playlists based on different genres. If you haven't tried Spotify yet, now is the time.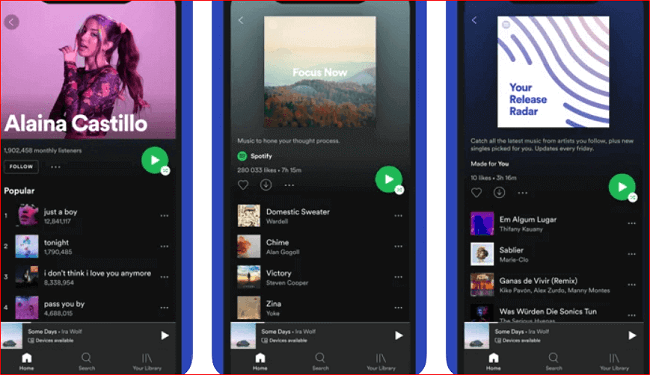 Read More: 10 Best Free iPhone Recovery Software
3. Flacbox
Install: Free
Flacbox offers a variety of handy features and it has got your back on multiple aspects of using a perfect music player app. It is one of the best music players for the iPhone where you don't need to sync the local music library on your device to listen to the downloaded music. Apart from MP3, it has support for FLAC, AAC, M4A, OGG, WAV and many more. You won't have hard time browsing the cloud-stored music and can easily navigate OneDrive, Google Drive, MEGA and more storage platforms. Besides, a perfect music player will never deprive you of control over the equalizer. So, you can definitely try this one.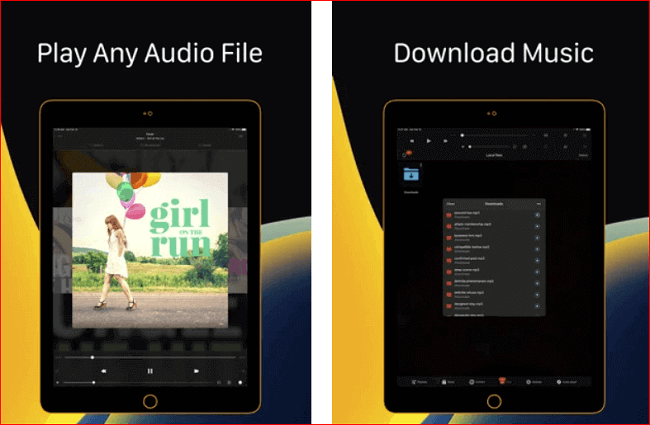 4. Foobar
Install: Free
Foobar brings you a simple and handy interface with support for a number of music file formats. You can add high-resolution songs with multiple file types including MP3, MP4, AAC, FLAC and many more and then there is also an option for you to sync music library  on your device. The fascinating part about using Foobar is that it offers Settings to let you tailor your choices on playback, effects, equalizer and the list goes on. It is neatly designed and makes, hands own, one of the best free music players for iPhone.
5. jetAudio
Install: Free
jetAudio is yet another best iOS music player with an array of choices for you to make changes in playback. This music player offers you a number of playback options and quickens the navigation with tap gestures to jump to your desired album. Apart from that, you can tweak your preferences with an incredible equalizer and a sound enhancer which gives a big hand in improving the bass and pitch of the sound you are listening to. If you want a finesse of a music player, you can definitely try jetAudio.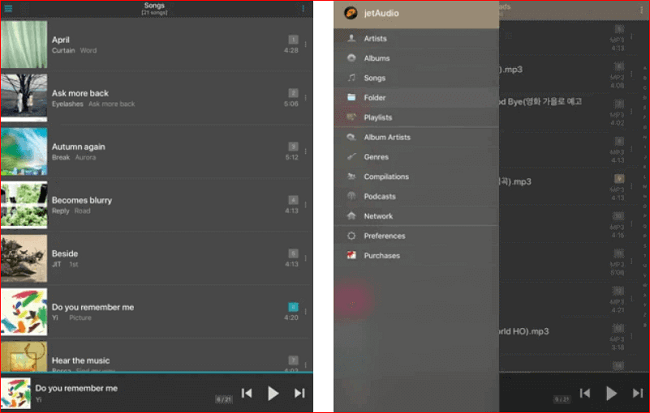 Read More: 11 Best Voice Changer Apps for Android and iPhone
6. Onkyo HF Player
Install: 
When it comes to looking up to some of the best audio players for iPhone with high-fidelity sound, Onkyo HF Player makes sure it has its place secured on the count. This one has impeccability of sound quality standards always set. It features tons of customization options and allows you to download EQ presets. It supports quality sound formats including WAV, FLAC etc. So when it comes to the best equalizer for iPhone, you can count on this one.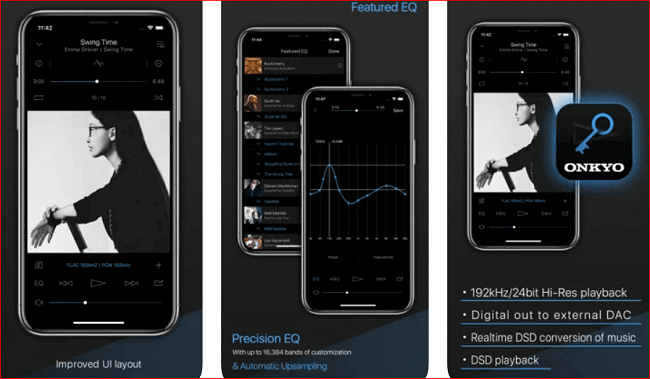 7. ARIIA
Insatll: Free
Here comes another best music player app for iPhone to check out. ARIIA, with a thing for landscape mode, brings you an extensive set of beautifully decent music playback. You can pick your favorite music, up and down the volume and even view the track details with simple swipes on the display. Besides, this music player allows you to make a quick tap in order to play and pause the song. Simple interface is the highlight of this music player which makes it quite convenient for users to use it anywhere.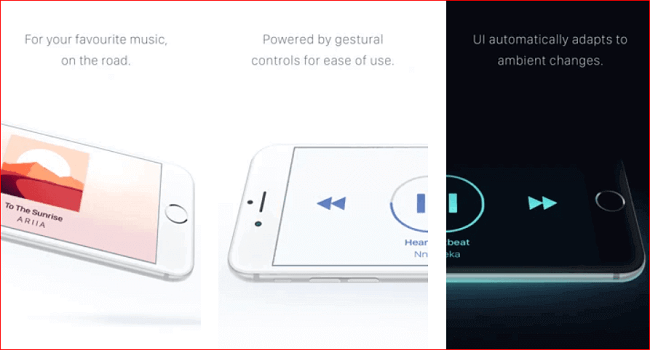 8. Stezza Music Player
Install:  ($2.99)
Stezza Music player is a boon for those who love to keep everything in order. It is one of the best music player apps for iPhone that gives its users a refined experience. You can seamlessly check your favorite music and garnish it with customization options whenever you want. Stezza is elegantly designed and adorns music albums with suitable themes which may be an eye-candy for many users.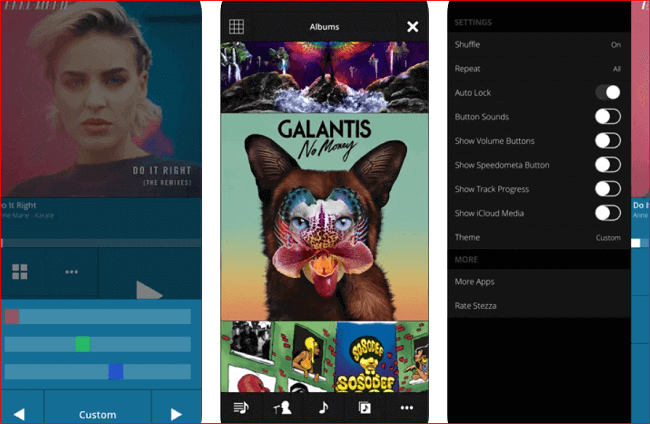 9. Ecoute
Install: ($0.99)
Ecoute is another best music player for iOS with a lane where you will find a number of coolheaded tools that you can make use of. This minimally beautified music player leaves no room for clutter, thanks to an interface with cool control features over the music you listen to. You can add new music, shuffle albums and simply look after the music library the way you want. Besides, you can share music with fellow music lovers across social media.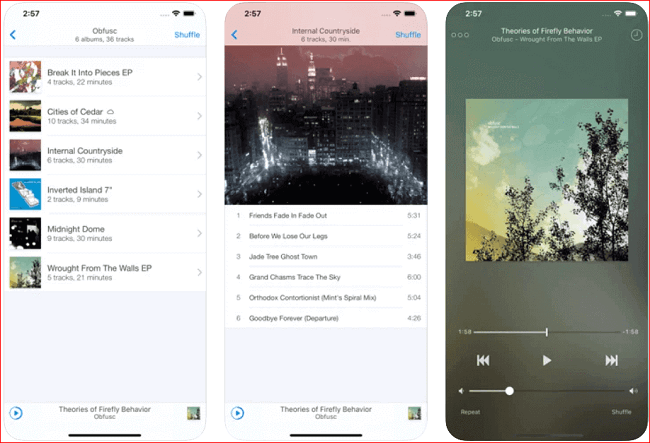 Install: Free
SoundShare gives you the platform to use different music players and share your favorites with your friends. It is yet another big name as the best music player app for iPhone that enables users to turn the bunch of dear sounds into playlists. Besides, you can play music and videos on your Bluetooth speakers and Apple TV. If your hunt for the best audio player iOS hasn't come to fruition, SoundShare is one amazing stop to be by.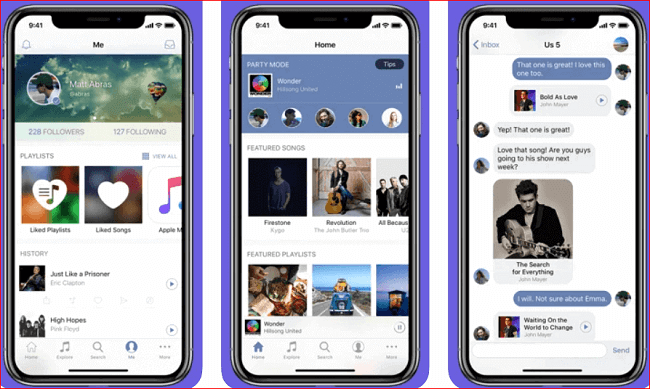 Wrapping Up
Even if you are not an audiophile, you cannot deny the sanity of being able to manage playlists, tweaking sounds a little bit and fetching a million of songs under one roof. So, there were the best music players for the iPhone that really get you at best interests. Hope you found what you have been looking for all this while. 
Did we just skip any best music player? Let us know by dropping the name on the comment box. 
Subscribe to Our Newsletter
Keep yourself updated with the latest technology and trends with Innovana Thinklabs Limited.