No matter what the problem is, music seems everyone's go-to place. Whether you are feeling low or on top of the world, music is what you crave. You may have spent a considerable chunk of the day sorting your playlist and picking your favorite tracks. Most probably, you might have played a few of these tracks on your PC's native player.
But, do they sound exactly like you want them to or is something missing? Yes, they miss out on that pleasing feeling. It seems like the native Windows player is not capable enough to bring out the best out of the music tracks. This the reason you need the best music player to Windows 10 to not just listen but lose yourself in the melody of your favorite tracks.
There is an ocean of free music players for Windows 10. But, not all of them are the perfect Win 10 music player to satisfy a melophile's soul. Thus, we picked the best audio players for Windows 10 that please every music enthusiast with their capability to transport you to a different magical world of rock sounds and melodies. We talk about the same through the next segment.
Also Know: Best Free PC Cleaning Software For Windows
The Best Music Player for Windows 10 to play your Favorite Tracks
There are a plethora of Win 10 music players. But, not all of them give the pleasing feeling that a melophile craves. This is the reason for which we handpicked the best music players for Windows 10 that are capable of giving you the experience you desire. We share these incredible Win 10 music players below.
1. MusicBee
MusicBee bags the first place in our list and this is one of the best mp3 players for Windows 10. Very easy to use, this app is recommended by music lovers from around the world. This is the best music player for PC with equalizer.
Features:
You can easily navigate through the entire music player. 

The color combination is very appealing to the eyes and not strict.

It gives you the freedom to import your entire music library and all those music files you have on your Windows PC.

Supports tons of audio formats including mp3, Flac, OGG, WMA, WAV, M4A, TAK OGG and many more.

Comes with additional features such as 15-band equalizer, CD/DVD ripper, auto metadata import

Good music management tool and one of the best

mp3 players for Win 10

.
Pros:
MusicBee is highly customizable and user can choose from a wide variety of skins

It offers tons of features for music management and playback.

It is a free app.
Cons:
Very limited options to handle podcasts

It does not play very old music formats and you will need to convert them to FLAC.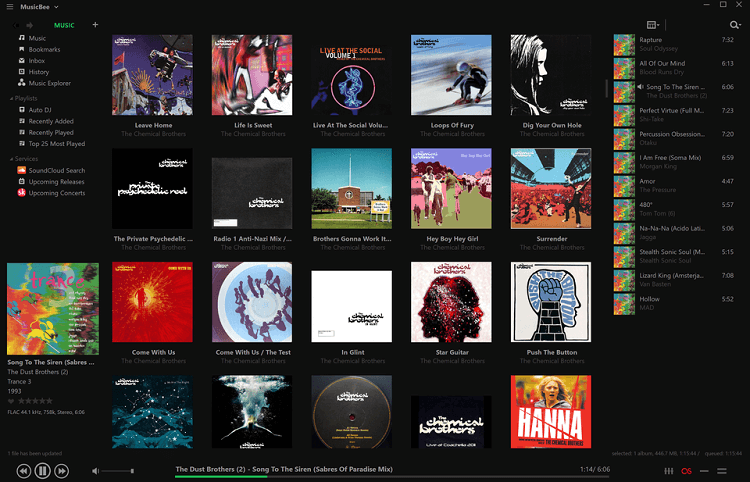 2. MediaMonkey
MediaMonkey is one of the best music players for Windows that can help you groom your random music collection. Considered to be a few years old, this mp3 player looks like an evolved version of WMP player but with some added features. 
Features:
It can

play music on windows 10

in almost all the audio formats.

Automatically tags the random music files. 

You can synchronize the files with your devices.

You can stream any song over your network with MediaMonkey.

Comes with a dedicated jukebox and users and enjoy the songs without modifying the library.
Pros:
It is available for Windows but also supports android devices.

Premium version MediaMonkey Gold comes with plenty of other features and options.
Cons:
File synchronization means database management issues

The automatically managed metadata imports can be laggy at times

Response times is an issue while dealing with large databases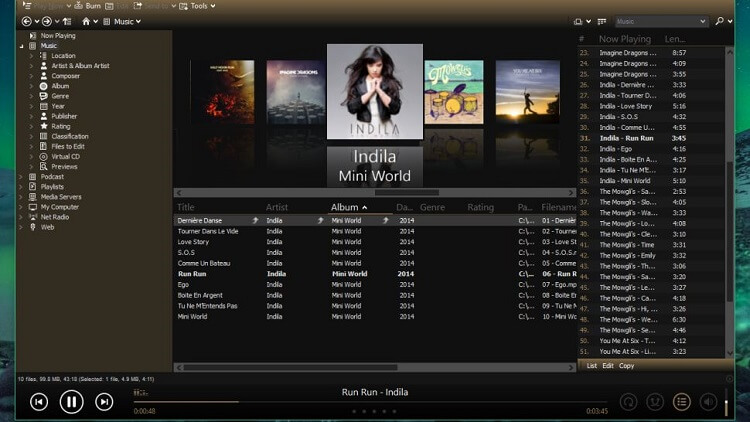 3. Foobar2000
Since its inception back in 2002, Foobar2000 has harvested good amounts of audience. Simplistic design of this music player gives an evolutionary advantage over the other media players.
Available for Windows and above, this easy to use platform is one of the best free audio players for Windows.
It is also available on Android and iOS as well.
Features:
Easy to navigate user interface makes it one of the simple audio players.

DSP (digital sound pressing) and other great sound options will leave you amazed.

It has a highly customizable as you can add multiple features to perform a variety of tasks.

It comes with customizable keyboard shortcuts so that you have total control.

File converter feature will do all your work including tedious converting and managing all the audio files.
Pros:
It is lightweight and easy to use.

The functionality can be even extended with multiple components including the provision of decoding different formats.

It supports different types of formats including MP1, MP2, MP3, MPC, AAC, WMA, Ogg Vorbis, FLAC, ALAC, WavPack, WAV, AIFF, AU, SND and CD .

Plugins can bypass the windows mixer feature to generate a near-to exact type of signal.
Cons:
Previous button is not functional in random playback.

This application takes time to start and run.

It might crash post installation.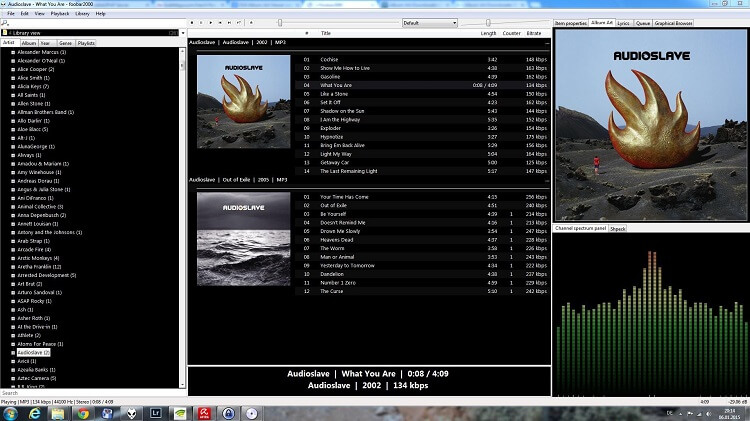 Also Know: Best Duplicate Photo Finder and Remover to Free up Disk Space
4. GROOVE MUSIC PLAYER
Now listen to your favorite music files and songs, or just create a simple playlist you have purchased on XBox one or One Drive.
This is one of the best and free music players for Windows 10. This is what you are looking for.
Features:
Enjoy your favorite groove of music on any of the smart devices.

Browse your entire music collections easily and manage them all.

Create custom playlist depending on your mood, day and event

You can use OneDriver to have your favorite files into the groove. Listen to them on XBox or any device.
Pros:
Custom Groove

File manager

Music management
Cons:
It does not even manage proper sync and takes time to sync the files to OneDrive.

It does not support third party devices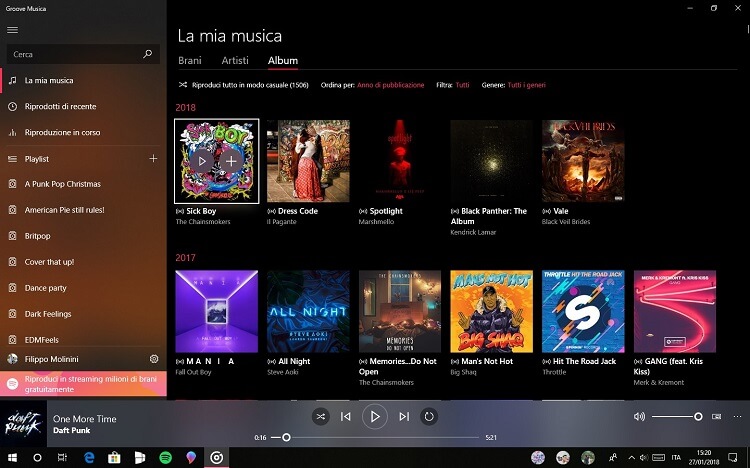 5. VLC Media Player
VLC Media Player scores better in comparison to the native Windows media player in Windows 10.
Does it make you sad if the Windows media player fails to play the movie that you wanted to watch for long?
Features:
Convert audio or any video files to any possible formats.

Stream and download some youtube videos.

You can record your desktop and webcam.

It offers provision to create bookmarks.

You can add watermarks on videos to own them.

You can play internet radio and enjoy podcasts.
Pros:
It is an open source platform and is absolutely free.

It can play any audio or video format you have.

VLC supports different platforms like Windows, Linux, Mac OS and iOS.

Deinterlacing, video cropping, track synchronization, Apple remote play are some features it boasts of.
Cons:
Playing 4k resolution videos gets laggy and frequently choppy

Cannot download video music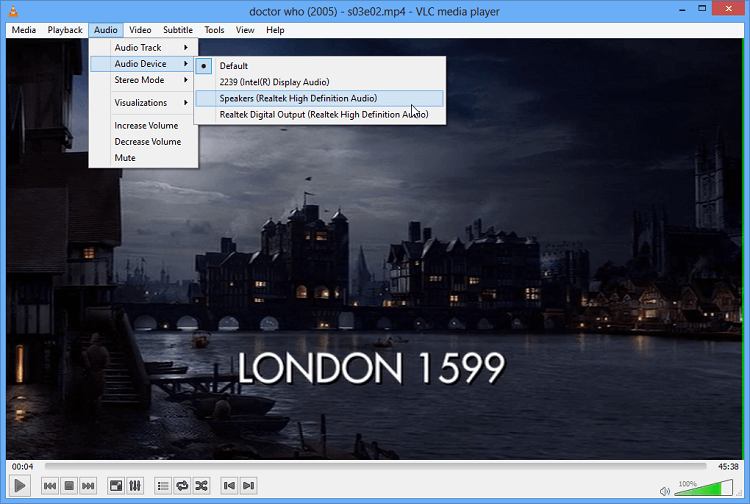 6. Dopamine
It is a fantastic audio player that organizes music files and makes listening to music really easy. 
It supports various formats such as WAV, MP3, OGG, FLAC, WMA and AAC.
Features:
You can rate your audio files and do much more.

If you have a big music library then Dopamine is the must have audio player if you need to find specific files.

Very simple to master user interface.

You can explore various sections such as artists, genres and albums and many other features.
Pros:
Setup is pretty easy to follow

You can get automatic updates

Clean and easy to understand
Cons:
It is unable to track and retrieve metadata

There are no advanced options to edit the metadata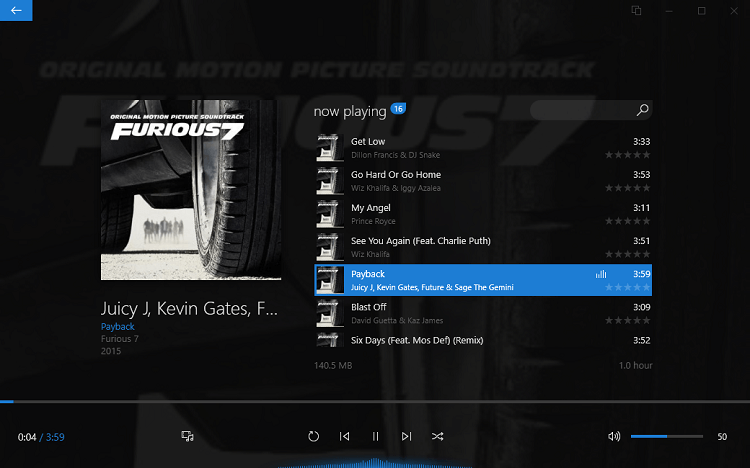 7. Clementine
This is an open source music player application. Clementine is one of the best options to have library and database management. Has a built-in file manager. It has the ability to locate audio files online. 
Features:
Easy to use navigation and interface

Comes with an internal file manager to manage all those audio files.

It is a multiplatform music player 

You can organize your playlists and search your library history. 

you can play CDs and create your custom playlists.

Your android phone can be used to control it remotely
Pros:
It allows you to create playlists of songs you have previously listened to

Clementine offers the users, tons of online services

You can have custom sound with the built-in equalizer

It displays lyrics of the song
Cons:
It takes up more CPU power.

Sometimes clutters up the taskbar.

There is no way to search for a specific file.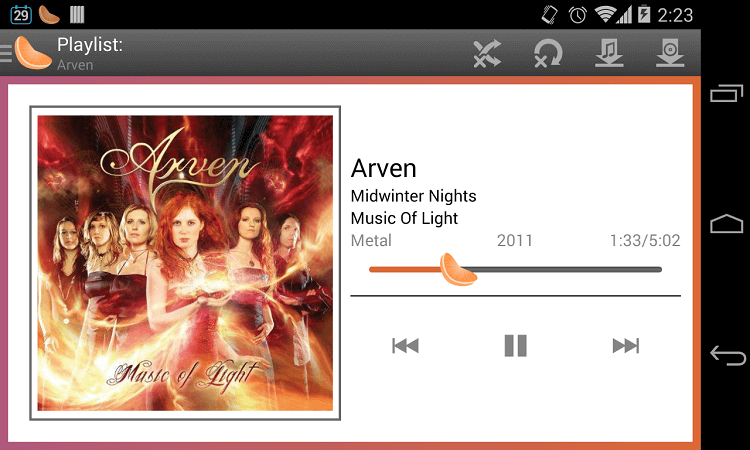 Also Read : Best Free Software Updater Programs for Windows 
8. AIMP
Simple to use, AIMP is one of the free music players for Windows 10. 
Features:
Clean and easy to understand user interface.

Although it is simple, it still plays tons of audio formats and also offers other features

You can create playlists, manage and edit metadata, rip CDs and perform other things as well.

With the built-in audio converter you can convert files from one format to other formats.
Pros:
It is lightweight and has a responsive audio player

Has its own audio engine

You can create multiple playlists 

Access powerful settings

Block or lock the content from accidental changes
Cons:
It is not an open source platform.

AIMP offers tons of features that is why the interface gets cluttered sometimes.

No other language is supported besides Russian and English.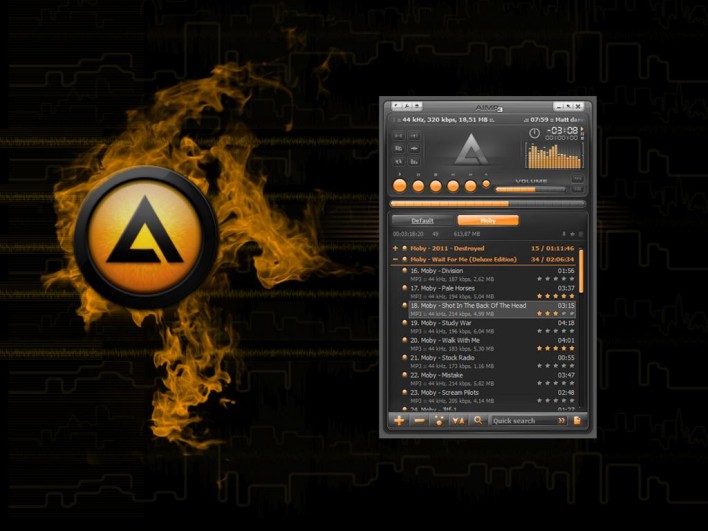 9. iTunes
Who has not heard about iTunes? iTunes is more than just a media player. A fully fledged mobile device management utility you can use to manage your media library.
It can be a media player and also perform as a media library.
Features:
Listen to your custom music library or your own music

You can listen to tons and tons of podcasts

Watch your favorite TV shows and movies

Choose from a huge selection of audio books.
Pros:
Just like Google play Music, users can take full advantage of Apple music through iTunes.

There is a free trial

Apple accepts music submissions on Apple Music.
Cons:
Not every track you see will be on iTunes.

There is no ad free version of iTunes, therefore, you need to buy it post the free trial.

Access is limited only to iOS, android devices, PCs and MACs.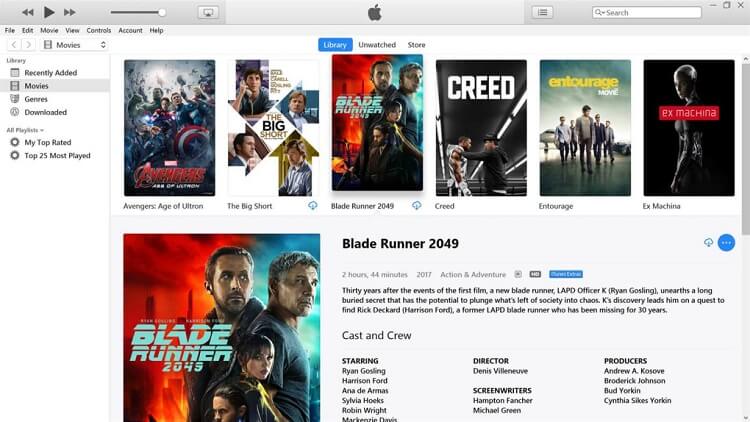 10. Windows Media Player
This is quite the oldest video/audio media player out there. Being the default media player, it has some features, but is not that powerful enough to perform heavy tasks such as library management.
Features:
WMP or Windows Media Player is an old and default media player. It also works as a media library software.

It is used for playing audio, video and multimedia content.

Can play most of the video formats.
Pros:
You can have beautiful music visualization at your fingertips.

Now create a playlist of your favorite songs whenever you want.
Cons:
It does not support all the formats and sometimes you may see error messages while processing some files.

It sometimes becomes laggy and shows signs of wear and tear.

There are no updates since Windows media player 12.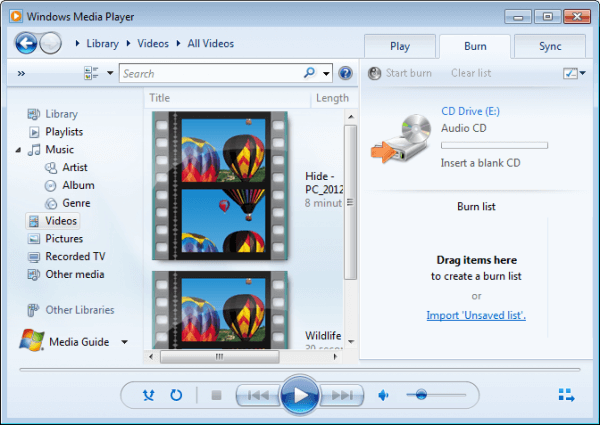 11. Spotify
This is the widely popular streaming service on both Android and iOS platforms. You will be amazed to learn that Spotify has a dedicated audio player for Windows 10..
It can synchronize your account with 'friends activity' group. Spotify allows you to play offline music, listen to a podcast and much more.
One cool point of Spotify is the ability to stream tons and tons of music and play your favorite music in your local drive. It is a free media player app for Windows 10.
Features:
Say goodbye to shuffle mode.

You can skip a certain number of songs in the trial mode. IN the premium mode, you can skip as many songs as you want to.
Pros:
Spotify free allows you to listen to songs at 96 kilobits or 160 kilobits while the premium version allows you to listen to your favorite songs at quality streaming of 320 kilobits, that is better for a detailed output.

Listen to your favorite music offline.

UMG or Universal Music Group is the largest recording studio. 

Free users need not wait for any new releases but the premium users need to wait for two weeks to access the new release.
Cons:
Spotify has removed the lyrics feature.

It is available  only in a limited number of countries.

price burns deep holes in pockets.

Certain user limitations.

Available in a limited number of countries.

Price is too high.

Limitations of use.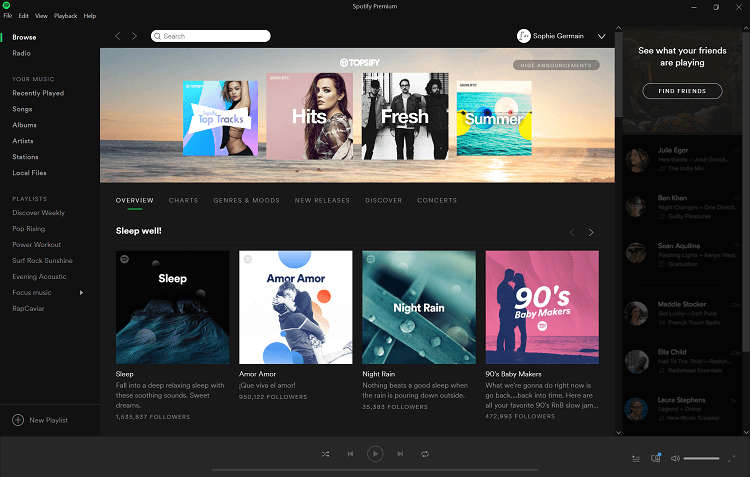 Also Know: Best Bluetooth Software for Windows 10
All things Considered
So these are the best of the best music apps for Windows 10. You will find tons of equalizer options in most of them. Some support multiple codecs and others give you a variety of features and options.
If you are a hardcore fan of music or a movie lover, you must check out these applications and get what works best for you.
We all love music and music is something that defines us and our personality at times. Let the music take you back in time and leave you in a trance. Get a free music player for Windows 10, right away.
Subscribe to Our Newsletter
Keep yourself updated with the latest technology and trends with Innovana Thinklabs Limited.