Photography is massively emerging as by time passes. People are crazy about clicking pictures and not only even that individuals buy expensive phones just for a good camera. Capturing a scene at night means working in a dark and face troubles for capturing one good shot. As in night nothing is clearly visible due to low radiant. Now, this trouble will no more irritate you or ruin your photography. Developers created some best night vision apps android that gives huge varieties to make your dull photo luminous. With the use of night vision apps, you can easily shot videos and capture pictures even at night without facing any trouble. In this write-up, we are sharing some top-notch standardized night vision apps for android.
Top 5 Best Night Vision Apps for Android
Rapidly increasing buzz of photography and posted it on different social media accounts is quite normal. Capturing pictures in the night is not an easy task because of the low radiant. But, by using some best night vision apps you can capture clear, brighten pictures and videos at night too. Read this write-up interestingly to know some amazing night vision apps for android.
1. Night Camera (Photo and Video)
Night Vision is the app that makes your dull or dark background even more brighten. With Night Vision, you can capture bright and clear pictures even at night. Night Vision supports 8x zooming and the color saturation feature allows you to customize the view of image and video. One of the amazing features that reduce your workload is Night Vision allows you to directly post the image or video to Facebook, Instagram, Twitter, and any other place according to your preferences. Among all the free night vision apps for android Night Vision Photo and Video is the best application.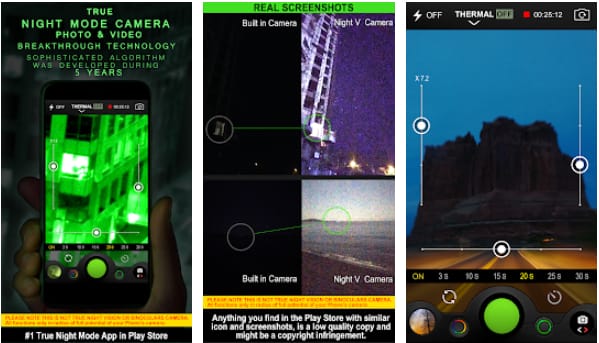 ---
2. Night Vision Simulator
Another crucial application for taking bright images even at night – Night Vision Simulator. Night Vision Simulator is completely a free kit but contains ads within it. In the dark place, you can easily capture pictures or record videos with the Night Vision Simulator.
Night Vision Simulator supports various awesome features like zooming, flashlight, compass, adjust picture-taking angles, and change the color of the image. With Night Vision Simulator you can easily set the brightness, dimness of the picture, and also add the shades as per your preference.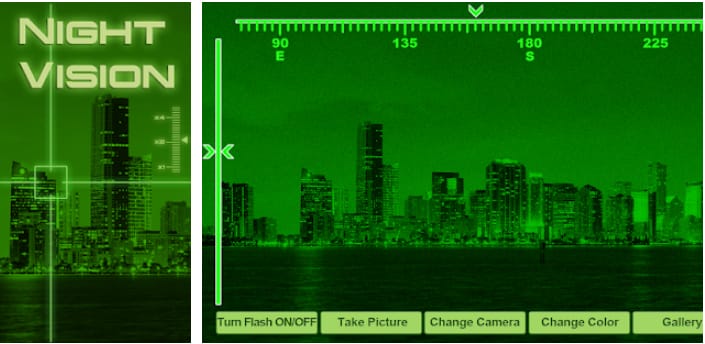 Also Read: Best Android Optimizer and Booster Apps
---
3. Night Mode Camera
Night Mode Camera enables your phone camera to enhance the shine even at the low radiance. It is based on the latest AI (Artificial Intelligence) that allows you to capture the picture or video in 1080p resolution. This app supports various effects but its most prominent feature allows you to take pictures and videos in the green light night vision effect. Night Mode Camera is the best night vision apps on our list. Moreover, it has developed with the latest high-tech parameters that will augment the quality of your picture and video to make it a bit more clear. You can also embed filters on your pictures and videos as it supports millions of advanced filters that make your picture more attractive.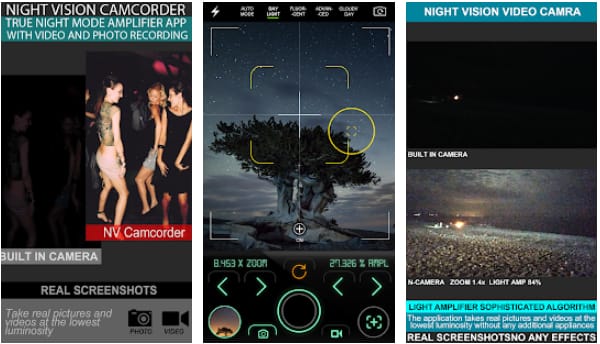 ---
4. Night Vision Flashlight Thermo
One of the most effective night vision app – Night Vision Flashlight Thermo. This app is based on high-tech features and supports AR (Augmented Reality). This is compatible with both android and iPhone. Like another app, you don't require to turn on the flashlight to take a picture as it offers an in-built torchlight. Don't allow rays to harm your eyes, switch on the augmented thermal vision in the night, and make the dark view far radiant.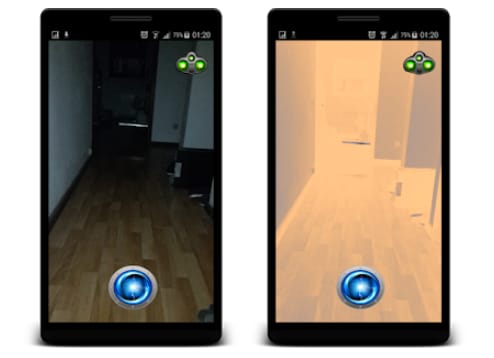 Also Read: Best Game Optimizer for Android to Boost Gaming Performance

---
5. Thermal Night Vision Camera
Thermal Night Vision Camera is another essential free night vision apps for android. It contains a thermal vision that automatically sets every angle to the color filter. Its phenomenal features include UV vision, thermo vision, and green night light vision.  Thermal Night Vision Camera can be accessible by both android and iPhone users.  For the camera view, click on the start button, then for turning on the flashlight, click on the light button. To shift to thermal vision, launch the thermal night light vision button. To set multiple image processing you have to set the pictures for automatic processing options. You can shade each camera frame as per your preferred color. It is a very great application to capture glittery images at night.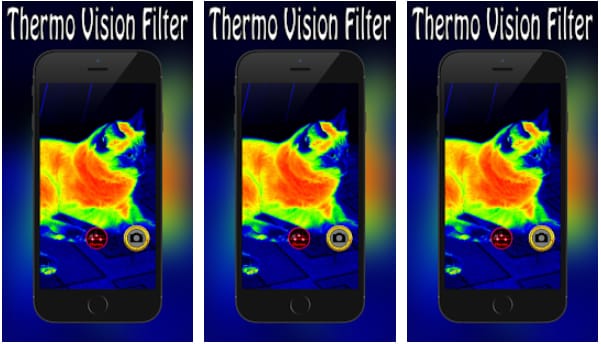 ---
Snaps are an eternal part of our lives we just want to capture every single moment as memory. But sometimes we found difficult to capture pictures in the night or dark spot as everything has not clearly visible. Those nights dark effects, low shine spoils our mood or even picture too. As the photography buzz is emerging day by day, the technology is also emerging and provides some greatest application to make our dull photo brighten. We've above shared some best night vision apps android applications that will surely impress you by its amazing features. Some of the app from our list also empowers augmented reality, thermal vision, and green light vision effect to make your picture more luminous. Make your nightlife a little bit hotter via night vision apps.
Subscribe to Our Newsletter
Keep yourself updated with the latest technology and trends with Innovana Thinklabs Limited.