Have you also got fed up with the cons of Norton Utilities? Then relax, as today we are going to talk about some of the best Norton Utilities alternatives available for Windows 10, 8, and 7 PCs in 2020. Read on to know more.
At a certain point, almost every PC requires a junk cleaning and performance-boosting software. The reason for this is the constant junk accumulation, application updates, and limited system resources. All these factors impact the performance of a PC and hamper its storage as well. Hence, to tune up the system, one looks for some optimizing utilities for PC over the web. And Norton Utilities is one of those prominent tools that shines in the search results.
People usually trust this Norton software because of Norton's goodwill and popularity in the PC security and care domain. Although the tool is great, but some people may not find it as the best due to some of its shortcomings. Hence, they look for the best Norton Utilities alternatives. If you are also one of those people who are not satisfied with this Norton tool and want some other similar software, then you have arrived at the right place. Here, we are going to describe several similar software like Norton Utilities. But before that, let's discuss the shortcomings of the program that made you look for an alternative.
Irritating Cons of Norton Utilities
Every software possesses a few cons and so the Norton Utilities. But some of them are quite irritating that you cannot ignore them. Below are the cons that justify your search for the best Norton Utilities alternatives.
The software puts much burden on your system resources and hence may affect several other functions.
A lot of users have reported that Norton Utilities have effected the functionality of MS Word on their Windows PC.
The defragment feature of the software is quite ineffective as it is unable to defrag the disk during the booting process of your Windows operating system.
You may also feel that the program is expensive when you compare its price with the price of other similar software like Norton Utilities.
It also hampers the data processing capability of your Windows PC.
The software doesn't offer many futuristic features as compared to its alternatives.
It doesn't even provide some of the basic features as well. You'll not get a registry cleaner tool in it to repair your invalid registries.
If you have also got fed up with any of these cons or some other cons, then let's check some of the similar programs like Norton Utilities that may serve as a competent alternative to it.
Best Norton Utilities Alternatives In 2020
Below we have highlighted and described several PC cleaning and optimizing options that one can consider as the best Norton Utilities alternatives.
1. Avast Cleanup
Just like Norton, Avast is also one of the biggest names in the system security domain. And similar to Norton, Avast also provides a PC cleanup software along with the security software. Avast Cleanup has all the basic features to tune up your system and help you to get rid of the junk. Here are some of its specifications that make this Norton Utilities similar software one of the best system optimizer.
Highlights of Avast Cleanup
Along with removing junk, Avast Cleanup also helps you to remove the traces of your internet history and protect your privacy.
The software also enables you to clean the bloatware from your PC along with the unnecessary shortcuts.
You can even make the unwanted apps hibernate or sleep and prevent them from running in the background with this one of the best Norton Utilities alternatives.
With this software, one can easily monitor the performance of his/her PC as it offers a descriptive dashboard and action center.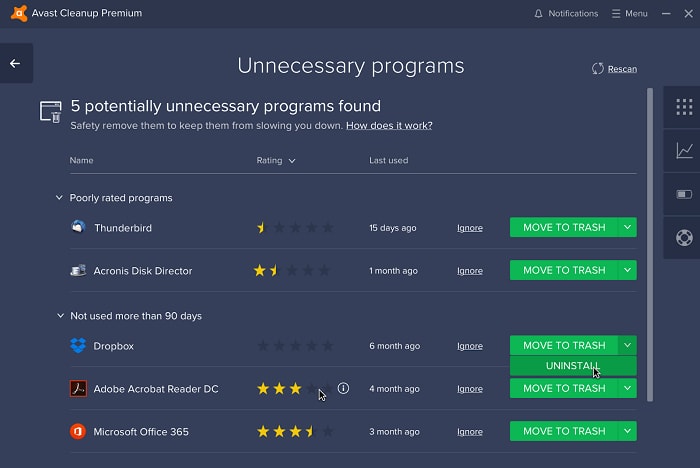 2. Piriform CCleaner
Here comes one of the most commonly used junk remover programs across multiple platforms. Piriform CCleaner is quite a famous optimizer on several operating systems, whether Windows, Android, or Mac. It offers a bunch of handy tools that help you to give comprehensive care to your system. From junk cleaning to internet privacy protection, this program can serve you in many ways. One can undoubtedly consider it as the best Norton Utilities alternative after knowing its below-mentioned features.
Highlights of Piriform CCleaner
The tool boasts a Startup Manager feature to help you manage the booting process of your Windows operating system.
It helps you to get rid of both unwanted and outdated programs. The software features an uninstaller to remove unnecessary programs, and at the same time, it also offers a software updater tool to update outdated programs on your PC.
Along with your system performance, this similar software like Norton Utilities also optimizes your internet connectivity. It helps you to have a good internet speed.
The software also considers duplicate photos as junk, and hence it offers Duplicate Photo Finder tool.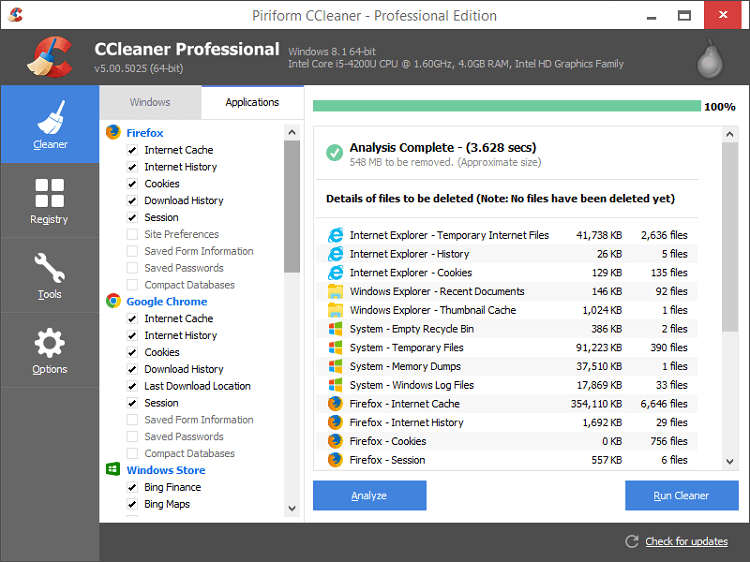 3. CleanMyPC
This alternative to Norton Utilities is known for its multi-tasking ability. As the name suggests, CleanMyPC helps you to clean your PC by removing junks, repairing registries, and various other issues. It can provide your computer an all-round care. Hence, you do not have to install multiple software to fix multiple PC issues. Here are some of the features that CleanMyPC offers to keep your PC optimized.
Highlights of CleanMyPC
This software offers quite automatic functionality as you do not have to do efforts to remove junk from your PC. CleanMyPC constantly works in the background and removes junks and system issues.
It also boasts application uninstaller to delete the unnecessary software from your PC. The feature is quite robust and can uninstall multiple apps at one go. Hence, no doubt why experts consider it as one of the best Norton Utilities alternatives.
CleanMyPC also takes care of your internet privacy and helps you to clear and manage the internet history, plugins, and other traces.
It can even hibernate the background running apps and provide you with an optimized system performance.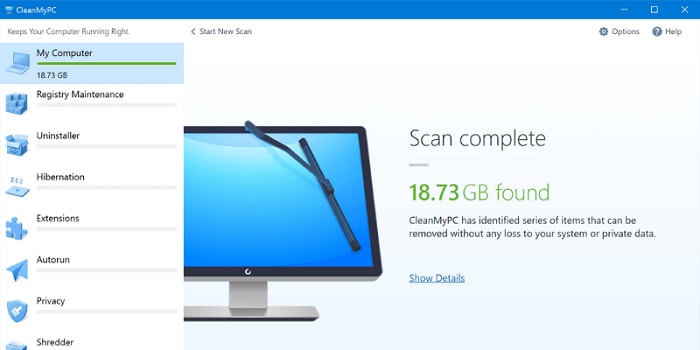 4. Iolo System Mechanic
Iolo System Mechanic is a system optimizing tool for the people who are keen on advanced functionality and features. Along with the basic junk removal and PC tune-up, this alternative to Norton Utilities offers several other handy tools. It even helps you to restore the essential data that you have deleted mistakenly. Here is some more description about the helpful and futuristic features of the Iolo System Mechanic.
Highlights of Iolo System Mechanic
The software also allows you to format the hard disk of your PC.
It also offers a LiveBoost tool to help you boost the performance of your PC in real-time.
The software not just enhances your system performance but also helps in increasing the internet connectivity speed so that you can enjoy fast browsing.
You can even fix the registry issues of your Windows PC using the registry cleaner and repair tool of this multi-tasking alternative of Norton Utilities.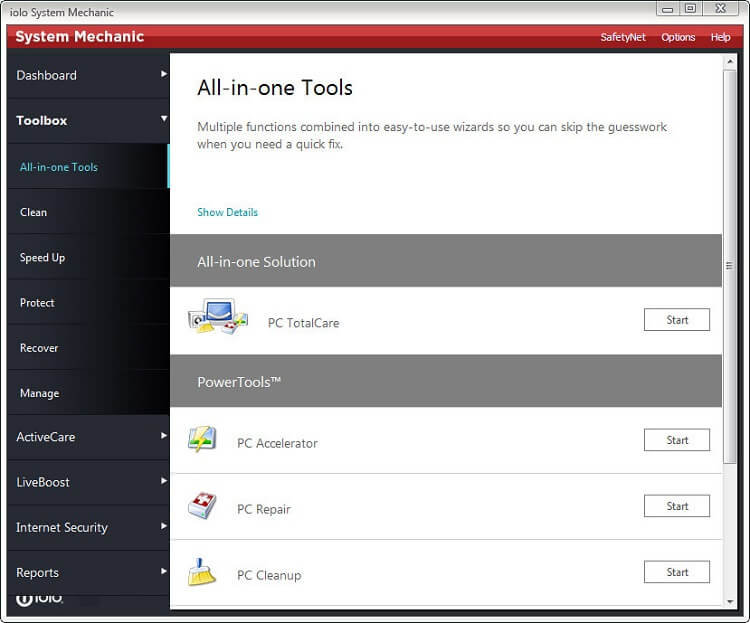 5. Ashampoo WinOptimizer
Here we have another popular utility to optimize system performance. Ashampoo WinOptimizer is one of the best Norton Utilities alternatives as it offers comprehensive PC optimization and care. From internet privacy to cleaning of accumulated junk, this tool is great in almost all the aspects. It also offers various advanced tools like disk defragmenter. Here we have discussed some of its other features that experts find quite impressive.
Highlights of Ashampoo WinOptimizer
You can optimize the startup time and process of your PC and make it faster with this tool.
It also helps to get rid of the unwanted software from your system and provides some additional space on your hard disk.
The tool also boasts quite rare and advanced Font Manager & File Associator features.
One can easily remove junks and traces of the internet browsing with just a single click using this alternative to Norton Utilities.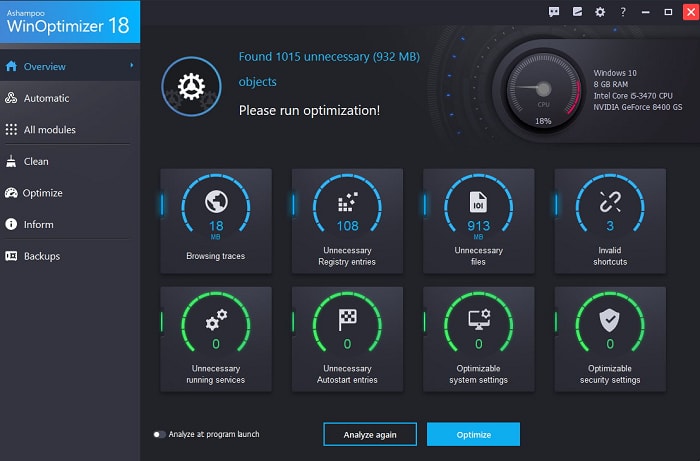 6. AVG Tuneup
Just like other famous names in the computer security domain, AVG also offers a tuneup software. AVG Tuneup is another multi-tasking and handy utility on this list to remove system junk. As the name suggests, it also helps to tune up the performance. Hence, you can make your PC run faster than before using this similar program like Norton Utilities. You can use it for various other purposes as well. It offers a bunch of features. We have described the key highlights below.
Highlights of AVG Tuneup
You can make the installed software and programs work faster and better with this tool. It offers a software updater feature that can help you to get the latest and fast performing versions of your installed apps.
It also helps to resolve the issues of the Windows registries with its registry repair tool.
Along with the system trash and junk, AVG Tuneup also removes unneeded apps from your PC quite easily. Hence, you can manage applications and storage space on your PC using this one software.
The program makes the booting process faster than before by preventing unnecessary programs from loading while system startup.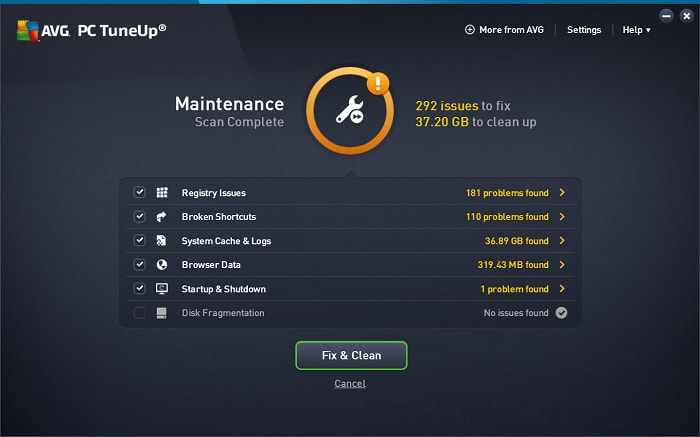 Our Opinion on the Best Norton Utilities Alternatives
Norton Utilities is a pretty decent software to optimize a computer. However, it may hog up your system resources and may affect other functions. It possesses several other problems as well. Some people ignore them and keep using the program. But if you do find them avoidable, then you may simply switch to an alternative.
However, it's quite tough to select an appropriate similar program for a software like Norton Utilities. You require to evaluate all the features of the alternative and match them with your preferences. And doing this, we found Avast Cleanup as the most perfect software among all the above-mentioned best Norton Utilities alternatives. The program offers quite vast and comprehensive functionality that it's pretty hard to notice a single con. Hence, we recommend to use Avast Cleanup if you are looking for some Norton Utilities similar software.
Subscribe to Our Newsletter
Keep yourself updated with the latest technology and trends with Innovana Thinklabs Limited.