In this write-up, we are going to discuss some best password manager for Mac. The necessity of having such apps installed in our devices, including Mac, Windows PC, etc. is increasing day by day. Nowadays, everything is getting digital, from financial transactions to meeting with friends. People prefer to do everything online. Hence, to protect their multiple accounts of various online platforms, they use passwords. However, sometimes it gets complicated for the person itself to remember so many passwords. To avoid such complications, some even use the same passwords or pretty simple passwords for their multiple digital accounts. In that case, those passwords becomes one of the main threats for their accounts, as one can hack them quite easily. The best solution for this problem is to use some of the best password app for Mac or other devices.
Here, we are going to provide you with some of the paid as well as free password manager for Mac. These apps don't only help you to remember passwords, but they also help you to provide security to your passwords. Now, let's have a look at the list.
5 Best Password Manager For Mac
Below you can find some of the best password managers for Mac. The list includes the names of both paid and free apps so that you can decide which one is best for you.
1. LastPass
What better than LastPass to start a list of some of the best free password manager for Mac. LastPass is an app that provides various advanced features to protect and manage your passwords. It is one of the cross-platform password management app that people can even use on Android, iOS, and Windows, along with macOS. The app is so intelligent that it can automatically enter your passwords and other important information that you have saved in it on various websites and online forms. Along with this, LastPass even helps you to generate strong passwords with its password generator feature. For the users, who want some more advanced features, the app also offers a paid version. That's the reason why people consider it among the best password manager utilities.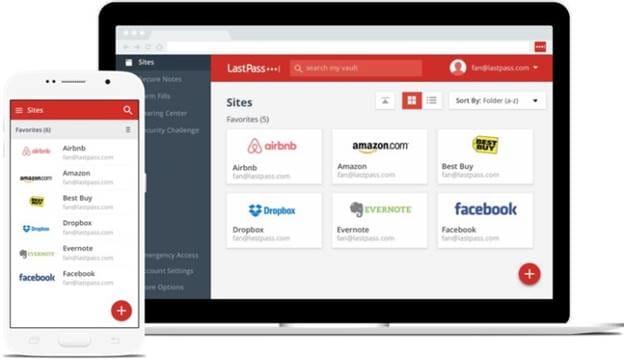 2. 1Password
In the second position, we have listed 1Password. This utility is one of the best password manager for Mac, iOS, Android, Windows, and Linux as well. The name of this app indicates its functionality as you just require one password to access all your accounts. 1Password helps you with storing all your passwords and important information and provides you with a master password to access it. Hence, whenever you want to log in to any of your accounts, you just have to remember the password of your 1Password vault. The app is also integrated and compatible with many web browsers, so that you can efficiently fill online forms and access your various online accounts. Along with all these features, users can give it a try for free as 1Password also provides a free trial version of the app for 30 days.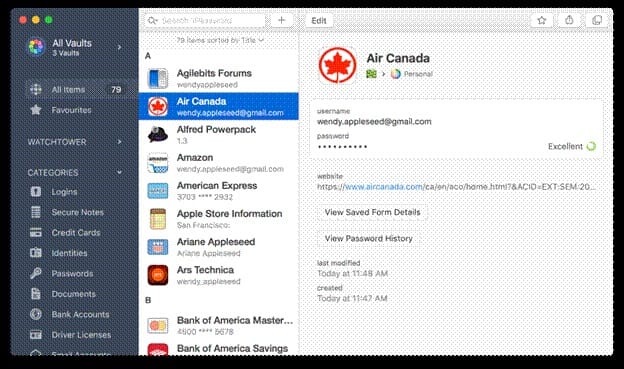 Also Read: Best LaTex Editors Windows/Mac/Linux
3. Dashlane
Here comes another multi-feature password manager software for Mac. People consider Dashlane as one of the most complete and free password manager for Mac. It is also one of the cross-platform app that can be synced easily between different platforms. In its free version itself, Dashlane allows you to store login details of around 50 accounts in its vault. It also provides you the feature to fill account details automatically. However, people who want to use it on multiple devices and also want some other advanced features can opt for its paid version. But, some people consider it quite expensive than other alternatives.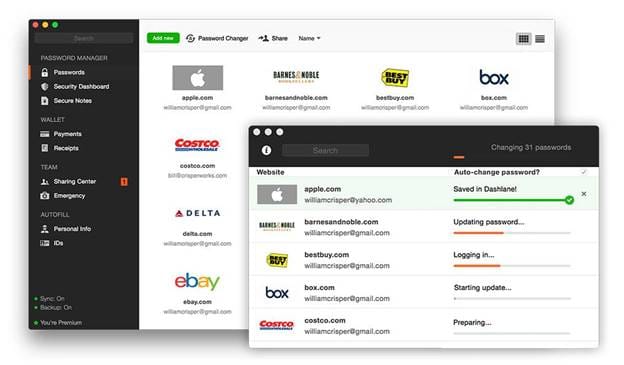 4. Keeper
We cannot avoid Keeper when we talk about some best password manager for Mac. The most important feature of Keeper is that even in its free version, it allows you to store details of unlimited accounts on a single device. The app is available for almost all the major platforms, including Mac, iOS, Android, iPad OS, Windows, Linux, etc. Along with being compatible with so many platforms, this best password app for mac also provides plugins for almost all web browsers. If you want to use Keeper on multiple devices, then you have to opt for its paid version. It only costs $ 29.99 per year. However, if you are looking for some extra secure storage, then you can opt for its $60 per year plan, which provides you a secure file storage of 10 GB.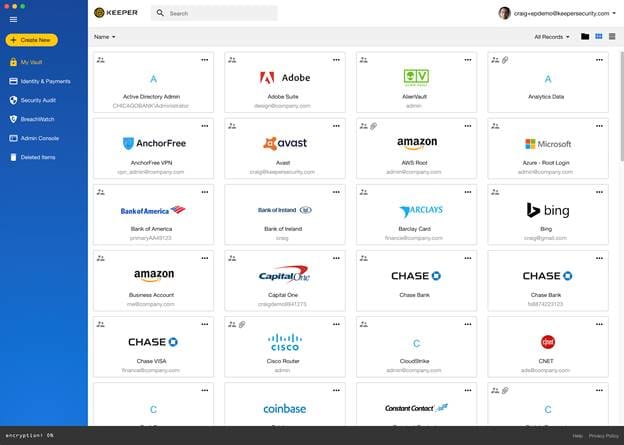 Also Read: Photo Management Software For Mac to Organize Your Images
5. KeepassX
KeepassX is another good option for the people who are looking for a free password manager for Mac. This is an open-source password manager software for Mac. Hence, it provides a lot of customization abilities to its users. However, some users may misunderstand it as a not so secure software just because it is an open-source software. It is equally secure as any other regular password manager app. You can use KeepassX on various other platforms as well. The password manager app provides you with some advanced features for free. It gives you the password generating capabilities so that you can generate secure passwords.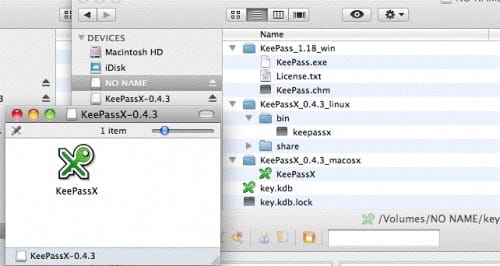 Our lives are getting complicated day by day. It is not easy for everyone to remember his/her every single password. However, you don't have to worry about this when you have any of the above best password manager for Mac at your rescue. These apps can also assure the security of all your passwords. We have mentioned the description of all the above mentioned best password apps for Mac, along with their salient features as well. Hence now, it's you who have to decide which password manager software is best.
We would like to wind up this write-up here. If you want to know more about various other utilities for Mac, then subscribe to Innovana blogs.
Subscribe to Our Newsletter
Keep yourself updated with the latest technology and trends with Innovana Thinklabs Limited.