Everyone is a photographer as all of us like to click pictures. Some of us click pictures of ourselves while some click pictures of other things. With the advanced smartphone cameras, it is quite easier now to click good quality photos. However, it is still a challenging task to organize a vast photo library. That's the reason why we have brought some of the best photo organizer apps for you.
As clicking good photos has become an easy job, we might end up clicking a lot of pictures. It can make our photo library quite messier. Hence, it becomes difficult for us to filter the photo gallery. This can also result in low storage space on your phone. The only solution to this problem is to keep your photos well organized. Yes, we know that it takes a lot of time to organize your photos manually. Hence, instead of organizing them manually, we can use some best photo manager apps for our iPhones and Android phones. We have brought a list of some photo sorting apps that you can use to organize your photo gallery more efficiently.
5 Best Photo Organizer Apps for iPhone and Android Phones
Below we have mentioned some of the best photo organizer apps along with their description. You can organize your messy picture library on your smartphone, whether it is an iPhone or Android phone with these apps.
1. Flickr
Our list starts with one of the best photo manager apps, i.e., Flickr. This free photo manager was initially an image hosting service that was launched in 2004. Now, the Flickr app can be used as a photo organizer app for Android and iPhones as well. You can upload photos to its free cloud storage and then, Flickr sorts them automatically. It allows you to store up to 1,000 photos to its cloud storage for free. You can even enable its automatic uploading feature if you don't want to upload photos manually. This one of the best photo management apps automatically tags the photos with the relevant meta tags. It can organize your pictures according to their date as well. You can even share pictures with your friends and family on various social media platforms through Flickr.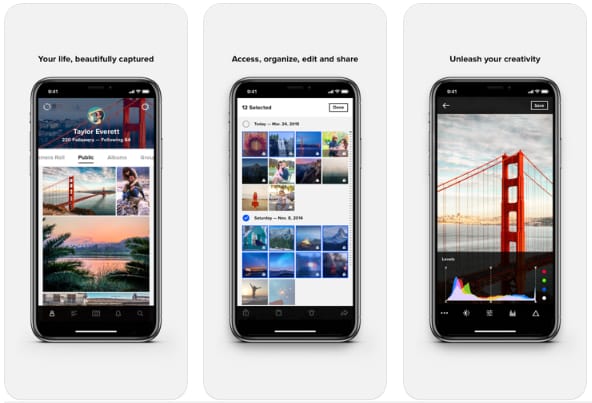 Also Read: The Best Calorie Counter Apps for Android and iPhone 
---
2. Google Photos
One of the most famous names on our list is Google Photos. This picture organizer app has been developed by the tech giant Google. It was primarily used in Google's own developed mobile operating system, i.e., Android. However, it is available for iOS smartphones as well. Just like many other services of Google, it is also free to use. You can store unlimited photos on the cloud storage of Google Photos. It can be synced with other devices as well because Google Photos is a cross-platform app. This one of the best photo organizer apps offers multiple features to the users, including the date wise sorting of photos. It even allows you to store photos in groups and can make your customized albums. Along with all these features, this best Android and iPhone photo manager app provides some photo editing features as well.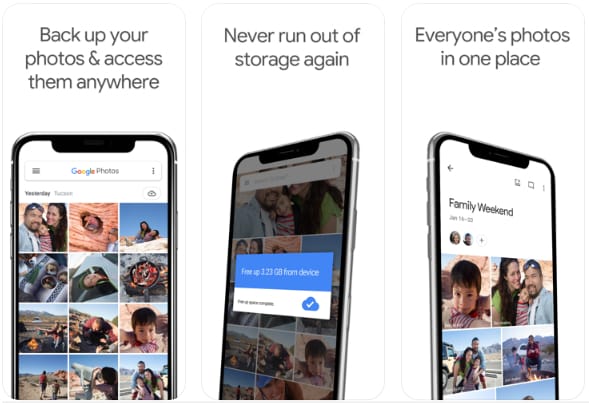 ---
3. Slidebox
Here comes a photo organizer app with the most simple user interface. Slidebox offers you a swiping based interface. You can sort pictures by swiping them right or left. If you want to delete a picture, then you have to swipe up that picture. It also offers a series of labels and allows you to create albums in just a few taps. Due to such simplicity, Slidebox is considered among the best photo manager apps. It offers various other features as well. The iOS version of Slidebox offers cloud storage for up to 10,000 images for $ 4.99 per month. You can also use this app to match the similarity of two images. Despite offering so many unique features, this one of the best Android and iPhone photo organizer app is quite compact.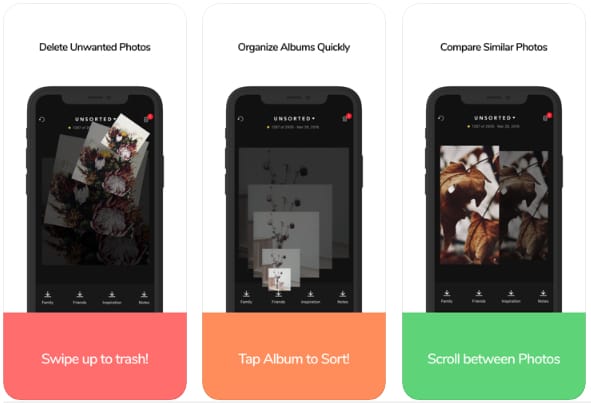 ---
4. Ever
If you are looking for an alternative for Google Photos, then Ever is the perfect choice for you. It is one of the best photo organizer apps with high storage capabilities. The photo management app even allows you to import photos from your social media accounts, including Facebook, Instagram, etc. You can even import your photos from Google and Dropbox to this app. Ever is free and allows you to store high-resolution photos. However, you may require a paid subscription to upload photos with original quality. It doesn't share your pictures with anyone and keeps them private until you yourself decide to share them. You can even share the whole picture album with your friends and family.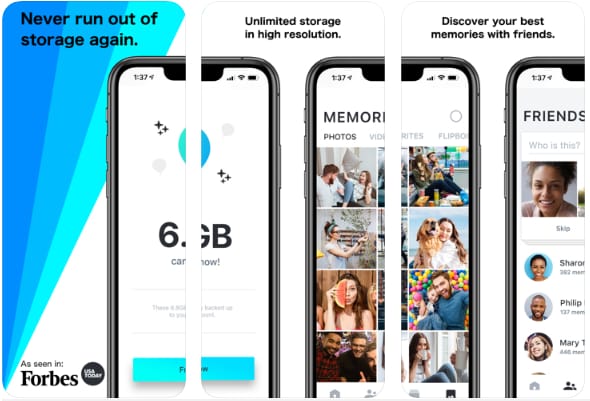 Also Read: 17 Best Free Zumba Apps to Shape up Your Body
---
5. Amazon Photos
The last name on our list of some best photo manager apps is Amazon Photos. Earlier it was available for Amazon Prime subscribers only. Now anyone can use it for free. You can store photos up to 5 GB for free on Amazon Photos. It offers an automatic synchronization feature, hence you are not required to upload your pictures manually. Along with that, this is a cross-platform app so you can access your photos uploaded on Amazon Photos with any device. As the app is developed by the Amazon, it offers various advanced features, including an AI-based search feature. The AI-based search feature allows you to search for images by typing the name of any object that the particular image contains. For example, you can search for images of your pet by typing animal, dog, cat, etc. This one of the best photo organizer apps even allows you to share your picture albums with your friends and family members.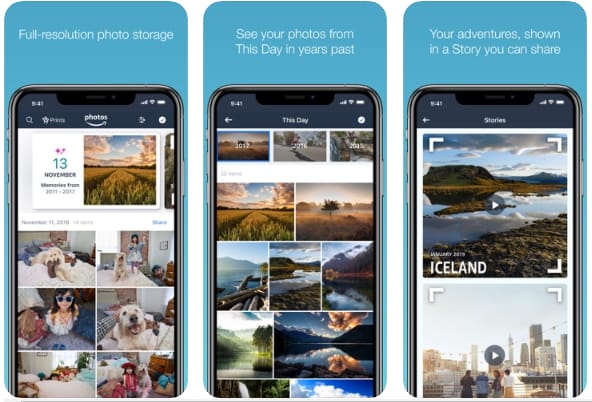 Well, these are some of the best photo organizer apps. You can use these apps to organize your messy picture gallery. Apps like Amazon Photos and Slidebox also comes with some advanced features. While on the other hand, apps like Google Photos and Ever comes with unlimited storage capacity. It depends upon you and your requirements that which one you consider as the best photo manager app.
For more information about various other useful apps and their features, subscribe to Innovana blogs.
Subscribe to Our Newsletter
Keep yourself updated with the latest technology and trends with Innovana Thinklabs Limited.