Retrieving deleted pictures is not tough, you can do it effortlessly with the best photo recovery apps shared in this post.
A moment once gone does not come back, and the only thing that remains with us is the memories. And, what's the modern-day way to store memories? We are sure every millennial will agree that pictures are the best way to cherish a life moment throughout life. After all, our phones have now become mini DSLR. Wore a new stunning outfit, click a picture, went on an outing, took a snap, this is what you do to keep the moments fresh forever, right? But, what if you lose these precious clicks someday? Yes, losing a photo is like parting ways with life's most beautiful life memory, and it seems as if something terrible has happened to you. But, the good news is that the best photo recovery apps let you retrieve the lost clicks effortlessly.
With the best app to recover deleted photos, you can undelete all your valuable clicks without any hassles. Thus, without beating around the bushes, let's straight away take you to the apps that you need to get back the deleted pictures on both Android and iPhone.
Retrieve the Deleted Clicks with the Best Photo Recovery Apps
As of now, phones have only become smart and not smarter enough to incorporate an undelete option. Thus, the best photo recovery apps for iPhone and Android mobiles shared here are your go-to place if you end up accidentally deleting pictures.
1. Dr. Fone – Recover your Lost Photos
This is one of the best photo recovery apps that you need to bring back the lost pictures, documents, contacts, and videos. No matter whether an image got deleted from the internal memory or SD card, this tool lets you recover them all. This application is specifically designed for both Android and iPhone users to undelete their snaps.
Talking about the features that it offers, here you get two scan modes. One scan mode is for the gallery and the other mode is for the SD card. This is not all and both the modes have two scanning options, namely standard and advanced to thoroughly search for the deleted clicks. Above all, with this best app to recover deleted photos, you can even retrieve pictures from the phones that have stopped working.
Features of Dr. Fone
Provides a risk-free service
Highly compatible.
Fixes most iOS/Android problems.
Helps you remove the lock screen password without resetting your device.
Erases waste data with ease.
Successfully recovers deleted photos.
Pros:
Easy recovery
User-friendly interface
Compatible with most advanced devices
Previews data in the app before restoring it
User support 24/7
Cons:
Expensive pro version
Restricted features in free version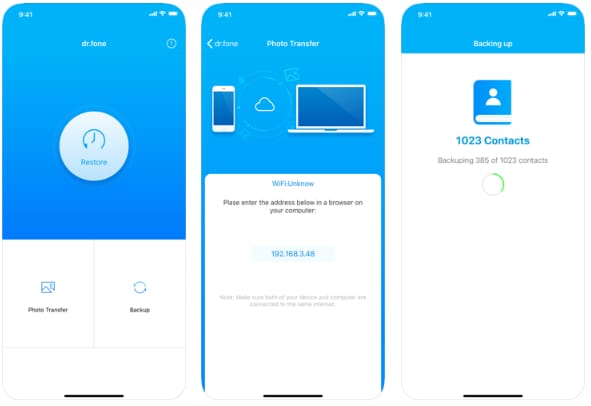 Also Read: Best File Sharing Apps for Android/iPhone
2. DiskDigger – Download the free photo recovery app
When the topic of discussion is about the best-deleted photo recovery apps, we cannot skip the name of DiskDigger. This utility can not only help you recover the photos from your phone but it also allows photo retrieval from SD cards, digital cameras, and external drives.
Coming to the recovery modes, it offers two ways to recover the deleted pictures, namely advanced and basic. If you want the best recovery app for Android without root, then this is among the topmost choices that you can make. Its basic mode lets you retrieve the lost snaps even if your device is unrooted. Moreover, it has several premium features such as preview and cloud sharing.
Features DiskDigger
Deep clean the junk image data
Scans virtual disk image files
Thumbnails preview
Works in Windows as well
Pros:
Easy-to-use application
Works in Windows and Linux
Customizable
Cons:
The recovery rate is not higher
No free version is available
Limited customer support tools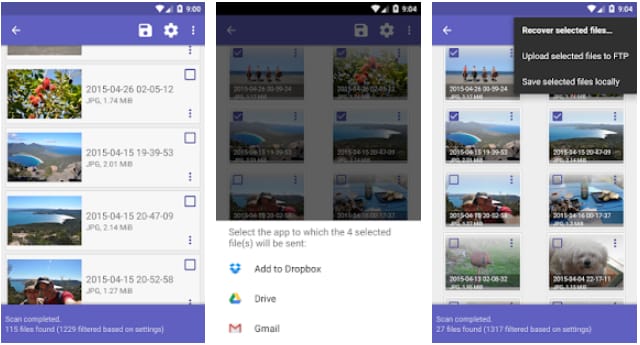 3. Undeleter – Recover photos from your Android phone
As the name shows this is among the best photo recovery apps to undelete photos from the phone's gallery or SD card. With this software at your disposal, you can even retrieve the lost messages and data from other applications. It offers a few high-end features to please users worldwide.
For instance, this best-deleted photo recovery app encompasses preview functionality, backup creation, and sharing pictures via Google Drive and Dropbox. However, to make the app work efficiently, you need to root the device.
Features of Undeleter
Restore files options
Advanced tools for Restoring data
Clean the unnecessary data
Pros:
Organized Interface
Restoring data and files with ease
Cons:
Difficulty in spotting the item you wish to remove or recover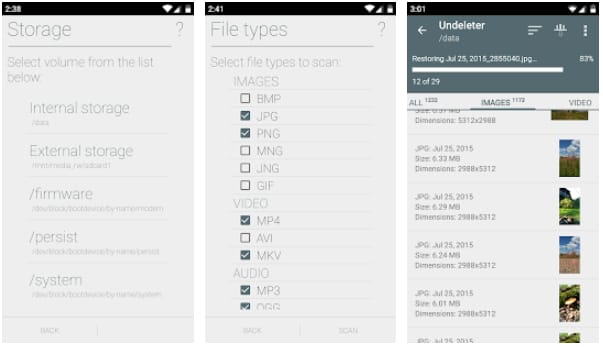 4. DigDeep – Clean and Restore Photos
This application on our list is also the best photo recovery app for Android mobile. It lets you recover the deleted pictures from both the phone's internal memory as well as SD card. In addition to this, it supports multiple file formats such as JPG, PNG, and more. It analyzes the root folders to help you retrieve the lost photos.
This is not all and it also offers some absolutely incredible features. For instance, this best photo recovery app apk comes with an intuitive UI and powerful algorithms to scan the device snappily.
Features of DigDeep
Fast execution
Better quality
Reliable features
Scans internal and external memory both
Pros:
Attractive UI design
Customer support available
Advanced recovery features
Cons: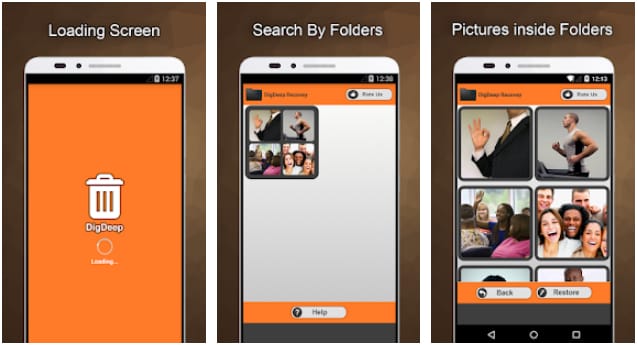 Also Read: The Best Calorie Counter Apps for Android and iPhone
5. Enigma Recovery – Recovery tool for iPhone
Recovering deleted pictures from iPhone, iCloud, and iTunes is a cakewalk with this one of the best photo recovery apps. The process to use this application is also fairly straightforward. All that you are required to do is, connect the device to your PC or Mac, launch the app, and then run the scan.
After the image scan completes, you get the list of results on your screen so that you can analyze them and decide whether you want to save the pictures locally or export them somewhere else.
Features of Enigma Recovery
Manages your data
Simple data recovery
Secures your privacy
Speedy data recovery
Trial options
Pros:
Simple and user-friendly interface
Free trial
Variety of recovery tools
Easy installation
Cons:
Does not store recovered data directly to your device
Slower execution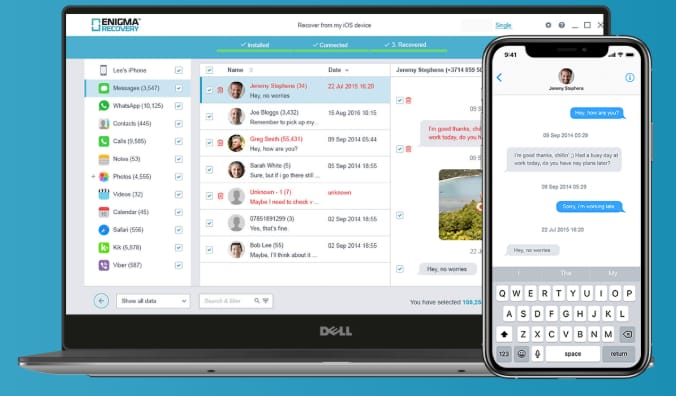 Common Queries: P

hoto Recovery App
Q1. What is Photo Recovery?
To restore the lost or deleted data files and images from your Android and iPhone devices. There are certain apps available to recover such data with ease.
Q2. Why do we need a Photo Recovery app?
We require a photo recovery application for the cases when you accidentally lose your important data files and images and you wish to recover them immediately. Photo recovery applications offer more than just recovering deleted photos.
Q3. How to define the best photo recovery app for Android and iPhone?
You need to consider some factors before relying on a photo recovery app. Some of those factors are mentioned right below:
Simple UI
Smart data recovery
Quick execution
Lightweight
Compatible
Easy detection
Q4. Can I recover permanently deleted photos?
Using the Current Backup you can try recovering the lost and permanent photos. As current backups you create on your system that runs on Windows 10, will definitely include the file type available.
Q5. What is the best free photo recovery app [Android & iPhone]?
Some of the best photo recovery applications are mentioned below:
Dr. Fone
Disk Digger
Undeleter
DigDeep
Conclusion
We talked about the best photo recovery apps for Android and iPhone. We believe that clicking pictures is not merely another feature of your smartphone, in our view; it is a way to relive the memories. Thus, photos are something that you should never lose. Recover all your lost photos with any of the above applications. But, before you do that, it would be great if you subscribe to Innovana Blog for more such information and updates. See you soon with another post.
Subscribe to Our Newsletter
Keep yourself updated with the latest technology and trends with Innovana Thinklabs Limited.