Are you missing Picasa? Then, read on to find out the best Picasa alternatives that are an even better choice. 
Almost every photographer's beloved Picasa is no more with us, but users still miss it for its outstanding features. Editing and managing photos were such a smooth ride with this freeware from none other than Google. Though Google Photos replaced it, many people still search for the best Picasa alternatives.
If you are also looking for the best alternatives to Picasa, you are at the right place. We dived into the world of photo editing and management tools to find the ones that can match the legend Picasa truly.
Through this article, we share the same with you. The software shared here are not only a Picasa replacement, but many of them are even better than it with additional features. Without further ado, let's take a look at them.
10 Best Alternatives to Picasa in 2021
Below is some outstanding software that we think are the best Picasa alternatives for Windows 10 for their amazing features and ease of use.
1. Photo Studio Home
Photo Studio Home from ACDSee is a true photographer's delight. This cloud-based photo management and editing software have a myriad of features, such as a Media Mode that interacts directly with the ACDSee photo database.
Moreover, there are many other tools that make this software a deserving name on the list of the best Picasa replacements. We share the highlighting ones below.
Features of Photo Studio Home
People mode that uses the power of AI to name tag faces in photos.
Bunch of file management tools, such as batch renaming and resizing, duplicate finder, quick search, multiple image baskets, keyword categories, and tags.
The software also offers support for customizable keyboard shortcuts and SVG file format.
You can add a watermark to a batch of images with precision.
It allows you to import face data from Picasa and Lightroom.
The software automatically advances to the next image when you add metadata.
It supports RAW images taken with over 500 camera models.
Photo Studio Home supports HEIF, i.e., a high-efficiency media container for photos and image sequences.
There are many editing options, such as image cropping, slideshow creation, blemish removal, red-eye corrector, noise reduction, special effect addition, etc.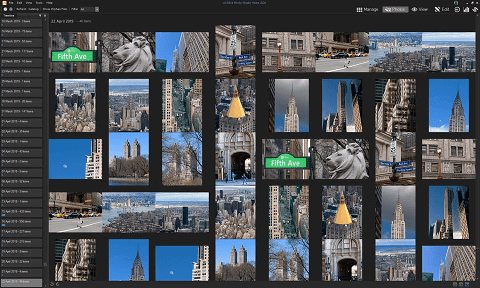 2. Adobe Lightroom CC
Almost every photographer knows about Adobe. It provides a professional-grade suite to edit and manage pictures. Adobe Lightroom CC hosts numerous features, such as image focus shift, photo sharpening, remote management of image library from any device, etc.
Let's take a dip into all its features that make it one of the best Picasa alternatives for Windows.
Features of Adobe Lightroom CC
There is a powerful tone curve and color mixer to give you more control over the light and color properties of your images.
You can crop and rotate the photos according to your preference.
It allows you to add many filters, such as Clarity and Dehaze to make your photos a true work of art.
The software uses machine learning technology to recognize your image content, so you can find the needed images effortlessly.
With its tools like ratings and flags, you can select your best photos and organize them into an album with just a click.
It preserves the original images and saves the edited ones separately.
There are a lot of quick Lightroom tutorials for you on its website to help you learn how to use the software.
You can share your photos with friends and family using shareable links.
It lets you edit RAW files as well.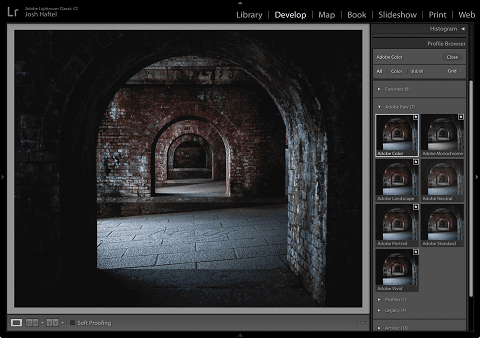 3. Luminar
Here comes another name that photographers trust and consider as one of the best alternatives to Picasa. It is cutting-edge software that elevates how you edit photos and manage them.
Its features like the AI Sky Replacement tool that allows you to change how the sky looks in your photos give you truly mesmerizing photos. Below are some of the other stunning highlights of this software that you must know.
Features of Luminar
It comes with support for RAW pictures.
Luminar's user interface is easy enough even for beginners.
There are AI skin enhancers and portrait enhancers (like redeye/blemish removal, lip color improvement, teeth brightening, etc.) to give you the most perfect-looking portraits ever.
The AI Augmented Sky tool lets you add new objects, such as the moon to your pictures in the most realistic-looking way.
There is a sunrays tool to illuminate your pictures with the rays of the Sun.
Its AI Structure slider automatically detects and enhances areas that can make your image better.
Luminar's AI Accent tool analyzes and applies needed controls automatically to make your photo perfect.
You can remove unwanted objects from your photos.
There is a landscape enhancer with many filters for a better-looking landscape image.
You can choose from over 70 instant looks to elevate your pictures instantly.
It comes with features like noise reduction, a detail enhancer, and many other creative tools.
You can filter your photos according to the date of addition, date of editing, and other filters.
Luminar is available in over 11 languages.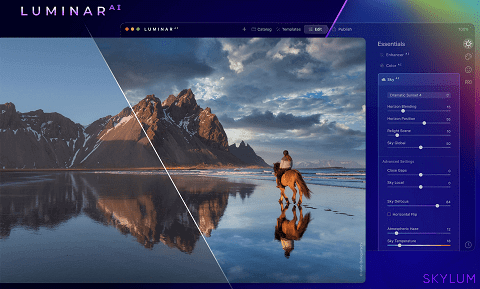 4. Darktable
Here is yet another outstanding software to use instead of Picasa. Darktable is an open-source software created by photographers for photographers. Its features such as keeping the original image intact made it a part of this list.
Let's look at all that you can expect from this hidden gem in the world of photography.
Features of Darktable
It supports OpenCL to let you perform lightning-fast image operations.
There are high-grade color management tools, such as in-built ICC profile, sRGB support, Adobe RGB, etc.
You can apply tags, ratings, and color label-based filters to search and sort your image collection.
It supports live view for some camera models for tethered shooting.
Darktable is a multilingual software with support for over 21 languages.
You can use it to export images to a low dynamic range (JPEG, PNG, TIFF), 16-bit (PPM, TIFF), and high dynamic range (PFM, EXR) photos.
It uses XMP sidecar files and its fast database to save your metadata and processing settings.
You can script many repetitive tasks in Lua to automate them.
It allows you to view your image library thumbnails at the display screen's bottom.
This software is also available on Mac and Linux operating systems.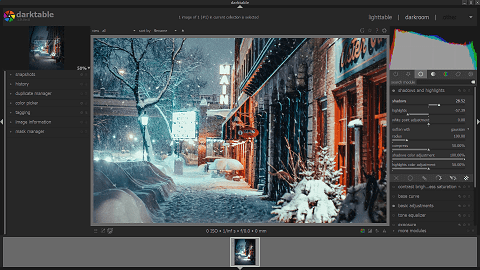 5. Flickr
If what is the best alternative to Picasa is your question, Flickr can be the perfect answer. It is a community of over ten billion photos and two million groups. This easy-to-use platform provides all the essential features you need to manage your image collection.
Let's look at what makes Flickr a part of our list.
Features of Flickr
It allows you to save 1000 photos free of charge.
You can create shareable photo collections and albums.
Flickr is a multi-platform app with availability on iOS and Android as well.
It is a cloud-based software for photo management.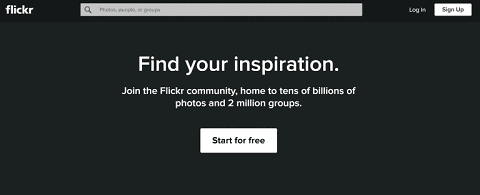 6. Microsoft Photos
The next entrant on our list of the best Picasa alternatives for Windows 10 is Microsoft Photos. This software is loaded with quite a lot of useful features, such as AI-powered face recognition that make it a choice of millions.
Below is its complete range of features for you to decide whether it fits your needs or not.
Features of Microsoft Photos
You can perform various editing tasks, such as cropping, rotating, adjusting the color and brightness of images.
There are multiple filters and effects available to make your photos perfect.
It allows video creation with music, filters, and other stunning effects.
You can show your creative side by drawing on a photo/video and sharing its animated playback.
There are many 3D effects that you can add to your photos to make them interesting.
You can recombine photos, music, and other styles to change how your videos look.
It allows you to make the images smaller or larger depending on whether you want to scroll quickly or view image details.
With this software, you can remove red-eye and blemishes in your photos.
You can use OneDrive to view all your photos, videos, and albums in a single place.
It allows you to create a slideshow view of your images.
There is an option to set an image as your desktop background or lock screen photo.
7. PhotoScape
If you want to know what is the best replacement for Picasa, PhotoScape may be the answer that you are looking for. It is a fun and easy photo editing tool with many useful features, such as a RAW converter to convert RAW images to JPG.
Below is a detailed look at what all PhotoScape has to offer.
Features of PhotoScape
It lets you view photos in a folder and create a slideshow.
There are various editing options, such as resizing, brightness and color adjustment, white balance, backlight correction, clone stamp, effect brush, paintbrush, etc.
You can edit multiple images in bulk.
It allows you to merge multiple images on a page into a single photo.
There is an option to combine photos vertically or horizontally to form the final photo.
You can transform your pictures into animated GIFs.
It lets you create printed portrait shots, CDVs, and passport photos.
With PhotoScape, you can split a photo into multiple pieces.
You can capture and save screenshots.
It allows you to zoom in on photos, search for, and pick a color.
You can batch rename photos.
It lets you print lines, graphs, music, and calendar paper.
With its face search, you can look for similar faces on the web.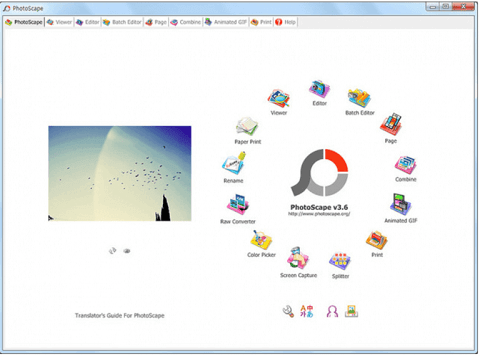 8. Adobe Photoshop Elements
Here comes yet another beautiful photo editor and organizer from the house of Adobe. It boasts many praiseworthy features, like the much-needed GIF maker with 2D and 3D camera motion.
Adobe Photoshop Elements features make it outshine many other Picasa alternatives on this list. Let's take a closer look at them.
Features of Adobe Photoshop Elements
You can use it to create beautiful slideshows, collages, and apply interesting effects to your photos automatically.
There are numerous photo editing tools available, such as face tilt adjustment, automatic image colorization, facial feature adjustment, skin beautification, etc.
It also lets you select the image subject with just a click for making isolated edits.
There is camera shake reduction to prevent blurry images automatically.
You can replace skies, delete unwanted objects, and erase haze from your photos to make them perfect.
It provides step-by-step help to move, scale, and duplicate objects.
You can convert your favorite photo into a beautiful sketch.
It allows you to highlight colors to make them pop, so your photo has a dramatic effect.
You can merge multiple photos to create one perfect picture.
It allows you to create multi-photo text as well.
Adobe Photoshop Elements lets you add text and borders to your photos.
It automatically backs up your catalog structure, i.e., albums, keyword tags, people, events, places, etc.
The software automatically tags videos based on subjects, such as babies, birthdays, dogs, etc.
It automatically recognizes faces during import and stacks them by person, so you can find and tag them conveniently.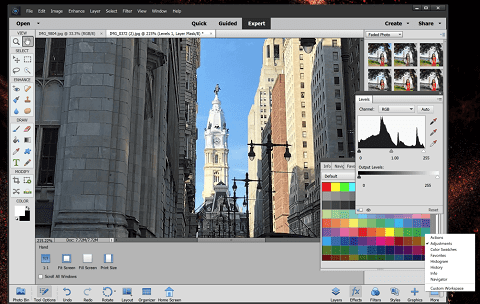 9. Zoner Photo Studio X
Next, we have Zoner Photo Studio X to make your photos better. It is freeware with a huge basket of useful features, such as RAW image editing and more.
Below are all its outstanding features that instigated us to include it on our list of the best free Picasa alternatives.
Features of Zoner Photo Studio X
It boasts layer support to help you create image collages, clone images, and perform other editing functions easily.
There are many brushes and face tools to retouch and enhance your portrait photos.
It comes with a video editor that lets you convert your photos into videos, presentations, and a time-lapse effortlessly.
You can organize your photos and browse them based on their date, location, keywords, or folders.
It lets you batch export your photos.
There are 38 presets and filters that you can apply to your photos.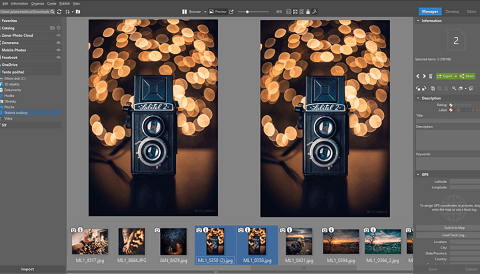 10. Phototheca
Next, we have selected Phototheca for our post dedicated to the best alternatives to Picasa. This software makes it a cakewalk for you to organize and edit your photos with features, such as duplicate removal.
Let's get acquainted with all the features of this beautiful program for easy image management.
Features of Phototheca
It is a multilingual software with support for over 6 languages.
Phototheca boasts automatic AI-based facial recognition to recognize and tag people automatically.
It reads and saves all your Picasa tags, captions, face tags, and people names on import.
Its smart album automatically collects and displays images in your library meeting the specified criteria.
You can tag photos based on keywords, people, and places where they were taken.
It lets you apply camera models and date-based filters to your images.
You can correct incorrect timestamps and create your photo library the way you like.
It allows you to change the thumbnail size and photo height with an easy-to-use slider.
The software allows you to search for photos using keywords and browse the image library effortlessly.
You can batch process the image metadata.
It comes with an in-built photo editor with many editing options, such as noise reduction, white balance, vignette, etc.
There are 56 filters to beautify your photos.
You can share your creations through Twitter, Flickr, Google Photos, and Email.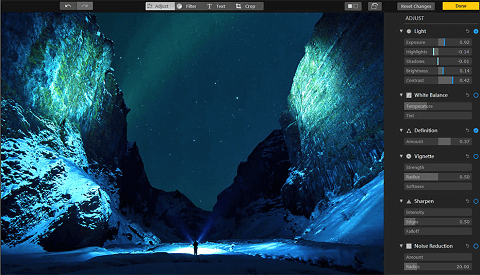 Concluding the Best Picasa Alternatives
Above were our picks for the best alternatives to Picasa. We think these replacements are even better than the original software for their features. You can choose any of them depending on your specific requirements as they all are on par with each other.
For more alternatives to any popular application or other software recommendations, add this blog to your list of subscriptions and bookmarks.
Subscribe to Our Newsletter
Keep yourself updated with the latest technology and trends with Innovana Thinklabs Limited.