Sometimes, we envy iPadOS and iOS users. They have got Procreate, i.e., an app that has ruled the world of digital painting and editing for over a decade. From stunning filters to the most creative tools, it offers everything anyone can desire. But unfortunately, the app is not available for Windows users as of now. Are you an artistic individual who thinks, "Oh! I wish it was gettable on my Windows computer?" If yes, then this article is what you need to read. Here we share the best Procreate alternatives for Windows in 2021.
Yes, you read it right. There are certain apps like Procreate for Windows that are a true delight for all digital artists. With the wide array of cool filters and tools that these programs offer, you can create almost anything ranging from a castle to make people dream to a cartoon character making them laugh.
The artist in you cannot wait for more to unleash his creativity? Then jump to the next section that shares the best software like Procreate for Windows handpicked for our readers.
Top 10 Best Procreate Alternatives for Windows in 2021
Below are the best Procreate alternatives for Windows that you need to transform your imagination into mesmerizing visual art.
1. Krita
Free app similar to Procreate with wrap-around mode 
Compatibility: Windows 8.1 and up
Rating: 4.5/5
It would not be wrong to call Krita the Procreate for Windows users. This app offers almost everything that you can expect from the best Procreate alternative for Windows. For instance, you get a highly useful wrap-around mode to create textures and patterns effortlessly. Apart from this, below is what else this software has to offer.
Features 
Hosts an intuitive interface with customizable dockers and panels.
It offers over 30 dockers for more functionality.
You can choose from dark and light color themes.
Over 100 professional brushes come preloaded with this software.
There are 3 ways to stabilize and smoothen the brush strokes.
With its in-built vector tools, you can create bubbles for your comic characters easily.
It offers 9 brush engines to customize your brushes.
There is a wrap-around mode to create textures and patterns seamlessly.
With its resource manager, you can import, create, and share the brushes.
There are 9 drawing assistants to help you make perfect vanishing points, straight lines, and shapes.
It has advanced layer management that lets you combine, order, and flatten layers to organize your artwork.
Krita boasts complete color management through LCMS for ICC and OpenColorIO for EXR.
It comes with support for PSD files.
With this app, you can open, save, edit, and author HDR images.
It is an open-source application with a lot of training resources to learn how to use it.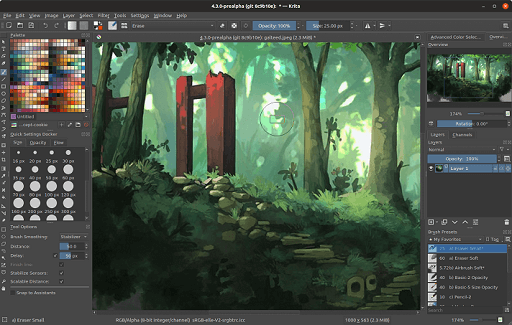 Read More: Best Photo Management Software for Windows 10 
2. Autodesk Sketchbook
Best free app similar to Procreate to make attractive illustrations 
Compatibility: Windows 10
Sketchbook from Autodesk was earlier thought to be a paid application. But recently, the makers made it clear that it is free for Windows. This software is not only one of the best free drawing apps similar to Procreate but also a great choice when it comes to sketching ideas and creating captivating illustrations. Below is why any designer, architect, or concept artist should choose it.
Features 
Minimalistic, beautiful, and easy-to-use interface.
There is a curved ruler to create perfect curves and sweeps.
You can create, import, or choose one from over 140 standard brushes.
It allows you to add layers using blending modes and layer grouping.
The symmetrical designs turn out to be perfect as it lets you draw them with X, Y, XY, and up to 16-sector radial symmetry.
You can smoothen lines and correct basic shapes using the predictive stroke.
There is a Copic Color Library with Copic Marker Default brushes.
It lets you create animations with up to 4 layers.
With its distort transformation feature, you can fix the perspective and proportions of your illustrations easily.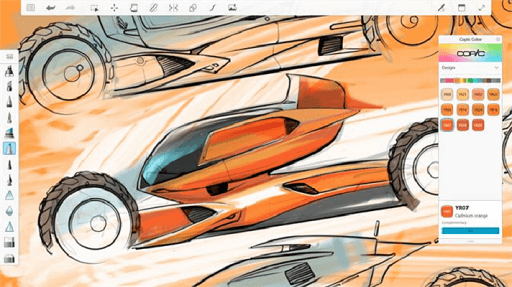 3. Clip Studio Paint
One of the best Procreate alternatives for Windows with a vast library of brushes 
Compatibility: Windows 8.1 and higher
Here is yet another Procreate-like app for Windows for anyone who wants a huge collection of brushes to create amazing strokes. Apart from a wide range of brushes, it also offers many other features such as multiple tools to make animated digital works and more. Below is a detailed overview of its attractive features.
Features
It boasts a power-packed brush engine to make your strokes perfect.
There are thousands of brushes that you can customize according to your requirements.
You can customize the pen pressure even if you use a Wacom tablet with 8192 pen pressure levels.
It is a lightweight application and thus does not pressurize your PC unnecessarily.
This software is packed with quite a lot of tools to create impressive drawings and paintings, concept arts, character arts, comics and manga, illustrations, and animations.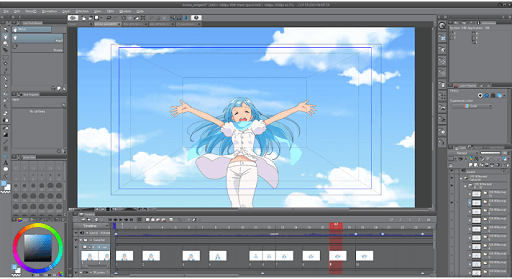 4. Adobe Illustrator
One of the most popular programs like Procreate for Windows PC
Compatibility: Windows 7 and above
Is skipping Adobe Illustrator even an option while talking about the best apps that are similar to Procreate? Well, we do not think so. It is among the most widely used applications by all graphic designers, animators, or anyone who wants to get creative. Though it primarily focuses on vector graphics, there is no limit on what you can do with Adobe Illustrator. You can use it to create eye-catching logos, icons, book illustrations, product packaging, and billboards. In addition to this, below are more of the attributes that brought it to our attention.
Features 
Multiple tools like pathfinders, shape builders, huge font library, logo templates to create innovative logos.
A plethora of typography tools to create beautiful fonts.
With its lettering tools, you can create and add suitable text to your projects.
With the versatile tools, Adobe Illustrator offers, you can create high-quality expressive vector graphics for use in logo, icon, and web designs.
There is a data merge feature that allows you to make multiple versions of your infographic.
You can create custom icons and design eye-popping art, charts, and graphs for your infographics.
It boasts many powerful tools to create remarkable banners, charts, and wallpapers.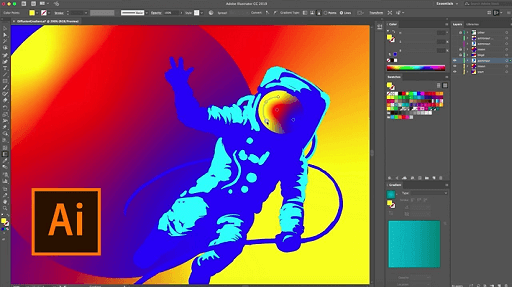 Read More: Best Duplicate Photo Finder and Cleaner Software
5. PaintTool SAI
The most lightweight alternative to Procreate for Windows 
Compatibility: Windows 2000 and higher
Do you want to create a masterpiece artwork without putting even the slightest burden on your PC resources? If yes, then we have PaintTool SAI for you as a Procreate alternative for Windows. It is among the lightest applications you can ever find for creating appealing digital arts. Apart from being resource-friendly, below is why it is a tough contender for other programs on this list.
Features
It offers complete digitizer support.
This software supports the MMX technology of Intel.
PaintTool SAI boasts a friendly interface.
You get 16 bit ARGB channels for more accurate composition.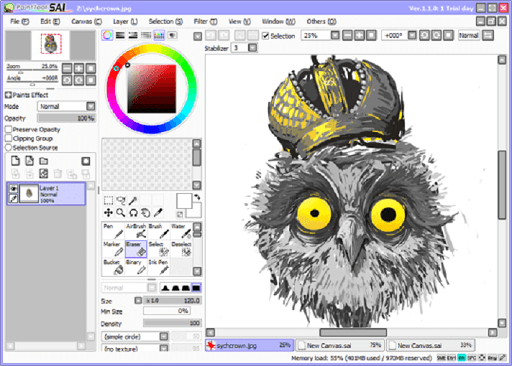 6. Concepts
One of the best Procreate alternatives for Windows to visualize ideas 
Compatibility: Windows 10
All big plans and projects start from an idea that originates in a person's mind, and then made visible to others through sketches, illustrations, and design plans. Do you also have a concept or idea to share with the world? Then use Concepts to communicate it in an interesting and understandable form. This app has everything you need, like multiple backgrounds, textures, and preset papers to make people understand what you wish to convey. Let's have a look at the top features of this one of the top apps like Procreate for Windows.
Features 
It is a vector paths-based application allowing you to edit your creations anytime you want.
Almost all of its tools are customizable.
There are power-packed tools like Nudge and Selection to help you edit your sketches with ease.
You can import plans, PDFs, and images to scale measurements and apply them.
There are many project management tools like cloud backup.
You can export your creations to formats like  PG, PNG, SVG, DXF, PSD, and PDF.
It comes with support for tilt and pressure modes for sketching complex details accurately.
You can make use of its velocity feature to sketch and draw more flexibly.
There is a unique color dial for touchscreen laptops.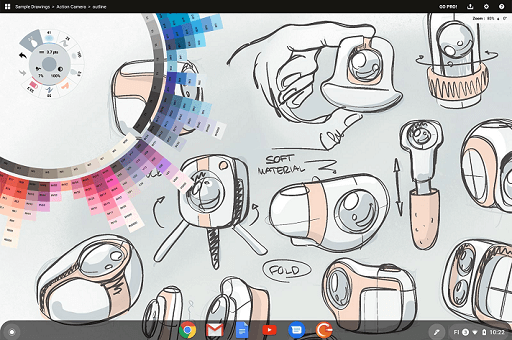 Read More: Best Free Photo Editing Software For Windows
7. ArtRage
One of the best programs like Procreate to create realistic paintings 
Compatibility: Windows 7 and up
From a sparrow sitting on a tree branch to a beautiful treehouse on a riverbank, you can create many realistic paintings with this one of the programs like Procreate. It may not be the best choice for professionals. But for amateurs who have only begun their creative journey, it can be the perfect companion. From customizable brushes and tools to the organization of your paintings to layers/groups, it offers almost everything you may need to show your artistic side. Let's talk about some useful features of this one of the entrants on our list of the paid and free apps like Procreate for Windows.
Features 
There are realistic painting tools like oils, watercolor, and palette knives to create the most natural textures.
You can organize your paintings in layers and groups to use the blend modes easily.
It allows you to import reference and tracing images.
The workspace is customizable with light/dark mode and a flexible docking layout.
With its custom brush designer, you can customize the tools and special effects.
It boasts a friendly and easy-to-use interface for beginners.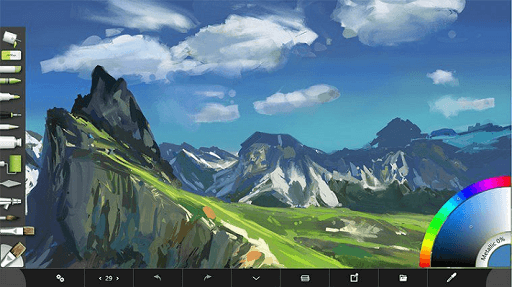 8. Corel Painter
A feature-packed Procreate alternative for professionals
Compatibility: Windows 10
If you are a professional digital artist, then perhaps Corel Painter is what you need. What makes it a part of our post is its professionally made tools like special pattern pens, thick paintbrushes, and more. The makers market it as software for pros, still, you can try this one of the highly recommended programs like Procreate for PC even if you are an amateur, as it offers an enormous range of video tutorials to help you learn how to use it. Apart from this, below is what else makes this program a smart choice for experts and beginners alike.
Features 
You get more canvas control with options such as pan, zoom, and rotate.
It lets you use additional media like papers, flow maps, textures, gradients, etc. to bring your canvas to life.
Corel Painter lets you create the perfect color palette using color wheels, mixers, and color sets.
Using effective brush controls, you can tweak the brush size, angle, shape, flow, and other settings.
It allows you to customize the brushes, palettes, and workspace layouts.
This software also boasts artificial intelligence, clone tinting, and Core ML support.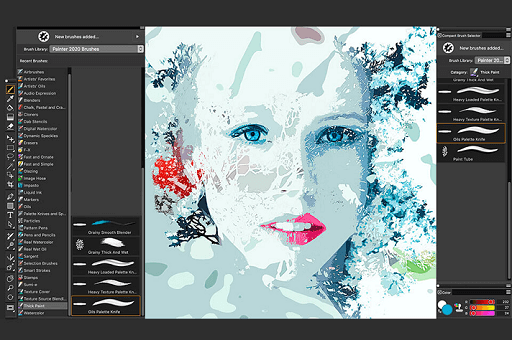 9. MediBang Paint
One of the best Procreate alternatives to create comics and manga 
Compatibility: Windows 7 and higher
Are you a comics and manga creator? If yes, then MediBang Paint is among the best software like Procreate that you can use for Windows. It offers a variety of tools like over 50 brushes that are usable like a GPen and Mapping Pen. Moreover, it also encompasses 800 pre-made tones and backgrounds that you can use for free. Below are the other exciting features of this one of the free apps similar to Procreate.
Features 
The brushes are customizable according to your liking.
It is among the most lightweight programs that do not require much PC resources.
MediBang Paint comes with support for cloud syncing.
There are snap guides to help you draw perfect lines and curves.
You can slice across page borders to create comic panels easily.
It lets you save, edit, and manage all your projects effortlessly.
This software comes with cloud support.
There are a plethora of free fonts for you to use.
With its group project feature, you can collaborate with others effortlessly.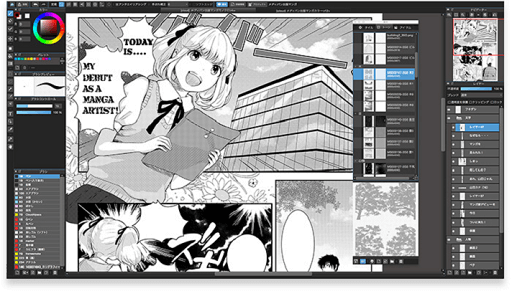 10. YouiDraw Painter
An online Procreate alternative for Windows 
Compatibility: Windows 7+
If you want a Procreate alternative that works without downloading, then YouiDraw Painter may be what you are looking for. It is a simple cloud-based software that you can use to create logos, drawings, and vector graphics online. Since it is a web-based program,  you do not need to download it on your computer. Hence, a lot of disk space is saved. Moreover, below are the other benefits of using this one of the free apps like Procreate for Windows.
Features
You can export your creations to formats like JPG, PDF, PNG, and SVG.
It can be integrated with cloud storage platforms such as Google Drive and Dropbox.
There are numerous predesigned templates and over 240 popular Google fonts.
It boasts 7 pencil styles, namely lain, Sketchy, Shaded, Web, Trail, Ribbon, and Fur.

Know More: Best Free Photo Collage Maker Software
Concluding the best Procreate Alternatives for Windows
Above were our top picks when it comes to Procreate alternatives for Windows. From a small logo to the design of the world's biggest car, with these programs, you can make all your imaginations come to life. However, if you know of any other apps like Procreate that deserve to be a part of this post, then do bring it to our knowledge through the comment box.
Subscribe to Our Newsletter
Keep yourself updated with the latest technology and trends with Innovana Thinklabs Limited.