Cleaning, boosting, and optimizing RAM is essential to speed up the PC. Therefore, read on to know the best auto RAM cleaners, boosters, and optimizers.
Do you remember how fast your PC worked when you just unboxed and installed it? You often wonder, when the PC's model and the processor are the same, then why your computer becomes slow as a snail. Well, there's a simple explanation. Over time, junk such as duplicate files, cache, unneeded apps gets accumulated and adversely impacts the PC's performance.
To get that snappy performance back, you need to clean the junk and give the RAM much-needed breathing space. Since manual cleaning is both tiring and impractical, you require the best auto RAM cleaners to do the needful.
Apart from junk accumulation, another reason for poor PC performance is disorganized RAM space. You need to efficiently organize the available space. The best RAM optimizer and booster help you do that without any cumbersome efforts.
Talking about these utilities, all the software claims to be the best free RAM cleaner, booster, and optimizer available in the marketplace. But, not all of the claims are true. Therefore, we dived in this ocean of applications to find the truly best Windows memory cleaner, optimizer, and booster. Before knowing about them, let's first answer a question that most of the users have, i.e., how to give the RAM's performance a boost. 
Our Top Recommendations for The Best RAM Booster, Cleaner, and Optimizer
Below are the auto RAM cleaner, booster, and optimizers you need for efficient memory management and the ultimate PC performance.
1. Iolo System Mechanic
Out of all the available auto RAM cleaners, this is one of our favorites. It is not merely a RAM cleaner but also a complete PC care tool that takes its performance to another level. Due to the multitude of features it offers, it's among the most popular utilities to enhance the PC's speed.
Noteworthy features of Iolo System Mechanic
Hosts an in-built blocker for bloatware and undesired auto-run settings.

You can effortlessly resolve all the software related problems on your PC with the help of the

Iolo System Mechanic

.

Cleans every trace of junk from your computer ranging from unwanted apps to browser history and cache.
Pros of Iolo System Mechanic
This best RAM optimizer removes traces of your browsing habits helps keep privacy intact.

It takes the PC's speed a notch up.

Allows you to create a backup of the Windows registry.
Cons of Iolo System Mechanic
Some features are only available for users of the premium version.

Its NetBooster does not significantly improve internet connection performance.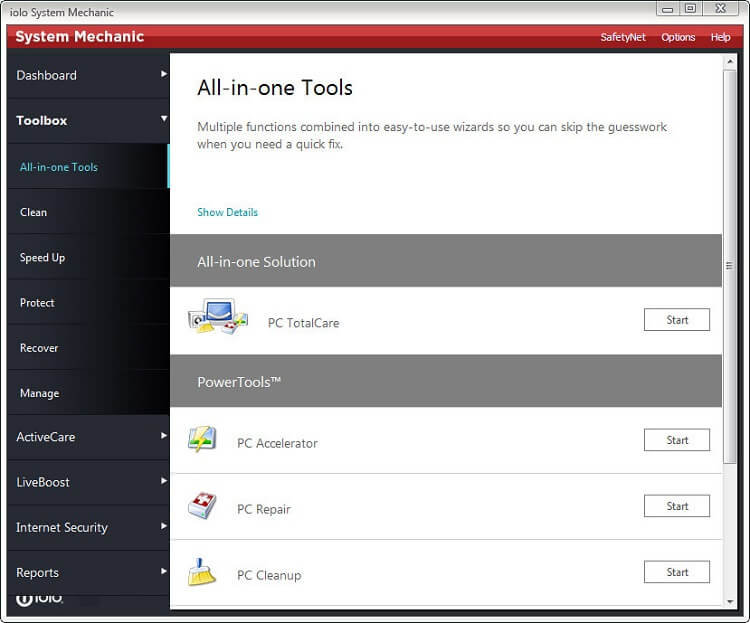 ---
2. Ashampoo WinOptimizer
The USP of this fast auto RAM cleaner for PC is the flexibility it offers. With this software at your disposal, you only require a single click to detect and delete all the temporary files, browser cookies, and broken registry. 
Unique features of Ashampoo WinOptimizer
Shows the scan results in detail with a clear description of all the issues.

Hosts in-built tools to

defrag

the hard drive and optimize the startup process.

Encompasses many other tools to boost the PC's performance.
Pros of Ashampoo WinOptimizer
Fixes all the errors in just a single click.

Lets you schedule the scan and create registry backups.
Cons of Ashampoo WinOptimizer
Amateur users may find it a bit tough to use.

The user interface is a little confusing.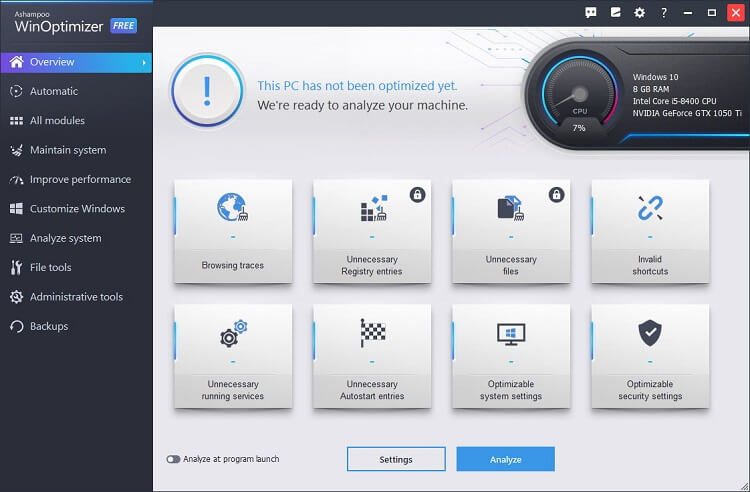 ---
3. IObit Advanced SystemCare Free
IObit is a well-known name in the PC care domain. Its Advanced SystemCare is also among the best RAM booster, cleaner, and optimizer, particularly for novice users. It comes with a multitude of features to delight the users.
Praiseworthy features of IObit Advanced SystemCare
It simultaneously enhances your internet speed while you work on your PC.

Thoroughly cleans the Windows

registry

.

Cleans junk and rectifies the hard drive errors.
Pros of IObit Advanced SystemCare
The user interface is uncluttered and customizable.

Comes with options such as ignore list and backup/restore.
Cons of IObit Advanced SystemCare
Installation wizard tries to install other unwanted programs on your PC.

It cannot scan the external files.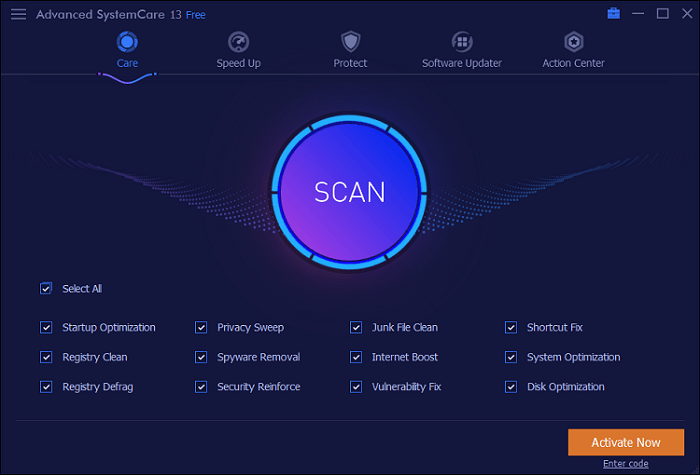 ---
4. Piriform CCleaner
Now, who does not know about CCleaner? It is among the best free RAM cleaners of all times for laptop, PC, and phone. Not only millennials but we also consider it as one of the perfect software to clean and optimize the device's memory. It offers a wide catalog of features to help you speed up the PC.
Striking features of Piriform CCleaner
Scrapes away temporary files, browser cache, and undesired cookies.
Frees up ample space on the disk.
The paid version comes with advanced functionalities such as cleanup scheduling and real-time protection.
Pros of Piriform CCleaner
Boasts an easy-to-use and intuitive interface.
Significantly boosts the speed of a sluggish PC.
Cons of Piriform CCleaner
Frequent popup notifications seems a bit annoying.
Advanced features are only available in the pro version.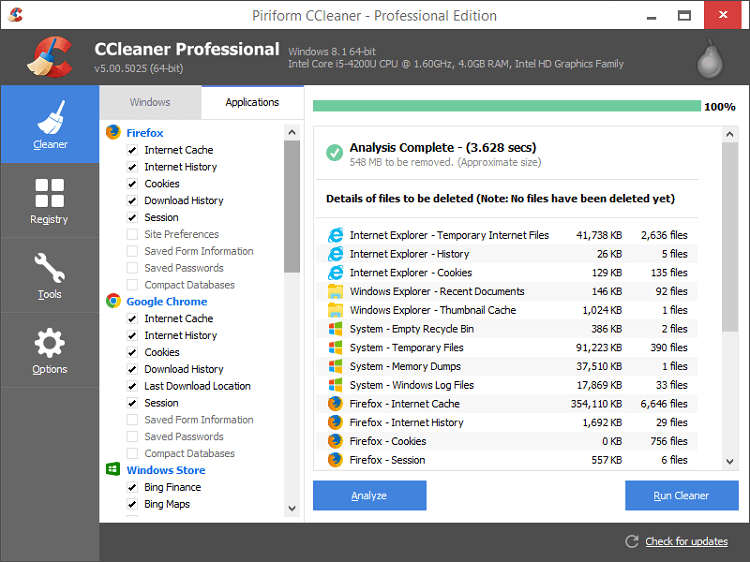 ---
5. Tenorshare Windows Care Genius
This best laptop and PC RAM cleaner are aptly named as it intelligent clean every nook and corner of the RAM. It significantly reduces the boot time of even the age-old PC's and this makes it one of the most acclaimed RAM cleaners.
Commendable features of Tenorshare Windows Care Genius
Hosts an in-built registry cleaner.

Boasts options such as disk defragging, removal of unneeded startup processes, and more.

Keeps your privacy intact by removing the activity traces from history, files, and disk.
Pros of Tenorshare Windows Care Genius
The process of cleaning and optimization is swift.

It comes with a clean, straightforward, and easy-to-use interface.
Cons of Tenorshare Windows Care Genius
There is no Ignore List to exclude files from the scan.

Sometimes, it displays irritating popup notifications.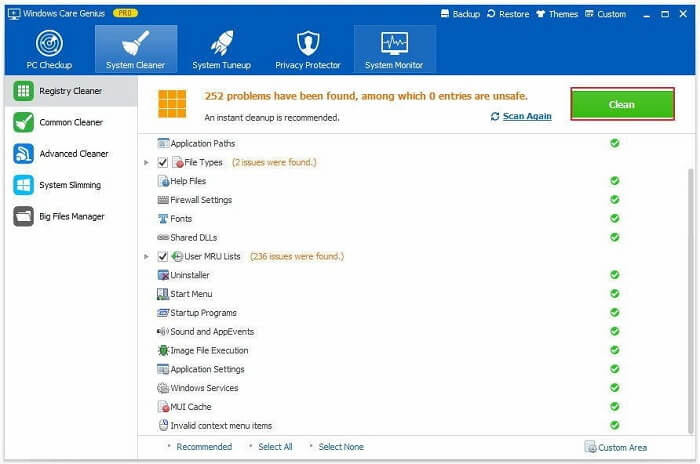 ---
6. RAMRush
This freeware is also among the best RAM boosters, optimizers, and cleaners. It effectively optimizes the memory and frees up RAM space. We recommend this software to all those users who face frequent PC crashes and memory leaks.
Striking features of RAMRush
It comes with tools such as disk defrag.
Lets you free up the space occupied by unneeded Windows applications.
Prevents system crashes occurring due to memory problems.
Displays CPU and RAM use in real-time.
Pros of RAMRush
Prevents your PC from crashing due to memory-related issues.
Tweaks the PC's performance significantly.
Cons of RAMRush
The user interface may seem a bit confusing to novice users.
It comes with fewer features in comparison to its counterparts.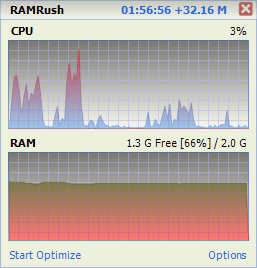 ---
7. CleanMem Free/Pro
Here comes another best RAM booster and optimizer for PC. It gives you more control over the way to clean RAM memory. Apart from this, it has several features to delight the users. Let's have a look at some of them.
Worth-mentioning features of CleanMem Free/Pro
Autoruns every 15 minutes by the Windows Task Scheduler.
Makes Windows do all the cleaning, optimization, and boosting by calling the Windows API.
Lets you avoid the use of the page file on the hard drive.
Moves the recently used files to the standby list for better memory management and fast PC speed.
Pros of CleanMem Free/Pro
The free version does not have any nag screens.
No popups are asking you to upgrade to the pro version.
Cons of CleanMem Free/Pro
The auto start may annoy some users.
It consumes a lot of PC resources.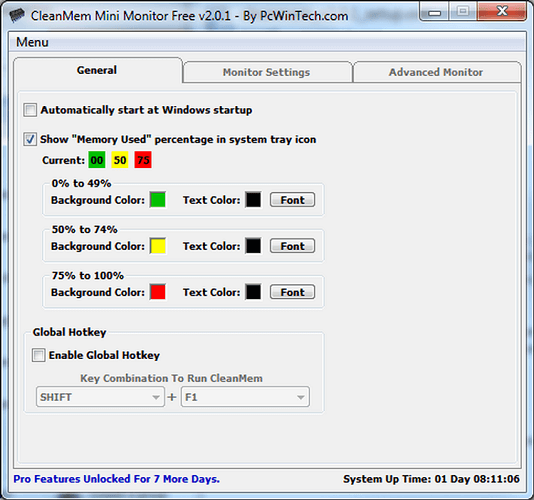 ---
8. Wise Memory Optimizer
With this best free RAM cleaner, booster, and optimizer for Windows 10 PC, you need not worry about performance issues. It scrapes away useless applications and helps you optimize and reclaim the lost RAM space. This, in turn, results in better functioning of the PC.
Central features of Wise Memory Optimizer
Boasts a portable version of itself.
Calculates and displays details such as used, free, and total memory available in the form of a pie chart.
Pros of Wise Memory Optimizer
It hosts a simple, clean, and easy-to-use interface.
You can instruct the software to automatically optimize the RAM once it reaches a particular level.
Cons of Wise Memory Optimizer
The customer support is a bit poor.
It lacks advanced diagnostic options and analyzing tools.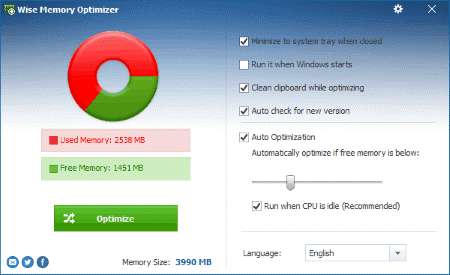 ---
9. Memory Cleaner
Just a single click is what you need to free up plenty of space with this best free RAM booster for PC. It cleans the RAM memory by monitoring it and optimizing its use. Below are the features that induced us to include it on our list.
Outstanding features of Memory Cleaner
Lists the applications that consume a major chunk of memory.
Hosts a memory pressure meter.
Boasts a customizable menu bar.
Pros of Memory Cleaner
Displays detailed information about the RAM usages.
Lets you optimize system memory automatically in just a single click.
Cons of Memory Cleaner
The user interface is a bit confusing.
Works a little slower than its counterparts.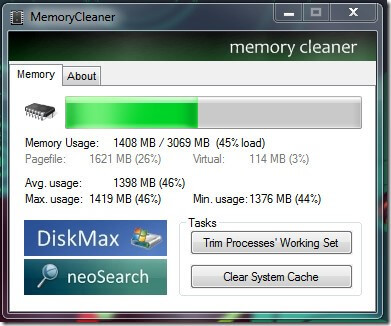 ---
10. Mem Reduct
Here's another best auto RAM cleaner for PC. This lightweight utility manages and cleans system memory in real-time. Moreover, it has many other features to help you clean the RAM and speed up the PC effortlessly.
Remarkable features of Mem Reduct                           
It comes with a portable version.
Uses native API to clean system cache.
Allows you to clear RAM in a single click.
Pros of Mem Reduct
The user interface is straightforward and easy-to-use.
Frees up a significant amount of RAM space.
Cons of Mem Reduct
It is slow in comparison to other similar laptop RAM cleaners.
The customer support is not much responsive.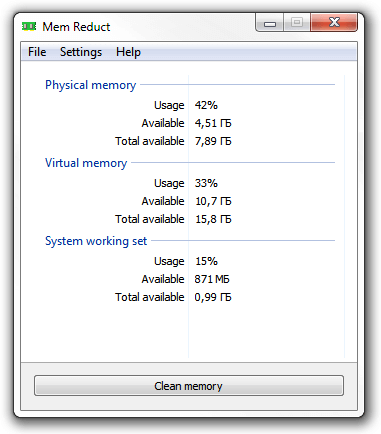 ---
The Takeaway
These were the best RAM optimizers, boosters, and free cleaners. Weigh each of them in terms of their features, pros, and cons. Then, select the one that suits your requirements the most. Lastly, we would say always keep the RAM clean and optimized for the unmatched PC performance. And, keep reading Innovana Blog for more such tech information and updates.
Subscribe to Our Newsletter
Keep yourself updated with the latest technology and trends with Innovana Thinklabs Limited.