The payment system has undergone a drastic change in the last few years with the digital mode of payment taking over the paper mode. It is a quick and easy way to manage payments. Many times, businesses lack technological assistance while switching to a digital mode of payments. This problem can be solved with the help of reliable receipt scanner apps.
This article intends to help all the business professionals to ease out tracking their payments with the help of applications that scans receipts for money.
Top 10 Receipt Scanner Apps for Android Devices
There are ample apps that offer free receipt scanning. Find out the most professional receipt scanner apps that suit you best from this curated list.
1. FlashScan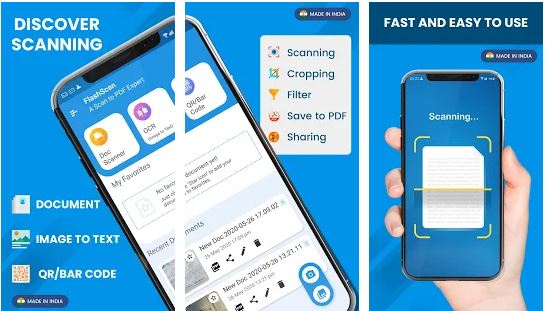 It is one of the finest apps to scan receipts for money. FashScan generates high-quality scans with just a tip of the finger. You can scan bills, certificates, vouchers, receipts, invoices, etc with this app. It can be effectively used as a QR scanner and a barcode scanner. It offers many functionalities such as text from image recognition, Batch Scanning, PDF creation, and conversion.
The 'ease of use' is the prime attraction of this Android receipt scanner application.
Post scan features such as sorting of documents and organizing in folders are very useful.
The Scan results in this application can also be enhanced by professional filters.
The PDF Viewer offers Anti-counterfeit, password protection, and securing PDF files by affixing custom watermarks on it.
It is an effective scanner app with a straightforward interface.
---
2. Expensify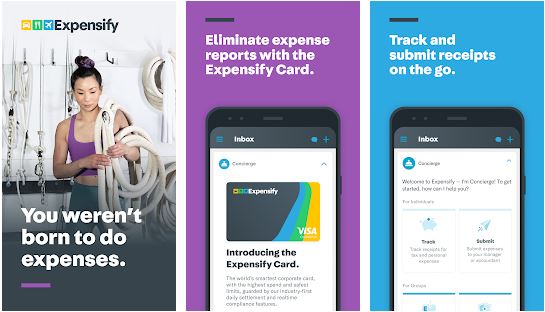 When you are talking about the best way to scan receipts, this award-winning app should definitely be on your preference list. Expensify lets you take a picture of the receipt and does the rest of the things on its own. This app also helps in importing credit card transactions.
The Automation in management and storage makes this app very appealing. It is a time saving mechanism for the user.
It is the most simple receipt scanner and organizer app.
The integration of this app with the accounting software can be used in managing things smoothly.
Also Read: 10 Best Business Card Scanner Apps for Android
---
3. Receipt Scanner: Smart Receipts & Expense Tracker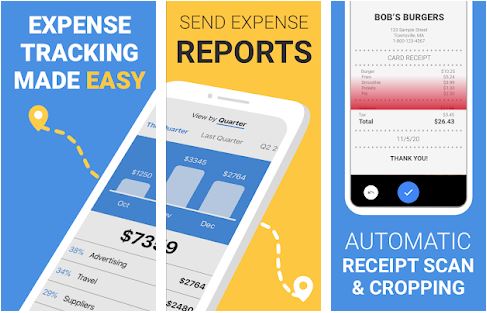 This application automatically scans the receipts and extracts key information from them.  The application is free to use and does not contain any ads. It can work even in offline mode and is one of the fastest and free receipt scanner apps.
The professional outlook of the application is one of the most appealing features of Receipt scanner.
It offers easy conversion of expenses into billable expense reports.
Get smart scanning tools to sort and organise PDF files.
Automatic sync with cloud and accounting modules make scanning and saving files easy.
---
4. Foreceipt – Receipt Scanner Expense Tracker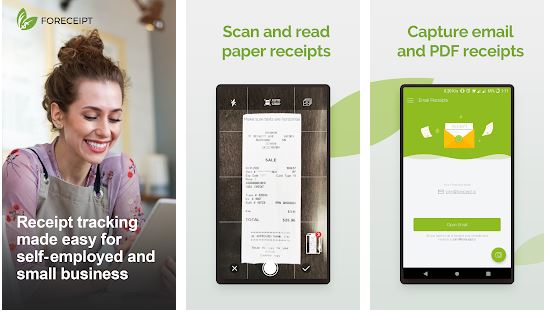 Foreceipts can be used as a monthly budget tracker. You can always look at your budgets while working on this app without worrying about the data security and multiple currency. The high-quality camera results of this app also make it a great picture scanning app.
Get real time processing with easy navigation.
The monthly budget planner and data security are the key features of this application.
This app can be used in multiple currencies as well.
Get an easy to use app for receipt scanning and expense tracking.
Also Read: Top 10 Best Photo Scanner Apps for Android
---
5. TurboScan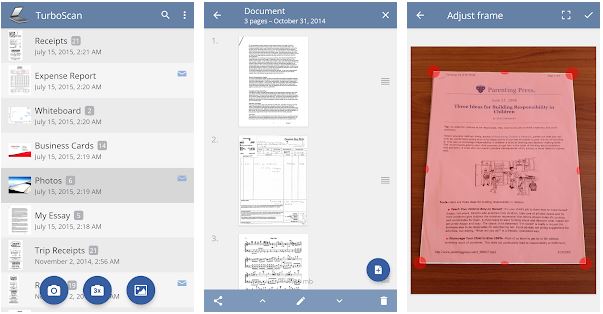 TurboScan is a one-time investment which provides you a full featured powerful multifunctional scanning tool. It is a profound receipt scanner and organizer app that offers multiple features.
It offers a special feature called SureScan which is used for sharpening the scanned images.
Just scan and save your receipts with this simple scanner app. It is the easiest way to scan receipts and monthly bills.
It offers an "Email to myself" feature. Get easy storage and easy communication of documents with this feature.
---
6. Smart Receipts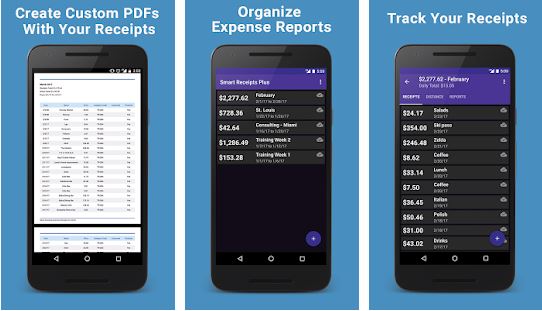 As the name suggests Smart Receipts indeed is actually smart and intelligent enough to manage and scan receipts for you. It is an impressive picture scanner app that scans bills, receipts, essential documents and files with just a single tap. Get the robust OCR tool for text recognition with this app.
This application is known for its free and open source structure.
To scan receipts with this app all you need to do is either click the photo or import the image from your device.
The most amazing feature of this app is the fact that it helps syncing your data with the google drive.
It offers an extremely neat and user friendly interface.
Also Read: Top 10 Best PDF Scanner Apps for Android
---
7. Wave Invoicing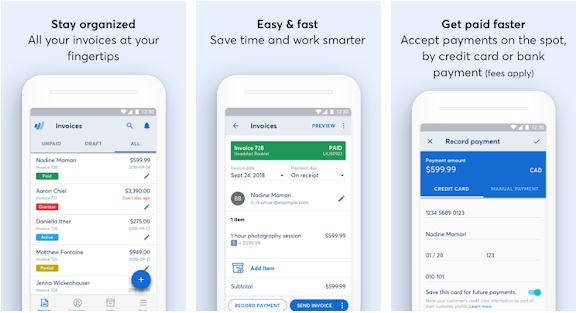 Wave Invoicing is a beautiful app focused on saving and managing your receipts. It is the lightest receipt scanner and organizer app. With this application installed on your phone you may never want to worry about losing your receipts, even if you lose your phone.
This app supports multiple scanning.
The cloud-based accounting software of wave can help you incorporate receipts with accounting.
So there is always a copy of the receipt saved with you, even if your device accidentally deletes it.
---
8. Abukai Expenses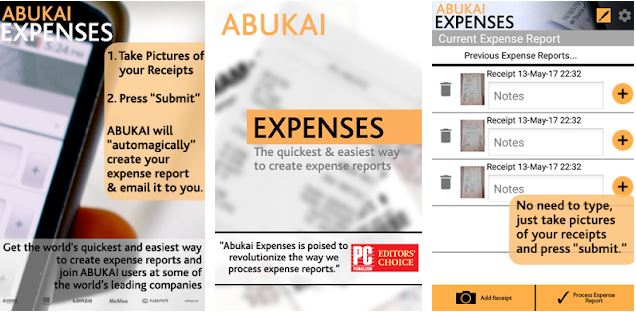 The Complicated task of saving your receipts and managing them has been made as simple as a two-step process with this app. It saves you from all the cumbersome work connected with creating expense reports and business expenses such as typing data from receipts, classifying expenses and looking up exchange rates. Here are some of the main features of this app.
The reports from this application can be shared in any format either PDF or excel.
The free version of this app provides 12 monthly reports a year which can summarise your travel expenses.
This application has received numerous awards for its great simplicity and easy user interface.
Stored images of receipts can be easily sent to your email once you sync this free receipt scanner app with your email accounts.
Also Read: Best Free Barcode Scanner Apps for Android | Top 13 QR Code Readers
---
9. Tiny Scanner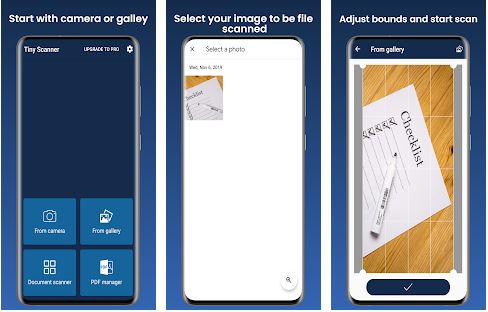 If you are looking for the most simplified way to scan your receipts, Tiny Scanner will be your right pick. It is a free scanner app that scans different documents. You can easily scan bills, articles, receipts, files etc with this Android app.
This application literally turns your phone into a portable document scanner.
It does not carry much storage space on your device.
Get a neat interface with easy navigation.
---
10. Fyle: Receipt Scanner And Expense Reports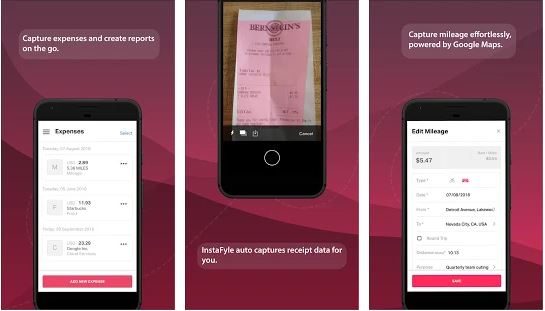 Track your payments, receipts, mileage, and submit your travel and expense reports with this AI-powered expense tracker app. In addition to this it also keeps a record of your mileage costs. This app is powered by Google Places, you can just enter the name of the place you are visiting and Fyle will keep all your records handy.
The most reliable receipt scanner app that gives you one-click expense management experience.
It easily extracts data from all sorts of paper receipts across currencies.
The most user-friendly app for employees and students.
---
Concluding Notes
If you are running your own business or managing finances in a company, it's important to know where the money is being spent. At times receipts may get lost in the ocean of documents.
That's why you need a professional receipt scanner app that can keep track of your expenses. All the apps mentioned here are excellent in performance. You are free to choose whatever suits you best.
Subscribe to Our Newsletter
Keep yourself updated with the latest technology and trends with Innovana Thinklabs Limited.