Reface is an excellent app, but the best free Reface alternatives are even better with more fun features. Read on to know them. 
Reface, previously known as Doublicat, became a sensation among millennials for its face Swap in any GIF, video, or photo soon after its launch. However, like every other application, its charm also withered out when the best Reface app alternatives came with more exciting features.
Like many other users, do you also want to switch to the best alternative to the Reface app? Then, you are reading the right article. We have carefully researched and selected the most perfect software you can use to replace it.
However, before moving on to them, let's first answer the question that you might be having, i.e., "Why do you need a Reface app alternative?"
Why get an Alternative to the Reface App
Below are some of the reasons why we think you should give careful consideration to the best apps like Reface.
Beginners find it difficult to understand and use Reface.
There is no option to create videos.
Reface's trial version works only for three days.
Now that you have the reasons to make a switch to the best apps similar to (perhaps even better than) Reface, let's look at the available options.
What are The Best Reface App Alternatives of 2021
Be whatever you want whoever you want with these exciting Reface app alternatives to replace it this year.
1. GifJif
If you are looking for the best Reface app alternatives, GifJif can be a perfect choice. It boasts quite a lot of features, such as an option to add dear ones to the GIFs and memes.
Moreover, you can use this application to cut faces and add text to your content. The application also boasts an extensive library of over 15000 GIFs from the world of movies, sports, and TV.
GifJif allows you to share your creations through Twitter, Facebook, Text, and Instagram effortlessly. Furthermore, the Pro version of this application also allows you to add text on top of faces, create your own Gif library, use face cutting, and add/edit/replace watermarks.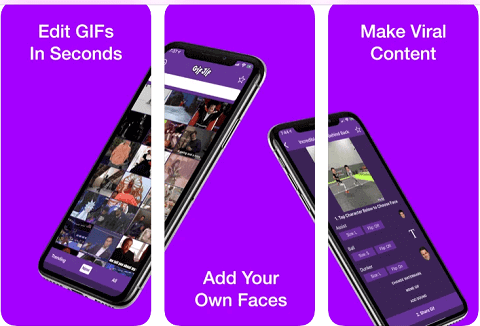 2. Incredimoji Celebrity Face Swap
Next, we have Incredimoji on our list of the best free Reface alternatives. With this application, you can swap and replace your face with any celebrity, emoji, rapper, politician, or any other famous influential person.
What attracted us to this application is that it makes life-like replacements. Its live face filters move and talk as if you are moving or talking for real.
Furthermore, there are many awesome animations, filters, and custom 3D graphics to make face-swapping even more exciting.
You can use your creations as Instagram, Facebook, or Snapchat stories. Further, you can also send them as a direct message via iMessage.
Want to include a friend in the fun? Well, Incredimoji also allows you to Swap multiple faces simultaneously.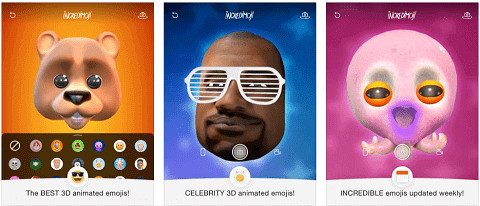 3. GifYou
GifYou is another Reface app alternative that we recommend. It is a personalized GIF and meme maker with a simple interface.
The application boasts some incredible face-swapping capabilities. It automatically adds your photo to the GIF when you take a photo. Moreover, you can also choose a picture from your image gallery or camera roll.
It also allows you to mark your best creations as favorites and keep them in one place. The application also has an enormous library of GIFs and stickers categorized into various categories, such as music, news and politics, nature, emotions, etc.
GifYou lets you use your GIFs on social networks as well.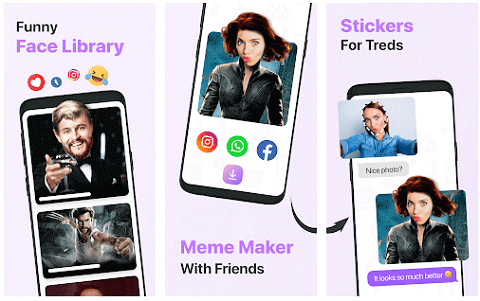 4. iface
Our next pick for the list of the best alternatives to Reface app is iface. The free application is quite simple with an AI-powered face swap. You can use this app to customize face Swap videos from platforms like YouTube as well.
You can also use the application to create customized stickers with your or your friend's face. And, share your creations via social media platforms, such as Instagram, Snapchat, Twitter, and Tiktok. It also allows you to edit tags, categories, descriptions, and privacy settings.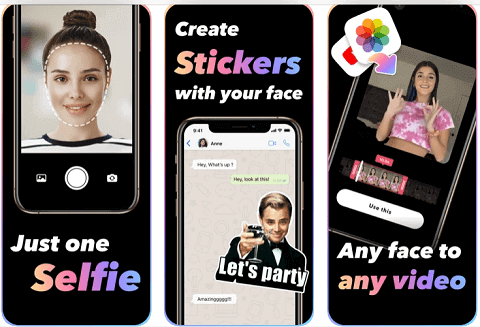 5. Dopameme
Here comes our next addition to the best free Reface app alternatives. You can do a lot more with this application than just face-swapping.
With this application, you can caption photos, combine multiple images together, and caption GIFs. It also allows you to merge GIFs and images in any way you like.
You can also use this application to compress GIFs, create stunning GIFs without the app adding a watermark to them.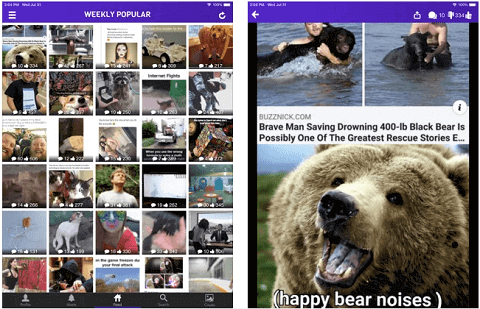 6. JibJab
If you need the Reface app alternatives for PC specifically to create eCards, JibJab is a perfect choice. With this application, you can create electronics cards for almost every occasion, such as birthdays, Halloween, etc.
And, as you may have guessed, your face on the eCard is what makes it so special. The best part is that you do not even have to download anything. All you have to do is click on the Signup button to start JibJabing.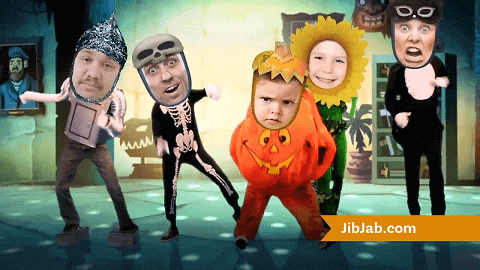 7. Animate Me
GIFs can instantly lighten up any conversation. And, when the GIF has your/your friend's face on it, they become more special. Therefore, here is a simple yet creative GIF maker for you.
What makes it the best alternative to the Reface app is its features. For instance, with this application, you can put your face in funny GIFs, eCards, videos, and photos. You can add custom sound effects, text, and animated stickers to your creations.
Furthermore, it also lets you adjust the pitch and volume of any recording/audio you want to add. And for people who are a fan of cartoons, it allows you to cartoon/Elf yourself with unique effects, stickers, and filters.
Sharing the GIF is also pretty easy with this application. It lets you share your creations through iMessage, Facebook, TikTok, WhatsApp, and other social media applications.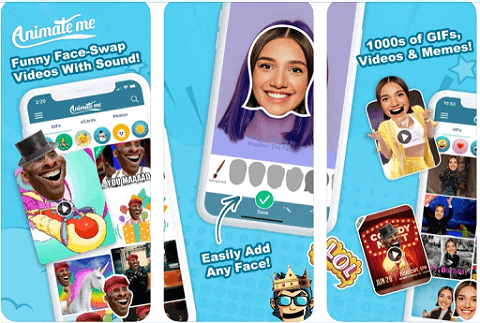 8. CopyCat
Next comes CopyCat on the list of the best alternatives to Reface app. With this application, you can not only face Swap but also translate the videos into 50+ languages.
You can use this app to create any kind of videos, social media posts, lip syncs, and other such interesting content. The Pro version allows you to create content in HD if you want. Moreover, you can share your creations on TikTok and Instagram to expand your audience.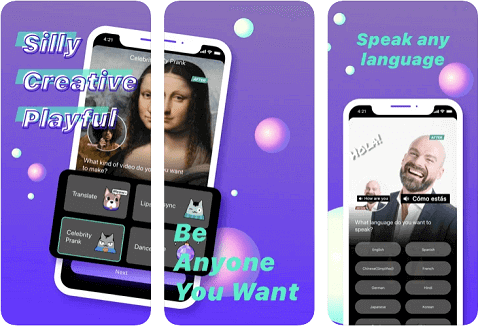 9. Face Swap Live
Here is another application to switch faces in real-time. It not only lets you swap your face in static photos but in moving videos as well.
The application also lets you swap your face with friends. All you have to do is point the camera at your and your friend's face to watch the magic happen.
To make the face-swapping even more interesting, you can add 3D filters, beards, hats, glasses to the faces.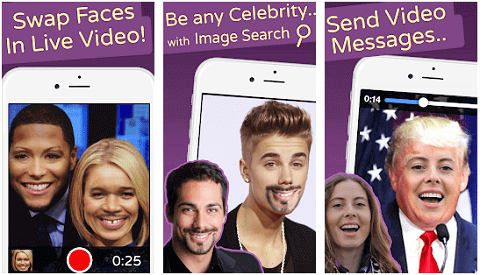 10. FaceMagic
FaceMagic is another magical free Reface app alternative to swap faces easily. This application needs only a single selfie to let you create any funny video or photo.
Do you want to make your friends a part of the face-swapping fun? Well, you can do that with the multiple face swap feature of this application that allows you to swap many faces simultaneously.
FaceMagic also allows you to share your creations with audiences on Instagram, Facebook, Snapchat, and Twitter.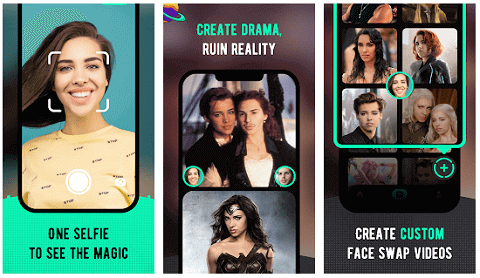 Concluding the Best Free Reface Alternatives
Above were the best Reface app alternatives to swap faces in any photo, video, GIF, etc. effortlessly. You can choose any of these applications as all of them perform outstandingly well.
If you know any other better alternatives, share them through the comments section, so we can review and include them on our list.
For more app recommendations for iOS, Android, and Windows, subscribe to this blog and add it to your bookmarks.
Subscribe to Our Newsletter
Keep yourself updated with the latest technology and trends with Innovana Thinklabs Limited.