Scanner apps are the new-age tools that offer go-to scanning solutions. All you need is a smartphone along with the camera. You can easily take a photo of any paper with your Android device and scan it in seconds with the help of a brilliant scanner app for Android phones.
Also, scan to PDF tools offer multiple value-added benefits. You can use it to generate PDFs, for an image to text recognition, and also for QR/barcode scanning.
Are you looking out for a reliable scanner app? Here are our best picks of 2020.
Top 10 Android Scanner Apps for Clear and Sharp Scans
Refer to this well-researched and thoroughly crafted list of high-performing scanner apps. We have carefully selected some of the best apps that offer smooth and fast scanning experience with accurate results.
1. FlashScan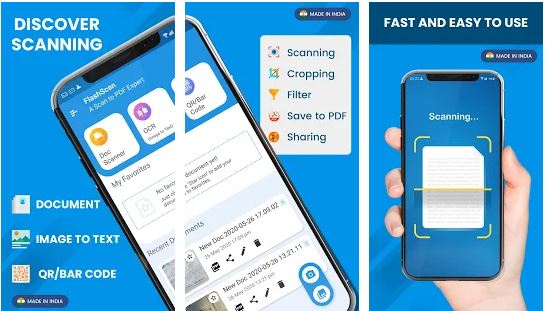 One of the best free scan to PDF apps is FlashScan. It tops the list because of its high performance and sharp scans. It is one of the most comprehensive scanner apps that offers many useful functionalities. This camera scanner app is so convenient that it lets you take a photo of any paper with your Android device and scans it in seconds. Here are some of the main features of this app.
This PDF document scanner app scans almost every type of paper. It generates sharp PDFs in no time.
It also offers a robust OCR. You can extract text from images and translate them in multiple languages.
FlashScan offers interesting post-scan editing filters.
This PDF scanner for Android devices works well as a PDF Viewer tool, and offers multiple operations on PDFs.
You can generate different PDF page sizes and place a signature on them.
Anti-counterfeit and password protection are its other popular features.
It is an extremely easy to use scanner app with a neat interface.
2. Fast Scanner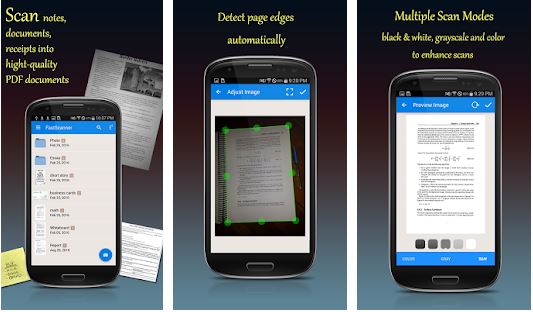 As the name suggests, this free scanner app is well known for its speed. It takes almost zero image processing time and scans images quickly. Fast Scanner scans various types of documents using your device's camera. Here are some of the features of this simple and smart app.
This PDF document scanner app assists the conversion of scanned documents into JPEG or PDF files.
Fast Scanner lets you save, share and post-edit your scans easily.
This app supports PDF reading also. Users can view PDF books and files with Fast Scanner.
The freemium business model is more than enough for all the standard scanning requirements. But for extra benefits you can always go premium.
Also Read: Top 10 Best Receipt Scanner Apps for Android
3. TurboScan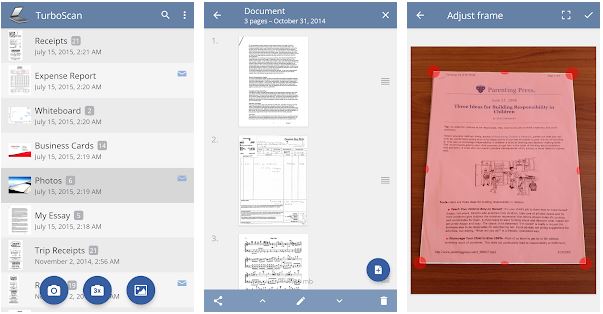 Yet another multi-functional and best free PDF scanner app is Turboscan. It turns your phone into a feature-packed robust scanner. This one-time investment tool is a quick scanner. You can scan bills, receipts, notes, whiteboards, photos, etc with this app. Check out the main features of TurboScan.
You can convert your scans into PDF and JPG file formats.
With the"SureScan" feature you can enhance your scanned results.
Get easy storage and quick communication for free with the "email-myself" feature.
TurboScan offers a straightforward interface along with easy navigation.
4. Adobe Scan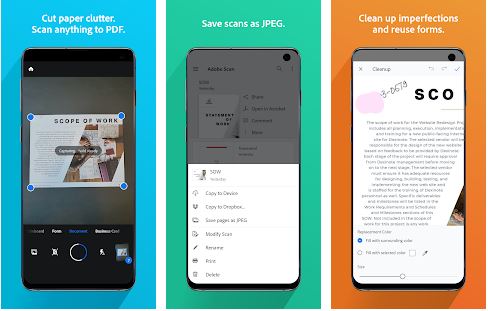 This PDF scanner app for Android devices enables you to scan notes, bills, forms, documents, receipts, images, etc. You can also convert your scans into a PDF file format. Just point your phone to the document and Adobe Scan will automatically recognize and scan it.
This free scanner app can reorder the pages for you in a hassle-free manner.
Get an in-built OCR for text recognition.
It also offers a Batch Scan feature.
You can put all the scanned files into a single PDF file with Adobe Scan.
Also Read: 10 Best Business Card Scanner Apps for Android 
5. Clear Scan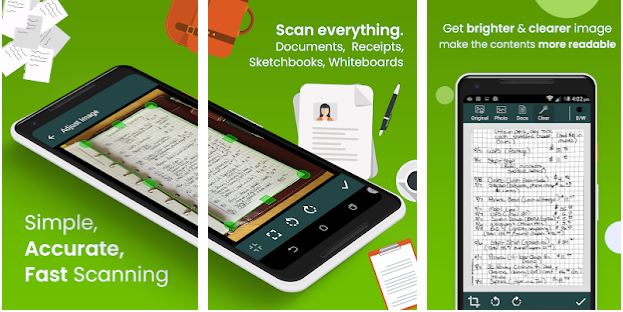 Clear Scan is one of the lightest scanner apps. With Clear Scan, users can scan any images and essential papers directly from their Android devices. You can convert file sizes effortlessly with Clear Scan. It provides fast-processing and offers the below-mentioned features.
Users can also print the scanned documents or pictures through the Cloud Print.
Get access to many post-scan editing filters with this app.
It enables you to save many pages within one document with a single tap.
Clear Scan lets you easily set the different page sizes for your PDFs.
6. Tiny Scanner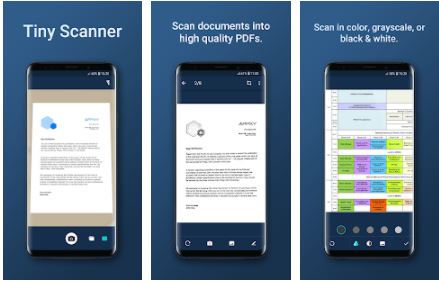 Tiny Scanner is a lightweight mobile scanner that provides all the standard scanning features. Get started with Tiny Scanner now, as the app does not ask for any log in before use. You can scan various papers with this scanner app for Android.
Tiny Scanner operates fast and generates sharps scans.
The auto-edge-detection helps to scan any image accurately.
Get five levels of contrast and a quick search by the "Search" tool.
This scan to PDF app offers in-app purchases.
Also Read: Top 10 Best Photo Scanner Apps for Android
7. Smart Doc Scanner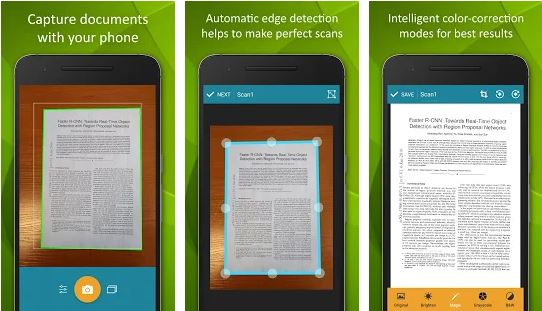 Get many top-notch features for document scanning with the Smart doc Scanner app. It supports JPEG, PNG, BMP, GIP, and Web formats. This scanner app offers a robust OCR tool. Get more than 40 language-support with a free OCR.
Set different page sizes for your PDF files with this app.
Users can password-protect their files to block unauthorized intervention.
This app also offers crop and zoom features for better scans.
8. Notebloc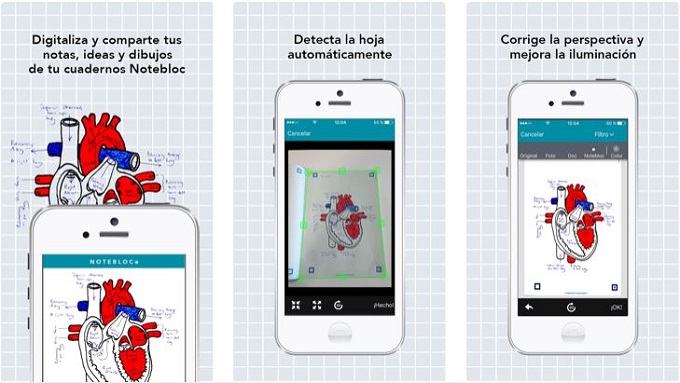 It is perhaps the only scanner app for Android devices that offers log-in free scans. You will also get watermark-free scans with Notebloc. This PDF scanner app generates clear scans and sharp PDFs with just a few taps.
It is an intuitive scanner app for Android that effectively removes traces of shade in the clicked images.
Get a free in-built OCR tool with more than 18 different language support.
Scan various pages and add them to a single document with the Notebloc.
Also Read: Top 10 Best PDF Scanner Apps for Android
9. Microsoft Office Lens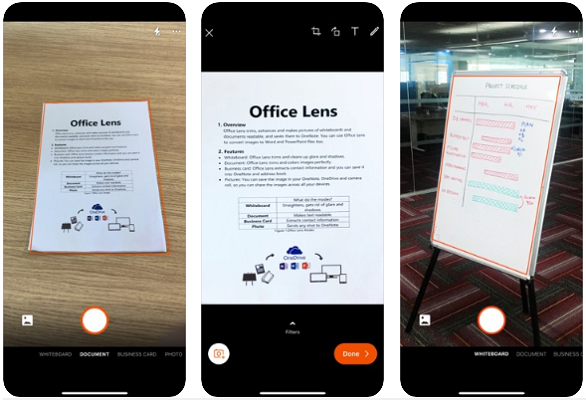 Microsoft Office Lens is an intelligent tool developed by the popular tech giant Microsoft. It scans bills, receipts, invoices, documents, etc for free. Here are some of the interesting features of this PDF document scanner app.
It is quick and very easy to operate.
This app is equally productive for both study and business purposes.
You can save your files to OneNote, OneDrive with this app.
It is an add-free app and does not have any in-app purchases.
10. Genius Scan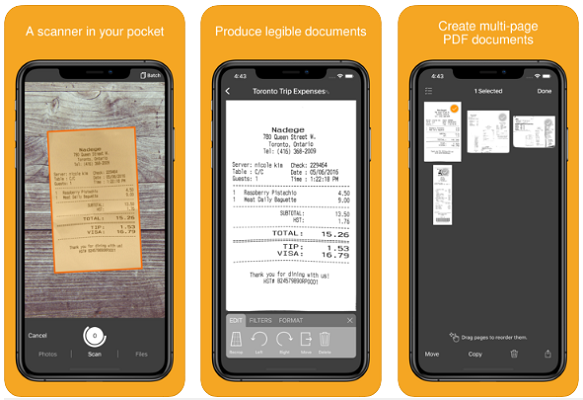 With Genius Scan you get high-quality scans and a boatload of other useful features for free. It is a powerful scanner app for Android phones that scans almost everything. It supports both PDF and JPG file formats.
Get instant and sharp scans with this free scanner app.
It lets you choose different page layouts for PDF files such as A5, A4, and A3, legal, letter, etc.
Get an effective Batch Scan tool to scan multiple images.
You can backup and restore all your scanned data with this app.
Concluding Notes
So, this was our curated list of the most professional scanner apps for 2020. Microsoft Office Lens, Tiny Scanner, etc are the advanced scanner tools with pro-scanning functionalities.
We have also shared easy to use document scanner apps like FlashScan, Genius Scan, etc, that come with tonnes of pre-loaded features. Any app that fits your requirements will be the best scanner app for your Android devices!
Subscribe to Our Newsletter
Keep yourself updated with the latest technology and trends with Innovana Thinklabs Limited.