Switch your smartphone into the scanner to capture all the documents, pictures, business cards, and so on. Read on to know about the best scanning apps for iPhone!
Technology has made everything so easy that we don't need to pay any extra efforts to achieve the feat. At this present era, where being digital is everything. Many of us face a situation where we are in a dilemma on how to keep our important IDs, documents, notes, business cards with us all the time. Henceforth, now the time to say bye-bye to that problem. That means now you can fully able to keep all the important documents, IDs, business cards, and many more with yourselves. By using scanning apps, you can make your own phone a scanner. Scanning apps can capture your document and converts it into a reliable format. In this composed note, we've suggested the best scanner apps for iPhone. Hence, read on to know more about the same.
Top 7 Best Scanner App for iPhone
Are you also looking for an app that scans all your documents easily and quickly? Then, you are on the right path here, you'll going to know about the best scanner app for iPhone. Along with scanning, all the below-referenced apps are highly programmed with the latest technology that automatically detects background and makes your document or images a bit more clear.
1. FineScanner – Doc Scan to PDF
FineScanner is the top-ranked scanner app for iPhone and iPad. It is empowered by AI technology that quickly captures documents, pictures and many more to create digital copies in various formats like JPEG, PDF, etc,. Moreover, FineScanner has been awarded as the superstar document capture award. FineScanner is the leading scanner app in almost 98 countries.
One of the glorious features of FineScanner is that – it is able to pluck text from the scans in the TXT format without having an active internet connection. You can also set the shortcuts by opening scans with Siri. Finescanner is supported by a 3D touch experience. Users can able to print out directly from their iPhone and iPad. And also save the outputs in the app's built-in storage feature.  The only shortcoming of this app is that its free version has ads, and for advanced features you have to be on any of its subscription plans.

2. CamScanner – PDF Scanner App
Another app that swirls your iPhone into a scanner to create digital copies of your documents, pictures, and so on is – CamScanner. Around 400 million users have shown their faith towards CamScanner. CamScanner boosts the scan quality by making the texts and graphics sharper and clearer.  Its smart cropping features lets users crop the document as per their need. You can also create your E-signatures and share it with your employees, lawyers, and anybody whom you want to. CamScanner is the best scanner app for iPhone.
With CamScanner, you can also customize your documents by add-up watermarks, notations, and so forth. Users can easily share documents in PDF and JPEG format with the respective individuals through social media platforms. CamScanner also takes care of your privacy, that's why it lets you set the passcode to your important and confidential documents. Recently, its new update has been rolling and allows users to add-up the filters to the saved pictures so that the batch processing of the pictures enhances. Via AirPrint, one can easily take out the print from the nearest printer.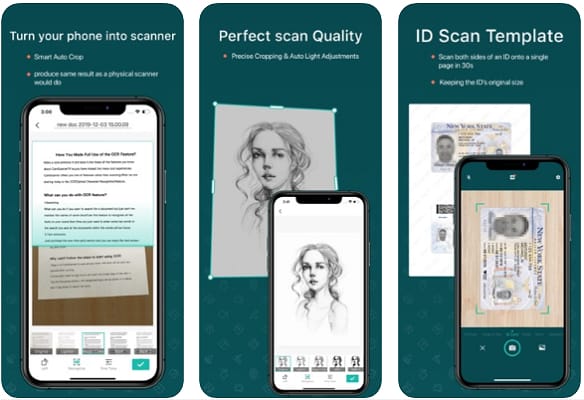 Also Read: Best Translation Apps for iPhone or iPad
3. Genius Scan
If you are also looking for a pocket scanner then you must give a try to this amazing scanner app – Genius Scan. Genius scan is a well-designed scanner app that creates a bunch of pages for PDF documents. Highly-compatible with all types of documents and organize your documents in a systematic way. You can export documents and also share them with others from right here on various other social media platforms. Approximately, 20+ million users have trusted on Genius scans.
Just set-up the camera ahead of the document that you want to scan. Afterward, Genius Scan will automatically scan the documents and also filters it by clearing, cropping the document. For users privacy, Genius scan allows users to set a Face ID lock on particular confidential documents. Users can customize and organize documents by naming, labeling, filtering, background extracting, and more. And Genius Scan is a complete freeware application. Genius Scan is the great scanning apps for iPhone on our list.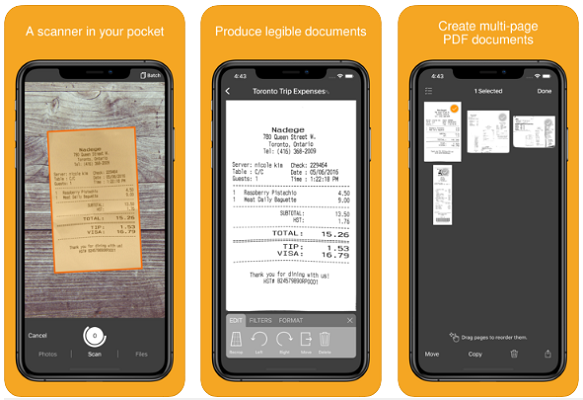 4. Adobe Scan Digital-PDF Scanner
One of the top-notch scanner apps on our list is – Adobe Scan Digital-PDF Scanner. It is the best free scanner app for iPhone. Adobe scan digital PDF scanner is the portable app that scans text automatically. It is not just a PDF scanner, user can use this to tweak anything like notes, business cards, documents, pictures, and many more. Its highly programmed image technology automatically extracts the background and sharpen the text or scanned content for better outputs. You can customize your document to make it more clear and effective by adding filters, tags, even change handwriting, etc. For quick access you can save PDF and scanned documents on the Adobe cloud. Rename files, adjust colors, share files directly from the file app are some features that make it a pro scanner app.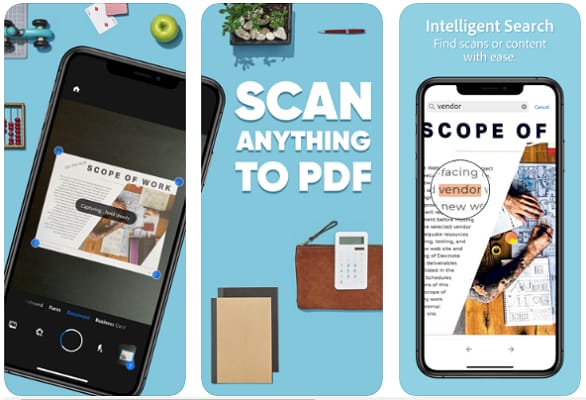 5. Microsoft Office Lens
Microsoft Office Lens makes the pictures, documents, whiteboards more notable and readable. As the name suggests, it is able to transform the files into the word and PowerPoint presentations as well. You can digitally create notes on whiteboards and blackboards. With this, you can take out your hidden talent of sketching and drawing. That means you can create a sketch for further plans. Its whiteboard mode enables us to clean, trim, and luster shadow in our documents. Whereas, document mode enables us to make an image more clear. Users can save pictures to onedrive, or cloud storage. You may have the option to convert pictures to many file formats which are – .docx, .pptx, .pdf.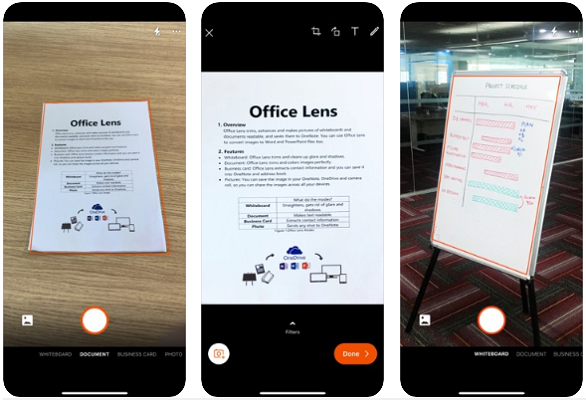 Also Read: Best Email Apps for iPhone
6. Evernote Scannable
Evernote Scannable is yet another best iOS scanner app. Evernote makes everything scannable including business cards, pictures, notes, documents, or any form of paper. Evernote Scannable automatically clears the background, makes the text more brighten to get easily recognizable. Users can easily share documents and files through mail or text. Users can be able to export files to Evernote or any other social media app in PDF and JPG format. Evernote Scannable is a complete free kit to scan anything clearly and sharply.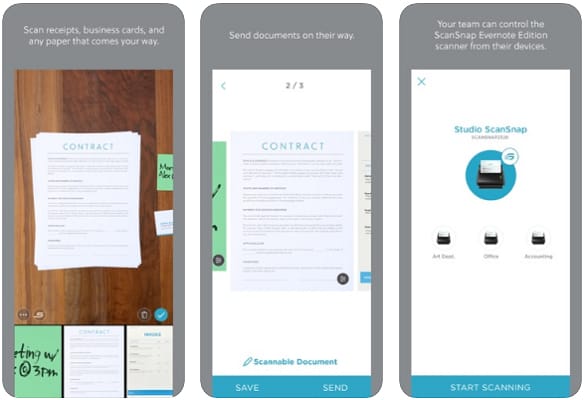 7. Wordscanner Pro
Wordsccaner pro lets you scan the documents, pictures, notes more clearly and easily convert them into PDF. Its easy interface helps users to quickly operate the functions of scanner pro. Organize multi-page PDF documents and consistently scan documents in batch processing. It makes your document more readable and clear. Wordscanner Pro uses highly professional algorithms to enhance the image. With wordscanner pro users can set the categories for the documents to get instant access.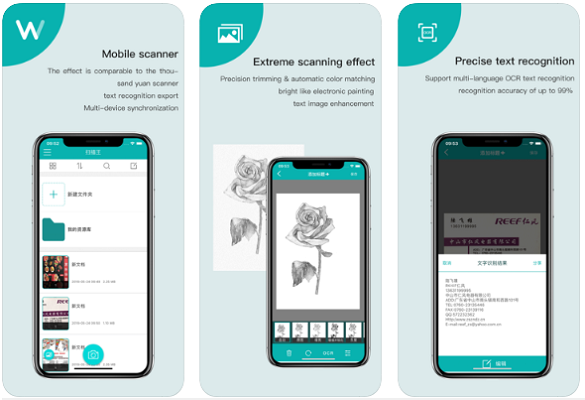 Keep Scanner in your Pocket always
When everything is going digitally it has been quite easier for us to keep all the important documents, IDs, pictures, notes with us every time. Earlier for scanning and printing, we used to access a scanner or printer but, now we can turn our smartphone in a scanner. This is how technology gives us so much and makes our work easier. By using scanner apps you can easily scan every document, pictures, or any form of paper. Above mentioned are some of the best scanner apps for iPhone that makes everything scannable.
Subscribe to Our Newsletter
Keep yourself updated with the latest technology and trends with Innovana Thinklabs Limited.