Football or Soccer is not just a game; it is a religion for many people across the globe. That's why footballers experience such a huge fan following. However, the COVID 19 pandemic has abandoned live sports, including live football matches also. Hence, it is quite a tough time for every football fan across the globe as there is no live Football action for them. They cannot even play football with their friends. But don't worry, we have brought something great for you. Today, we are going to discuss some best soccer games available for Android and iPhone in 2020.
You can enjoy some intense football action even in this lockdown period by playing some exciting football games. Whether you prefer to play online multiplayer games or want to play some offline games, we have something for everyone. So without wasting further time, let's have a look at the list of some best football games in 2020.
5 Best Soccer Games for Android and iOS Smartphones
Here, we have listed some of the best soccer games available for Android and iPhone. Along with online games, the list also contains some good offline football games.
1. FIFA Soccer
Our list starts with one of the most popular video games in the world FIFA Soccer by Electronic Arts. The mobile game is named after the biggest football tournament, FIFA. If you want to experience close to real FIFA action, then this is one of the best online soccer games. The game has everything that a real football fan requires. It has real players, real teams, and even real stadiums. You can play this one of the best football games with your friends, as the game has a real-time multiplayer option. FIFA Soccer is the most complete football game, as it has various real football tournaments, including Premier League, La Liga, UEFA Champions League, etc. This one of the best online soccer games is available for both Android and iPhone.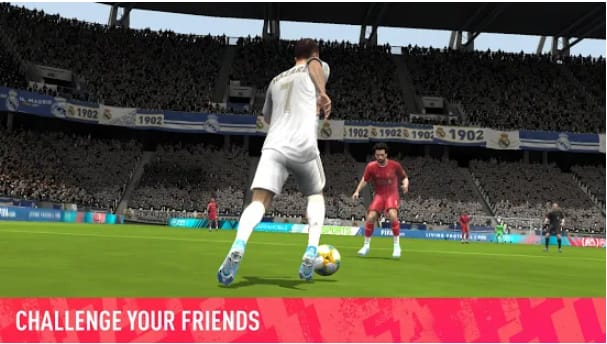 Also Read: 10 Best Arcade Games for Android Device 
---
2. Final kick 2020
Final kick 2020 is a penalty game. It provides you with the thrilling experience of penalty kicks against various opponents. Do you remember some of the most memorable penalty kicks of your favorite players? This one of the best soccer games allows you to recreate those moments. You can experience those nail-biting penalty kicks for real in Final kick 2020. There is no problem if you don't have an internet connection, this one of the best offline soccer games can be played, even without any internet connection. Along with all these things, it is also quite simple to play the game. You can focus on making strategies to save and score a goal as the interface and controls of Final kick 2020 are quite simple. The game can be played on Android and iPhone both.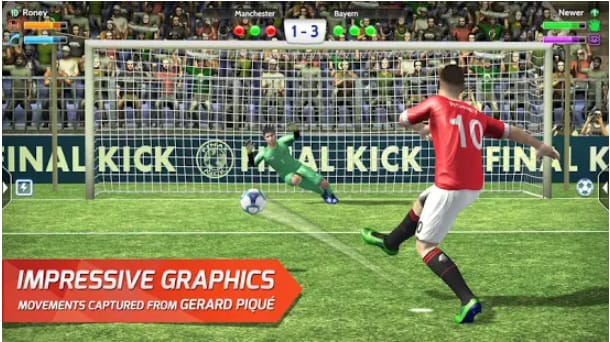 ---
3. eFootball PES 2020
eFootball PES 2020 is another soccer game on this list loaded with some amazing heavy graphics. Along with stunning graphics, this one of the best football games allow you to show your skills to other players as well. It is an online multiplayer game that you can play with your friends and other players of the game across the globe. However, it may lag on the devices with low RAM and storage space. Hence, it is advisable to play this game on the smartphone with high RAM and storage space. The game allows you to play as your favorite player. You can create teams and can even purchase new teams in the game. The most important feature of this app is that it also allows you to select some past legendary players in your team. You can download the eFootball PES 2020 on both the Android and iOS smartphones.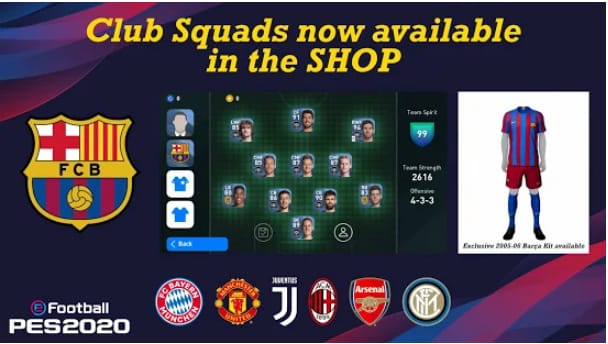 ---
4. Dream League Soccer
Here comes another realistic soccer game. Dream League Soccer is a type of soccer game quite similar to FIFA Soccer and eFootball PES 2020. It also offers a gameplay loaded with some stunning graphics. This multi-feature soccer game is best known for its customization. It allows you to create your customized team, player, and even the stadium. While playing this one of the best soccer games, you can create your dream team. You can even play Dream League Soccer offline without any internet connection. You can enjoy this game on both Android and iOS smartphones. The game also allows you to customize the skills of your player.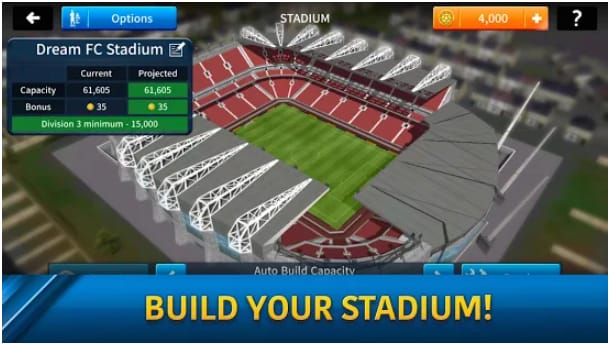 Also Read: 13 Best Snake games for Android Device
---
5. Score! Hero
At last, we have Score Hero on our list of some best football games. The game is quite different from the ones that we have listed above. In Score Hero, instead of playing as a whole team, you have to play as an individual player of the team. You have to make your football career from the starting in this soccer game. Score Hero enables you to implement your football strategies as a real player. The AI of the game is quite smart. It learns from your implied strategies and gets better as you move ahead in the game. Along with the advanced AI, the game also provides some realistic graphics.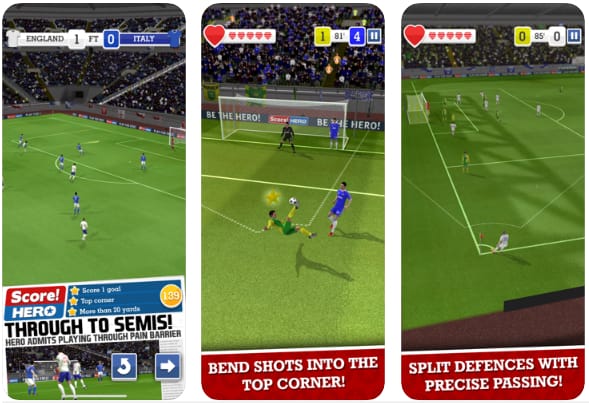 ---
These are some of the best soccer games for Android and iPhone in 2020. You can play these games whether with your friends or you can play them alone. Playing these soccer games can be a good alternative to entertain yourself during this lockdown period as well as staying connected with football action. So, what are you waiting for? Install any of the above-mentioned football games that you find best for you and start making your virtual football career.
For more information related to various other mobile games, subscribe to Innovana Blogs and bookmark the page as well.
Subscribe to Our Newsletter
Keep yourself updated with the latest technology and trends with Innovana Thinklabs Limited.