Updating Windows software is essential to protect your device & data. Thus, this write-up discusses the best software updaters and checkers that help you do it effortlessly.
The security of users has always been a prime concern of Microsoft. Almost every Microsoft product has tough to surpass security mechanisms. However, as it is said, nothing in the world is absolutely perfect. The same is the case with the Windows operating system. It has certain loopholes that anyone can exploit to steal your data. Luckily enough, Windows software updates help you shield the data from such prying eyes. However, manually updating Windows applications is a daunting as well as impractical thing to do. Therefore, you need the best software updater to be your helping hand in this process.
These software update utilities for Windows not only check for the latest available application version but also downloads it for you.
Since choosing the correct Windows update software for your device makes you have a devil of a job, we are here with the best software updater tools that you can use.
The Best Free Software Updaters 2020 – To update and Safeguard Windows applications
There is a multitude of software update utilities on the web. But, not all of them are the perfect solution for your software problems. Thus, here we enlist some of the best software updaters for Windows to upgrade outdated applications and safeguard your data.
1. Avira Software Updater
This software updater tops our list for the reason that with this utility you can completely quit the manual hunt for available application updates. All that you are required to do is, get Avira Software Updater and then leave the rest to it. This Windows 10 software updater scans and displays all the software needing an update in a blink of an eye. Moreover, you may be surprised to know that this software even fixes the flaws with applications such as Zoom and more.
Further, this program snappily gives you the download links of all the applications needing an update. And, those annoying popup notifications that remind you about updating an app won't trouble you again after you get this software.
However, there is a minor downside to this software that you need to download the updates manually.
Highlights
Fixes flaws with other apps.
Prevents annoying notifications to update applications.
It provides download links and saves you ample time.
Pros
Runs automatic scans to detect outdated software.
Boasts a well-designed and intuitive user interface.
Lists out all the out of date programs that your PC contains.
Cons
It does not let you update multiple software at once.
You don't get the freedom to schedule the software scans.
There is no automatic software update option, you need to get the software updated manually.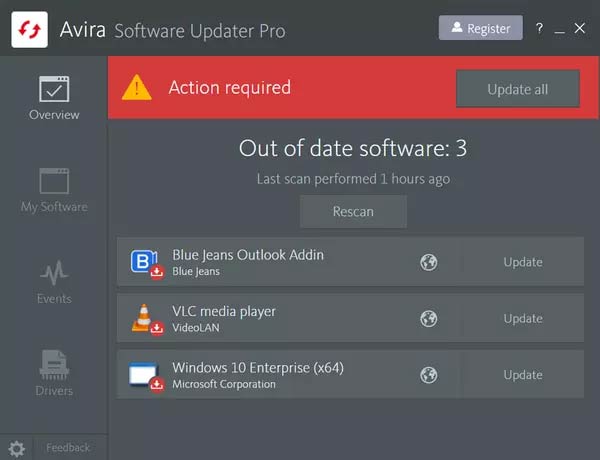 ---
2. IObit Software Updater
From one of the best software updaters to malware fighters, IObit has an ocean of utilities under its name. Software updater is among one of the members of IObit's clan. And, like the other products from the developer, it also makes an impression among users worldwide with the features that it offers.
For instance, here you get the option to update software in bulk. This helps you save oodles of time. Moreover, it also states the update's version clearly so that you may know how outdated the software that you are currently using is. Are you worried that you don't have a browser handy at the moment to download software updates? If yes, then you can rejoice as with this software, you don't need any browser to update applications.
The only con with this utility is that it offers only a few features in the free version. If you are desirous to make the most of this utility, then you need to get its pro version.
Highlights
Lets you know the update's version.
It does not require a web browser.
Pros
Any user including amateurs can use this software with ease.
If there are multiple outdated programs on your PC, then this software allows you to update them in one go.
Cons
The free version only lets you update two software a day. If you want to get rid of more outdated programs, then you need to shell out a few bucks.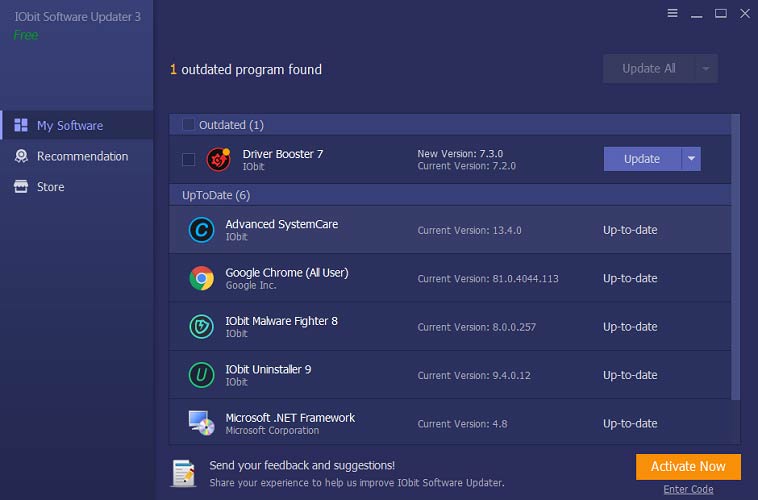 ---
3. Heimdal THOR
Heimdal is among the well-known and trusted names in the domain of apps that provide security from malware threats. This fantastic and the best Windows tool is one of the latest offerings from the developer. It quickly identifies the outdated applications and updates them without you having to make any efforts. Moreover, its clutter-free UI is what attracts users the most.
Apart from this, other features such as auto-pilot instigated us to include it in the list of the best software update utilities. It has support for almost every application that you can think of ranging from 7-Zip to TeamViewer. Moreover, if spending a few bucks is not an issue for you, then this software also doubles up as a blocker for malicious websites.
Highlights
The super exciting auto-pilot feature.
A wide range of applications such as TeamViewer.
Pros
You don't need to make any sort of effort to update the software. It does all the work automatically.
It allows you to alter the settings as per your liking.
This best software updater suggests you worth downloading programs.
Cons
Novice users may fail to use some of its features comfortably.
It updates only a few applications in comparison to the other similar software.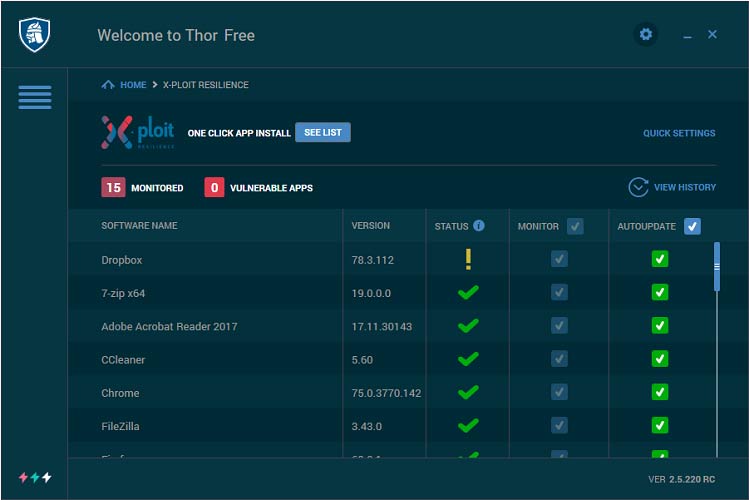 ---
4. Glarysoft's Software Update
Here's another renowned tool to update outdated software without any tiring efforts. This best software updater checks your device for outdated apps and opens the results and download links in your web browser.
Moreover, this lightweight program also lets you ignore beta versions and exclude apps from the update. And, unlike most of the other tools in the marketplace, it does not leak your personal information. However, the free version does not support automatic updates. Still, in our view, it is a worth trying software update utility for the remarkable features that it offers.
Highlights
It does not occupy much space on the device.
Lets you ignore beta versions of an application.
With this software updater, you can exclude the applications that you don't want to update.
Pros
It allows you to decide whether beta applications should be scanned or not.
With this software, you can ignore the updates that you don't want to install.
Displays the scan results in an easy to comprehend manner.
Cons
It tries to install another unneeded program on your PC.
This software only gets you the download links and you need to install the updates manually.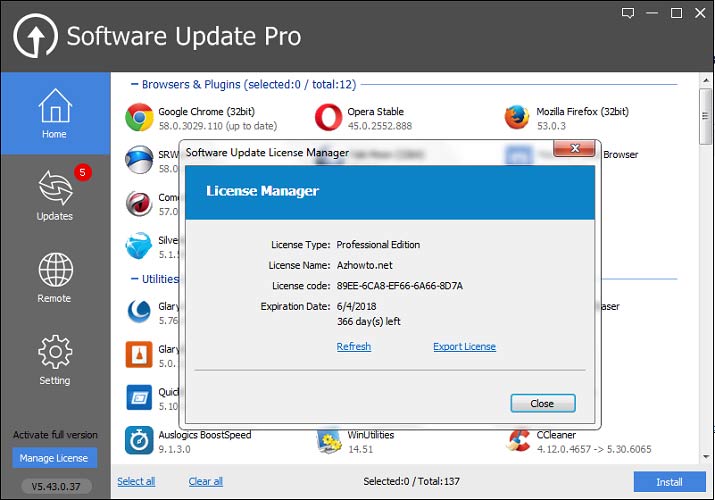 Also Know: 17 Best Free Driver Updater Software For Windows 10, 8, 7
---
5. Software Updater
This is another best software updater and checker for Windows 10 with the most straightforward user-interface. Further, it lets you download the software updates with just a single click and clearly shows the update's version number.
However, it detects less outdated apps than other tools on this list. And, does not have advanced functionalities such as enabling beta updates and app exclusion.
Highlights
Displays the update's version.
With this software updater tool, you only need just a click to upgrade outdated Windows applications.
Pros
Comes with an easy to use UI.
It downloads software updates in the twinkling of an eye.
Cons
Sometimes, it may not detect all the outdated applications on your device.
Lacks advanced features such as the exclusion of apps from the scan.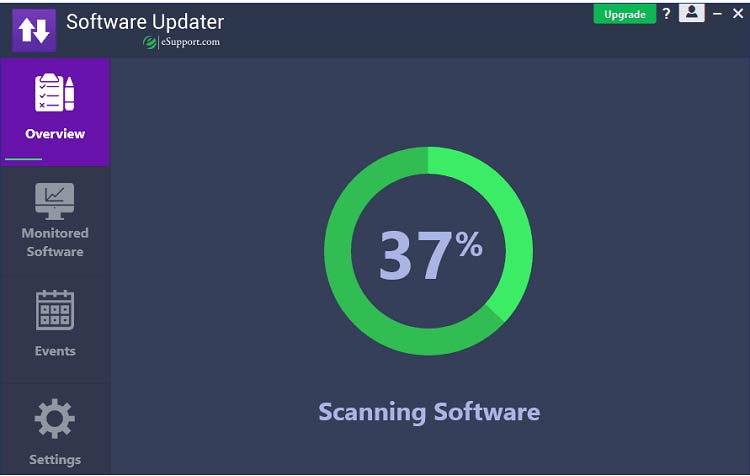 ---
6. Patch My PC
This tool downloads the updates in patches and this is what makes it different from the rest of the lot. The best part of this freeware is that you don't even need to download it on your system as it is portable.
Apart from this, like a green traffic signal indicates that you are good to go, here the green color shows you that you have the latest software version and can put your worries to rest. Whereas, the red color is an indication that you need to take a halt and update the software. And, if you want to know which incredible programs you are missing out on, then there is a black indicator that shows uninstalled programs.
This color feature makes it easy as pie for you to decide which applications need your attention the most. Moreover, its other prominent features include execution through a USB flash drive, scheduled scans, and the freedom to alter the settings such as beta updates.
Highlights
Being portable software, it needs no downloading.
The color feature to indicate updated, outdated, and not installed applications.
It lets you schedule the scans for out of date Windows applications.
Pros
It allows you to set the scan schedule.
Encompasses support for an ocean of applications and programs.
Cons
The UI seems a bit complicated and cluttered.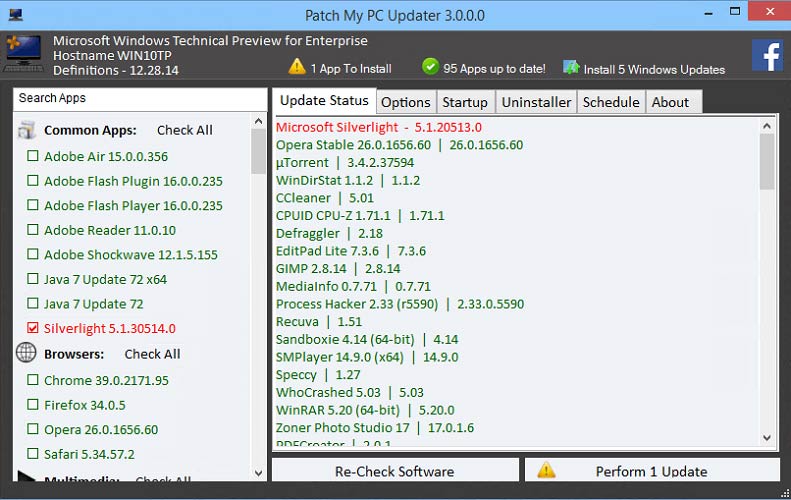 ---
7. SUMo
This is another best freeware for all your software update requirements. Although it is a bit slow in scanning your system, still it boasts several good points that make it feature on this list.
Moreover, it also indicates whether a program requires a minor or major update so that you can decide you want to upgrade it or not. Further, it also works as a portable program.
However, it has a major con that you need to hunt for download links on the Internet as it does not provide them.
Highlights
Indicates whether the available software update makes major changes to the way of application's performance or just a few minor tweaks.
You can use this software without even downloading it on the PC as it is completely portable.
Pros
Lets you update a plethora of software.
The UI of this software is user-friendly.
Cons
When it comes to the search speed, it is not among the fast software updaters.
It does not offer you the functionality to schedule software scans.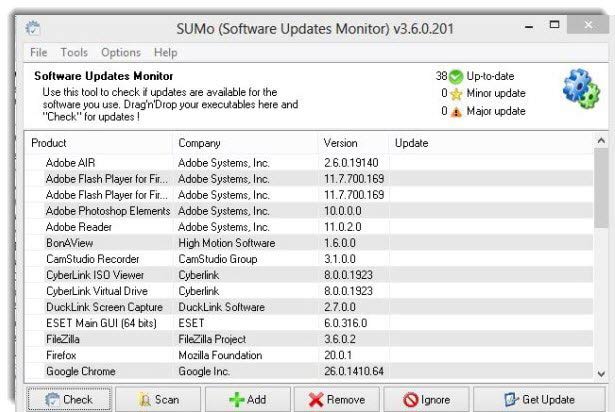 ---
8. Ninite
So many outdated software and not enough time to update them, is this your current situation? If yes, then Ninite Software Updater is among the utilities that you can use to update multiple applications at once. With its bulk download feature, you can upgrade all the outdated software installed on your PC in a jiffy.
Moreover, it downloads software updates only from the official website of the developer so that no virus creeps in your system disguised as a software update. The easiest way for hackers to invade your device is through adware and an unauthentic update. Therefore, this best software updater blocks all the adware and suspicious-looking updates. This means that with this tool, not only you can update outdated software with ease but also shield your device at the same time.
Moreover, this software does not block your screen and works quietly in the background. And, you don't even need to hunt your device for the updated application as it installs all the apps in their default location so that you can find them with ease.
It is one of those utilities that leave no stone unturned to keep your security intact with features such as digital signature verification, toolbar blocking, and keeping installer's reboot requests away.
Highlights
Quick updating of software in bulk.
It downloads software updates only via the official website.
Functions in the background without blocking your workspace.
Verifies digital signatures before downloading any update, blocks suspicious toolbars, and reboot requests for added security.
Pros
It is among the most secure software updaters that we have used.
The UI is simple enough so that both techies, as well as amateurs, can use it comfortably.
Cons
It may sometimes take a bit longer to finish the software scan.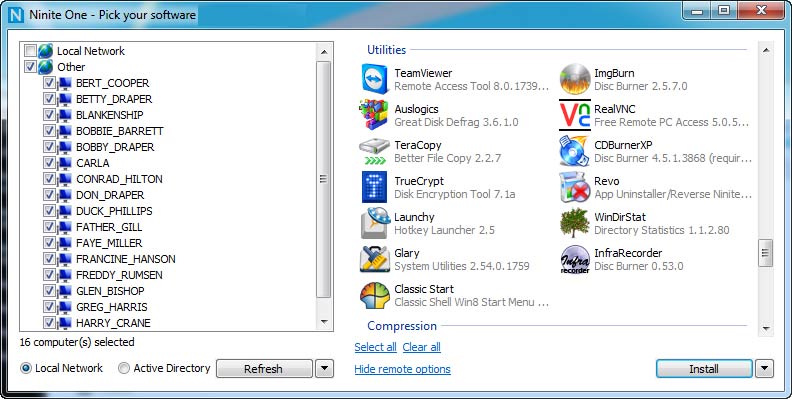 ---
9. PC App Store
If you are looking for a software updater that automatically runs PC scans and notifies you about the apps that you need to pay heed to, then here's what you need. Further, its UI is designed in a manner that anyone can use it and update software.
Moreover, it lets you exclude an application if you do not want to update and makes it an easy-breezy process to download updates. It also has an uninstallation option for the apps you don't want to keep in your device. The best part is that you don't even need a web browser for doing all this. In our view, this application is among the most incredible products developed by Baidu to date.
Highlights
Automatic app scans and notifications.
App uninstaller for the applications that you want to remove.
The most user-friendly and intuitive UI.
Pros
It lets you download updates even if you don't have a web browser at your disposal.
Lets you uninstall the applications that are no longer required.
Cons
Downloads updates at a bit slower pace than the other software on this list.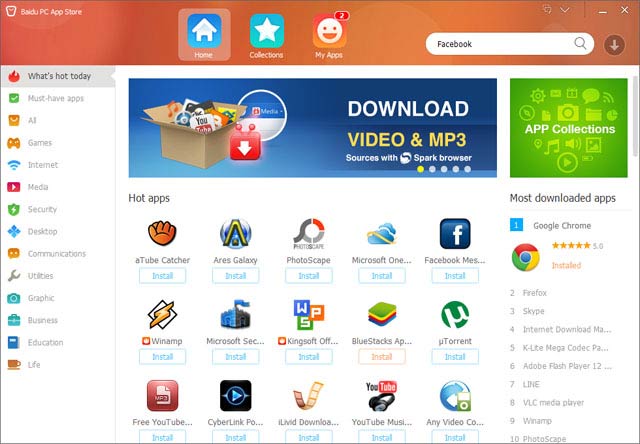 Also Know: Best Free PDF Reader for Windows 10, 8, 7
---
10. Update Notifier
As the name suggests, this best Windows update software continuously monitors and notifies you about the outdated apps. In addition to this, it also enables you to exclude apps from an update and build a watch list to get email notifications.
The only downside is, you cannot download updates from within the program. You require a browser for downloading software updates. Apart from this limitation, it is a power-packed software updater encompassing features such as scan scheduling, several filters, background run, start-up delay, and more.
Highlights
Continuous checks for outdated software.
Email notifications and watch list building.
The option to schedule software scans.
Pros
This software allows you to run app scans as per timings that suit you the best.
Its UI is simple as ABC so that users with even minimal tech knowledge can use it with ease.
Cons
It does not support automatic update downloads.
You need to have a web browser to update apps with this software.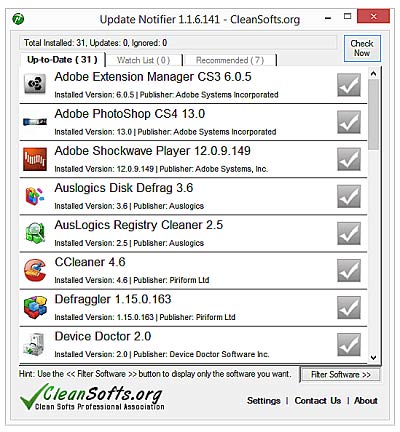 ---
11. SolarWinds Patch Manager
When the talk is about our favorite and the best software updaters and checkers for Windows 10, the name of SolarWinds Patch Manager is unskippable. It continuously monitors and lets you automatically update both Windows as well as third-party applications.
Moreover, its one of the striking features that made it a part of this post includes a unique PackageBoot technology. With this technology, it rolls out a new update patch whenever you face any issue while updating the apps. It comes with a free trial for 30 days.
Highlights
Scans and updates third-party apps.
PackageBoot technology to fix application update issues.
Pros
The perfect software update utility for heavy users such as IT admins.
It scans the PC for outdated software really quickly.
Cons
It only offers a 30-day free trial, after its expiry, you need to buy the pro version.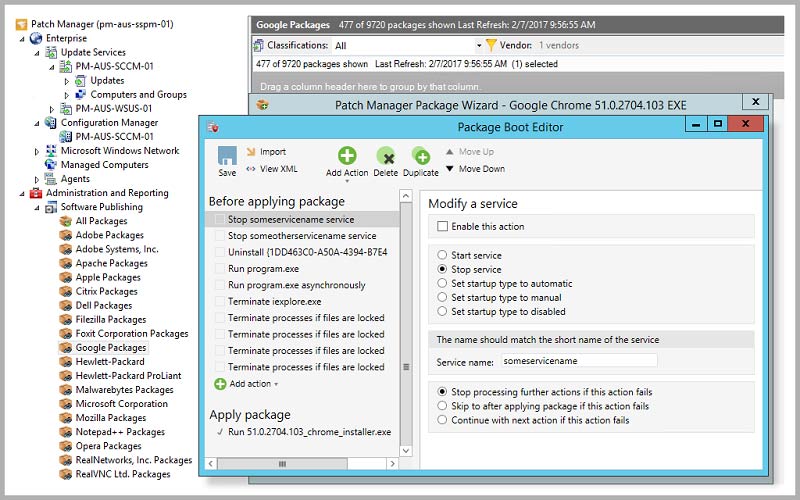 ---
12. OUTDATEFighter
Here comes another freeware that is also one of the best software updaters currently available. In addition to applications, it also scans the downloads for viruses so that your system stays protected.
Apart from this, it also includes a program uninstaller and tool to upgrade windows. Moreover, it also supports Windows server 2008 and 2003. The best part about this software is that you don't need to follow a lengthy series of steps to update any Windows software, just click once and you are good to go.
However, since nothing on the planet is con-free, this software also has a noticeable downside that it does not let you schedule app scans.
Highlights
Scanning of downloads so that no virus can bypass the security of your PC.
Uninstaller to drive the unneeded applications away from your device.
Pros
Makes sure that no virus infected update is installed on your PC.
With this software, you can ignore the updates that seem unimportant to you.
Cons
You cannot schedule the software scans as per your convenience.
The number of outdated programs that it detects is less than other tools.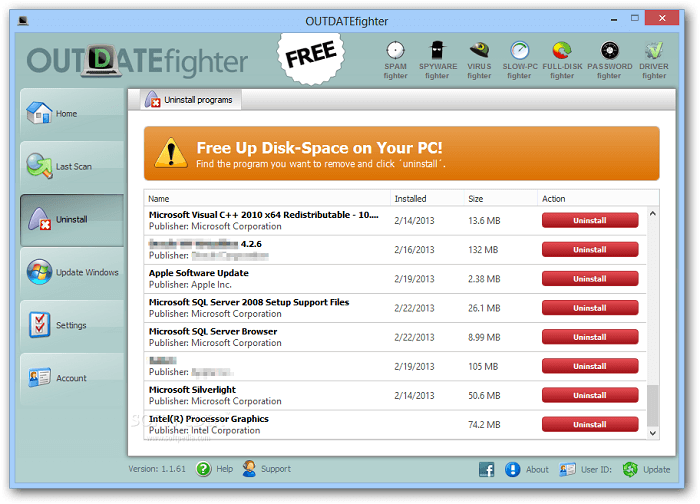 ---
13. UCheck Software Updater
This software updater on our list is among one of the best update utilities. What makes it feature here are the incredible features such as it prevents installation of software that offer you annoying toolbars. Moreover, this software requires only minimum effort from your end to update software.
Apart from this, if you need software that even updates portable applications, then perhaps this software is where your search ends. This is not all and with this software, you get several other features such as task scheduling, cache download, skipping reboots, program uninstaller, and more. Moreover, if you are thinking that this feature-rich utility hogs device space, then the same is not the case as it is completely portable.
Highlights
Prevents the installation of applications with irritating toolbars and offers.
Lets you update even the portable applications.
You can use it without installing it on the PC via a USB flash drive.
Pros
It is among the fastest tools to scan for outdated software.
The UI is minimalistic, user-friendly, and intuitive.
Cons
Not all the features of this software are free, you may need to pay to use some of them.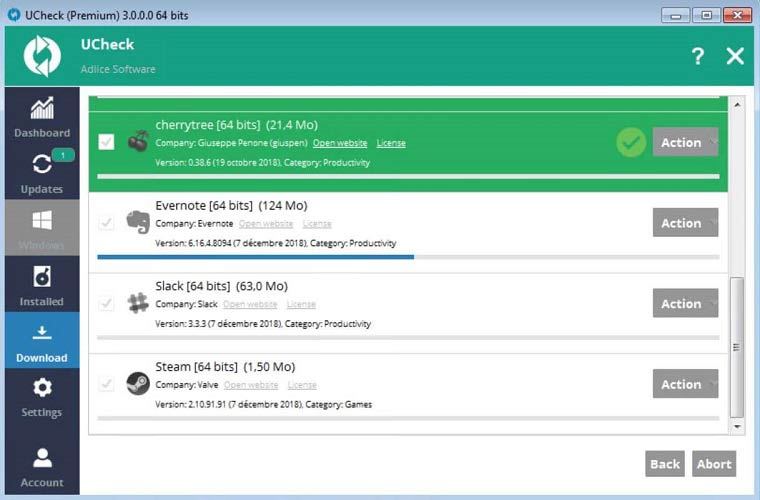 ---
14. Download Crew UpdateScanner
With each passing moment a new software update comes to the marketplace. Do you think it is tough to keep a track of them all? If yes, then here's a crew to help you do it. Download Crew UpdateScanner monitors all the available software updates and lets you know when you need to get these software updates.
Moreover, if you want to know which apps are currently trending in the marketplace, then you can check out its "App Store". The App Store shows you the widely downloaded apps so that you can decide whether you should also get them or not. Apart from this, it does not support beta and unreleased app versions so that you can get a true bug free experience when you use an updated app.
Highlights
No buggy beta versions supported.
App Store to know about trending applications.
Regular monitoring of the applications present on your PC.
Pros
Supports a multitude of programs.
The UI is smooth so that novice users don't encounter any issues while using this utility.
Cons
To use this utility, first, you need to spare a few minutes for creating the Download Crew account.
This was all about the best software updaters. We are sure several questions must be coming in your mind about software updates. Below you find the answer to each one of them. Knowing the answer to these queries not only resolves your confusion but also helps you choose the perfect utility for your needs.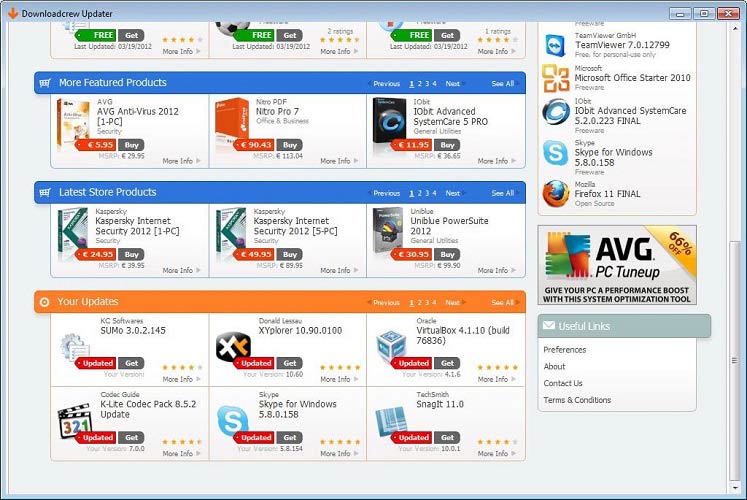 Also Know: Best Webcam Software & Windows 10 Camera Apps
---
Addressing the queries about software updates & available update tools
Q1. Is it necessary to update Windows software?
You are in charge of deciding whether to update software or leave it the way it is. However, in our view, updating outdated software is essential as it not only gets you new and improved features but also patches the loopholes so that no one can invade your device.
---
Q2. Are software updaters safe?
We cannot say that each and every software updater available in the marketplace is safe to use. Some software update utilities are a creation of notorious minds to attack your device and use your sensitive data for their illegitimate purposes. However, the tools listed in this write-up are completely safe. You can put all your security-related worries to rest while using them.
---
Q3. Which is the best software updater for Windows ?
Every utility listed here is one of a kind and the best. However, if choosing one for your needs seems tough to you, then below are our top favorites.
Avira Software Updater
Heimdal THOR
SolarWinds Patch Manager
Ninite
These were our picks for the best software updaters to keep your Windows applications updated and secure at all times. Hopefully, you find them helpful. Lastly, before you hit that arrow to go back, do not forget to join us in our newsletter to get access to more such information and updates about the latest tech happenings.
Subscribe to Our Newsletter
Keep yourself updated with the latest technology and trends with Innovana Thinklabs Limited.