Are you fond of playing mobile games? Then this write-up is for you. Here we are going to discuss about some best tower defense games for iOS. Some of you might not be familiar with the 'tower defense games' term. It is because this genre is not so popular these days.
You all have played strategic games such as Clash of Clans, PUBG, etc. Tower defense games are also strategy games. There are various sub-genres of strategy games such as Battle Royale (PUBG), Multi-Player Online Strategy & Management (Clash of Clans), etc. One of such genre of strategy games is tower defense games, in which you have to make strategies to protect your territory or tower from attackers. These games were quite famous during the starting of the last decade. However, as smartphones developed, strategy games also evolved, and hence tower defense games became quite old fashioned. But, some people still like to play tower defense games on iPhones and their other smartphones. If you are the one, then read on to check the list of some best tower defense games for iOS.
5 Best Tower Defense Games for iOS in 2020
Here we have listed some of the best tower defense games for iOS in 2020. The list contains both online and offline tower defense games for iOS.
1. Kingdom Rush
Our list of some best tower defense games for the iPhone starts with Kingdom Rush. Various tech blogs and gamers has named it as one of the best strategy games for the iPhone. You'll not get bored while playing this game as it offers a lot of exciting things for tower defense game lovers. You'll get various towers, enemies, and even different landscapes that can keep you hooked with the game for hours. You can even play this game without an internet connection, which makes it one of the best offline tower defense games for iOS. Kingdom Rush is available to download for free on the App Store for your iPhone or iPad.

2. Grow Castle
Grow Castle is an exceptional choice if you are looking for a free tower defense game for the iPhone or iPad. Like most of the tower defense games, Grow Castle also has the same plot of defending the castle from various enemies. You can grow your castle and place a hero on each of its floors to defend the castle in this one of the best tower defense games for iOS. The game has quite basic and simple interface. Hence, you'll not face any challenge to learn the controls. Anyone can easily play this game and enjoy it by implementing their strategies in the game.

Also Read: Best Soccer Football Games for iPhone (online & offline)
3. Defenders 2
Here comes a unique tower defense game for iOS. Defenders 2 is a perfect combination of collectible card games and tower defense games. You will get surprised by the collection of towers that Defenders 2 offers to you. It has a collection of around 52 towers, and all of them has different abilities and powers. Along with the towers, it presents various bosses, creeps, and heroes with some unique characteristics. This vast tower defense game also has some adorable 3D visuals, which makes it stand out from other tower defense games available for iPhone. You can enjoy Defenders 2 on your Android smartphone as well.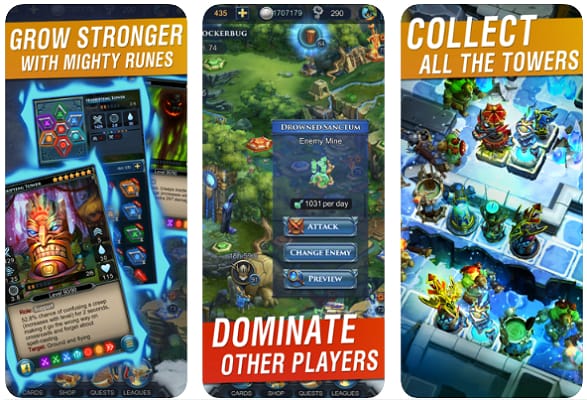 4. Last Hope TD
Last Hope TD is another one of the best tower defense games for iOS. As the name suggests, if you are exhausted by playing other boring strategy games, then Last Hope TD can be your last hope. The plot of the game is defending your towers from zombie attacks. You can select the difficulty level from hard, normal, and nightmare as per your convenience. Apart from difficulty levels, Last Hope TD also offers around 140 different game levels to keep you engaged. In those 140 levels, you have to face around 50 different enemies. So, it's quite a challenging strategic tower defense game.

Also Read: Best Fighting Games for iPhone (Online & Offline Both)
5. Digfender
You can easily interpret what kind of game Digfender is with its name. The name is a combination of two words, i.e., Dig and Defender, and that's what exactly the plot of the game is. In this best tower defense iOS game, you have to defend your tower from the underground attacks. You also get various rewards and treasures beneath your tower, or you can also say castle. It has 70 different game levels to keep you engaged. You can even call your friends to show off your high score and also challenge them. It is not as vast as other options mentioned on this list. However, it is still one of the most interesting and best tower protection games for iOS.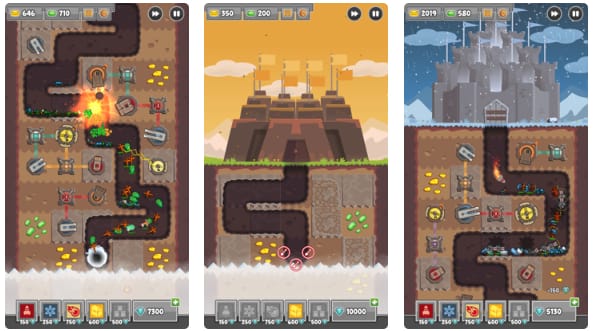 Our Pick
Here the list ends. You might be wondering about our pick from the list of some best tower defense games for iOS. It depends on the preference of the person who wants to play the game. If you are looking for a tower defense game with various game levels and many other things, then we prefer you to install Kingdom Rush and Defenders 2. However, if you want some simplistic tower defense games, then you must install games like Grow Castle.
Subscribe to Our Newsletter
Keep yourself updated with the latest technology and trends with Innovana Thinklabs Limited.