We are going to talk about some best translation apps for iPhone in this write-up. You might be wondering – What is the need of having a voice translation app for iPhone when it has Siri to provide a complete virtual assistance? So first, let's understand the need of having a free translator app for the iPhone.
When we talk about the iPhone, we cannot ignore the advanced virtual assistant that iOS provides to the users. The iOS virtual assistant, also known as Siri, provides some exceptional features, including the voice command. One of its features is voice translation. It seems quite necessary for the people who live outside their hometown. However, it is not solely made for voice translation. Being a virtual assistant, Siri has to perform various other tasks as well. Hence, it is also possible that sometimes you may not find the correct translation from Siri. In that situation, the need for a translation app for iPhone arises.
Here we have picked some best free voice translator app for iPhone. These apps can help you to translate any foreign language in just a few seconds. So, let's proceed to the list of some of the best translation apps for iPhone.
5 Best Translation Apps for iPhone in 2020
Below we have listed some of the best translation apps for iPhone in 2020 along with their respective descriptions and salient features. So, have a look at them before choosing for yourself the best free translation app for iPhone.
1. Google Translate
All of you have heard this name. Google Translate is the most popular translation app for iPhone and Android phones as well. The supports around 100+ languages. The user-interface of Google Translate is also quite simple. Hence, anyone can use it with ease. Along with being the best voice translator app for iPhone, Google Translate also allows you to translate by drawing and typing any word or sentence. It even helps you to translate the other person's conversations at the real-time. The most advanced feature of Google Translate is that it can even translate the already written signs, words, and sentences by taking its pictures and processing it with its AI.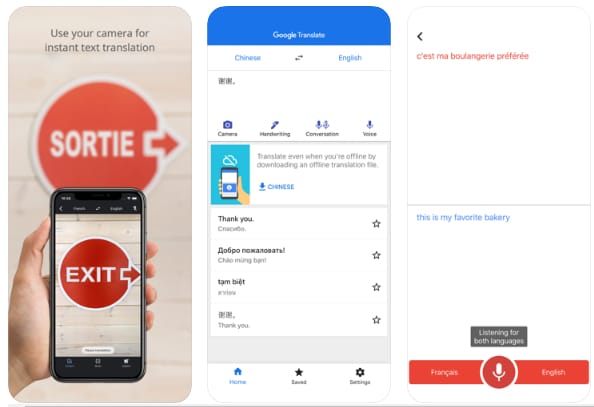 Also Read: How To Download iPhone Apps Not Available in Your Country
2. iTranslate
iTranslate is a well-known translation app for the iPhone. This best free translation app for iPhone enables you to understand over 100 + languages. However, it is not that advanced translation app as compared to Google Translate, but it also provides quite decent features. It lets you to set the translation voice to male and female both. Along with providing translation, the best iOS translation app also helps you to get multiple meanings of the words with its inbuilt dictionary. iTranslate is also compatible with Apple Watch.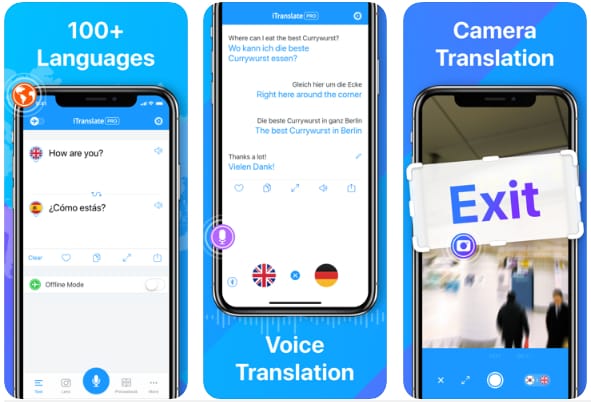 3. Speak & Translate
While using translation apps, you all have experienced one common drawback, i.e., lack of accuracy. However, if you have one of the most accurate and best translation apps for iPhone Speak & Translate installed, then you do not need to worry about the accuracy. Speak & Translate supports over 54 languages during voice translation and 117 languages during text translation. It is also one of those language translation apps for iPhone that allows you to select the translation voice as per your choice. You can choose from either a male voice or a female voice.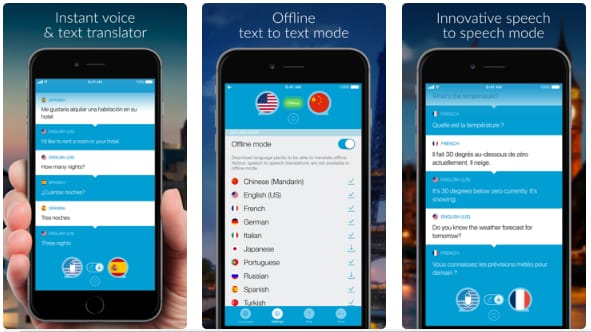 4. Microsoft Translator
Another famous name on this list of some best language translator app for iPhone is Microsoft Translator. It is the best option to use if you are having a live conversation with another person. It provides you the translation of words that it hears while you are having a conversation. You only have to select the language you want to translate. After translating the other person's language, Microsoft Translator itself speaks the translation. So, you don't have to break the conversation to look for the translation. Along with this automatic translation, this translation app for iPhone also provides text translation. Just like Google Translate, you can use Microsoft Translate for translating the words, phrases, sentences, and signs by clicking their pictures.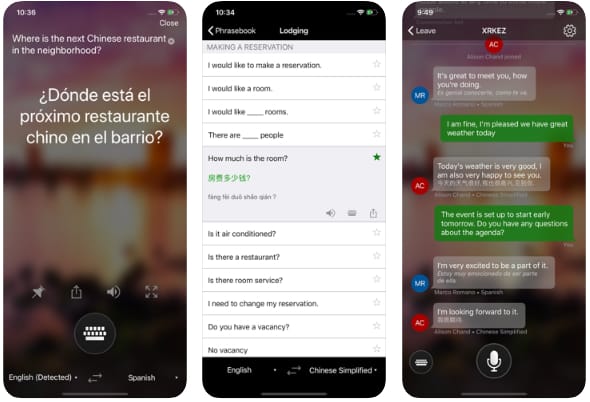 Also Read: Best Voice Recording Apps for iPhone to Record Your Favorite Conversations
5. SayHi Translate
Before concluding our list, we want to add one last translation app in it. SayHi Translate is a free translation app for iOS. It doesn't offer advanced features such as Google Translate or Microsoft Translator, but it performs its job quite decently. We consider it as the best translator for iPhone if you only want to translate a conversation. It allows you to type and speak the sentence, word, or a phrase that you want to translate, and then it provides you with its translation on your iPhone's screen. You can also make SayHi Translate to speak the translation for you, so that you don't have to look at the screen in between the running conversation. You can use SayHi Translate on your Android phone as well. All these features are enough to make SayHi Translate as one of the best translation apps for iPhone.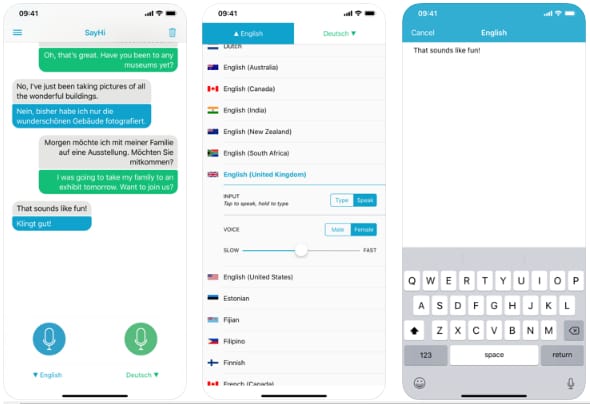 So now, we would like to conclude our write-up about some best translation apps for iPhone. These iOS translators can help you a lot in communicating with someone who speaks a foreign language. You can even use them to learn various foreign languages. All you have to do is to install and enable any of these language translation apps on your iPhone.
Additionally, if you are curious to know more about various other iOS utilities, then subscribe to Innovana blogs. Also, don't forget to bookmark the page.
Subscribe to Our Newsletter
Keep yourself updated with the latest technology and trends with Innovana Thinklabs Limited.