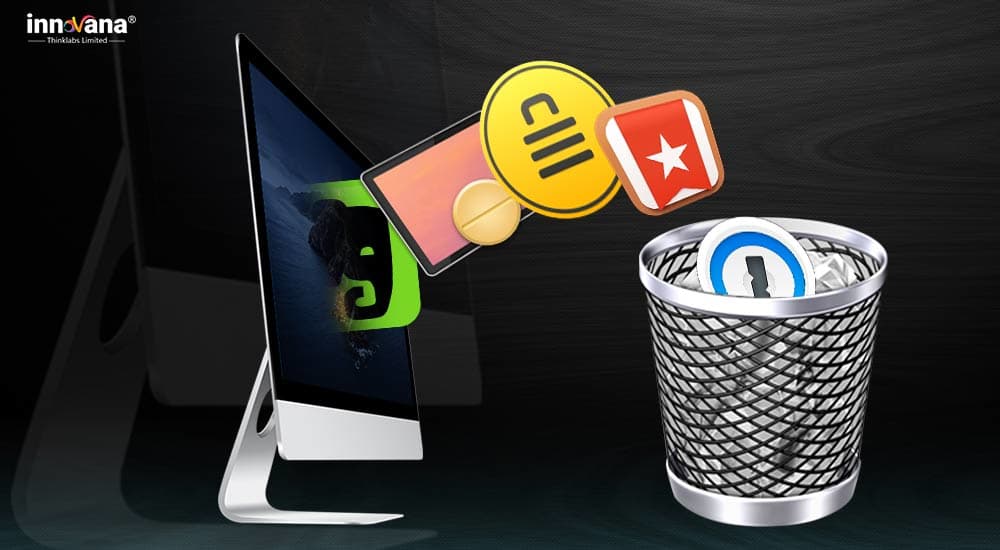 Despite being a secure and strict operating system, macOS allows you to install any application quite easily. However, the main problem arises when you want to uninstall the application on Mac. The standard procedure of uninstalling software on Mac is moving it to trash. The method is quite ineffective as it doesn't remove the complete data of that application. You have to search for the application files manually to remove them. That's the reason why you require the best uninstaller for Mac.
If you are the one who doesn't want to waste time while looking for application files, then you must try an uninstaller application. Such utilities help you to remove an application completely from mac. Here in this article, we have brought a list of some best tools to delete apps on mac that are unnecessary. So, let's straight move on to the list.
7 Best Uninstaller For Mac in 2020
Below we have listed some best uninstaller for Mac. These tools can help you to entirely uninstall the apps on Mac, without even wasting your time.
1. CleanMyMac X
The first name on our list is CleanMyMac X. If you are looking for a powerful software to delete unwanted programs on Mac, then you can consider CleanMyMac X. It is also quite reliable as the tech giant Apple has provided it with the Developer's ID. In other words, it has been notarized by Apple. That's not the only reason why it is considered as the best utility to delete apps on Mac. CleanMyMac X serves various other functions as well, including system optimization and providing security from different malware. Here are some of the salient features that helped CleanMyMac X making it to our list.
Features:
It also allows you to reset the current state of an application to its initial one. You can do it when you don't want to delete the application and just want to reset the data.
The uninstaller even identifies the broken, outdated, and problematic applications as well. So that you can delete them and enjoy more free space on your Mac.
You can also keep your system secured from various malware programs with the help of this software.
It provides complete cleaning of any application, including its cache and junk files, media files, etc.
The software also shows the last time you have used an app. So that you can decide whether an app is still required or not.
Most importantly, despite providing so many features, the software is free to download.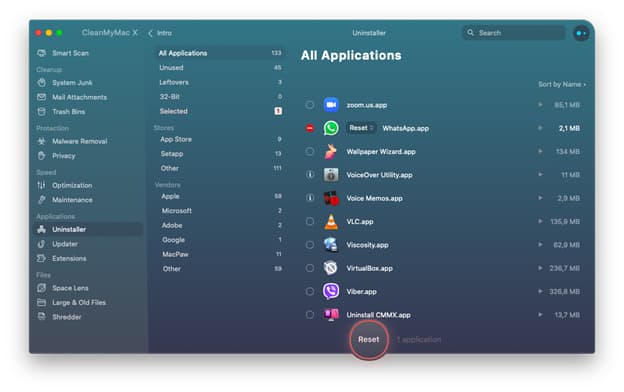 ---
2. IObit MacBooster 8
IObit MacBooster is a famous cleaner software for macOS devices. It serves as an all-in-one software to remove application from Mac. The latest version of this software is IObit MacBooster 8. It comes with all the advanced features that you can imagine in such software. The software allows you to clean up around 20 different types of files. Along with it, MacBooster 8 also acts as anti-malware software. It also has Apple notarization. Hence, it almost provides everything that should be there in an uninstaller software. That's the reason why MacBooster 8 is considered as one of the best uninstaller for Mac. Here are some other unique features that MacBooster 8 offers.
Features:
First of all, it is free to download.
Despite having so many features, it provides an intuitive user interface.
You can perform deep cleaning of your Mac with this software.
Along with security and cleaning features, MacBooster also provides speed and performance optimization of your Mac.
It also optimizes the boot speed of your device.
This software to uninstall software on Mac can also detect the duplicate files and folders on your Mac.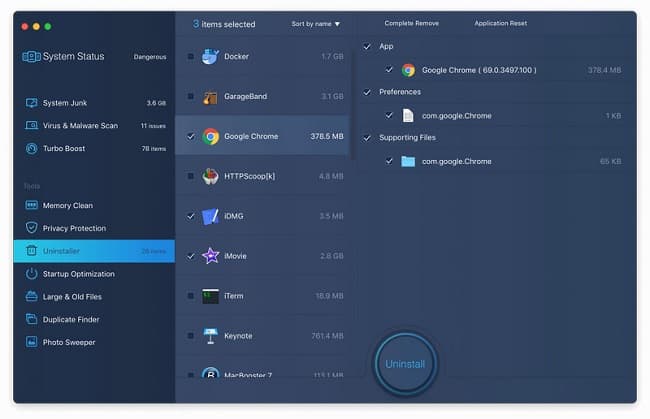 Read Also: Top 6 Duplicate Photo Finder and Remover for Mac
---
3. AppZapper
Here comes the software that provides the most simple way to uninstall programs on Mac. Like the default user interface of Mac, AppZapper also works on a drag and drop system. You can simply drag and drop the file or application you want to remove from Mac to the AppZapper. After that, it will show you all the files and folders associated with that particular application. Now you can delete the files you want. This is how AppZapper works to uninstall applications on Mac. Here are some of the salient features of AppZapper.
Features:
With AppZapper, you can delete apps on mac including all their related files and data in just one click.
The app provides you with a hit list of apps that you can delete to free up space on your Mac.
It offers a free trial version.
AppZapper is quite simple to use as compared to other such applications.
You can also keep a record of the purchased apps even after uninstalling them. AppZapper helps you to keep registration information of purchased apps that you have uninstalled through it.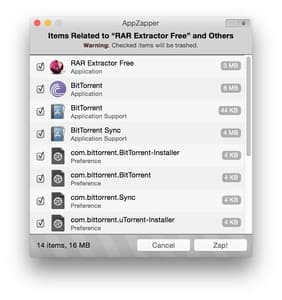 ---
4. App Cleaner & Uninstaller
App Cleaner & Uninstaller is another multi-purpose application to uninstall unwanted software on Mac. There are multiple reasons why it is considered as one of the best uninstaller for Mac. It can uninstall programs on Mac quite efficiently. Along with the features of an uninstaller software, App Cleaner & Uninstaller also possesses some features of an optimizer. It optimizes the startup of you Mac. This uninstaller can even remove the files related to previously uninstalled software or program. Here are some more unique features of App Cleaner & Uninstaller.
Features:
You can completely remove and delete apps on Mac with this uninstaller software.
App Cleaner & Uninstaller even takes care of the browser and system extensions as well.
It can optimize the booting performance of your Mac by stopping all unwanted startup programs.
Along with all these features, you can even reset an application to its initial state with this uninstaller program.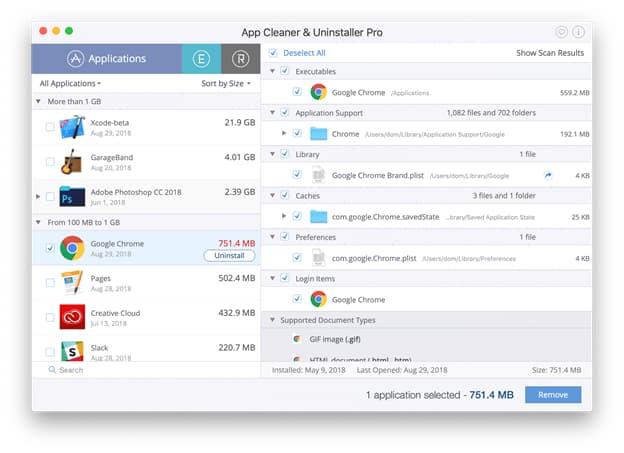 ---
5. AppCleaner
No, we haven't listed a software twice. It is a different software from the App Cleaner & Uninstaller that we have listed above. Although the fun fact is that despite having a similar name, both the two programs offer entirely different features. AppCleaner is however quite similar to AppZapper. Both of them have a similar way of working and uninstalling applications on Mac. Just like AppZapper, AppCleaner also works on a drag and drop system. Here are some of the features that make AppCleaner different from all the above-mentioned uninstaller programs.
Features:
First of all, it is completely free.
The software is quite compact hence, it doesn't require your many resources.
It offers an effective and simple method to delete programs on Mac.
You can also delete all the related files of the program.
The software is portable, hence you do not need to install it on your different Mac devices.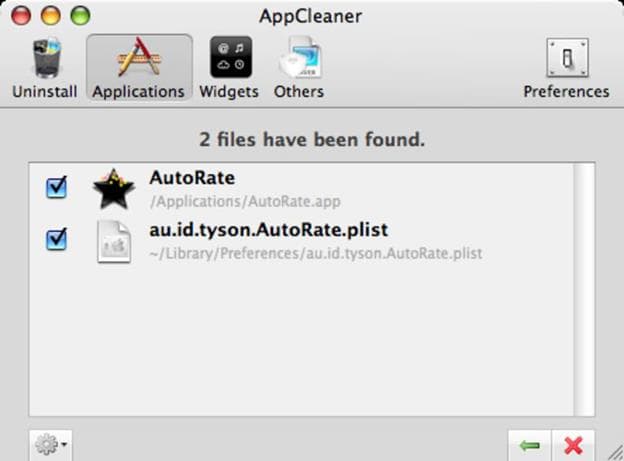 ---
6. Hazel
Hazel is quite a unique software to uninstall programs on Mac. Along with being unique, it is also a multi-feature uninstaller program. It also takes care of the cleaning of your system. One can consider it as a housekeeper of a Mac device. Hazel can also help you to organize your files and folders. It keeps a check on the downloaded files as well. And the interesting thing is that you don't have to do anything. Hazel keeps on working in the background and keeps check on everything. Let's discuss some more features of Hazel.
Features:
You can download the application for free.
It automatically organizes the files and folders based on some rules that you set.
This one of the best uninstaller for mac helps you to delete such programs on your Mac that you haven't used for a long time.
It also allows you to delete the big files that you don't check anymore.
Also Read: 6 Best iOS App Cloners to Duplicate Apps on iPhone Without Jailbreak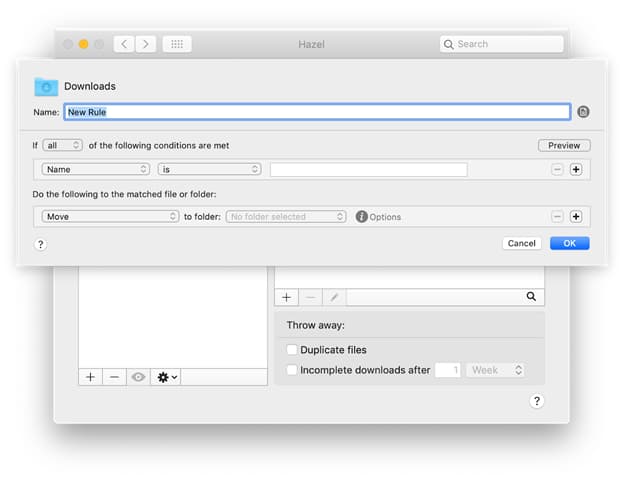 ---
7. Umate Mac Cleaner
At last, we have Umate Mac Cleaner on our list. Umate Mac Cleaner is not just an uninstaller program for Mac, it is a complete application manager that you can get for your Mac. In fact, it serves as a whole Mac manager. Along with uninstalling Mac applications, it serves as a system optimizer program as well. It can also enhance the speed of your Mac device. Let's see some of the salient features of Umate Mac Cleaner.
Features:
It provides detailed information about the installed apps on your Mac. Hence, it becomes quite easy for you to decide which one you want to delete.
The program can also clean the junk files from your Mac.
It can even be used to manage the browser as well as system extensions on Mac devices.
You can also delete large unwanted files with the help of Umate Mac Cleaner.
It can also detect duplicate files and removes them.
The program also enables you to delete online traces of your private data.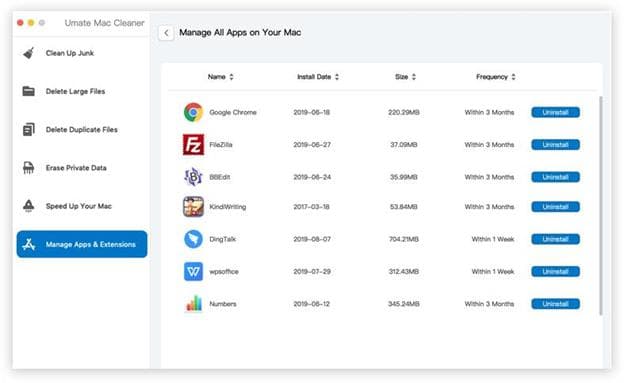 ---
Conclusion
So this is our list of some best uninstaller for Mac available in 2020. Each one of them possesses some unique features. Some of them provide multiple features, while on the other hand, some provide a simple user interface. Now it is entirely up to your requirement that which one you want to go for. Select wisely by evaluating all the features on the basis of your requirements.
For more such information related to the gadgets and their applications, subscribe to the Innovana Blogs.
Subscribe to Our Newsletter
Keep yourself updated with the latest technology and trends with Innovana Thinklabs Limited.