Data stealing has always been a problem for computer users, because of this problem many users lost their personal files and data. One of the major reasons for data stealing is USB transfers. A person who can sometimes have access to your computers can steal your data by USB transfers, a USB data blocker provides security against these thefts. Connecting to a public Wi-Fi network in a cafe, restaurant, or hotel is very risky for your data. Any hacker can perform a middleman attack and steal your data. To protect from such stealing one can use the best USB data blocker software.
Top 5 Best USB Data Blocker Software for Windows
Privacy is the most crucial path for everyone. The fear of getting your data stolen and leaked by hackers is pretty common. But no worries, the best USB data blocker software protects your data to no end. Just read this write-up attentively, here we've referenced some great USB data blocker programs.
1. NewSoftwares – USB Block
A USB drive can steal your data easily if it has spyware or virus programmed to do so. A 4cm device can steal your years of hard work. Your source codes and personal data. USB block is the best USB data blocker software that prevents your projects and data from prying eyes. USB block is a healing software that obstructs USB drives on your system. USB block can help you to protect your data and save you from any type of stealing. It makes your confidential files theft-proof. Users can take log off any immoral or immortal activity happening on their computer from the USB block. You can be authorized or unauthorized any ports, drives, or devices which you do not trust and have a doubt of having spyware in them.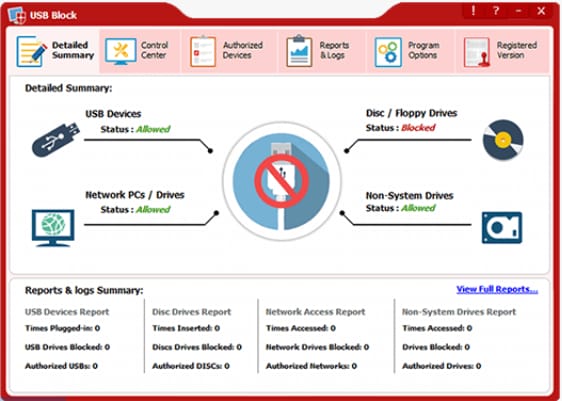 2. Budulock
Budulock is another good USB data blocker software that stops unauthorized access to USB devices. It is a full freeware application that is highly compatible with your windows PC. If you are a new user, then you won't face any trouble while using this as it has a very simple and easy interface.
Budulock locks your folders and USB drives to prevent theft and leakage of your data. Budulock protects your USB by locking and unlocking USB ports of your computer. It provides a feature where you can lock a drive and it asks you to set a password that shall open the drive when you type the password. This password should only be used and known to the user itself. Budulock is the most convenient best USB data blocker program to protect your data.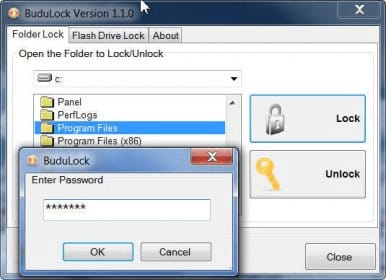 Also Read: Best Free Hard Drive Encryption Software for Windows 10

3. GiliSoft USB Lock
Gilisoft is one of the best USB data blocker software to protect your data from USB and SD drives. Gilisoft blocks USB drives that have not been approved by the user. It blocks websites that may contain malware and spyware. It allows the users to white list USB drives of their trusted ones. Users can get reports and logs of the USB activity on their computers from Gilisoft. You can monitor your USB activity and can get a report from Gilisoft.
This software can give permission to access to devices like read or write permissions. Users can set protection for copying files to other USBs. So, any person cannot copy any file they want in absence of the user.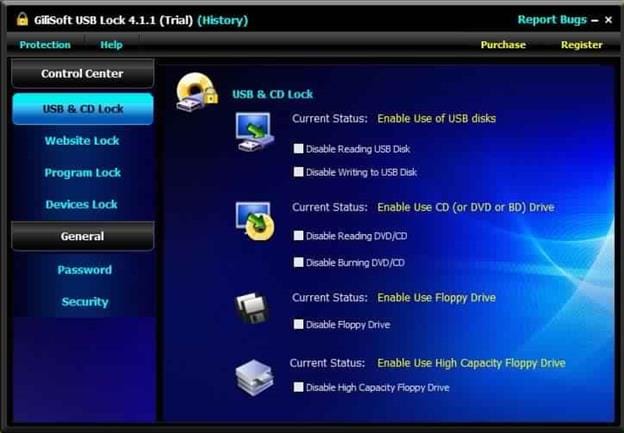 4. USB Block
USB Block is the best USB data blocker software that can protect our data from stealing and theft. A USB drive has the power of stealing your work and important files right from your computer, and here comes USB Block to save you from such thefts and protect your data. It provides the protection of your confidential files from theft and misuse. USB Block provides a special monitoring facility where it monitors hack attempts and incorrect passwords.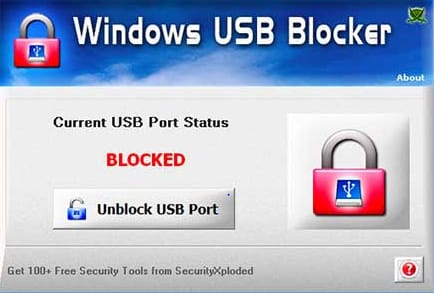 Also Read: Best Internet Accelerators Software for Windows 10, 8, 7
5. USB Shutter
USB Shutter is a software that can protect your system from data thieves who are looking for an opportunity to get into your system and steal all the data they need. This program can protect you from those thieves. USB Shutter can help you to enable or disable USB ports of your computer and keep you safe from data transforming. If you are an administrator at your organization it is very important for you to have this software on your PC. So, any employee can not steal your data and don't make your organization vulnerable or weak.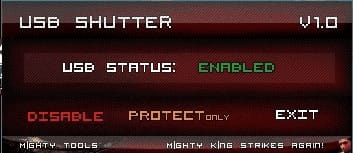 Data stealing is a major problem nowadays and if you want to be safe from this problem you can use any of the above-mentioned programs. These programs have the tendency to protect your data from other people who wants to get access to it. By these programs, only you can use your USB drives on your computer, and anybody else can not access your computer or steal your data by the USB drives. We've mentioned the best USB data blocker on above and you should use them if you want to save your data from data thieves.
Subscribe to Our Newsletter
Keep yourself updated with the latest technology and trends with Innovana Thinklabs Limited.