Choose the best movie maker app for android to capture every happening in a more accurate frame with a lot of filters & effects, below are the entire details!
Just imagine, you are on an adventure trip and carry big pro-like DSLR or GoPro cameras alongside yourself. What if, when your pro-like DSLRs & GoPro get damaged. Oh God! then that adventure would become a real living hell for you. Do we get right? We are living in the golden age of technology, and it offers us many way advanced tools to make our work much easier. Then, why do we prefer to carry DSLRs and GoPros when we could get the same photography attributes in some ideal video-making applications?
The reason is lack of knowledge about the same, isn't it true? So, no worries, because we at Innovana Blogs have listed down the best video maker apps for Android, so you can easily capture your every memory in your pocket for long eons. Moreover, these apps also finish the need for your editing software, as all these apps are capable of editing the videos too. Let's jump to the list to know the ideal application!
List of 10 Best Video Maker Apps for Android in 2021
Go through the below-mentioned apps and find the best movie maker app for android. Through this post, we've tried you to explain to you the best video maker apps for Android!
1. Film Maker Pro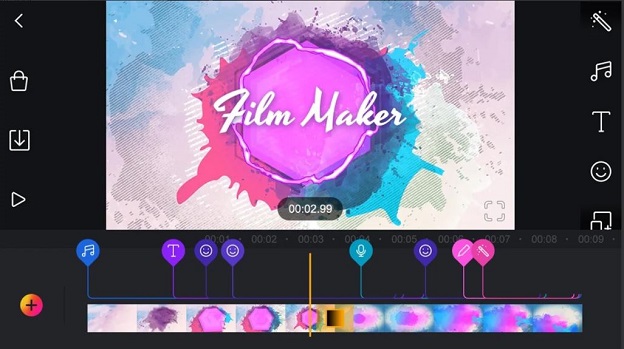 Create Hollywood-style movies on your smartphone with the help of Film Maker Pro, the best movie maker app. Whether you are an expert or newbie, Film Maker Pro is the best for all sorts of taste. The superpowers of this GURU video editor tool won't let you down. Moreover, you can make slides with this tool, as it comes with an in-built slideshow maker.
Features
Provides tutorial videos to edit clips like an expert.
Creates PIP (Picture-in-Picture) videos.
Supports green screen and chroma key.
Lets you create double exposure modes.
Multiple timeline video editor.
Its text editor lets you add texts on your clips.
2. Quik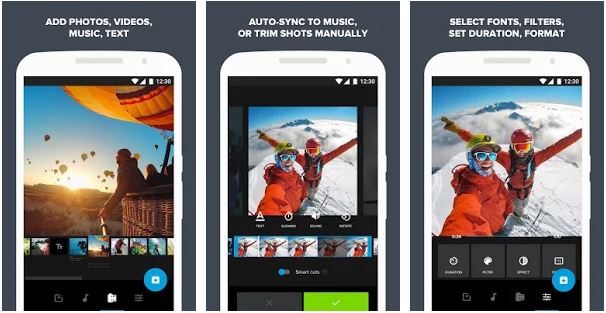 No doubt the camera of your phone is good but using a third-party camera app, a great move. Because these apps give you more than usual ones. Similarly, capturing videos with third-party video maker apps is a great choice. So, here is Quik one of the best video making applications that offer lots of real-time effects and filters.
Features
More than 23 real-life themes.
Runs with Motion Pictures as well.
You can add up to 75 photos and videos.
Directly share the video with other social media platforms.
You can also set a specific duration and titles in the video.
Renders video in high quality.
3. Photo Video Maker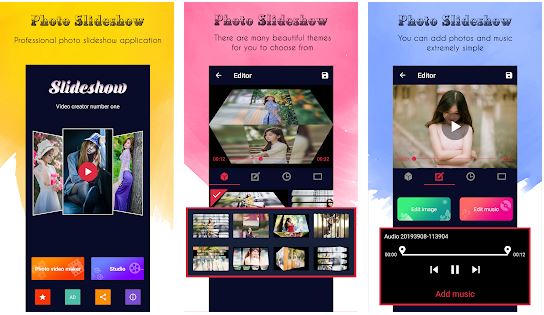 Want to create amusing videos from stills? Then, Photo Video Maker is the only app that fits in the bill. With Photo Video Maker, you can make videos, edit pictures, slide shows, and many more. It is one of the best movie-making apps available on Google Play Store. Amazingly, you can also add music to your video.
Features
Easy to use interface design.
Lets you back up video within one tap.
In-built photo editing tool.
Equipped with a slideshow maker tool.
Adds music to your video.
4. TEMPO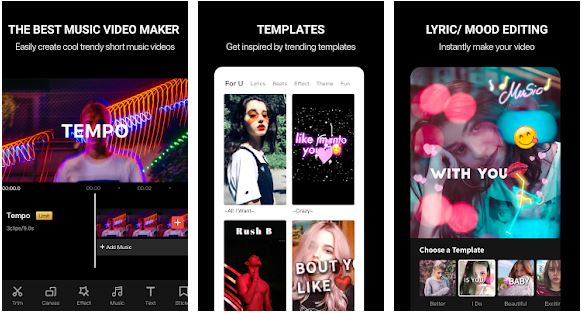 Searching for the best app for making videos with music for your Instagram and other social media platforms? We got TEMPO for you, this app is one of the best music video editors you can find for your android. This app is filled with hundreds of filters, transitions, and effects which you can use for your video. You can make various themed videos whether it is cartoons, lyrics, or emoji, this app can help you to fulfill your dream of being a social media star.
Features
Hundreds of Transitions, Filters, and effects.
Wide mode for screen
Various face stickers.
A photo editor is also available.
Supports short-music form video.
5. MV Master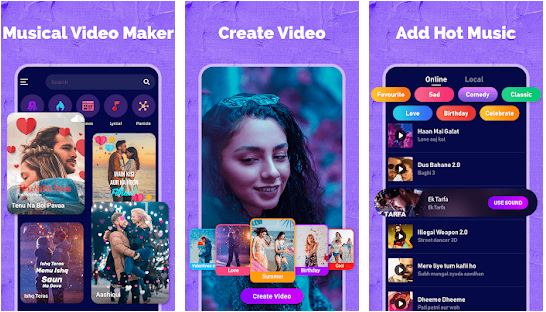 Ever gone through a video editing software? Too complex for you. Most of the video editing software is complex and not very understandable for its users but to resolve this problem we have brought you the MV Master, one of the best video maker apps you can get on android. This app is loaded with tons of features that include various Transitions, dozens of dozens of effects,  easy controls, and interface. MV Master makes video editing a piece of cake.
Features
Tons of Transition.
Loaded with effects.
User-friendly interface.
Include all the basic features.
Provides an in-built slideshow maker tool.
6. Beat Video Maker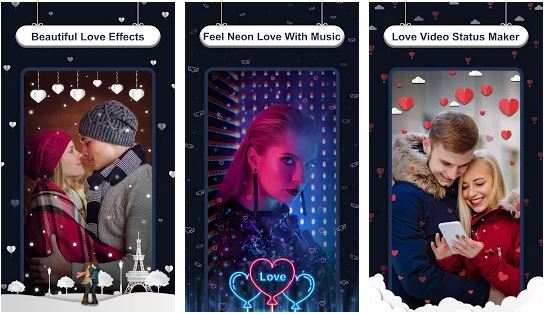 Here comes one of the most unique and engaging free video maker app – Beat Video Maker. With this application, you can create a customized video with multiple songs. It offers a huge language library as well, so you can choose any song as per your language preference. The easy to use interface design helps you to transform photos into beautiful videos within a short span of time.
Features
Unique and innovative effects.
Music-based creative themes.
Attractive frame collection.
Renders in HD quality.
Mug-up awesome stickers, emoticons, and text to your video.
7. PIP Video Maker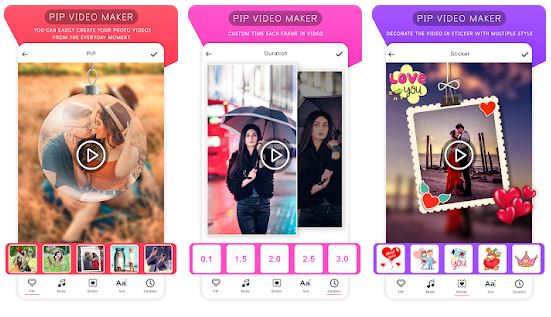 Want to make an attractive video with music, then you should try PIP video maker. It is the best movie maker app that you can get on the Play Store.  PIP Video Maker provides you attractive real-time themes, graphics, animations, and many more so you can make a beautiful music video with the least manpower.
Features
Awesome magical photo effects.
Offers a vast collection of frames in many categories.
Lets you add a customized video.
No watermark.
Supports picture in picture mode.
Exports video in high-quality resolutions.
Also Read: Best Video Recovery Apps for Android

8. Noizz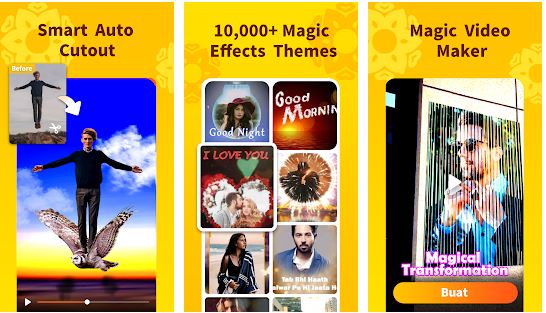 Noizz is the high-rated best movie maker app that you can get on Google Play Store. Noizz lets you create more personalized video effects. It also allows you to share the video on other social media platforms directly without opening that particular app separately. It offers more vibrant filters and effects that make your video much more real.
Features
User preference video effects.
3D stickers, and lively emoticons.
Lets you add text on the video.
User-friendly interface.
100% free to use.
9. Filmigo Video Maker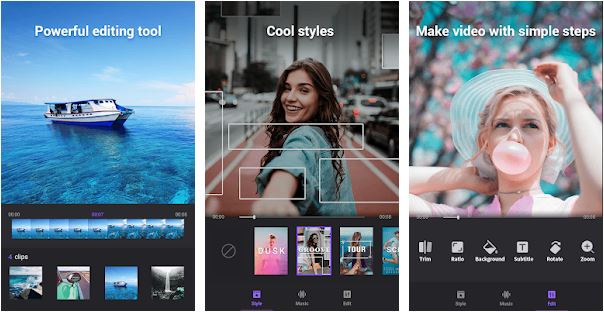 When it comes to opting for one of the best app for making videos with music then Filmigo is the only app that gets the applause of everyone. Whether you are an amateur or an expert, Filmigo is for everyone's tastes. With this powerful video maker tool, you can edit pictures, make an attractive video with music, and many more. Get this amazing tool now, below we've mentioned the link tab also, click on it to download Filmigo.
Features
Supports multi-music functionality.
In-built picture editing toolkit.
More realistic effects and filters.
Text rotation facility is also available.
Exports video in HD.
Comes with a fully certified music library.
10. PowerDirector Video Maker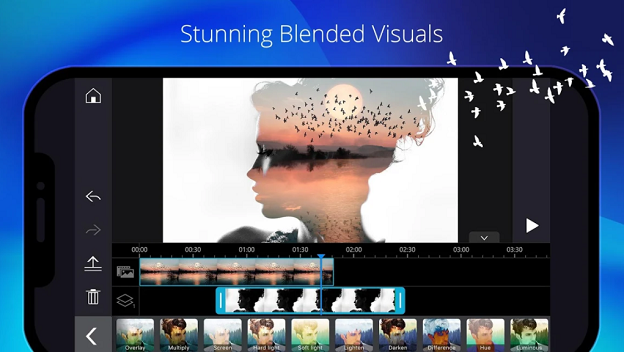 Want to make stunning, HD quality videos like experts? Then, here is one best video maker app for Android users and that is – PowerDirector Video Maker. This tool provides professionals like editing tools and experience as well. Unleash your creativity with this magical tool and make your video even more vibrant and realistic. It offers more than 100 real-life effects, filters, emoticons, sounds, and background music.
Features
Render videos in up to 4K resolutions.
Lets you change the background by using the Green screen and Chroma Key.
Directly share videos on YouTube and Facebook.
Blossom effects and 3D transitions.
Supports multi-timeline.
Add animated titles to your video.
Best Movie Maker Apps for Android
Through this post, we've educated you about how you can capture high-definition video with the best movie maker apps. Nowadays, you don't need to rely on the desktops and laptops to edit your clip. You can easily do so, even more quickly as well with your android smartphones. Now you must be thinking "how could you get computer-taste editing on your smartphone". So, these are the best video maker apps for android that exactly knows what you want. Well, that's it for today, hope you liked it, do tell us your suggestions in the comment box below, we would love to hear from you. Do subscribe Innovana Blogs for getting the most recent tech release, till then stay connected with us!
Subscribe to Our Newsletter
Keep yourself updated with the latest technology and trends with Innovana Thinklabs Limited.