Choose the best video player for Android from the below-shared list. Stay connected to read the entire details!
Video Streaming platforms have taken a big turnover currently. Especially in this pandemic phase, almost all the individuals have accessed the streaming platforms including Netflix, Amazon Prime, Zee 5, Ullu, VRN, and many more just to make their lockdown days a little bit funnier. Apart from this, there are a lot of users, who are still using video files. Viewing videos on the smartphone isn't so tedious as it used to be ever. But still, in-built video player apps offer limited access or facility. Whereas, the other third-party tools offer advanced features and unlimited access as well. So, it is a better treat that you can give to yourself. Doesn't matter if you already know the other video player apps, here is the list of best media player for Android that surely impresses you. Check out the list which we've mentioned below!
List of the 10 Best Video Player Apps for Android in 2021
Here, at Innovana Blogs we've picked up the 10 best video players for Android, and all of them provide high-quality playback control, supports almost every format, and offer streaming facility as well. Below, we've shared the fruitful information about the apps that would help you while choosing the one.
1. VLC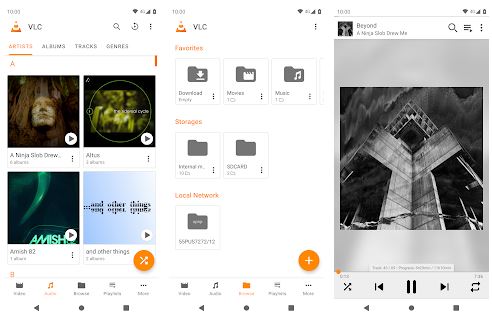 If you want a professional touch in your video player, then the VLC video player is the ultimate solution. It is an open-source cross-platform media player that plays almost all media files including discs, streaming networks, and devices. With a VLC media player, you can experience both types of files i.e., audio and video. For giving the smooth service to its users, VLC controls numerous kinds of formats. It is one of the best HD video player for android.
Key Features of VLC
Get an amusing set of 5-band in-built equalizer.
Fully ads free.
It runs with drives, streaming networks, and network sharing.
It supports video from 360-degree to 8K formats.
Lets you control zoom-in or zoom-out.
It allows you to play multi-track audios simultaneously.
2. AllCast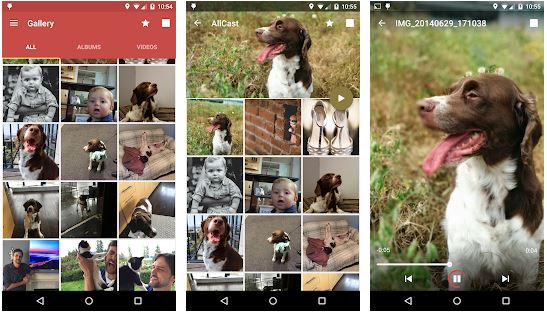 AllCast is the best HD video player for Android that lets you share your content with Apple TV, Chromecast, Roku, WDTV, Amazon Fire TV, Samsung, Sony, and other smart TVs. This version of the AllCast is absolutely free that shows ads. Apart from videos, it also supports other sorts of media types. Initially, you may found this application bit hard, but after a while, it becomes the most feasible casting tool.
Key Features of AllCast
Completely a free video player available on Play Store.
Lets you share content over different streaming platforms.
Supports multi-track functionality.
Excellent playback controls.
Also Read: Top 12 Free and Best Video Editing Apps for Android 
3. MX Player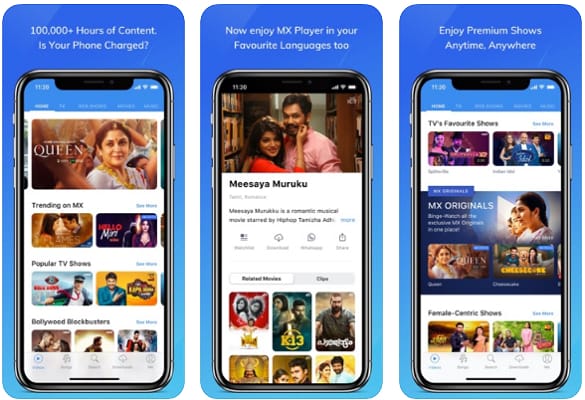 MX Player is the robust video player app which you'll get on the Google Play Store. It comes with high-level hardware acceleration and subtitles support. Now, MX Player is not just a video player app, now it allows you to share music, videos, files within just a one go. The user interface of the MX Player is quite friendly and smooth. With MX Player, you can play almost every sort of video without any kind of hindrance.
Key Features of MX Player
Magical and pleasant playback features.
Allows you to play network streaming.
Offers numerous swipe gestures and pinch to zoom in and out the video.
Lets you lock the app.
Instantly share files, music, videos, etc,.
Supports multi-core decoding that offers 70% better performance than single-core.
4. Archos Video Player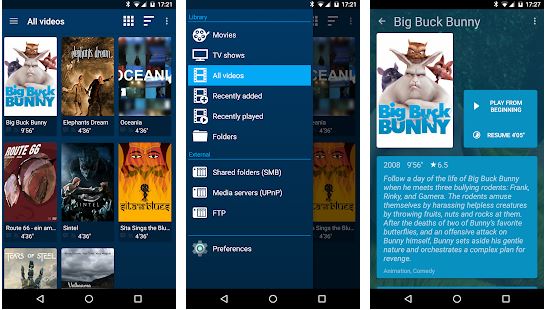 Any smart person wants more features in an app in less storage. So to satisfy this need of yours we present, ARCHOS VIDEO PLAYER. This video player is one of the best video player app because it includes most of the features which even premium video players can't provide. With this app, you can play everything because this app supports almost every single video file and its extensions. You can download integrated subtitles with their video file. ARCHOS VIDEO PLAYER provides hardware-accelerated decoding for most formats and video files. Browse anything you like. It is one of the best video player app you can get for playing videos.
Key Features of Archos Video Player
Supports SRT, SUB, ASS, SMI, etc., subtitle formats.
Hardware-accelerated decoding.
Multi-audio track support.
Private mode is available.
Also Read: 10 Best Camera Apps for Android Phone 
5. BSPlayer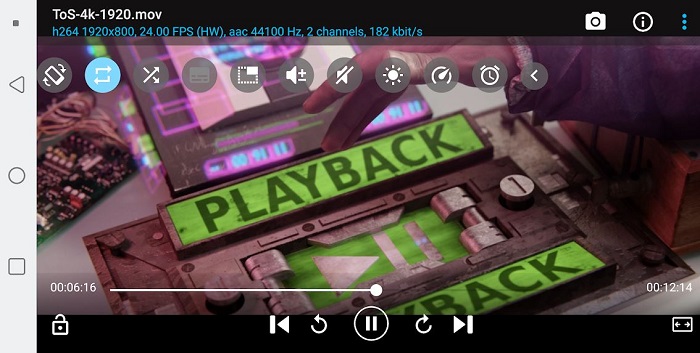 Are you looking for the best Mkv video player that can be the ideal video player for your phone and tablet? Here we have you one of the best video players available on play store, BS Player. This video player has all the basic and advanced features that have to be in a video player. BS PLAYER supports almost every video codecs and extensions. It includes various playlist support and playback modes. It is an ideal video player for many people and it can also be yours.
Key Features of BS Player
Lock screen mode available.
Supports USB OTG.
Automatic subtitle finder.
Multi-core HW decoding support.
6. G Player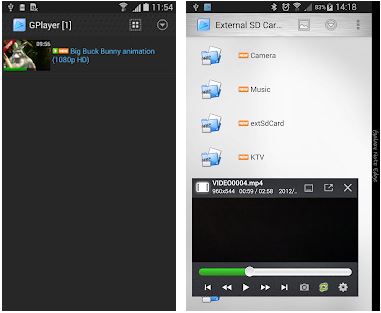 Everybody wants simplicity whether it's in their life or in their app. So we are presenting you with the G Player, the most simple and user-friendly video player available on the play store. This app provides all the basic and advanced features of a video player absolutely for free. You can personalize your content and files. This app is easily controlled and has a really good user interface. G Player supports wide video formats. It is one of the best HD video player for android.
Key Features of G Player
Wide video formats support.
Multi-window mode.
Convinient user interface.
Fast processing speed.
7. PLAYit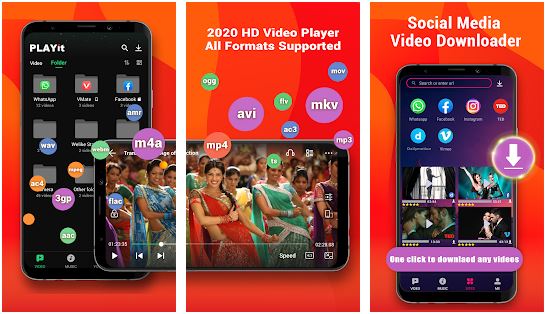 In a search of an all-in-one media and best video player app for your phone? Here's PLAYit, the full-featured, and great app for your video playing and other media needs. PLAYit supports all video and media formats which makes it an ideal media player for every phone. This app includes an advanced SW decoder to provide a better experience to its users. This app also functions as a music player so its users can enjoy every media file on it.
Key Features of PLAYit
Offers multiple themes and a pop-up window feature.
Browse through the web.
Video downloaders also available.
Smart gesture control.
Also Read: Best TikTok Alternatives to Replace It
8. Video Player all Format – Xplayer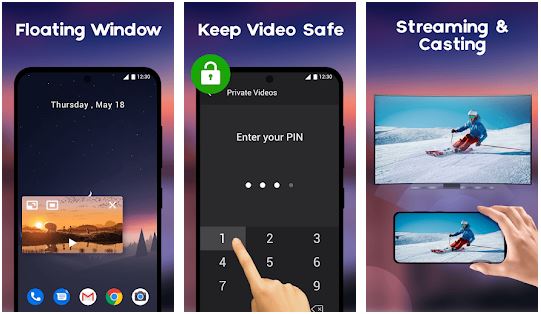 This app is loaded with tons of features and can be used as a professional video playback tool. Video Player All Format supports all video formats and 1080p, 4k, and ultra HD media files with high definition. This app provides hardware acceleration. The developer of this app has taken good care of the privacy of its users as this app provides a private folder and other privacy features to protect it's users' data. On this rundown, it is the best media player for android.
Key Features of Video Player all Format – XPlayer
All formats supported.
Hardware acceleration.
Subtitle Downloader.
Multi playback option available.
Audio and subtitle synchronization available.
9. Kodi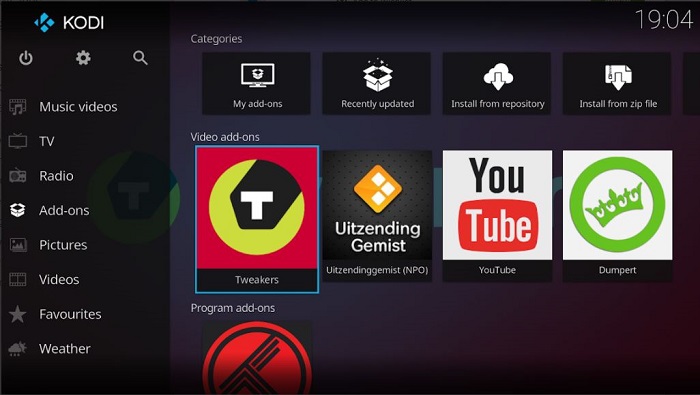 If you want to browse videos quickly then Kodi is here to help you out. Kodi is the award-winning best movie player for android that you will get on Google Play Store. Basically, it is the hub for digital media for Home Theater PCs. The graphical user interface of the Kodi permits you quickly browse and view the videos, music, podcasts, and many more. Kodi is compatible with almost all the video formats and even supports other OS as well.
Key Features of Kodi
Compatible with the retro gaming emulators.
Better voice control functionality.
Offers a new and beautiful music library.
Better live TV performance with back-end support.
Play all types of music.
10. Playme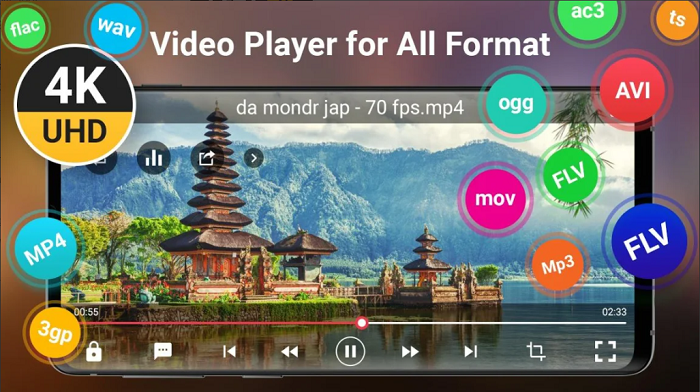 PLAYme is specially programmed to offer a more personalized experience. It is the most essential tool that you can found on Google Play Store. Though there are numerous video player tools available on Google Play Store, still we believe that PLAYme is the best and simple tool that easily fits in the bill of your requirements. PLAYme offers extra smoother and faster HD playback. It is the best video player for android without ads.
Key Features of PLAYme
Identifies all video files automatically.
HD video player for all formats.
Supports audio player for all formats.
Quick access.
Lets you hide video files to protect privacy.
Auto-rotation and aspect-ratio adjustments.
Wrap-Up the List of Best Video Player for Android
Google Play Store is loaded with a ton of media player apps. Some of them are free and some are paid, but the paid ones will give you extra facilities than free ones. So, it's always a good move to choose paid apps to get a little more treat. Through this post, we've brought up the list of the best video player for android. The door is open for you, now it is all up to you what you choose. So, that's all for this moment, hope this content will help you while choosing the top-rated video player for your android smartphone. If you think we've missed some apps, then tell us in the comment box below, we'll feel great to hear your suggestions. Till then, stay engaged with us, and don't forget to subscribe to Innovana Blogs for getting the latest tech updates instantly!
Subscribe to Our Newsletter
Keep yourself updated with the latest technology and trends with Innovana Thinklabs Limited.