In this write-up, we are going to talk about some best video recovery apps for Android. Before going to the list of some best-deleted video recovery apps, let's understand why they are necessary for us.
Smartphones have made our life easy. Now, we can play games, listen to music, click photos, and record videos on our smartphones. Whenever we celebrate any moment live any memorable event, we try to capture it with our smartphones, whether clicking photos or recording videos. However, videos are the most accurate record of your memorable moments. Hence, they are quite important. But, what if they get deleted by mistake? It usually happens when you try to make some additional space on your Android device. At that time, you might delete an important video. But don't worry, you can recover that video again with the help of some best video recovery apps for Android. So, without any further delay, let's have a look at the list of some best apps to recover deleted videos.
5 Best Video Recovery Apps for Android Smartphones
Below, we have listed some of the best video recovery apps for Android. These apps can help you a lot to recover those important videos that you have deleted by mistake.
1. Dumpster
The first name on our list of some best video recovery apps for Android is Dumpster. It is one of the most complete app to recover files such as videos and photos. This best video recovery app can also help you to create a backup of your media files and smartphone applications. Along with this, the app works without an internet connection and even without rooting your Android device. Hence, people also consider it among the best video recovery app for Android without root. Dumpster even provides support in around 16 different languages. Despite offering so many features, the app is entirely free. However is you want more advanced features, then you can opt for its premium account.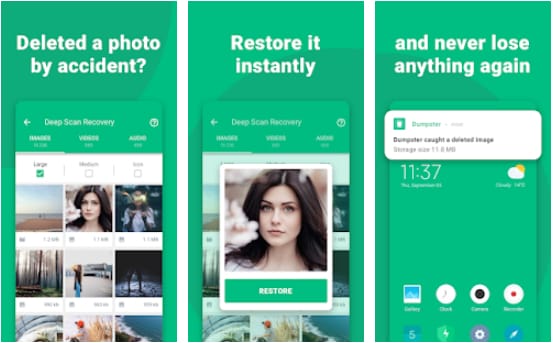 2. DiskDigger Photo Recovery
The second name on our list is DiskDigger Photo Recovery. We know that you might be thinking why we have listed a photo recovery app on this list. But, as it is said that don't judge a book by its cover, you should also not judge this app with its name. DiskDigger Photo Recovery also helps you to recover your videos. This one of the best app to recover deleted videos on Android also allows you to upload your videos, including the recovered one to the cloud storage, including Google Drive and Dropbox. The only major drawback of this app is that you cannot recover your videos without root. Apart from this, it is a decent choice to retrieve your images and videos. It also provides some advanced features in its paid Pro version.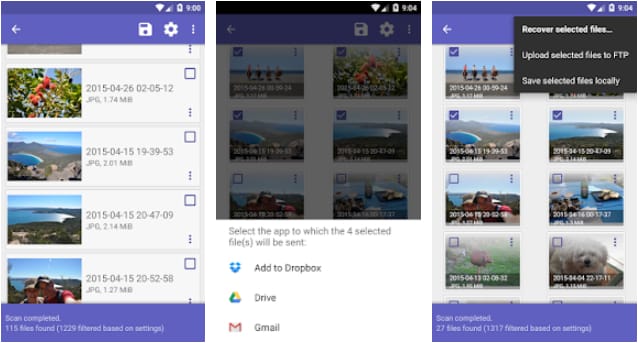 Also Read: Best iPhone Launchers for Android in 2020
3. EaseUS MobiSaver
EaseUS is a famous name when it comes to utilities of Windows PCs. The company also provides an Android application to recover deleted files. EaseUS MobiSaver is a quite popular app to recover videos on Android smartphones. This one of the best video recovery apps for Android even allows you to recover images, contacts, call logs, WhatsApp messages, Test messages, etc. Hence, we consider it among some complete apps to retrieve data on Android smartphones. EaseUS MobiSaver doesn't require booting as well for a quick scan. However, if you want to perform a deep scan for your deleted files, then you must require to boot your Android device. The application is also available for Windows PCs. Hence, we can also consider it as the best software to recover deleted videos for PC.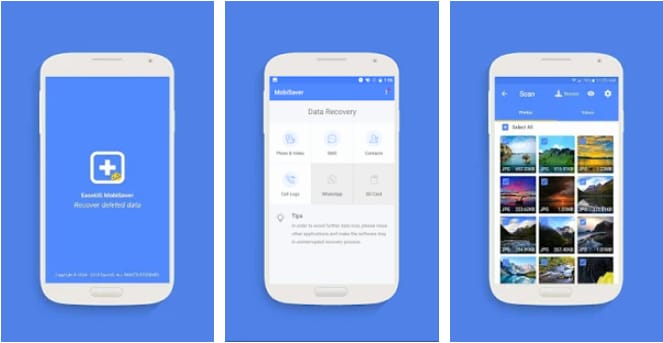 4. Deleted Video Recovery
Here comes another reliable application to retrieve deleted videos on Android phone. Deleted Video Recovery is one of the best video recovery apps available. It provides you with some advanced features, including its intuitive user interface. The app provides you with a fast scanning experience on your mobile storage to recover deleted videos. However, the app comes with a major drawback. It may sometimes show some videos that are not even deleted in its scan results. Hence, it can confuse you by mixing deleted and non-deleted videos altogether. Apart from this, it is a great choice to recover your deleted videos.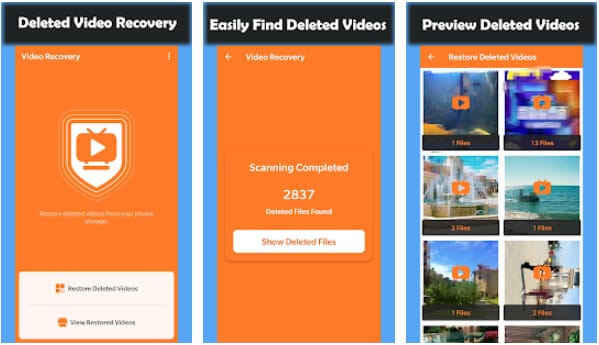 Also Read: Best Android Optimizer and Booster Apps
5. Disk Video Recovery
At last, we have Disk Video Recovery on our list of some best video recovery apps for Android. It is one of those Android applications that helps you to retrieve deleted videos for free. Disk Video Recovery scans your phone's storage and provides you with a list of deleted videos. The app supports various video files, including MP4, FLV, AVI, 3GP, MOV, etc. It even allows you to preview the video before you select to recover it. Disk Video Recovery also enables you to create a backup of your videos. Despite offering so many features, the app offers one of the most intuitive user interface as compared to other alternatives. Hence, you can give it a try. It is entirely free.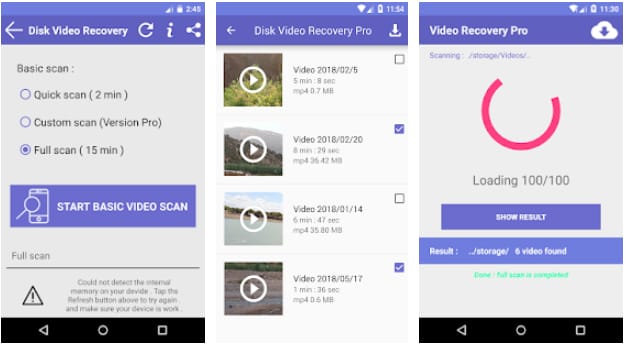 Well, the list of some best video recovery apps for Android ends here. These are some handpicked apps that can efficiently recover your deleted videos on Android smartphones. All the above-mentioned apps are free. Hence, you can give a try to any of them. All have their unique characteristics. Some of them can retrieve videos without booting while on the other hand, some can even retrieve call logs and WhatsApp messages. Hence, the decision is up to you, which one you want to select to recover the mistakenly deleted videos.
Apart from that, if you want more information about various other useful Android applications, then subscribe to Innovana blogs.
Subscribe to Our Newsletter
Keep yourself updated with the latest technology and trends with Innovana Thinklabs Limited.