In this post, we enlist the best webcam software and Windows 10 apps that you can use.
Webcam, we all know what it is. Perhaps, the most underrated computer peripheral. It just sits quietly on the top of your device, and you don't realize its importance until it becomes essential to use it. But, the present-day situation, where most of us are locked down in our homes, has made us realize that webcams are one of the core peripherals.  Talking about the currently available webcams, Windows 10 has a commendable camera. But, it is not the best and only option that you have. Many Windows 10 camera apps are even better than the native Windows webcam.
The best webcam software amps up your video conferencing and chatting experience. They let you smoothly work from home or catch up with a loved one. Moreover, with these apps, you can make crystal clear video calls, record videos, and stream videos without any glitch.
The marketplace has an ocean of Windows camera apps. But, not each of these applications can be called the best. In your search for a webcam application, you might also stumble upon the good for nothing applications that harm your device. Thus, to save our readers from such a situation, we are here with the truly best camera apps for Windows 10 laptops and PC.
The Best Windows 10 Camera Apps in 2020| Top 7 Webcam Software
Below are our picks for the best webcam software that you can use to elevate your video calling and chatting experience.
1. CyberLink YouCam 9
Here comes one of the best Windows 10 camera apps that almost every millennial knows about. Who doesn't want to perfect when on a video call? Everyone does. And, this app makes getting video call ready a cakewalk with features such as real-time virtual makeup. Moreover, it comes with a wide range of effects to make your video chats more fun and exciting.
This is not all and the app also lets you adjust the brightness, contrast, and exposure of the video. Furthermore, with this best webcam software for Windows, you can don various casual and formal looks. The cherry on top of the cake is that this app even has support for Google Hangouts, Skype, and many such applications.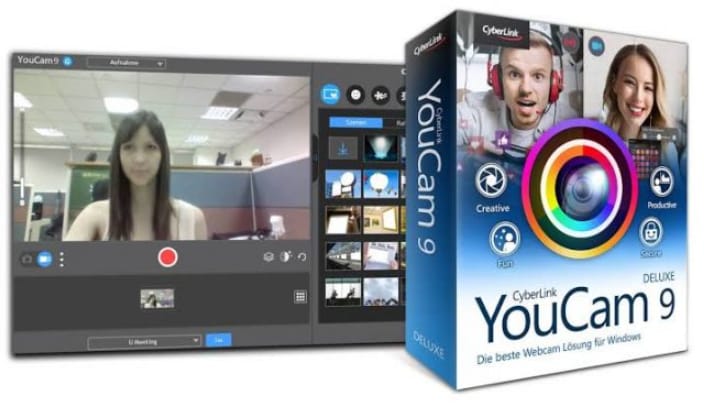 ---
2. Debut Video Capture Software
When the talk is about how to download a camera for Windows 10, the name of this application cannot be skipped. In addition to the native webcam, this app allows you to even record videos from the screen as well as external devices. Moreover, with this app, you can make your videos memorable by adding text and date stamps to them.
With this best webcam software at your disposal, you can not only record both videos as well as crystal clear audio-video. Further, you can play with the color options and other video settings before the recording begins. No matter whether you want to tweak the frame rate, size, or video resolution, this app lets you do it all without any hassles.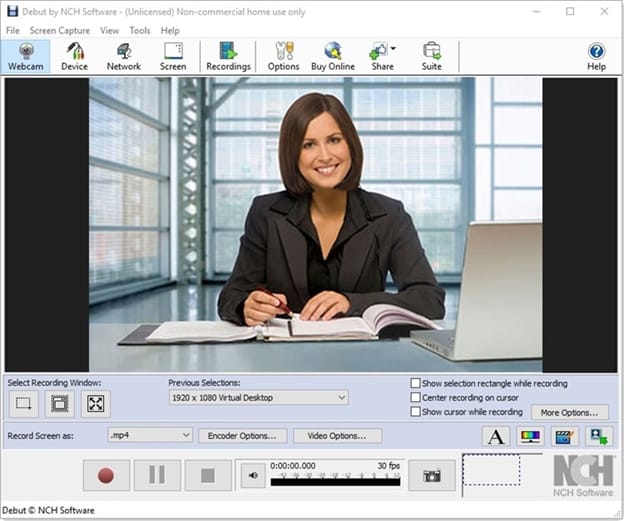 Also Read: 5 Best EXIF Viewers, Editors and Removers on Windows
---
3. IP Camera Viewer
Do you want to keep a tab on your home when you're away? If yes, then this best Windows camera app is for you. With this app, home surveillance is as easy as pie. All that you are required to do is connect all CCTV cameras with this application and you are good to go.
Not only the home surveillance but this app also makes several other tasks a whole lot easier. For instance, with this app, you can easily tweak the video quality of USB cameras, alter the contrast, brightness, exposure, and more. In addition to this, it has one of the most intuitive and easy to use interfaces that we have seen.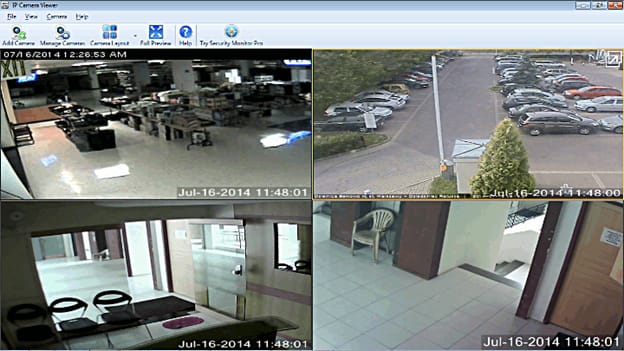 ---
4. Fake Webcam
Need a fun way to catch up with your friends? If yes, then this is the best Windows 10 camera app to download. Its name seems a bit confusing. But, the only reason for which the developers have named it Fake is that it gets installed as a virtual webcam but functions like a real one. With this app, you can chat with your friends via video call and play the messages as chats at the same time.
Moreover, this best webcam software also allows you to add exciting filters and overlays to your video. In addition to this, it has support for applications such as Google Hangouts, Skype, and more.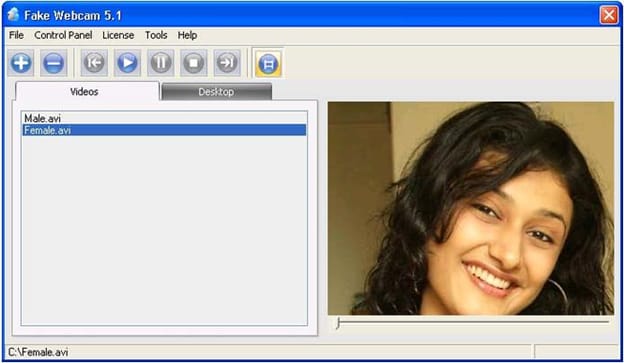 ---
5. ManyCam
This one of the best Windows 10 camera apps has a multitude of features to delight the users. With this application at your disposal, you can screencast the PC's screen. Moreover, it boasts the much-needed YouTube integration for smooth video streaming. This is not all and the app also doubles up as a surveillance camera to keep a watch on your home or office when you are away.
Is your room a bit messy and you don't want to show it? Well, this best webcam software for Windows allows you to replace the not so tidy background with a beautiful picture. Moreover, it also lets you add text to your videos and integrate with other applications such as Facebook, Skype, YouTube, and more. It even has the picture- in- picture mode that we all like.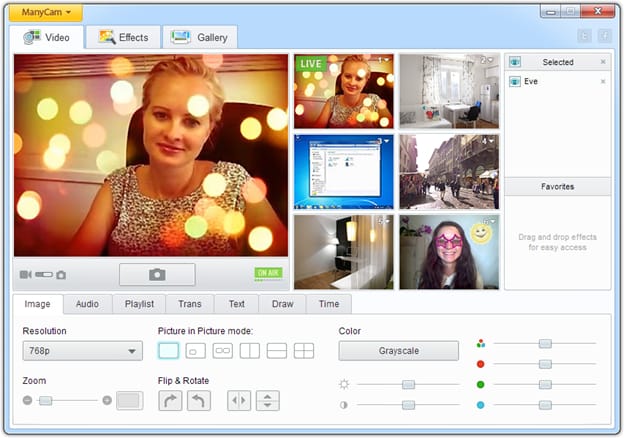 Also Read: Fix Logitech C920 Webcam Not Working on Windows 10
---
6. Logitech Webcam
Logitech is a household name in the domain of computer peripherals. It manufactures a lot of components ranging from the mouse to keyboards. And, it also delights the users with one of the best webcam software. You can use this utility to capture pictures, record videos, and do a lot more with the webcam.
Moreover, this best camera app for Windows 10 laptop and PC also lets you tweak the camera's sensitivity. And, you can also use this app to keep surveillance on your home or office.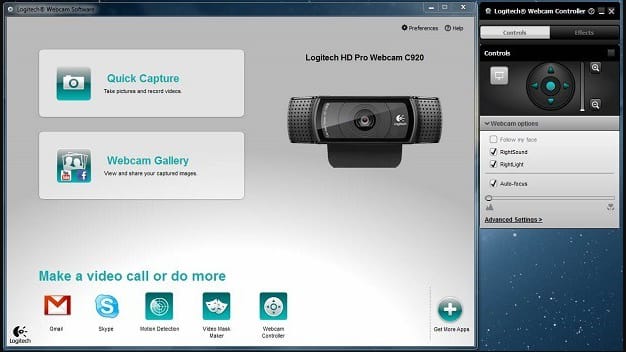 ---
7. YAWCAM
If ease of use is among your topmost priorities, then YAWCAM is among the best Windows camera apps that you can use. This yet another webcam software has an extremely straightforward and easy to use UI. Some of its key features include motion detection, built-in web server, functionality to add overlay text and images, and more.
The best part is, this Windows camera app enables you to secure your videos and pictures with a password.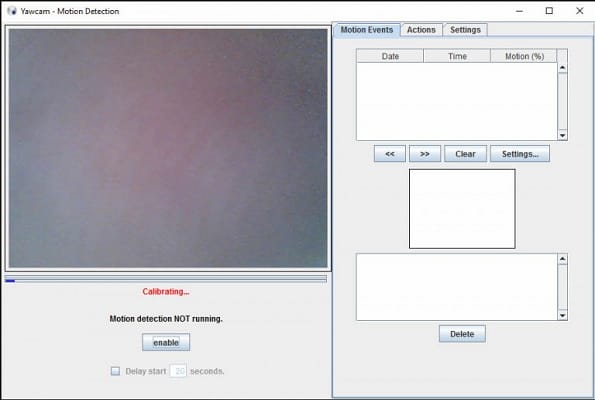 That's all folks!
Above was the best webcam software to do video conferencing, catch up with friends and family, and enjoy the Windows 10 camera to the fullest. You can choose any of them as they all are on par with each other. Lastly, before bidding adieu, don't forget to subscribe and bookmark Innovana Blog for more such interesting information.
Subscribe to Our Newsletter
Keep yourself updated with the latest technology and trends with Innovana Thinklabs Limited.