Read on to know the best Wise Care 365 alternatives along with their feature highlights.
 Can you live without your computer? We know, most of the people cannot. After all, we use the PC or laptop for performing a lot of tasks such as storing pictures, playing games, studying, working from home, and whatnot. The more activities a computer performs, the more and more junk accumulates in it. And, its performance deteriorates. Since manual PC cleaning and optimization is complicated, you need a utility to do it automatically. Then, the first software suggestion you get is Wise Care 365. But is that the only option? Well, no. Through this typewritten note, we share the best Wise Care 365 alternatives.
A question that arises here is why look for an alternative to Wise Care 365, is this software not good. Wise Care 365 is undoubtedly a great utility, but it has some unignorable shortcomings that you must know before choosing it as a PC cleaning and optimization tool for your computer. We share these downsides below.
Why are the Best Wise Care 365 Alternatives Needed?
You need the best alternatives to Wise Care 365 because of the following shortcomings of the utility.
Many of its useful features are not free.
The technical support is not as efficient as you may expect it to be.
Updating to a new Wise Care 365 version requires the deletion of the previous version.
It installs unnecessary popup apps on your device.
We believe that the above cons of Wise Care 365 are a reason strong enough to consider other similar software like Wise Care 365 that are free from these shortcomings.
If you also think the same, then go through the below segment to know about the best programs that you can use in place of Wise Care 365.
Best Wise Care 365 Alternatives to Boost the PC Performance
Below are the best Wise Care 365 alternatives that are not only a software similar to it but also amazing utilities to take the performance of your PC to new heights.
1. Iolo System Mechanic
Here comes a utility that is the perfect mechanic to repair PC problems. It fixes almost all the issues that you may be facing, including the gaming glitches and annoying system crashes. Moreover, it is also among the best overclocking software that overclocks the processors for a smooth gaming experience. Apart from this, here is what else we found attractive enough in this tool to include it in our list of the best programs like Wise Care 365.
Iolo System Mechanic Highlights
Hosts a bloatware removing tool.
Speeds up the internet and enhances its security.
Makes the PC perform fast without any noticeable glitches.
With this software, you can even delete the entire hard drive.
Boasts a professional edition that allows you to recover the mistakenly deleted pictures, videos, and other files.
Its LiveBoost feature significantly elevates the PC performance.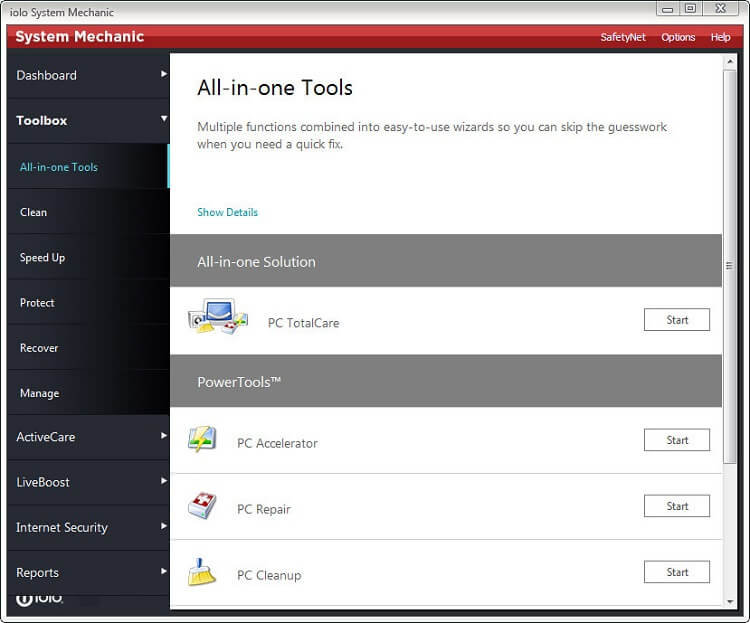 2. Ashampoo WinOptimizer
This utility is among the most thoughtfully named software. Like a shampoo thoroughly cleans traces of dirt, it removes junk from your device in the same way. It is one of the most preferred tools to delete unwanted and stubborn files and make the PC absolutely clutter-free. In addition to this, below are some of the highlighting features that make it stand out from the other tools shared in this write-up dedicated to the best Wise Care 365 alternatives.
Ashampoo WinOptimizer Highlights
Boasts a startup manager to manage the startup apps and reduce the boot time.
Fine-tunes and speeds up internet connectivity.
Hosts a software uninstaller to remove the programs that unnecessarily hog up the device space.
Lets you customize the settings on your PC so that your privacy remains unharmed at all times.
Backups the registry before performing any cleaning action, and lets you restore the settings whenever you need to do it.
It is among the best tools to create hard disk backups, encrypt crucial files, and run performance backups.
It lets you schedule the PC scans and run an ADS scanner for hidden data streams.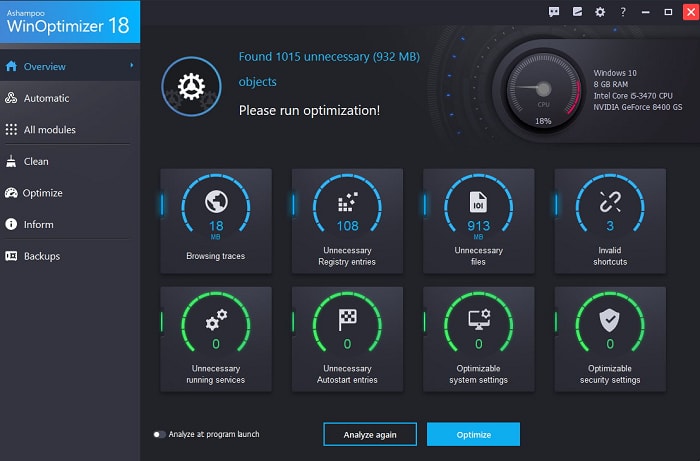 3. AVG PC TuneUp
Most of the people know AVG as an antivirus. Windows tune-up and optimization software by AVG is perhaps an underrated tool but it is among the best software that you can use to take the performance of your PC a notch up. Below are some of the remarkable features of this utility that forced us to make it a part of our blog enlisting similar software programs like Wise Care 365.
Highlights
It comes with a built-in software updater and uninstaller.
Hosts a junk cleaning tool that even deletes useless app remnants.
Boasts a battery life enhancer.
Makes the unrequired startup applications sleep.
Cleans the space-hogging items and unneeded registry entries.
Encompasses tools for remote PC management.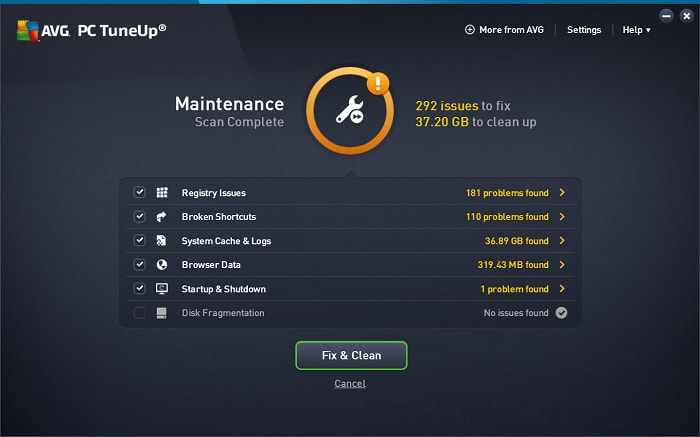 4. Auslogics BoostSpeed
As the name indicates, this utility is programmed to speed up your PC. And, it is among the favorite tools of millennials to increase the PC speed. Apart from the ability to make the computer leopard fast, here is what makes it one of the best Wise Care 365 alternatives.
Highlights
Hosts a robust cleaner for temporary files, cache, unneeded error logs, unrequired operating system update files, and such other useless items.
Removes corrupt and invalid registry entries for a smoother PC performance.
Makes the internet calling a smooth and glitch-free experience.
Scrapes away sensitive information from the hard drive to protect your privacy.
It makes sure that the maximum PC resources are allocated to the active programs.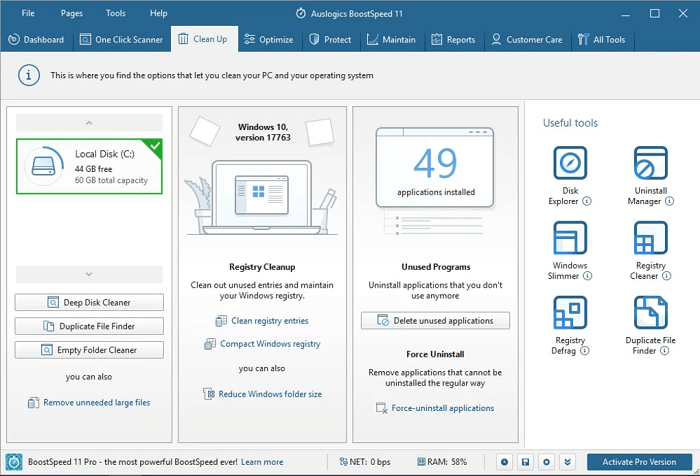 Also Read: 13 Best Registry Cleaner Software for Windows 10, 8, 7 in 2020
5. Win Magician
Do you want to see the real magic happening to your PC's performance? If yes, then get this magician without a second thought. This utility is among the best Wise Care 365 alternatives to scrape away junk from every nook and cranny of your computer and make it run super fast. Apart from this, below are a few highlighting features of this tool that brought it to our notice.
Highlights
It comes with a built-in blocker for malicious websites and advertisements.
Hosts a junk cleaner that effectively wipes out every trace of junk such as app remnants, apk files, and other useless data from your device.
Its registry cleaner not only deletes the invalid registry entries but also makes the PC smooth and a whole lot faster.
Detects and protects your computer from malware infections in real-time.
Boasts a beginner-friendly UI that users of all experiences and ages can use without any hassle.
Encompasses all the tools required for effective maintenance and computer care.
Win Magician is Checkmark certified.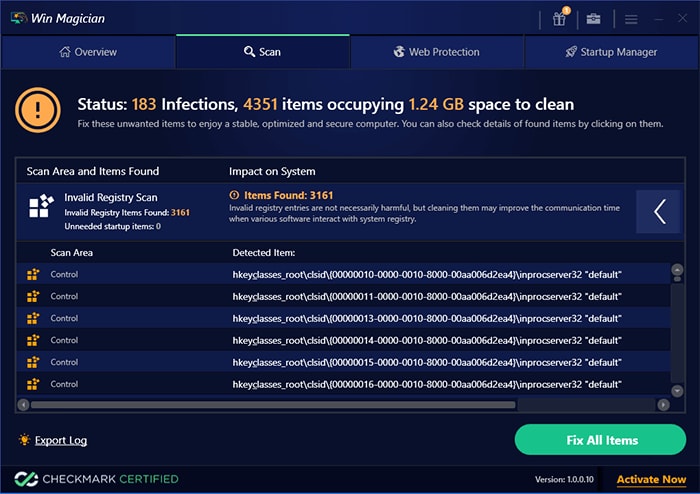 Which Best Wise Care 365 Alternative Did You Choose?
Above was our list of the best Wise Care 365 alternatives. And, if you ask us which tool is our favorite from the list, then our answer would be ccleaner as it made our PC run like a newly purchased model. You can get it from the link, click here.
In case your preferred tool defers from us, then we would like to know about it through the below comment box. And, if you have any suggestions or anything else to share about this post, then we would love to hear that too.
Subscribe to Our Newsletter
Keep yourself updated with the latest technology and trends with Innovana Thinklabs Limited.