Looking for the Best Xender Alternatives for PC, Android, and iOS? Then, look no further. This post shares our deeply researched recommendations. 
What's the first thing that comes to your mind when you snap a picture or listen to any feeling-provoking song? Most probably, you think about sharing it with friends and family. While searching for an app to do it wirelessly and speedily, Xender is a name that often pops up on your screen. But before you jump to download it, better get acquainted with the best Xender alternatives.
Now, you might be wondering why go for the alternatives of Xender, is the application not good enough? Well, considering other options does not mean an app is bad. It means that other applications can be a more appropriate fit for your needs.
Below are some of the top reasons why we think alternatives for Xender can be an excellent choice.
Why do you need Xender alternatives?
Here is why we and many others find alternatives to Xender a better option to share images, videos, music, and other files.
The free version has lots of unwanted ads and pop-ups.
Connectivity problems between various devices.
Apart from the reasons above, security concerns are also why we dived deeper into the web to find the best Xender replacements. The world's most democratic country India, banned Xander sometime back, citing security breach as the reason. Many other countries were also likely to follow the lead.
Thus, to keep the security intact and bypass the Xender limitations, let's take a look at the top software to use instead.
Well-researched list of the best alternatives to Xender
Below are the top Xender web, Android, and iOS alternatives that you can use for fast and easy wireless file transfers. 
1. Files by Google
When talking about the best Xender alternatives, File by Google is a name no one can skip. This free software is among the first choice of millions to organize and share the files.
Security is the last thing you need to worry about as the name "Google" is itself a guarantee of privacy. Apart from being secure and easy to use, below is what else you can expect from it.
Features of Files by Google
You get personalized suggestions to clean up large/duplicate files, unused applications, and space-hogging videos.
Its intelligent filters organize your images, videos, and files to make them easily findable.
It supports fast, encrypted, and direct offline file transfers to nearby people.
You can back up your files to Google Drive or any other cloud storage platform.
With this application, you can send large files and videos to the SD card.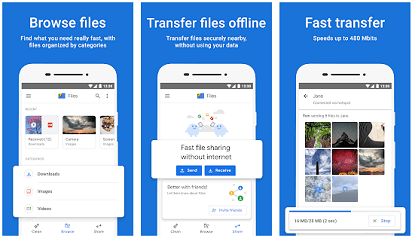 2. Zapya
For those who are wondering if there is a Xender alternative for PC, here comes Zapya. It is multi-platform software with quite a lot of stunning features. For instance, there is phone replication to transfer the whole content of your old phone to the new one.
Apart from this, below are the other reasons for which we call it one of the top alternatives to Xender.
Features of Zapya
It allows you to bulk transfer large files, such as applications, videos, music, photos, etc.
Zapya's file transfer speed is 10 MB/S, i.e., 128 times speedier than Bluetooth.
Shaking phones at the same time connects them for effortless file transfer.
You can generate a customized QR code and share it for others to connect.
The application supports over 20 languages.
There is also an option to create a file-sharing group and in the app for others to join.
The file transfer is pausable and resumable anytime.
Its "Install All" feature lets you download multiple applications on your phone simultaneously.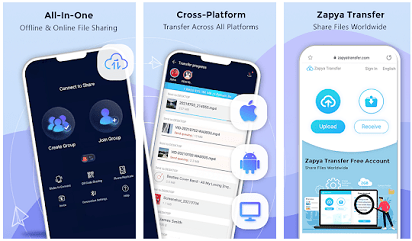 3. Feem
Want more recommendations for the best applications like Xender? Well, here we have Feem. It is among the most beautifully designed apps to share files offline.
Not just file sharing, but the app also lets you share text and links via chat messages that destroy automatically after 48 hours. Moreover, there is FeemWebshare for people who don't like downloading a file transfer app.
You can use FeemWebshare to transfer files using your browser. Feem secures the transfer with HTTPS and PIN codes.
Below is what else makes this application a deserving addition to this list.
Features of Feem
As the app claims, it is 50% faster than Bluetooth.
It supports direct, device-to-device offline transfer of large files without any size limitations.
Feem employs TLS encryption to secure the file transfers.
You don't need a WiFi router to use Feem, as you can use in-app WiFi direct or personal hotspot to create a file-sharing network.
If the file transfer gets interrupted, you can resume from the point where you left it.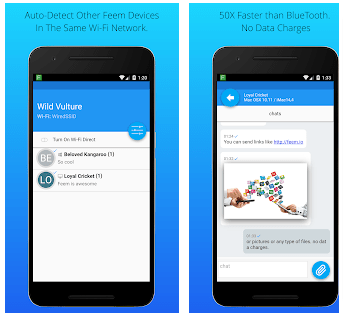 Download for Android/iOS/Windows
4. JioSwitch
India's Xender ban led to the emergence of gems like JioSwitch. It is an Indian application worthy of being called one of the best Xender alternatives for many reasons, such as no size limitations while transferring files.
Below we share the top features that helped JioSwitch make it to this list.
Features of JioSwitch
The application works on multiple platforms.
It provides secure file transfers.
You can use it to clean junk photos and files.
JioSwitch works even without an internet connection.
It lets you transfer multiple files simultaneously.
You can view the time remaining for the transfer to complete.
The application does not trouble you with ads.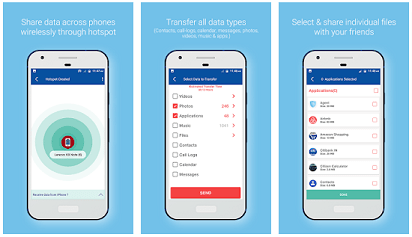 5. SuperBeam
Well, Super can be taken as an acronym of Superb when it comes to talking about SuperBeam. It is an excellent alternative to Xender for not just one but multiple reasons.
For instance, it uses WiFi direct to transfer files at a lightning-fast speed. Moreover, you can choose between light and dark themes depending on the situation.
Apart from this, here are the other reasons why SuperBeam is among our top recommendations.
Features of SuperBeam
Easy device pairing using QR codes, NFC, and sharing key.
It supports almost all kinds of file formats.
You can send complete folders while preserving their hierarchy.
SuperBeam lets you share files with multiple devices simultaneously.
The paid version allows you to change the default file save location.
No limits on the number of files that can be transferred.
It adds unique numbers to twin file names automatically.
The application automatically switches to hotspot mode when there is no WiFi direct available.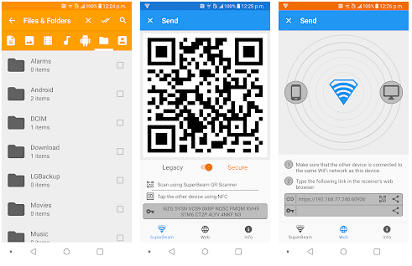 6. Pushbullet
This application on our list is much more than a file transfer software. Its outstanding features make it one of the perfect apps to connect and collaborate with friends/colleagues living in far-off places.
Let's take a quick look at all the praiseworthy features of this application that brought it to our attention.
Features of Pushbullet
You can use this application to send and receive text messages on your computer.
Pushbullet sends all the phone notifications from WhatsApp, phone calls, etc. to your computer.
It notifies you about all the things you may be interested in, such as the release of new games, etc.
The application makes link-sharing easier, you can email the link to yourself to view it on any of your devices.
Pushbullet works even without the devices being in the same place.
It makes it convenient for you to chat with friends.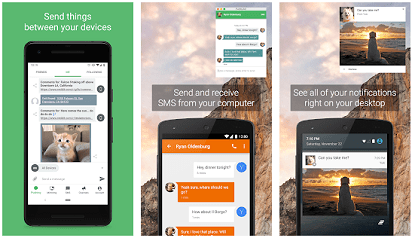 7. Send Anywhere
Another wonderful app that you can use instead of Xender is Send Anywhere. It is a multi-platform application that uses WiFi direct to help you transfer files securely and quickly.
What makes this app unique is that it employs robust 256-bit encryption to keep your transfers secure. Apart from this, below is what else we found attractive about this application.
Features of Send Anywhere
You can create a link to share files with multiple people at the same time.
The in-app file explorer system lets you perform editing actions (cut, copy, paste, and delete) on the files.
With the Send Anywhere extension, you can even attach big files to your emails.
Along with links, you can also create QR codes to transfer files.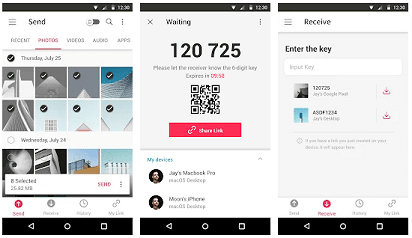 Next, we have ShareMe as one of the best Xender alternatives. This application is free to use with no ads. Moreover, it works on a P2P, i.e., person-to-person file transfer model.
If ever the file transfer gets interrupted for any reason, the app lets you resume it with just a tap. Below are some other features of this application that we found interesting.
You do not need an internet connection to transfer files with ShareMe.
Its interface is quite easy to use and categorizes files into neat categories.
It is a multilingual application with support for multiple languages ranging from Chinese to Tiếng Việt.
There are no limitations on the size and type of file that you can transfer using ShareMe.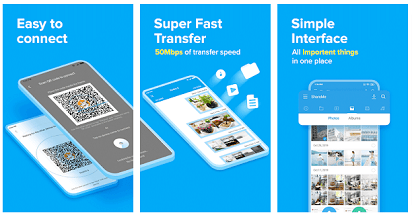 9. Sweech
Sweech is yet another application that you can call the best alternative to Xender. It also doubles up as a player to help you play music, video, photos from your device on your computer remotely.
In addition to that, Sweech also provides many other unique features. Below are the highlighting ones from them.
Features of Sweech
You don't need to download Sweech on every device. You can get it on your phone and send a URL to other devices to connect to Sweech.
It allows you to use Android Beam (NFC) and QR codes to send your device's URL.
Sweech automatically configures a WiFi access point when no WiFi is available.
You can create a short URL to share selected files without giving access to the entire device content.
It has no limitations on the number of files that you can transfer or file size.
The premium version secures transfers with HTTPS.
You can also restrict access to your device using a password or IP-based control in the premium version.
Premium Sweech connects automatically when WiFi is available.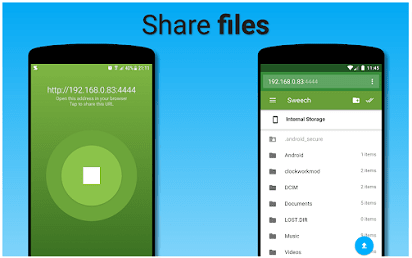 10. Smart Transfer
Smart Transfer is our next pick for the best alternatives of Xender that you can use to transfer files quickly and swiftly. This cross-platform content transfer solution provides a wide range of features, such as the option to transfer WhatsApp backups.
Below are some highlighting features of Smart Transfer that brought it to our attention.
Features of Smart Transfer
It comes with support for multiple languages, such as German, Russian, etc.
You can transfer any type of content ranging from contacts to images.
Smart Transfer allows you to send files in bulk without any restriction on their size.
The application lets you connect two phones using a QR code.
iOS version of the application comes with a Family Sharing option.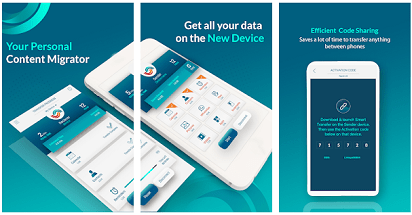 Concluding the best Xender alternatives
Above were our top recommendations for the best alternatives to Xender for PC, web, Android, and iOS. You can pick any of them depending on your preference. They all are equally good.
However, if you think any other deserving application should also be a part of this list, share it with us via the comments section. For more software and app recommendations, add our blog to your subscriptions and bookmarks.
Subscribe to Our Newsletter
Keep yourself updated with the latest technology and trends with Innovana Thinklabs Limited.