These best Zumba apps can help you to stay toned & healthy. Read on to know the fun way of being fit. 
We all think that it is tough to have a healthy lifestyle. Hence, a lot of people struggle to keep their bodies toned and fit. But, it is not that hard to build and have a healthy body. You do not every time require a rigorous workout schedule. Performing an easy & fun Zumba dance workout can also keep you fit. Zumba is one of the best complete body exercises. That is why here we have the best Zumba apps for you. So, without being lazy, let's check these dance workout apps.
Best Free/Paid Zumba Apps For Android & iPhone In 2021
Below we have listed the best free & paid Zumba apps available for Android and iPhone in 2021. These apps can help you a lot to go from fat to fit.
1. Zumba Fitness
One of the best free Zumba apps for both experienced and novice users 
If you want to learn Zumba but don't know where to find the best Zumba dance workout trainer, then the Zumba Fitness app is all you need. It caters to the fitness needs of both amateurs and experts as well. Hence, don't worry if you are new to the dancing world. Here are the other features of this best Zumba dance app for beginners.

Features/Highlights of Zumba Fitness
It searches for nearby classes and shows you the instructor's profile.
You can contact the instructors personally and discuss your requirements with them.
One can also set reminders for the upcoming classes in this free Zumba app.
Zumba Fitness also sends you notifications about the future dance sessions in your area.
It allows you to invite your friends to join the Zumba classes and parties.
The app is available in multiple languages.
Suited to the needs of both experts and amateurs.
User friendly.
Not updated frequently.
The Zumba instructor finder is buggy sometimes.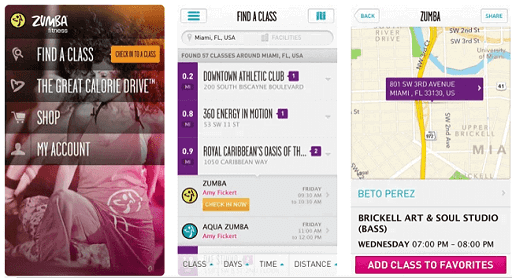 Also Read: Best Running Apps to Build Your Stamina
2. ZIN Play – Zumba Fitness
Best offline app to stay fit with Zumba 
ZIN Play is another best Zumba app from the developers of Zumba Fitness. It offers tons of Zumba dance videos for both beginners & experts. Hence, one can easily transform from fat to fit. Along with this, it has a lot to offer for all the fitness enthusiasts. Below are the other highlights of this Zumba dance app.

Features of ZIN Play
It boasts the option to search your favorite tracks for the Zumba workout.
The app also gives you playlist-based suggestions.
ZIN Play even lets you add sound effects to the tracks you like.
You do not need WiFi or mobile data to access the playlist with this one of the best Zumba apps.
Using ZIN Play, you can also sync the content you like on the ZIN app.
You can trim the length of soundtracks and even add a water break.
Allows you to make keyword, rhythm, and BPM-based searches.
Secure and easy to use.
Fixes major bugs with each update.
Misses a few features.
Support is a bit slow.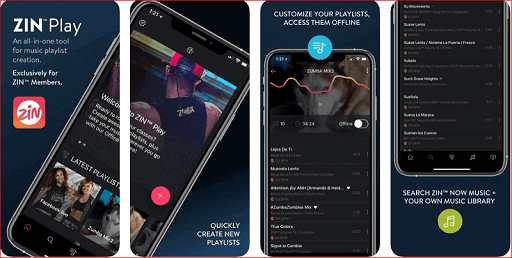 3. Body Groove
Among the best gym at home Zumba apps with customized dance sessions
A body that grooves always remains fit. Dance your way out to fitness with this best dance workout app. Body Groove makes you feel as if you have a personal dance trainer. You won't feel the need to go to the gym with this app at your disposal. It makes your home feel like a gymming place. Apart from this, here is what else it offers.

Features of Body Groove
It has over 100 dance routines.
There are a lot of live sessions to help you attain your goals.
Body Groove has cool dance moves to make everyone groove, no matter if he/she is experienced or a beginner.
You get tailored dance sessions.
The app only requires you to dance to lose weight.
Easy to follow for beginners.
Teaches a variety of fun dance moves.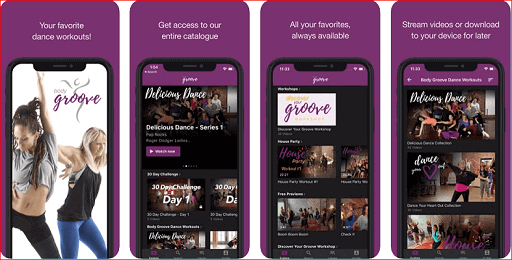 Also Read: 10 Best Free Weight Loss Apps Of 2021 [Android/iPhone]
4. SYNC GO
A one-stop destination for almost all your fitness needs
Here we have one more helpful Zumba dance app from Zumba Fitness LLC. The developers have also developed Zumba Fitness & ZIN Play. Hence, you can have high expectations from this fitness app as well. It is an all-in-one app for all your fitness goals and needs. You can only access SYNC GO if you have the premium membership of the Strong Nation network. However, it does have several praiseworthy features that we have mentioned below.

Features of SYNC GO
SYNC GO allows you to create a customized playlist for your workout sessions.
It also has an option to trim the songs as per the length of your class.
The app also lets you access the Strong Nation provided fitness teaching videos and aids.
It lets you sync your favorite content of the SYNC Now app automatically.
You do not need a WiFi or mobile data connection to access your fitness playlist.
Creation of customized playlist.
Access to Strong Nation videos.
Premium membership of the Sync program needed.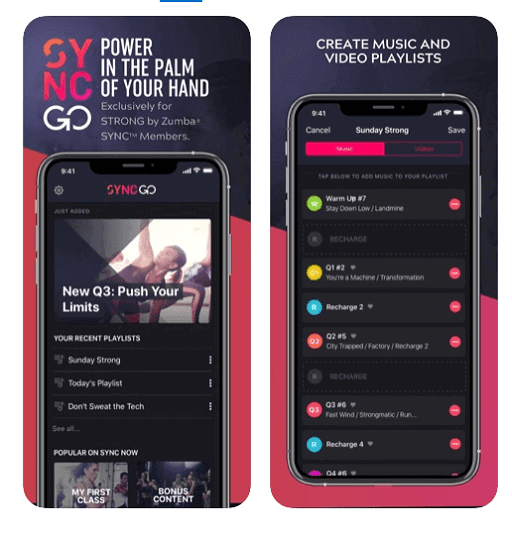 5. Home Workouts by Daily Burn with Zumba App
A highly rated Zumba app with a variety of workout sessions 
Here comes the dance workout app that helps you shape your body the way you want without going to the gym or using equipment. Home Workouts by Daily Burn has everything from weight training sessions to cardio workouts. You also get Yoga, Kickboxing, Meditation, and several other fitness lessons. Below we have highlighted the salient features of Home Workouts by Daily Burn.

Features of Home Workouts by Daily Burn with Zumba App
You can choose from thousands of fitness sessions, depending on your schedule.
It offers audio and video workouts of several fitness experts.
The app helps you to create personalized workouts. Hence, no matter if you are a fitness expert or an amateur, Home Workouts by Daily Burn can help you to achieve the fitness you want.
You can also chat with the trainers and other members.
On weekdays, it even carries out a group workout class at 9 am EST.
Many workout videos for people of all experiences and ages.
Group classes.
A bit expensive in-app purchases.
It goes blank sometimes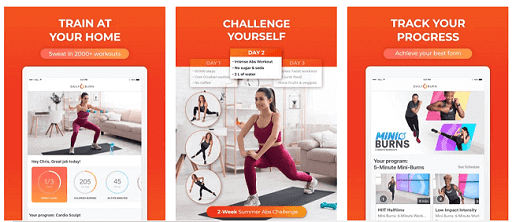 6. Zumba Dance Fitness with Jessica
One of the best free Zumba apps to make the workout fun 
Dance Fitness with Jessica is the 'dance to lose weight' app for all the fans of YouTube sensation Jessica Bass. If having a well-toned and fit body like hers has always been your dream, then turn it into reality with this best Zumba dance app. If you are thinking that achieving such a fit body is not possible, then think again. All that you need to do is, try this app. Here's how it helps you go from fat to fit.
Features of Zumba Dance Fitness with Jessica
It combines body exercises and dance in an interesting 10-minute routine.
The app has dance guides for all users ranging from beginners to the advanced.
You get tailored exercise routines in this one of the best Zumba app currently available for Android & iPhone. Whether you want to gain muscle or lose weight, it has something for everyone.
Dance Fitness with Jessica app also provides an option to set reminders for your training sessions.
The app even features cool down & warm-up exercise sessions.
Fun workout sessions.
Amazing music selection.
Sometimes, it slows down unexpectedly.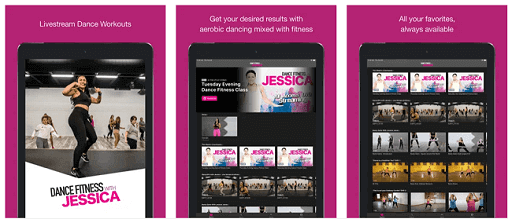 7. Aaptiv Zumba App
What was your New Year resolution? Most probably, it was to join a gym and get fit. You might have even joined it. But did you go there for more than a week? No. Laziness and time constraints are the major reasons for this. What if we say you can get a toned body without heading to the gym? Yes, with Aaptiv, it is possible to do your workout when you want, where you want, the way you want. Let's know more about this app.

Features of Aaptiv Zumba App
It has numerous exercises to burn fat that you may do in the comfort of your home.
The app works as your gym trainer. Hence, you get the benefits of a personalized gym training.
Aaptiv introduces 30 new workout classes every week. So, it does not matter what fitness level you want to achieve this app is helpful for everyone.
It encompasses multiple types of workouts, including Cardio, Strength Training, Stretching, Yoga, etc., to help you lose that stubborn fat.
Aaptiv allows you to download the audio classes offline to help you carry out your workout even without the mobile data or WiFi.
Zumba sessions by certified trainers.
High personalization and accessibility.
Excellent support.
Switching between audio and video seems a bit inconvenient.
Background music may sometimes overpower the instructor's voice.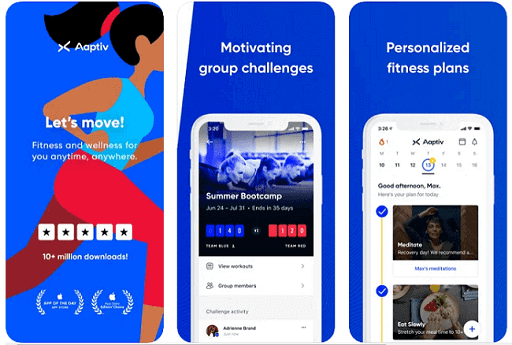 8. Zumba Dance Workout Offline
Among the best free Zumba apps to stay fit without internet
As the name suggests, this one of the best Zumba apps enables you to do Zumba dance workout offline. Here you get access to the lessons even when you don't have an internet connection. Along with making you fit, it also helps you save the data plan GBs. The best part of the Zumba Dance Workout Offline is the features that it offers. Here they are.

Features of Zumba Dance Workout Offline
This app informs you about the choreography you'll be dancing to on a particular day so that you can be prepared well in advance.
It also keeps you more disciplined and has the most straightforward user-interface.
With this one of the best Zumba apps for Android, you can also save data as it even works offline.
It offers daily exercise plans to help you lose weight more effectively.
You can perform the planned Zumba session by the Zumba Dance Workout Offline app even at your home.
Friendly UI.
Regular sessions.
Advance information about choreography.
Sometimes, it takes a lot of time to download.
It may crash occasionally.
Download Now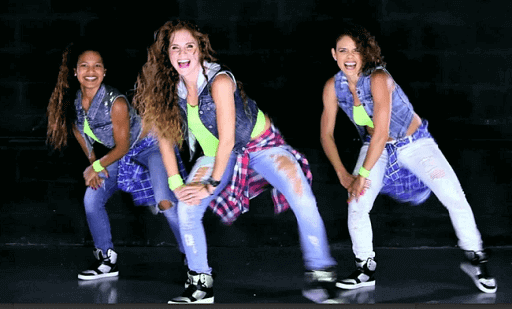 9. Weight Loss Zumba Dance & Aerobic By Berry
Along with Zumba, Aerobics is also quite effective in burning calories and lose weight. Hence, we have included the Weight Loss Dance Aerobic By Berry app in our list. This dance workout app makes your fat-burning session pretty interesting. Here are all other prominent features of this fitness app that makes it worth a try.

Features:
The app shakes boredom away by letting you choose your favorite track instead of making you dance on some monotonous track.
It has tons of tutorials for beginners who are new to Aerobics.
You get the best-shortlisted fitness training lessons.
It also allows you to share the workout session on social media platforms.
From muscle-building gym sessions to bodyweight exercises, it has everything for everyone. Hence, no doubt why people consider it as one of the most popular and best dance apps.
You can choose from a wide catalog of video lessons.
Full-screen mode.
Supports social media sharing.
It does not work offline.
Download Now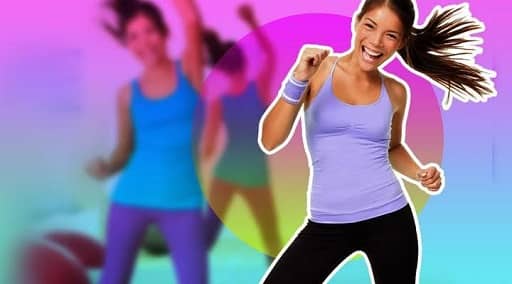 Also Read: 10 Free & Best Calorie Counter Apps to Track Your Calories 2021
10. iDance
iDance is one of the best Zumba dance apps for iPhones & iPads. Here, along with Zumba, you get access to varied dance forms such as salsa, samba, club freestyle, Disco, Hip Hop, and Swing, etc. In our view, nothing can be better than shedding those extra kgs and learning new dance forms at the same time. Although you need to pay $3.99 to get this app, but it still is worth every penny. Below are its other prominent offerings.

Features of iDance
For the beginners, it has availability of over 225 animations with detailed instructions on footwork.
Along with the detailed training for the dance steps, iDance has 40 preset classes. These classes help to combine the dance steps into full dance routines.
It also allows you to create your sequences and save them for later use.
The interface is pretty simple. You can link multiple patterns by just dragging and dropping them to the sequence bar.
iDance also offers multiple warm-up and cool-down sessions along with the Zumba dance workout.
Full support for AirPlay.
iCloud support.
Beginner, intermediate, and advanced levels.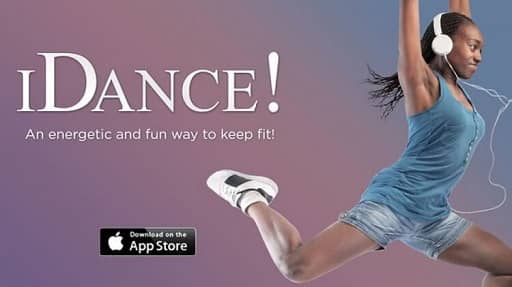 Also Read: 10 Best Music Player for iPhone of 2021
11. Zumba Dance Workout Videos FREE
Have you ever thought of just having fun to get that body shape that you have always dreamed of? Dance Workout Videos FREE app helps you in doing so. This free Zumba app for iPhone offers sessions of multiple dance forms to its users for free. And that's not the only thing it can do. Below we have listed the other incredible features of the Dance Workout Videos FREE app. Let's have a glance at them.
Features of Zumba Dance Workout Videos FREE
It has over 50 dance videos in all genres ranging from Salsa to Street Dance.
It also has warm-up and cool-down sessions along with dance workouts.
You can unlock 14 hours of workouts through in-app purchases.
You get 14 hours of workouts that you can unlock through in-app purchases.
Along with routine exercise session, you also get a bonus Dance Party workout
Fun and exciting dance sessions
Availability of many dance forms
Video quality is a bit substandard
Sound issues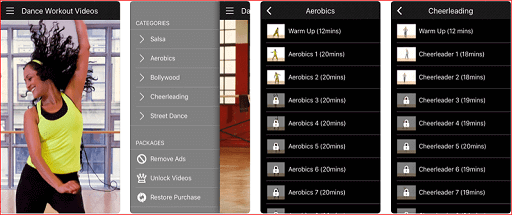 12. Dance Fit Happy
Best Zumba app to have timed workouts 
Dancing makes you fit, and fitness leads to happiness. Through Dance Fit Happy, you can access hundreds of streamed dance videos selected randomly. It helps you to get a new video each day and take a step towards fitness. Keep exercising with this dance workout app and see your body turning fit and healthy day-by-day. Further, Dance Fit Happy also has some enticing features to make the workout easier for you. Here we list them below.
Features of Dance Fit Happy
The app enables you to time your workout sessions with its fantastic timer.
Dance Fit Happy also provides short warm-up and cooling down videos to help you get in the dancing mood.
It adds new workout videos with each update.
The best part is, this is a free Zumba app that you can use without spending even a penny.
Along with Zumba, it also provides workout sessions of multiple dance forms, including Kpop, RnB, Hip Hop, etc.
Occasional black screen issues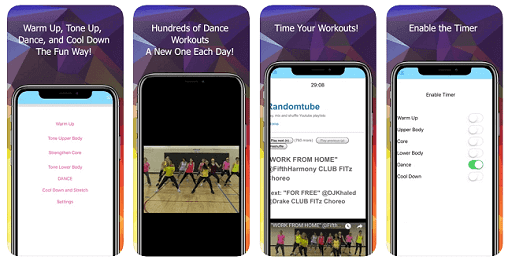 13 Weight Loss Dance Aerobic
Zumba workout app with a vast collection of foot-tapping music
Exhaustive diets and hardcore exercises are not the only way of getting a toned body. You can also be fit by doing Zumba and Aerobics with the Weight Loss dance aerobic app. It makes you lose weight the way you love.  Not just this, the best Zumba app also helps you to make your body more flexible. Below are the other prominent features of Weight Loss dance aerobic that caught our attention.

Features of Weight Loss Dance Aerobic
Instead of monotonous tracks, it has great foot-tapping music for you to dance on.
It even lets you dance your heart out on your favorite tracks.
Even if you are new to the world of dancing, this dance workout app has tons of tutorials to make you fall in love with dance and fitness.
No matter if you are an amateur who want Zumba dance for beginners or an expert looking for some high-intensity interval exercises, Weight Loss dance aerobic has something for everyone.
Everything is available for free on this fitness app.
Suitable for both beginners and experienced
Great music collection
Uncategorized videos
No option to use it offline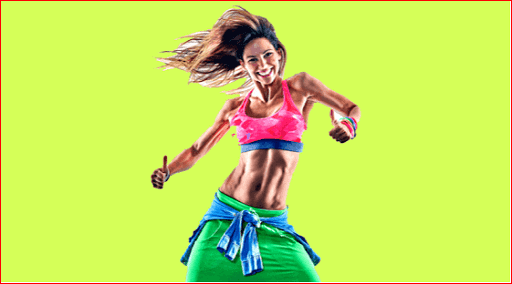 14. Aerobics Dance Workout for Weight Loss
A personalized dance trainer to keep you fit
Aerobics dance workout for weight loss is another great 'dance to lose weight' app on this list. It helps you to burn fat without following a strict diet. Not only in fat loss, but the app also helps in getting the body you have always desired. Below are the offerings of Aerobics dance workout for weight loss that makes burning calories a fun activity.

Features of Weight Loss Dance Aerobic
It helps you to perform cool aerobic dance moves on the tracks that motivate you to dance.
You can even dance on Spanish, Latin and Reggaeton music and see yourself getting fitter day-by-day.
The app boasts workouts chosen by expert dancers and gym trainers across the globe.
You get personalized dance tutorials based on your level of fitness.
It does not require you to spend a single penny. Aerobics dance workout for weight loss is one of the best free Zumba apps available for Android in 2021.
Excellent music collection
Fun to use
No option to preview the videos
Sometimes, the videos do not open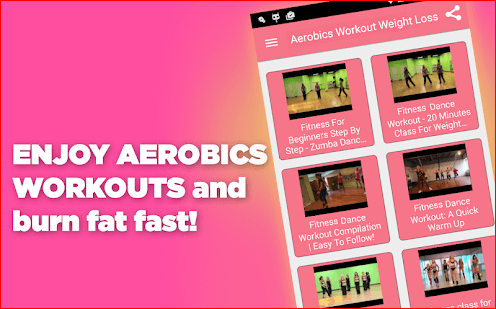 Also Read: The Best Calorie Counter Apps for Android and iPhone in 2020
15. Aerobics Workout at Home – Weight Loss for Women
Zumba dance app offering 30 days workout plan to get back in shape 
30 Days is all you need to achieve even the toughest goals. Even your fitness aims are achievable in just 30 days if you have Aerobics Workout at Home – Weight Loss for Women installed on your Android smartphone. As the app claims, it helps the Men & Women to shed some extra kgs with its 30 days dance workout plan. Below we talk more about the features of this app.

Features of Aerobics Workout at Home
It offers customized workout plans for both beginners and fitness professionals.
The app provides instructions before every exercise to avoid bad posture and any muscle injury.
The exercise routines are quite short yet effective. It requires you to take only 10-20 minutes from your busy schedule.
There is a collection of music that you can choose from while doing the Zumba dance workout.
Along with Zumba & Aerobics routines, it also offers specific cardio & bodyweight workout routines.
Easy to use
Personalized workout plans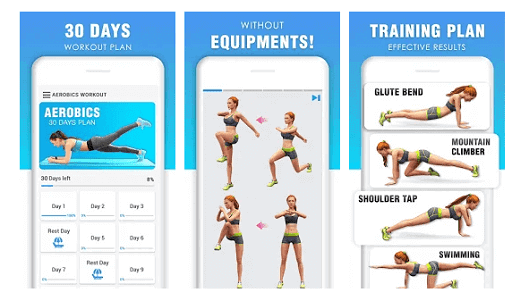 16. Aerobics Workout at Home – Endurance Training
A Zumba workout app for fitness enthusiasts of all ages 
At last, we have Aerobics workout at home – endurance training app on our list. With this one of the best free Zumba apps, you only lose extra weight and not mobile data. Yes, you read it correctly. The app works offline. It even allows you to create your personalized exercise plan. Apart from this, here's what else this dance workout app offers to the users.

Features of Aerobics Workout at Home
It has 40+ different workouts for all age groups. So, even if you are a teen or a senior citizen, you can rely on Aerobics workout at home – endurance training app for your fitness.
There are a lot of Zumba & Aerobics dance workout videos for beginners as well as experts.
It also has a motivation system that helps you track your fitness level and eventually achieve more results.
The app has multiple workout plans of different complexities. So no matter if you are looking for an exercise routine for weight loss or muscle gain, you can consider it as one of the best and most complete fitness app.
Along with the instructional videos, the app also offers descriptive texts for all the exercises.
Customizable
Refreshing and easy to use
Works offline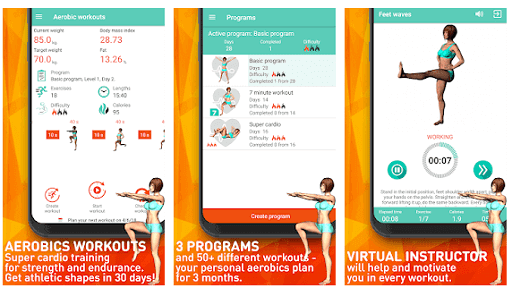 Now, let's find answers to some of the frequently asked questions related to fitness goals, how Zumba helps you achieve them, and Zumba apps mentioned here.
Frequently Asked Questions (FAQs)
Q 1. What are the key fitness goals ?
Every fitness plan and workout session has the following key objectives to achieve.
Physically fit body
Healthy organs
Increased cardiovascular strength
Mental fitness
Enhanced stamina
Great muscle strength
Flexible body
Q2. How Zumba helps to achieve fitness goals?
Zumba helps you achieve fitness objectives in numerous ways. We have stated some of them below.
They help you de-stress the mind. A stress-free mind leads to a healthier body.
Zumba makes the workout a fun activity.
The Zumba exercises improve the blood circulation for a healthier heart and mind.
When you perform Zumba exercises, your brain gets more oxygenated blood. It enhances the concentration power.
It burns a hefty amount of calories. Just by doing Zumba for an hour, one can burn around 600 to 1000 calories.
Zumba helps in toning the entire body as it aims at multiple muscle groups.
While doing a Zumba dance workout, you have to move both arms and legs in various directions. It eventually builds great coordination among your different body parts.
You have to move your body parts with the fast-paced music. Hence, it enhances the endurance of your body.
Anyone with any fitness level can start doing Zumba. The intensity of this exercise is pretty flexible.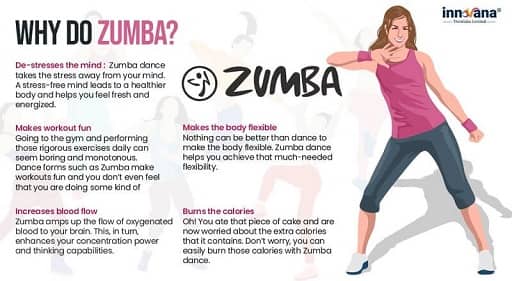 Q3. Is Zumba good for losing belly fat & lose weight?
Zumba is one of the complete body exercises. It helps in burning a lot of calories. On an average, a Zumba session of an hour helps in torching around 600 to 1000 calories. It eventually leads to losing belly fat and weight loss.
Q4. What are the best free Zumba workout apps?
All the above listed Zumba apps have their unique set of features and exercises. But, when we talk about the best free Zumba workout apps available in 2021, then below are some of the names that come to our mind.
Zumba Fitness 
Body Groove
Home Workouts by Daily Burn
Q5. How can I practice Zumba at home?
Now, it is pretty simple to practice Zumba at home. All you require is the best Zumba app on your Android or iOS smartphone. You can install any of the apps from the above list and start practicing the Zumba dance exercise routine wherever & whenever you want.
Q6. Can I stream Zumba?
Yes, now it has become pretty easy to stream Zumba. You do not have to search over the web for the dance workout videos of the experts. Several Zumba dance apps & platforms such as Zumba Fitness and Body Groove allows you to stream Zumba on your smartphone or any other device.
Now, we feel that we have provided all the essential information for the Zumba dance workout apps for Android & iOS in 2021. Hence, we would like to proceed to the conclusion of the post.
Bottom Line For Best Zumba Apps To Stay Fit In 2021
Well, these were some of the best Zumba apps, as per our opinion. Install any of them, put on your dancing shoes, and get the body shape you have always idolized. Always remember that a healthy and fit body is the first thing that any human needs. Thus, stay in the pink of health, and don't forget to subscribe to Innovana Blog for more such information and updates.
Subscribe to Our Newsletter
Keep yourself updated with the latest technology and trends with Innovana Thinklabs Limited.