Here is the Canon LBP 2900 Driver download guide. Read on to know the most effective approaches to get, update, & install Canon LBP 2900 printer driver on your Windows PC.
Updating/ renewing the driver of your printer can maintain the performance of the device at its peak. Not only this, if you are facing any compatibility issues between the operating system and your latest Canon printer drivers. This Blog has all the solutions to all your worries.
If you are searching out for the best choice to upgrade your Canon series, laptop drivers, you are on the right track to get the best out of it. Well, this article is all about the multiple ways to refresh your Canon printer drivers. We are introducing you to the most effective approaches to update your Canon LBP 2900 driver.
Highly Effective and Most Recommended Method

If you talk about the most effective approach to update your Canon LBP 2900 driver or any other driver, then it is undoubtedly using Bit Driver Updater. We highly recommend it for those who are always short of time. Below is the download button that you can click to download the program.
If you want to know more about this software and other methods to upgrade your Canon LBP 2900 driver with its latest version, then continue reading the post.
How to Update and Download Canon LBP 2900 Driver
Below are the various ways to download the Canon LBP 2900 printer driver and update it on your Windows 10, 8, or 7 PC.
Get Canon LBP 2900 Latest Driver Manually
First, we would like to discuss the way of downloading & updating the Canon LBP 2900 driver manually. Below are the multiple methods to do so.
Method 1: Download Canon LBP 2900 Printer Driver From Canon Support
The latest version of the Canon LBP 2900 printer driver is available on Canon Support for free. Hence, you can download it from there as well. Here is how you can download or update the driver for your Canon LASER SHOT LBP 2900 printer using Canon Support.
Visit the Support page of Canon. You can also do it by clicking here.
Click the Support option.

Type LASER SHOT LBP2900 in the search box.

Click the most apt result.

You have an option to select the compatible OS, driver type, and language. Choose as per your preference & requirement.

Click Search.
Click the driver provided.

Now, click the Download button to get the Canon LASER SHOT LBP 2900 printer driver.

Once the download completes, run the setup file as directed to upgrade your printer driver.
Method 2: Update Canon LBP 2900 Printer Driver Using Device Manager
Another manual way of updating the Canon LASER SHOT LBP 2900 driver on your Windows PC is using the Device Manager. The default utility offers features to update, uninstall, & roll back device drivers. Here is how you can use it to get the latest Canon LBP 2900 printer driver.
On your Windows taskbar, click the Start icon.
Type Device Manager with the help of your PC's keyboard.
Open the utility.

Find and expand the 'Print Queues' or 'Printers' category.
Right-click on Canon LASER SHOT LBP2900 printer.
Select Update device/driver.

Now, click Search automatically for updated driver software.

Let the OS search for the best driver for your Canon LBP 2900 printer. Download and install the driver on your PC once Windows finds and provides you with the one.
Download & Update Canon LASER SHOT LBP 2900 Driver Automatically
When you're short of time, or you don't want to play with your PC settings, you always have the option to update your Canon drivers automatically using a driver updater.
Downloading the latest Canon drivers with this automatic approach is quite simple and easy to use.
A driver updater is a dedicated tool developed to find and update any outdated and corrupt driver on your computer. Although, there are myriads of driver updater tools available on the market. However, the experts suggest employing Bit Driver Updater to update & installs outdated drivers quickly.
You do not even have to worry if in case you're stuck with the program at any point in time. Unlike other tools, Bit Driver Updater has dedicated 24/7 live support for FREE. Also, you can get it downloaded and install Canon LBP 2900 Driver on your computer for free and check how well it works for you, and then only proceed further. Here are the advanced features of Bit Driver Updater.
Backup & Restore facility
You can schedule the driver scan
Offers 10X faster driver download
200% more extensive database.
Time saver
Top-notch performance
Feature to update drivers with a single click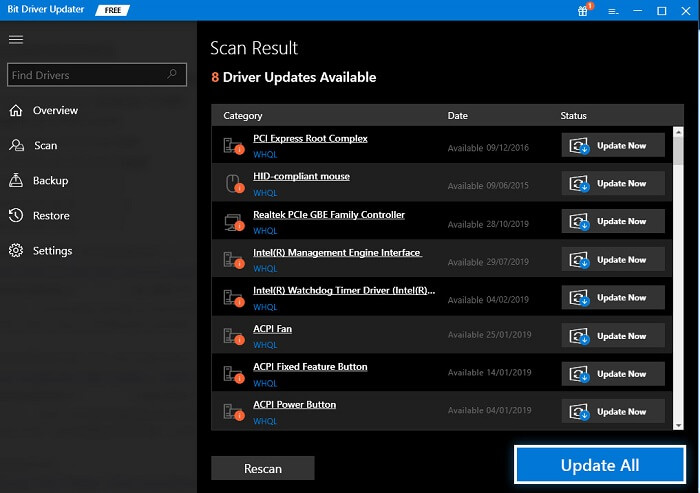 Common Queries: Canon LBP 2900 Driver
Q1. How do I install Canon LBP 2900 Driver?
To do so, follow the instructions mentioned below:
Firstly disconnect the computer and device before installing the driver.
Reconnect the USB cable after installing the driver.
Then follow the detailed steps mentioned in this post for you.
Q2. How do I connect my Canon LBP 2900 printer to my computer?
Connect your Canon LBP 2900 to your PC using a USB cable. You will have to use the right USB cable to connect your device to the printer.
Download Canon LBP 2900 Driver on Windows 10/8/7
Well, now as we know how outdated, broken, or corrupt drivers directly affect the performance of the system. So, make sure the drivers of your system and hardware equipment you use are always have the most recent versions of the drivers to ensure the effectiveness of the system. This will also ensure hardware compatibility with your system. Thus, these are the simplest ways to grab your safest and latest drivers instantly. So go ahead and free download the Canon LBP Driver with the help of this guide and you 'won't believe, in just a few clicks you can maintain your device performance like never before.
Subscribe to Our Newsletter
Keep yourself updated with the latest technology and trends with Innovana Thinklabs Limited.