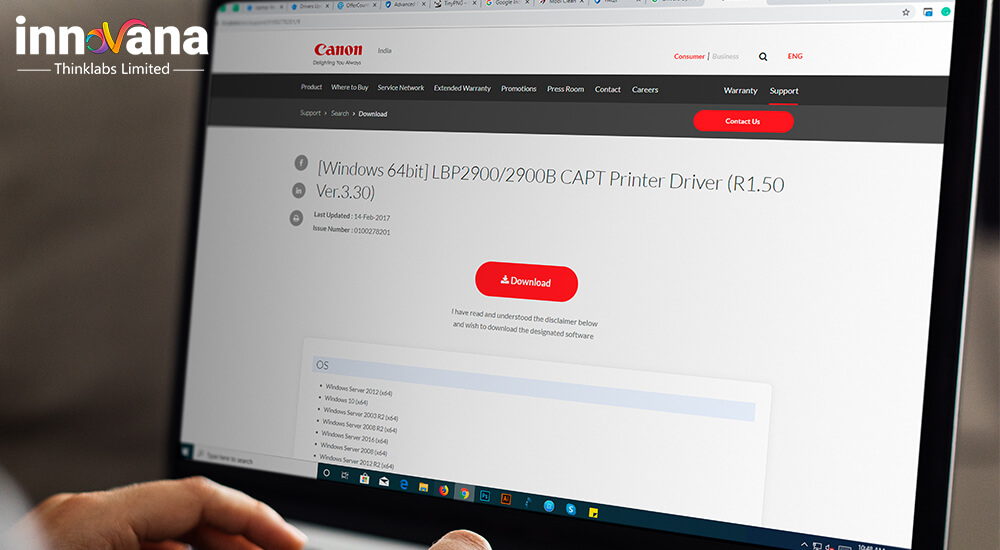 'It's quite a traditional way to understand that updating/ renewing the driver printer can maintain the performance at its peak. 
Not only this, if you are facing any compatibility issues between the operating system and your latest Canon printer drivers. This Blog has all the solutions to all your worries.
Well, you are on the right track for any bogus driver-related problems as this Blog can help you out in sorting all such issues instantly. How?
You can upgrade all the outdated drivers by utilizing the better driver updater tools like Canon mf3010 driver download, and there's also an automatic way in your way to maintain the Canon LBP 2900 driver's performance to make your device smoother like never before.
If you are searching out for the best choice to upgrade your Canon series, laptop drivers, you are on the right track to get the best out of it.
Well, this article is all about the multiple ways to refresh your Canon printer drivers, we are introducing you to the most effective approaches to update your Canon LBP 2900 driver. 
How to Update and Download Canon LBP 2900 Drivers from Support-Canon?
First, type Support- Canon India into the search box of the preferred Web Browser or Search Engine. Then go to the support webpage of Canon India (Support-Canon India). 
You can search for the support of your product by typing the Model name. Or, you can click on the other options displayed on the web page, i.e. "Browse by our product range," or "Select the Kind of product you need' so it can direct you to the exact web page for your desired printer driver.
Here, we go with the printing option. Choose Canon LBP 2900 printers.
Step 1: Then choose Laser Shot LBP2900/2900B Printers for Canon Canon LBP 2900 drivers.
Step 2: You also have an option to select/ choose the compatible OS, the type, along with the language. Once done with it. Tap on the below link
https://in.canon/en/support/0100278201/9
Step 3: You should be able to see the Laser Shot LBP2900/2900B Printers listed here. Click to see more information.
https://www.usa.canon.com/internet/portal/us/home/support?tab=drivers that redirects you to the download page. 
Step 4: To download the Canon LBP 2900 series printer drivers, hit on the Download button to get the printer driver that you need.
Step 5: Once the download completes, run the setup file as directed to upgrade your printer driver.
How to Download Canon Printer Drivers Automatically?

When you're short of time or you don't want to play with your PC settings, you always have the option to update your Canon drivers automatically using a driver updater. 
Downloading the latest Canon drivers with this automatic approach is quite simple and easy to use. 
A driver updater is a dedicated tool that is developed to find and update any outdated and corrupt driver on your computer. Although, there are myriads of driver updater tools available on the market. However, the experts suggest to employ ITL Driver Updater for that offers seamless features and benefits including backup, restore, scheduling driver scan, driver exclusion list, 10Xfaster driver download, 200% larger database, and much more.
In case, you're stuck with the tool at any point in time, unlike other tools, ITL has a dedicated 24/7 live support for FREE. Also, you can get the tool downloaded and install it on your computer for free and check how well it works for you and then only proceed further.
How does a Driver Updater Work?
A driver updater automatically detects the accurate drivers for your computer and recognizes your device. We're taking ITL Driver updater for further demonstration.
However, while upgrading to the Pro version, you need to click on it, and you can get a 60-day money-back guarantee with full support.  Also, you can save up to 50% on ITL Driver Updater.
Step 2: You can run ITL Driver Updater by entering the Activation Key or the License Key by clicking on the three horizontal lines located on the top-right corner of the Window. ITL Driver Updater helps you in scanning your device and detects any driver related issues that your device is facing.
Click on the "Update All" option to automatically download the accurate version for all the missing or outdated drivers.
Conclusion
Well, now as we have gained a lot about the two options. If you had asked us, we would have highly recommended you to go with option 2 i.e., the automatic way. Because its the simplest way to grab your safest and latest drivers instantly and you 'won't believe in just a few clicks you can maintain your device performance like never before.
Subscribe to Our Newsletter
Keep yourself updated with the latest technology and trends with Innovana Thinklabs Limited.